That Old Truck Smell
Bittersweet memories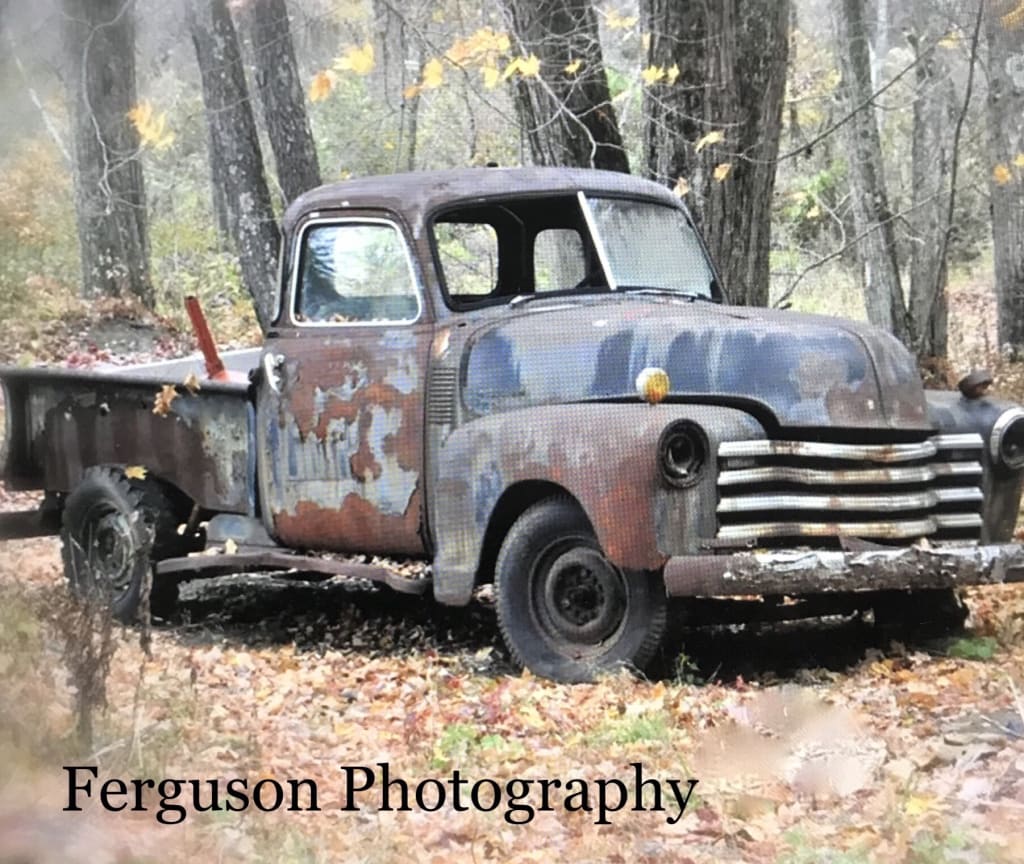 I was driving my husband's truck this morning for the first time since his death, four years ago. My son, embarking shortly on getting his driver's license was excited and persistent to finally register it, and I needed to be done with the last vestiges of this arduous journey of being a widow. I had taken care of many things over the years, but hadn't yet been able to face changing the vehicles into my name. John's truck was his baby, and represented that he was still with me in a small way. To change it over, would be to finally say goodbye.
Austin had worked diligently over the last couple of months trying to get it started, and although we had started it occasionally in the past, it had been sitting there, untouched, for a year and a half. Up on blocks for the last several months, he crawled underneath and replaced the starter, only to find out that that really wasn't the issue. He decided to try a new battery, and she turned over immediately. Austin was so proud and pleased. I suggested that dad had had a hand in it. He agreed.
Knowing that it was running was impetus enough for me to want to move forward, but it took my son's prodding to finally get me to search for the title, and insurance cards, neither of which I could find. It was with great trepidation that I finally headed to the DMV to try and get the old Chevy street legal once again. I tried to warn my son that we probably wouldn't be able to accomplish the task in one visit. I didn't want him to get his hopes up, and then be disappointed. I was afraid of getting lost in legal paperwork, and knew from personal experience as well as horror stories from friends that we could be opening up a can of worms that would not be easily solved. As it turned out, we spoke with a lovely, helpful woman at the DMV, and were given a form to apply for a new title, and were told we simply needed to increase our insurance coverage to receive a card. Since it had been sitting unregistered for two years, we had to return home to remove the plates and return them to the DMV, but by the end of the day, we were legal! I felt a sense of peace, and it made me happy watching Austin put the new plates on his dad's old truck. I knew that before long, he would be behind the wheel, looking like a younger version of John, and enjoying his newfound freedom.
Austin's excitement was practically palpable, and I was pretty pleased as well. This was a long time coming, and I felt great relief to finally have this behind me. The burden was off my shoulders, and I felt John would be pleased to know that I had kept the truck for our son and that it was once again being put to good use. We decided to take her for a little spin. I didn't want to take the truck too far, not being sure how roadworthy it truly was, after laying in wait for so long. My son drove, so I had no real feel for how it was running, though it seemed a bit rough to me, and I was worried that the tires could have dry rot. We took a brief run around the block, and put air in the tires and $20 worth of gas in the tank. I didn't want to add too much, in case the truck broke down, and it would be wasted sitting there once again.
I used the moment as a teachable one, and told Austin not to get it fully up to speed in case we had a blowout.
"What would you do in a blowout?" I asked.
"Pull over to the side of the road?"
"Good, but also, you'd first let your foot off the gas to let it slow down on its own. Whatever you do, don't apply the brakes. Just steer slowly to the side of the road, and once you're down to a crawl you can brake."
"Why don't you brake?"
"It throws the balance of the vehicle off."
He looked at me puzzled, not really buying my explanation.
"Ask your shop teacher. I can't really explain it, it's been too long since I've taken driver's ed. I just know not to do it."
He must've figured it was best not to push, because "I obviously didn't have the real reason behind it and his teacher would." He nodded his head in his usual manner when he knows I am "stupid" about something, and dropped the subject without further discussion. Rounding the corner toward home, he looked so pleased, and I was very proud of my nearly grown son. I was both excited and relieved that we had made the two miles around the block and back home safely without breaking down.
The next morning, we decided to limp the truck to his technical school where he is studying "Automotives," and have his class give it the once over. Inspect it for problems, change the oil, do your guy stuff. We had planned for him to drive it, but when my mother showed up unexpectedly in the dark hours of the morning, and stated that it was rainy and raw and difficult to see, our plans shifted slightly. She was concerned that we would break down, and presented the voice of reason, convincing us that it was best to wait until daylight. We sent Austin to school via the bus. He was, no doubt, disappointed, but accepted the decision without rebuttal.
I was glad to be the one driving as it gave me a better sense of how the vehicle was handling, and I found that it drove smoother at 40 to 50 miles an hour than it did it the lower speeds. It felt good to be driving it. Nearing our destination, my nostrils caught wind of that old truck smell. It isn't really a pleasant scent, a mixture of old upholstery , gas, oil rags, etc., but as I breathed it in, I felt John, in the next instant my Dad was there. It brought back a flood of memories. It was as if I were at once, both a child riding in my dad's big dump truck, getting dumped out with the leaves in the fall, and the young wife, our border collie between us as we headed out for an errand, our life together ahead of us. It is a bittersweet moment that brought both a smile to my lips, and welled my eyes with tears as I missed two of the most important men in my life. For a moment, they were both sitting there on the big bench seat next to me, smiling and happy to be out for a drive, free from what life had taken, and pleased that the truck was useful once more.