Sunday Afternoon in Hyde Park
You can let yourself go free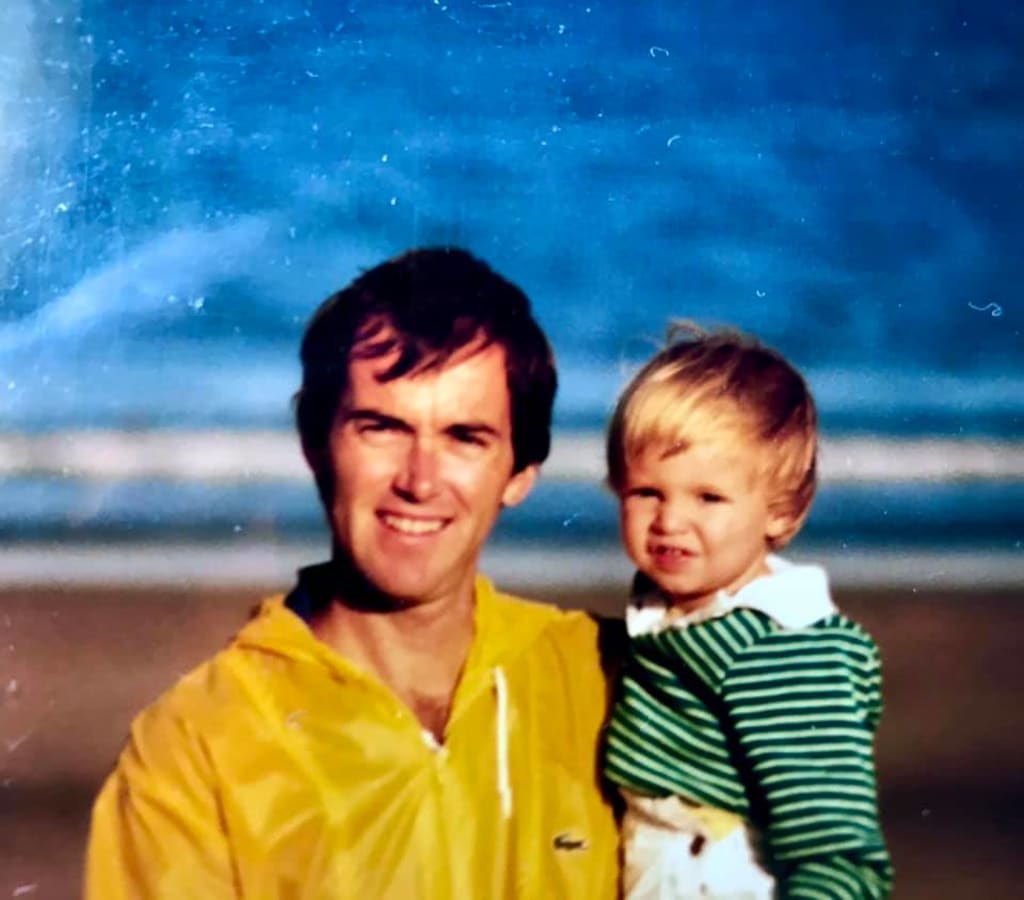 In 1975, my father took a Sunday stroll along the stone pathways of Hyde Park in London. A crisp fall day, Speaker's Corner was in full swing. People shouted from soapboxes. Gathering crowds heckled back. Children ran through the open fields with pinwheels. The grass was so green that my father believed he had stepped into a picture from a traveling book. A young man in his early twenties fresh out of college and looking to make a name for himself as a singer/songwriter in London, the experience was so moving that he penned a song that changed the trajectory of his life. Forty some odd years later, I walk the same pathways to find the places my father sang about to understand how I am like him.
The song opens with jazzy chords played on an acoustic guitar. He sings:
Sunday afternoon in Hyde Park

You can let yourself go free
A three-part harmony accompanies the next lyric:
So free
A full band kicks in with a gentle rhythm similar the meter of a leisurely stroll. Clean electric guitars add accents, a Beatles-esque bass-line walks the low end, and simple drums keep time. Recorded on a reel-to-reel, he manages to capture the spirit and energy of Hyde Park inside of a three-minute song, and though his tenure in London lasted only a few months, the experience allowed him to tap into something special.
My father is the youngest of three by ten years. My grandfather enlisted with the Navy during WWII, served his country, and came home. Nine months later, a bubbling baby boy entered the world surrounded by older two sisters and legacy of musical talent. His mother sang, so did his aunts, and just about everyone in the family played piano.
By the time he was a teen during the mid-sixties, the British Invasion gave rise to rabid Beatles-mania and paved the way for acts like The Rolling Stones to infiltrate the American pop culture zeitgeist. My father spent his time secretly listening to vinyl records smuggled into his bedroom because the sexually suggestive lyrics sent his rigid naval father into fits. When The Who sang about "mama's squeezebox," and Led Zepplin about "squeezing my lemon" my father recalled my grandfather going berserk.
"Gaga and I almost came to blows," he tells me. He recalls accidentally leaving the liner notes on his bed while he was out. "Then the Beatles got protested because they wore suits and refused to cut their hair. They were the coolest, so I grew my hair into a mop top. Gaga was ready to strangle me."
It was an age of rebellion, of a new resistance, of a generation who refused to be erased by the Vietnam War. While missing the draft by only one number, my father watched his friends go off to fight, some of which never returned. His solace: the guitar. Wearing tight, straight-legged jeans, growing a healthy beard, and mimicking the licks of his rock band idols, he learned that free expression through song released part of his pain, angst, and unlatched his soul from the bonds of societal pressure. In time, he began writing his own music.
By the seventies, UK bands like The Who were a force. Eric Clapton became a household name, though his quiet rival – a guitarist named Jeff Beck - left crowds in absolute awe. London was the hub of all things new and exciting in the music world, so my father packed up his life and moved to a small bed and breakfast somewhere behind Buckingham Palace in the fall of 1975, guitar in hand, ready to leave his stamp.
Cut to years later. I'm growing up knowing that my father keeps guitars in hardtop cases under my bed. I know he plays, but I rarely see him indulge. According to my father, my mother didn't like the idea of a traveling musician husband and made him choose between starting a family, or a life on the road. According to my mother, she made no such ultimatum, and knowing them both, it's hard to distinguish fact from exaggeration.
Nonetheless, my father doubled down on family. He treated guitars the same way a war vet treats their experiences, with a cold affecting silence. When he did play, he played by ear. I remember being fifteen and listening to Iris by the Goo-Goo dolls on a cassette tape and rambling about how cool the song sounded.
"This? Oh, this is easy," my father says. He pulls out his acoustic guitar, plays along without ever having heard the song, then rips into a solo over the rhythm track. I was stunned. He puts the guitar back under the bed and gets on the phone with Great Woods (now the Xfinity Center) in Massachusetts to order tickets to my first live concert: Jeff Beck. A few months after, we see The Who.
Later that year, I pull out his guitar when no one is home and start to teach myself chords. I think that if he hears me tinkering, he'll be upset because I hadn't asked to use his guitar. One day, he comes home from work in Boston ready to relieve himself of the suit and tie and finds me sitting in the corner of my room stumbling through Baba O'Reilly. I'd never seen him so proud.
"Teenage wasteland," he sings, and leaves my door open to listen while he steps into his bedroom to find a tee shirt and jeans.
By the end of that same year, my parents split and a noticeable distance emerges. The potential career he's left behind haunts him, though he showers my sister and me with unyielding love. His path is splitting, and he's wondering which way to go.
A few months later, he moves out. I see him a few times a week instead of daily. Then a few times per month. When he remarries a few years later and moves to Maine, I see him less. His attention becomes focused on a new family, and somehow, I feel left behind.
The chorus of Hyde Park goes:
My how the day rolls

When you let your pinwheel fly

So high

Let'em fly

So high

Let'em fly let'em fly, let'em fly,

No matter how many times you look

It seems like you're reading a traveling book

Walking does some wonders in the park
Now in my thirties, pinwheels have given way to smart phones and Bluetooth ear buds. I walk through Hyde Park watching children run across the impossibly green grass. I start to feel the magic that moved him. Hyde Park spans 350 acres with so many picturesque views that it has been classified as one of the Royal Parks. Though I'm over a decade older than he was on his pilgrimage to London, I find myself at a similar crossroads.
After graduating college, I left home to immerse myself in Chicago's comedy scene and gained notoriety in the arts as, of all things, a musician. Like my father, I eventually left the city and returned home in search of something deeper. I've become engaged to be married, though still feeling unsure of what the future holds. I'm a grad student concerned with where I'll land after graduation. I'm a professional musician and writer, neither of which looks promising to financially support my life as a husband. A pit in my stomach whispers give it up, to trade in the tee shirt and jeans for a suit and tie.
I approach Speaker's Corner. The paved paths feel like veins pumping life into the park, and the gathering crowds move like white blood cells breathing creativity through he walkways. One speaker shouts about Brexit and a heckler tells him to sod off and quit taking the piss. Another woman preaches about technology being a form of cancer. The crowd films her with their phones.
Speakers Corner is a staple and has been around since the 1800's. Anyone with an idea can show up and speak their mind. Protected by a Parliament Act passed in 1872, the demonstrations are meant to be an exercise in free speech. People like Karl Marx, Vladamir Lenin, and George Orwell were known to frequent the corner.
"It was the internet before the internet," my dad says over the phone. "But whatever you said, you had to back it up in real time."
I wonder what I would speak about if given the opportunity. Music, I realize, and how it's a living history of our species.
But as soon as I have that thought, I realize there's more, that I'm in the same Hyde Park that my father wrote about. Something is bringing us back together. Maybe things don't really change. Oddly enough, my playlists are filled with UK artists like Bring Me the Horizon, Bloc Party, and Adele. For years I wrote and recorded songs as my alter ego – a UK punk rocker named Johnny Timebomb - without ever having been to London. Music is in my blood the same way Speaker's Corner lives in Hyde Park.
The same way my father lives in me.
When my father returned from London, he played Hyde Park for his friends on the beaches of Maine during the summer of '76. They loved it so much that they pooled money together for him to record a professional demo. A producer recorded and mixed the track. The song got steady rotation on college radio stations across New England. My father played shows where complete strangers sang along. But then, like a pinwheel losing momentum, the rotations slowed over time. They stopped, and the world moved on. My father chose family over the winds of chance. Because of that decision, I exist so I can't fault him, but there are times that I wonder what if…
Standing in Hyde Park, our stories both parallel and divergent like the stone pathways cutting through the green, coming to realize that all things change without changing, the future wide-open and somehow pre-determined, connected to him without being near him, the final lyrics ring truer than anything I've ever known:
Oh, time is wandering slow

And I swear I just don't know

Where to go from here.

It's a Sunday Afternoon in Hyde Park.
immediate family
About the author
W. T. Paterson is a four-time Pushcart Prize nominee. His work has appeared in over 90 publications worldwide including The Saturday Evening Post, The Forge Literary Magazine, The Dalhousie Review, Brilliant Flash Fiction, and Fresh Ink.
Reader insights
Nice work
Very well written. Keep up the good work!
Top insights
Heartfelt and relatable

The story invoked strong personal emotions

Compelling and original writing

Creative use of language & vocab

Easy to read and follow

Well-structured & engaging content
Excellent storytelling

Original narrative & well developed characters

Masterful proofreading

Zero grammar & spelling mistakes

On-point and relevant

Writing reflected the title & theme
Add your insights