Story Written, A FEW YEARS AGO- Reminiscent Past
Serves as Mattie's blessing- Today, and for the future. Message : Keep Writing!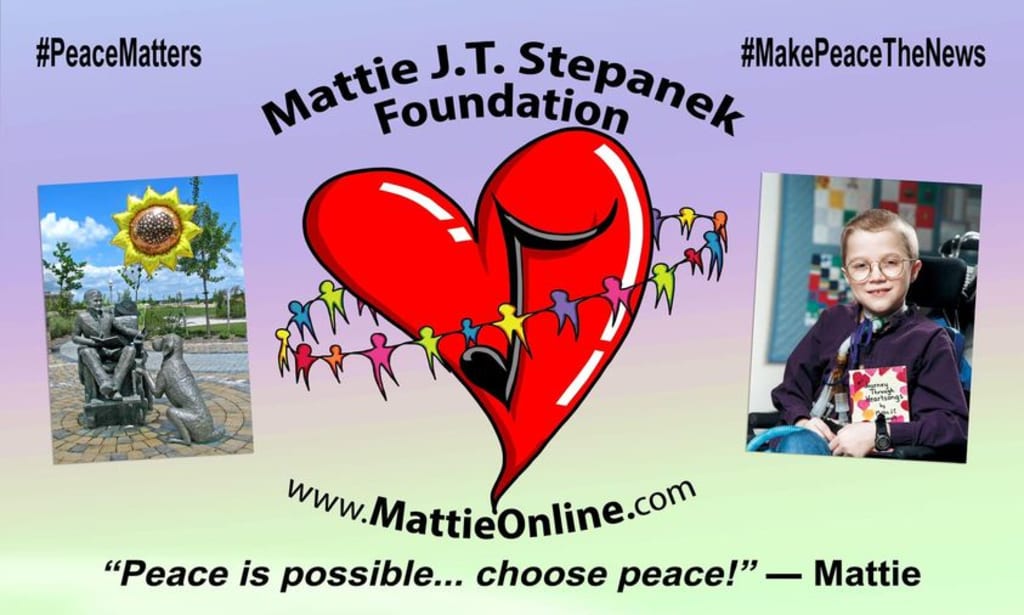 Photo property of Jeni Smith Stepanek **Shared from FB. Which I let be known! This Photo inspired my post** Copyright : Mattie Online.com Mattie J.T. Stepanek Foundation
Taken from my FB blog : My Perspective / Inner Wisdom /Self- Respect Pursuit (Edited Here with addition of photos) Post Date: May 16,2021
Something about seeing Mattie and with his quotes today .
I was thinking about the story I wrote about us ( obv. fictional) earlier... WHY?
I wrote it about what,5-6 years ago...for a homework assignment from my counselor. Topic: If you could write about your life, the way you'd want it, What would it be like?
I wanted Mattie to be here And my momma And his mom...
All of us together as FAMILY. Spreading peace ,music love& unity...Maybe we'd all collab on writing books!
And so I was thinking about this story I wrote on a big legal pad- It's purple paper- Mattie's color for hope, right?
I wanted to send this to his mom Jeni Smith Stepanek-but I didn't want to be offensive- or risk upsetting her. I was thinking about sending it again today-
NAH! It's sloppy, illegible ( Handwriting- Which I do very little of other than check writing and making shopping lists)... Besides only having that original copy!
But this reminiscing of my handwritten story- I'm sure it has to do with the new writing project I started on Vocal- a Mother's/ Birthday gift poem I wrote for Mom last Saturday night.... My inspiration immediately after deciding to sign up! Mom wrote poems and children's stories : (They were lost, stolen, and mostly unrecognized from publication-SAD!)
Mattie was a little boy with a gift to write poetry- HE TOUCHED the soul with insight ,wisdom compassion & gratitude. His strong FAITH💜 UNCONDITONAL LOVE💜
He is still the only human being -I feel TOTALLY SECURE in believing, that he is the purest embodiment of this virtue---WE .as the rest of us, speak of attaining this, but can never truly live it through our core- Mattie, HE GOT THIS! So, he is the only one I trust to love me UNCONDITIONALY...
But my point ... it's no wonder my mom connected to him-watching Oprah- just on a random channel surfing click- , was as emotionally moved to tears as I was.
Is it relevant that though we; nor had he and my mom ever met---SHE was WANTING TO GO TO HIS PARK WITH ME * Next time* But there was never Next time... but when I talked to mom when I got home from visiting, she looked at the pictures I posted. And Said...
" I can't believe you went & and are back already. You know , I had a dream the night before... It was Mattie, saying, "She's here . She's safe!"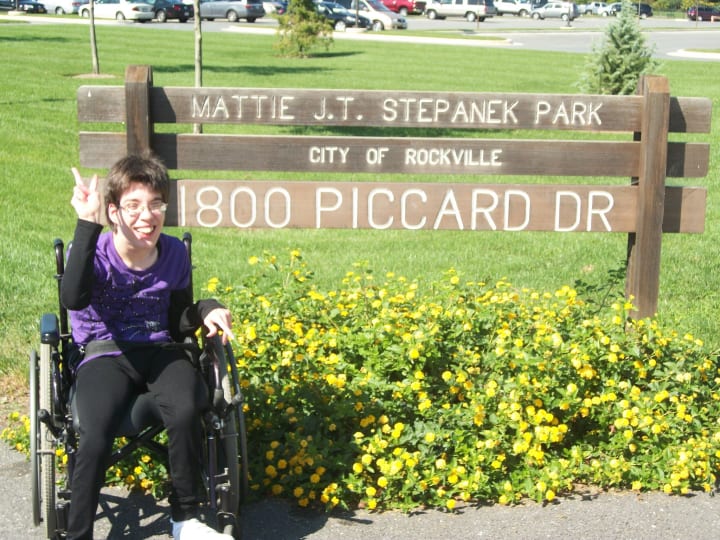 I woke up the morning before we went to the park again before we left to go back home.
Mattie woke me...
I STILL have no idea what he said😢 But I DO KNOW HE GRANTED MY REQUEST!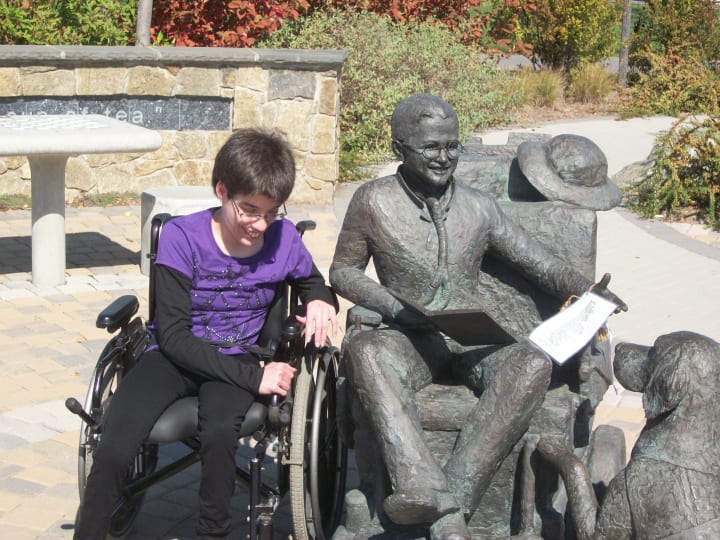 You see, I was so impatient to get back to his park....I was so hoping to see his mom💜 Didn't expect to, but still...I could dream.
We stop along the way. My roommates spied this vintage car lot. Of course they stopped to check out the cars. I stay in the car going _ Come on! PARK PLEASE! Then, I started to cry. "Oh, Mattie, I WANNA SEE MOM! Please! Can I see her for just a minute?"
Get to the park but then my roommate takes me across the street ( to where I assume is her house )! "Want me to knock on the door?" ,she asked. Me nervous as hell. Wait, What? Yes! Um ? No! Wait, this CAN'T BE the HOUSE...TOO MANY STAIRS! Why, would there be stairs... She's in a wheel chair" How the blazes ? I was A LITTLE bit fuming about impracticality, accessibility wise. When roommate kindly pointed out access is probably in back or something...
Oh, Ok, I feel better!
Back to other roommate asking for the go-ahead to knock on the door...Me: Uh I don't know...if it's a good idea? But my mind went back to... Mattie PLEASE! Wait Ok YEAH, Yeah! Knock...
She knocks & mom's roommate answers the door.
"She's out at a meeting. I'll tell her you stopped by!' OK THANK YOU!
At the Park Now : sitting at the podium listening to Mattie's audio recordings...In the zone. Then I here somebody call my name. Looking around ,dazed & confused...
Huh? wait, ...is that...Mattie's mommy?😲🤩🤩🥰
WOW! It IS! WOW! Sorta stunned in disbelief, I was! Conversation was harder to muster than I WANTED it to be (I fantasized being much more chatty, with over-amped emotion---Why was it not how it was?---SORRY mom! ... Do over?)
Never the less... Grateful for this unexpected gift!🥰🥰
Thanks all involved for making it happen! Much Love XOXO
Why am I writing this & reflecting? Seeing this picture on my feed.
Mattie (mom), Momma, Me-
This picture- (To my mind) says from them: "If you want to KNOW we are with you- Together; If you want to feel it, Our connection, feel peace.... Then, do what connects us all.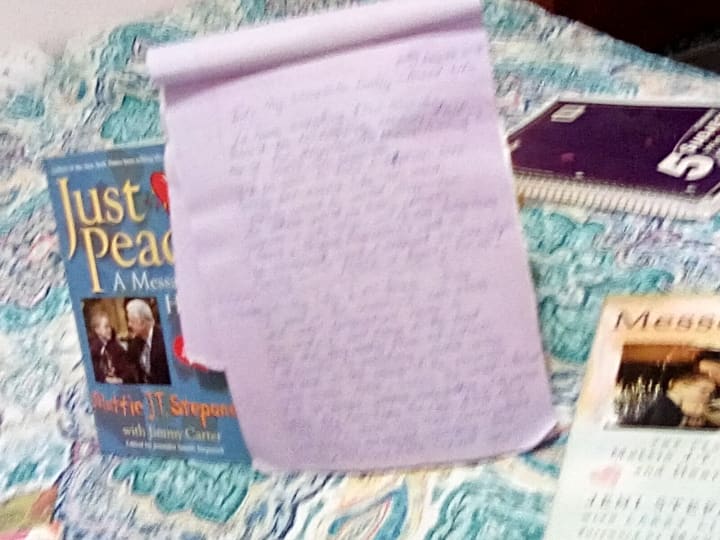 KEEP WRITING! It doesn't matter if you make mistakes with grammar or punctuation. It doesn't matter if you think, You aren't good enough at it to call yourself a writer.
"FEEL the connection. SHARE IT! Keep writing... We are here as you do!"
So, I guess I'll see where this writing thing on Vocal goes.
Thank you to Mattie & our mommies💜💜💙💙 I love you!! XOXO
Love Bonnie (BJSE)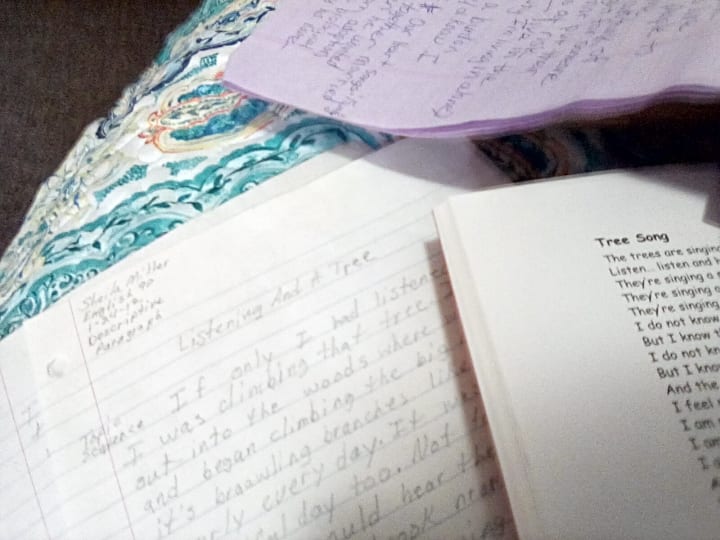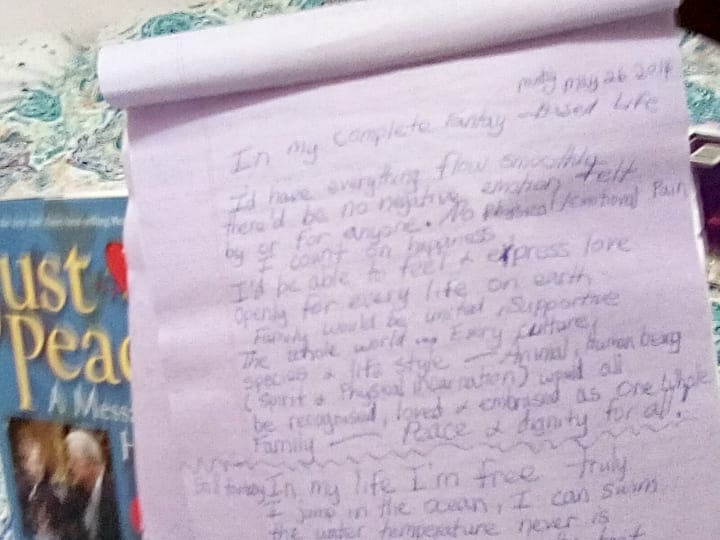 This piece is dedicated to: Mattie , My MOMMA, Sheila...
Mattie J. T. Stepanek ( July 17, 1990 ~ June 22, 2004 )
Sheila F. ' Treadway ' Miller ( May 12, 1954 ~ March 17,2012 )
Together is spirit- Happy & Free- My most influential gifted writers. I write to honor you. I write inspired by you.
With special dedication to: Mattie's Mommy (Our mommy) Jeni Stepanek "Mama Peace" . Thank you for being here! Thank you for continuing the Peace Mission with & for Mattie. Thank you for your love, your unbreakable spirit: It is an inspiration to see you Carrying on from a place of peace. Love's Gift of the Heart -ETERNAL Strength.
Courage as your grace! I have always wanted to get to see & to know YOU, the person that is SO much more than just Mattie's Mom! For now, I thank you for sharing photos of you enjoying yourself out on the town! SMILES I see on your face...precious & Priceless!
Especially, I thank you for sharing your baby with us! He taught US to LOVE EACHOTHER DEEPER, TO FIND SELF-LOVE , TO HAVE FAITH in God / Goddess ( By any and all names- from all faiths & religions).
Because you did so, so selflessly... My momma & I got to find him. He captured both of our hearts... We connected by a shared love for him. And with a shared passion for writing between the three of us. I can say I have a deeper love connection with my momma... Because of you, sharing Mattie with us. For also sharing with us the incredible bond of love you & Mattie still share...For ALWAYS!
With my love & gratitude, XOXO
-Bonnie Jean Starsha Eglin
humanity
Looking for purpose ( Disabled- Not employed )
Write out my emotions! Let it flow as am compelled....
Hope to be inspired to write poetry( Song lyrics )
My Cat is my routine
Receive stories by Bonnie JS Eglin in

your feed