She created a life she loved!
MelanieRoseCreates.com

When the sun rises,
I rise with it,
I open my eyes to a new day of possibilities,
With new projects to explore,
And creativity to be discovered,
Once the day's work is complete.
First, I wake my children with a smile,
And get them equipped for school.
Then I put in my hours of work to earn an income,
And give my children the life they deserve.
The hours' pass as dinner is prepared and eaten,
Homework is completed, and bathes are taken.
Just as the sun begins to descend
My day's potential emerges,
And makes my heart dance with inspiration.
That's when I spot an empty wall
Just above my entertainment center,
As I turn one of my favorite television shows.
When I hear the familiar voices project from the screen,
The idea sparks in my mind!
So I pick up my drawing board,
And attached a clean sheet of velum smooth Bristol board paper to it.
I line my small table beside my favorite chair
with every grade of graphite pencils I could need.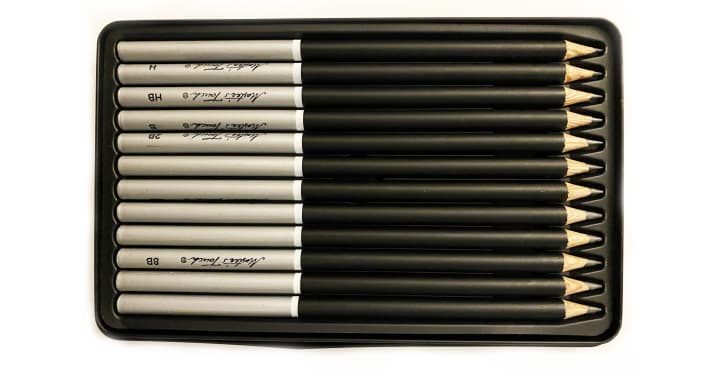 Then I glance up at the television to capture my first subject.
My pencil begins to move across the blanket of white in front of me,
First sketching an outline of the first TV character,
And then moving on to the next.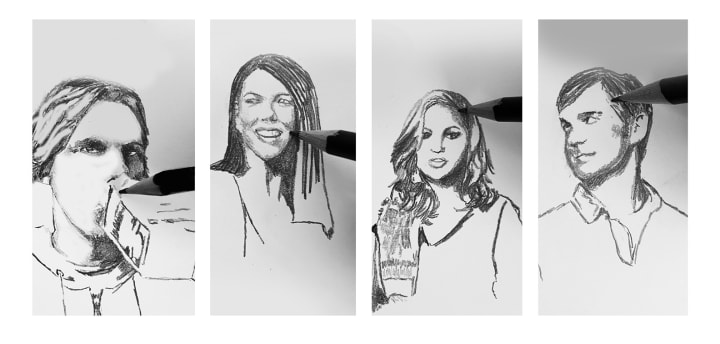 Slowly bringing the re-creation of these icons into form,
I enjoy the show while I move from one pencil to another,
Shading in every detail from the darkest to the lightest.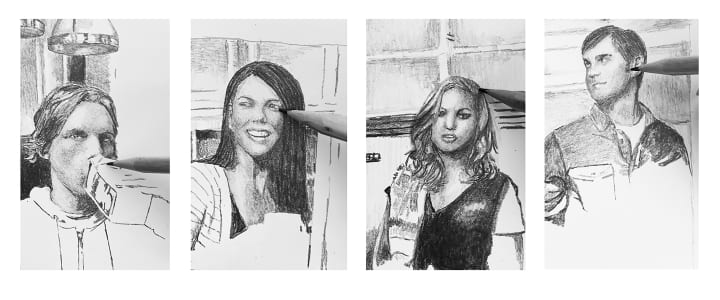 It takes hours for the vision to become complete,
But when the last shadow is intact,
I put down my pencil,
Then hold up my work to admire what I have created.
I repeat this ritual night after night.
Letting my unconscious mind combine with my conscious.
I let my artistic vitality take over.
Meticulous with every stroke of the pencil,
Until I have enough pieces to cover the intended empty space.
Then I take out my Fiskars scissors,
And trim each piece precisely against the edge of my drawing.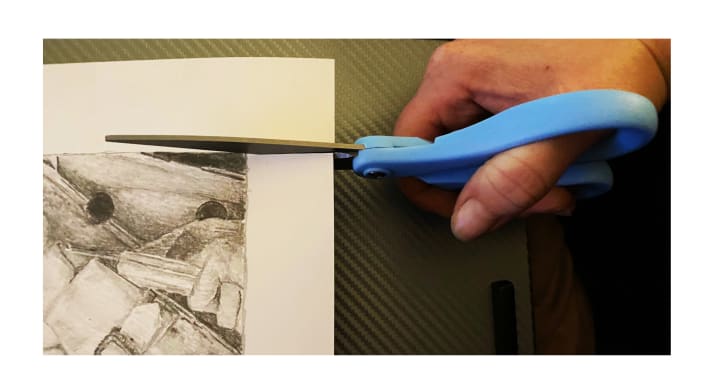 Then I mount each cut drawing on a white mat board,
Preparing them to be hung.
As I tack each one to the empty wall,
I fit them together like puzzle pieces.
Once the last board is in place,
The satisfaction sets in.
The joy of a project complete overwhelms me!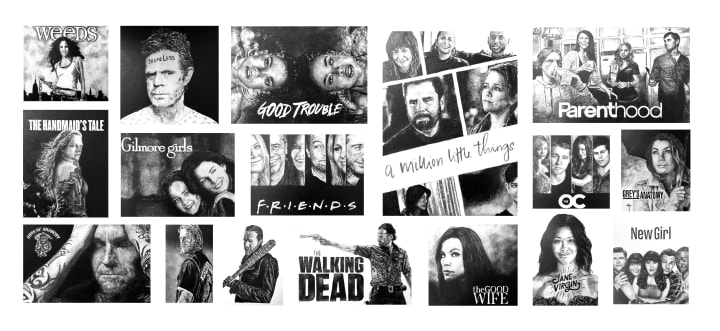 I sit down in my chair to admire the wall I created,
When my daughter pops her head up from behind the sofa
And announces, "Good job, mommy, but it needs some color."
I laugh at her critique and ask her,
"What would you suggest?"
She puts her finger to her chin and taps it gently
Letting her mind swirl around some ideas
I watch as she thinks hard about it,
Until she finally announces,
"How about some butterflies!"
Then she runs into the other room,
And returns with her hands full of paper in every color of the rainbow.
I watch her creative mind start to work right in front of my eyes,
As she begins by picking up her green Fiskar scissors,
And trimming her sheet of paper into a square.
Then she folds it in half and then in half again.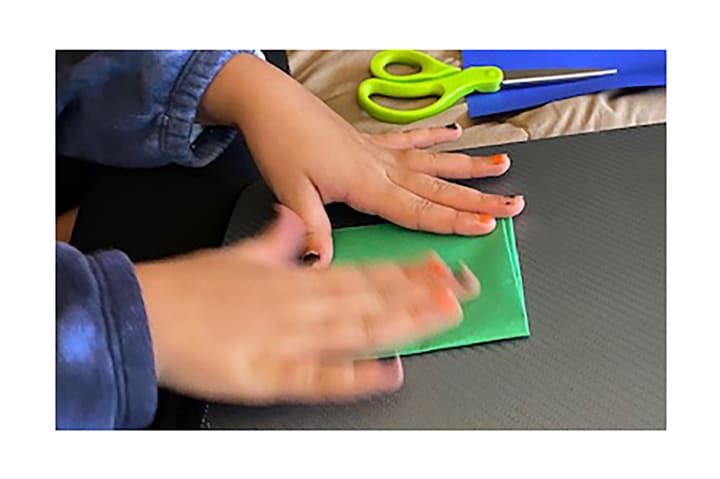 After her paper is folded into a perfect square,
She picks up her pencil to draw the butterfly wing across her paper.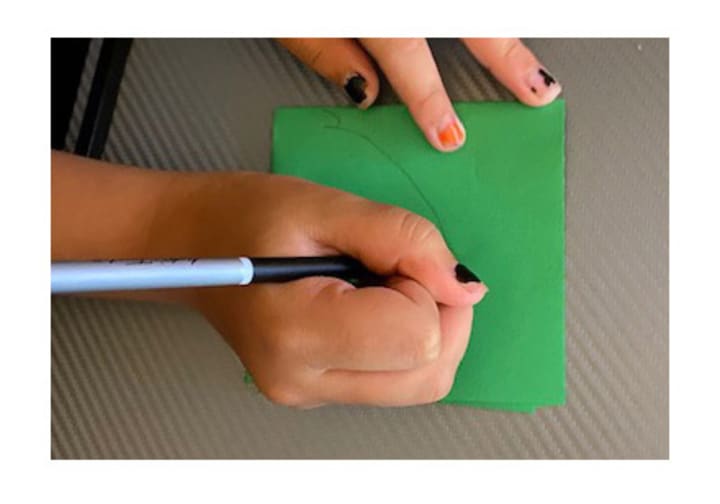 And then she carefully cuts along her pencil outline.
Next, she folds the wing diagonally.
Then cuts a diamond shape one on top of the other.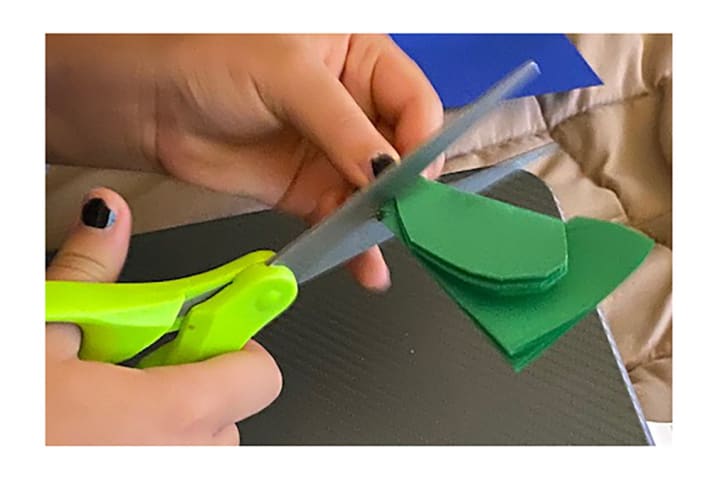 When she has finished her face beams,
Because the best part comes next.
She unfolds her butterfly,
Like it is emerging from its cocoon and grins with pride!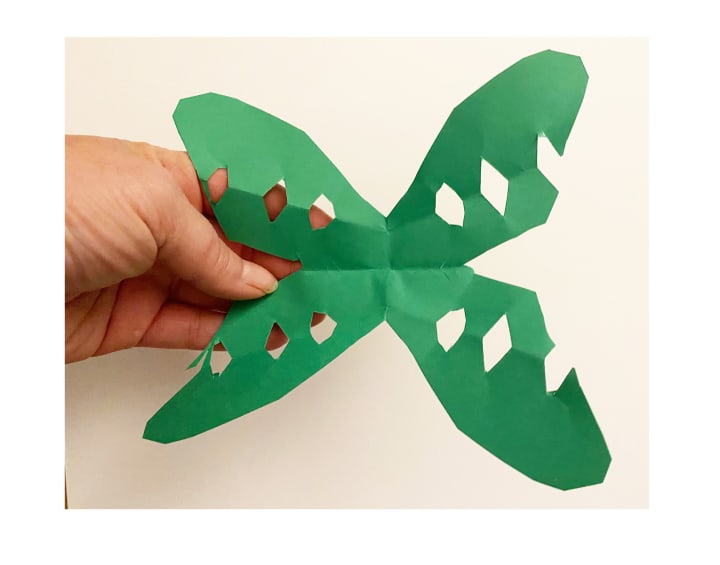 Then I watch her repeat this with every color paper,
Over and over again,
Until she has completed her project.
She hands me the butterflies and says,
"Here's your color, mommy!"
I gladly take her creations as we hang them together,
Around the drawings on the wall,
Making a perfect rainbow frame,
Achieving our goal!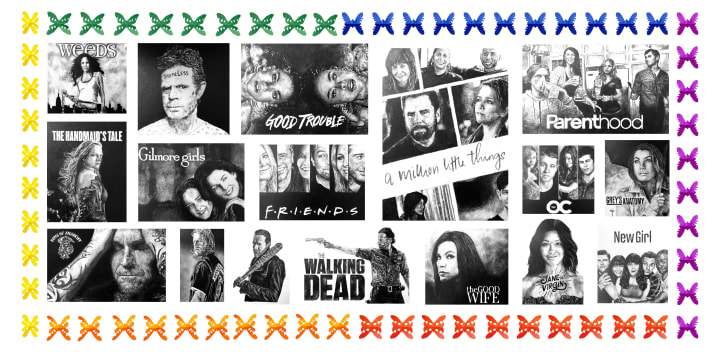 A twinge of joy and happiness runs through my body,
As my daughter and I admire the work we created.
I went to sleep that night in peace,
And with the hope of another morning,
Another inspiration,
Just waiting to be discovered!
art
Writing can free your soul. At least it does for me. I am an artist and a mother first, but writing gives me an outlet to let my brain wander and create stories to expand my artwork in a whole new way! Follow me @melanierosecreates