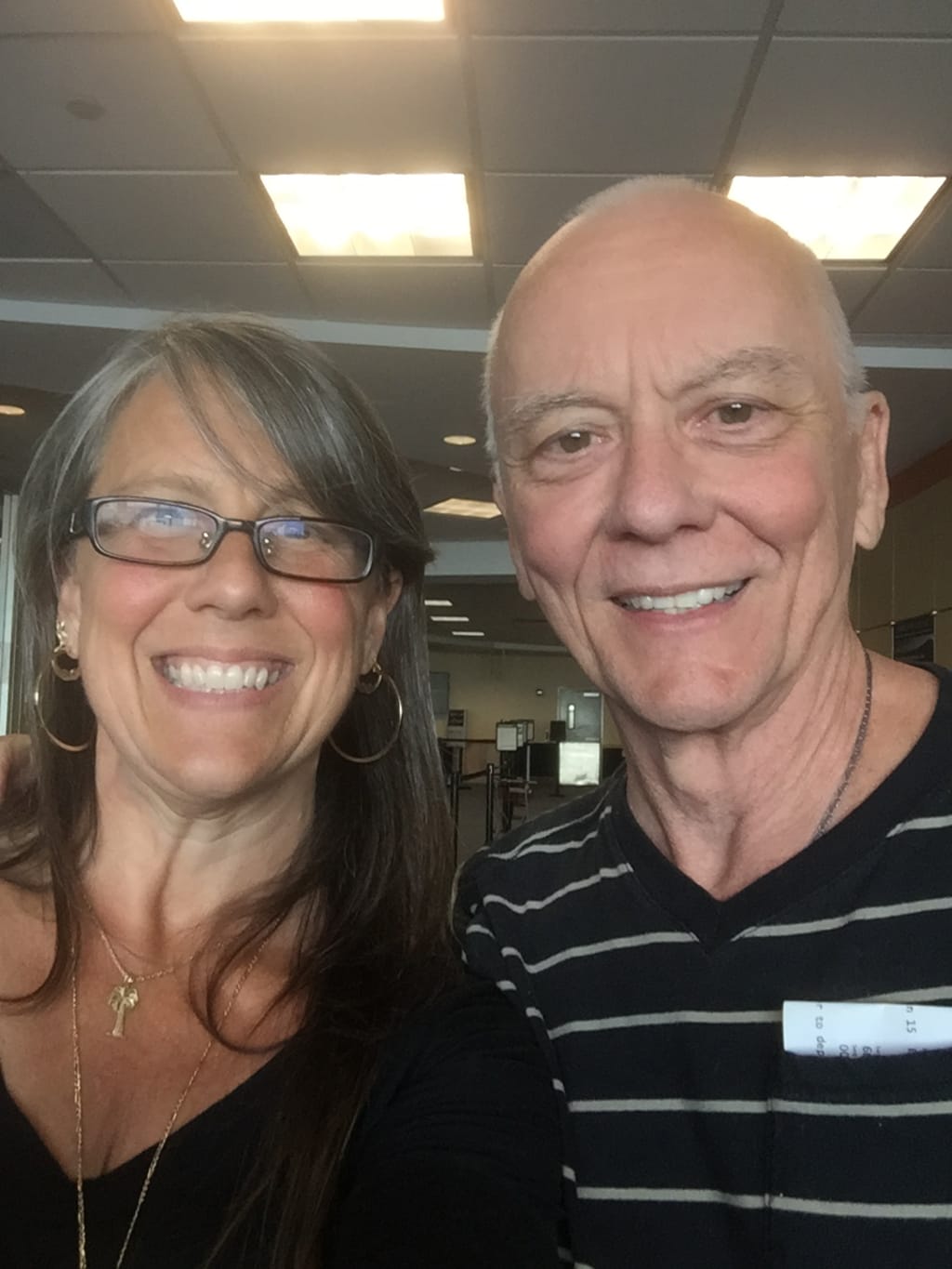 June 2015
My parents' divorce was final when I was around 5 years old. I remember bursting into tears when my mom told me, even though I think the only thing I knew about it all was that everything was going to be different.
I grew up the first 10 years of my life in South Florida. I lived with my grandparents in Miami most of the time. My mom flitted in and out of our lives there like a hummingbird that cannot stay in one place for very long; a beautiful creature you are in awe of but cannot hold.
Every other weekend, my dad had me. I was either at his apartment or his parents in Hollywood/Fort Lauderdale. I remember trips to get ice cream, being on a tiny sailboat in a storm, going to church with the grandparents, and music.
My dad was in a band when my parents met. I was conceived in the back of the van after a show, a real rock and roll start and music was always around us. Some of my earliest memories were of being at band practice, riding on motorcycles, sitting behind a drum kit, spaghetti dinners with band members, of sitting with The Beatles book of sheet music and trying to sing the lyrics a capella, having no idea how the songs really went.
Right after my seventh birthday party, my dad and his girlfriend left Florida and moved to Wisconsin where she was from. That was the last time my dad and I lived in the same state.
My mom and I also moved out of Florida, to Vermont. But that is another story.
Through my teens and early twenties, my dad and I did see each other here and there. He missed my graduation, but walked me down the aisle. During that time, he and girlfriend split up and she ended up having another man's child.
My dad became her godfather, loved her as his own, and even had some custody although I am sure it was not a formal agreement. He became a dad to her.
I look back at my childhood and I cannot think of one thing I would change. I ran around all day long in the sun, spent weekends at the beach, and had the benefit of having so many adults in my life to learn from.
When I hit my thirties though, I tried so hard to connect again with my dad. A man I hardly knew, that I had assumptions about, and let me tell you, it was challenging!
Differing political views, religious views, and apparently, he also had assumptions about who I was. Probably not unlike most kids relationships with their dads!
At one point, I finally understood. My dad made choices that he thought would bring him happiness. He chose for himself and his life, and I knew I could never fault him for that.
In my mid forties, my dad started coming to see us every year. Usually around my birthday in June, and I would have my parents together as a family for a brief time. He would bring his guitar with him and sit in the guest room I had set up and play. He had been practicing a song I had never heard before, Seminole Wind, and I loved listening to him sing it.
The last trip he made to see me in Vermont was my birthday 2017.
He complained one night about a funny kind of pain he sometimes had after eating, and was experiening it right then. He said he would schedule an appointment with his doctor when he got home.
Right around this time, my mom had received a clean bill of health from her oncologist, and we celebrated by going to her favorite place for a few days at the end of September: Wells Beach, Maine.
On the car ride home, I remember thinking how great life was. I was relaxed from time at the beach, my mom was healthy, I loved the work I was doing, dad and I were seeing each other more often. Then a text came from my dad: He had stage 4 pancreatic cancer.
I started planning a trip to see him. He wanted me to come down so we could have another visit. While I was talking with him about flights, he said he was in the hospital and wanted me to wait until he got out.
I booked a flight for the next day. His doctor said he had less than a month to live.
I had the chance to tell him I could've been a better daughter, he said he could've been a better father. I held him as we cried, and he said he did not mind dying, but he wished it didn't have to hurt so much. And one day as he lay in pain, he said he wished he had traveled more.
I chose to stay with him, to bring him back to his home, so he could be there when the time came.
His goddaughter, his other daughter, came down and together, we took care of him. We carried him to the bathroom, we gave him pain killers, we stopped people from coming in when he was tired, we gave him his guitar when he got agitated. And he held onto it like it was a tether to the earth.
One of the last songs I heard him play is Seminole Wind, and it is the song I now associate with him. I cannot hear it without tears.
And we bonded. My sister and I. She who had him more as a dad than I did, who was a surrogate daughter for him.
I got to see him through her eyes, be witness to a dynamic I never had with him, and an intense respect for my dad arose.
I had him in my formative years, which I would not trade for anything.
I hear, no I feel, music differently because of him, I "get" energy from him. And I sometimes see him in my son. I know he loved me, I know he was proud of me. And I know he had a hard time expressing it.
She got him when she needed him. He looked after her, protected her during a crucial time in her life.
My father was a dad to two girls. One was his, and one should have been.
He got to send me off into the world with my mom with gifts I am so grateful for. He got to be a wonderful dad to a girl who did not know hers.
After he died, we cleaned out his home. I found letters and cards I had sent him my whole life. He kept everything! And I had never felt so loved discovering that. And I could not even imagine how much he must've missed me.
I also found a note he wrote and dated, stating that he had a premonition that he would die within 5 years of his parents' death. It was dated before they died. And he was right.
I grieved pretty hard when I got home from that month long stay, his words swimming around me: "I wish I had traveled more."
My dad hung around for a bit after he died. I could perceive his presence.
Then one day, not yet a year after he died, my son and I chose to move across the country. A choice that I had wanted to make for so long and did not have the guts.
A choice my dad inspired me to finally make.
He moved with me to Los Angeles and watched over me until it was time for him to go to his other daughter.
Shortly after I told her he was headed her way, her mom died. And I knew he had left to be there for her.
My dad was an enigma. He had been a 60's musician, a long haired pot smoking hippy, married twice, divorced twice, mostly a loner though. He was a black belt, did Tai Chi regularly, and was also a church going, ultra right Republican.
He experienced depression, anger, and lonliness, strived so hard for human connection, then denied those who would give it to him.
He had shelves of herbs and natural medicines to help extend life, but when the time came, was ok with dying.
I love my dad. I love our story. I loved him hanging around and I missed him when he moved on.
My godsister and I talk sometimes. We are connected by a man who was something different to each of us. We are connected by the experience of holding his hands while he left his body. We are forever bonded. Not by blood, but by a man who had ties to both of us, and tied those pieces together in the end.
Thank you dad. For doing the best you could, for the gifts you have given me. I am grateful for you.
Happy Father's Day
About the Creator
Musings and imaginings from the brain of a fifty something year old Gemini who sold everything and moved to Los Angeles in 2018.
I am no professional, I write because it brings me joy, release, and peace.
Reader insights
Outstanding
Excellent work. Looking forward to reading more!
Top insights
Compelling and original writing

Creative use of language & vocab

Easy to read and follow

Well-structured & engaging content

Excellent storytelling

Original narrative & well developed characters
Heartfelt and relatable

The story invoked strong personal emotions
Add your insights