Quavo and Offset Shed Tears at Takeoff Funeral
Quavo Shares Emotional Tribute to Takeoff following Funeral 'You Are Our Angel'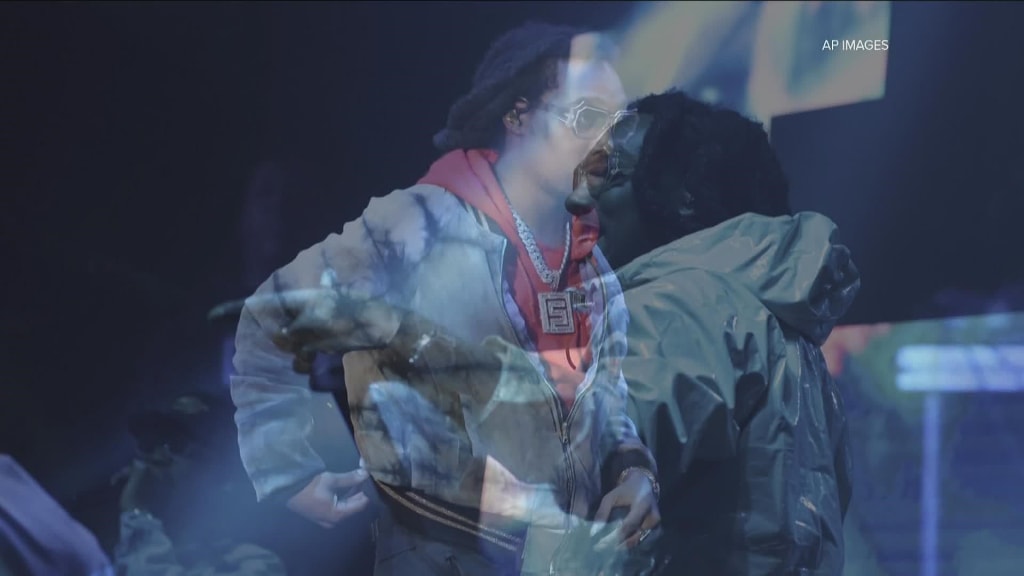 TakeOff celebration of life sold out; capacity reached at State Farm Arena in Atlanta . TakeOff's death set off an outpouring of grief around Atlanta and in the larger hip-hop community.
Quavo took to Instagram on Saturday to share an emotional tribute to his nephew and fellow Migos rapper Takeoff, who was shot and killed earlier this month at a bowling alley in Houston, TX.
"It's so hard to tell you I'ma miss you because you always with me and we did everything together," Quavo's message begins. "Since we were kids you been by my side, lookin up at me, them eyes waiting on me to make the next move.. then you followed up right behind me."
"This whole time I've been trying to figure out what you really are to me because nephew wasn't it," he added. "We hated that word 'nephew' or when they said "Unc and Phew" cuz we always knew we were way closer than that and it made me feel old too."
Quavo continued, "But I knew you weren't my brother cuz you are my sister's son, so I couldn't say brother. Now I finally get it…You are OUR angel."
Takeoff, real name Kirsnick Khari Ball, was remembered on Friday by family, friends, and fans, as thousands packed inside Atlanta's State Farm Arena for the "Celebration of Life for Takeoff."
"After I made the first move, you always followed up right behind me," Quavo reportedly said during the service. "You always waited for me to do it first so you could do it right with me. You never competed with me, we was always on the same team because you hated plotting against me because I always played too hard or too rough."
"[Takeoff] changed the culture of music forever," Offset shared. "You changed that flow. That flow came from Take, the originator. The originator of that flow. He changed the music."
Offset Also Delivers Emotional Speech At TakeOff's Funeral | HipHopDX
Offset delivered an emotional speech at TakeOff's funeral service at State Farm Arena in Atlanta, Georgia, on Friday (November 11).
Cell phones and video equipment were not permitted during the sold-out service, however, someone managed to grab a few clips of the funeral, with one of those being Offset sharing words about his cousin and former Migos rhyme partner.
The grainy video footage shows Offset on stage, backed by two people, as he fights back tears during the emotional service. "Changed the culture of music forever, you did that Take," Offset said. "You changed that flow. That flow came from Take, the originator. The originator of that flow. He changed the music."
He continued: "Lord give us the strength, give us the strength, the family and everybody, give us the strength. I don't want to question God, but I just don't get it." Quavo and Drake also spoke at the ceremony, according to a report from TMZ. The 6 God reportedly spoke about the brotherhood he developed with Migos, all the times they toured together, and comparing themselves to the legendary Rat Pack — Frank Sinatra, Dean Martin, Sammy Davis Jr., Joey Bishop and Peter Lawford.
Justin Bieber, Chloe Bailey and Yolanda Adams all performed during the ceremony for the late rapper, who was shot and killed at a Houston, Texas, bowling alley on November
Reverend Jesse Curney III of New Mercies Christian Church, which counted the late Migos rapper and his family among its congregation, handled TakeOff's funeral service.
"I was really sad to hear the news," Reverend Curney said in a statement last week. "Kirshnik has been a faithful member since he was ten years old. He and his family were active and avid supporters of the church and the community as a whole."
TakeOff had just joined Quavo for their first joint album together, Only Built for Infinity Links, while Migos wrapped its critically lauded Culture trilogy with Culture III last June. Takeoff also released his first solo album, The Last Rocket, in 2018.
About the Creator
I am an honest, curious, optimistic, cheerful, I am very outgoing and build contacts easily with any type of people. I love swimming, walking, camping. But I will not refuse reading a good book or watching an interesting movie.
Reader insights
Be the first to share your insights about this piece.
Add your insights