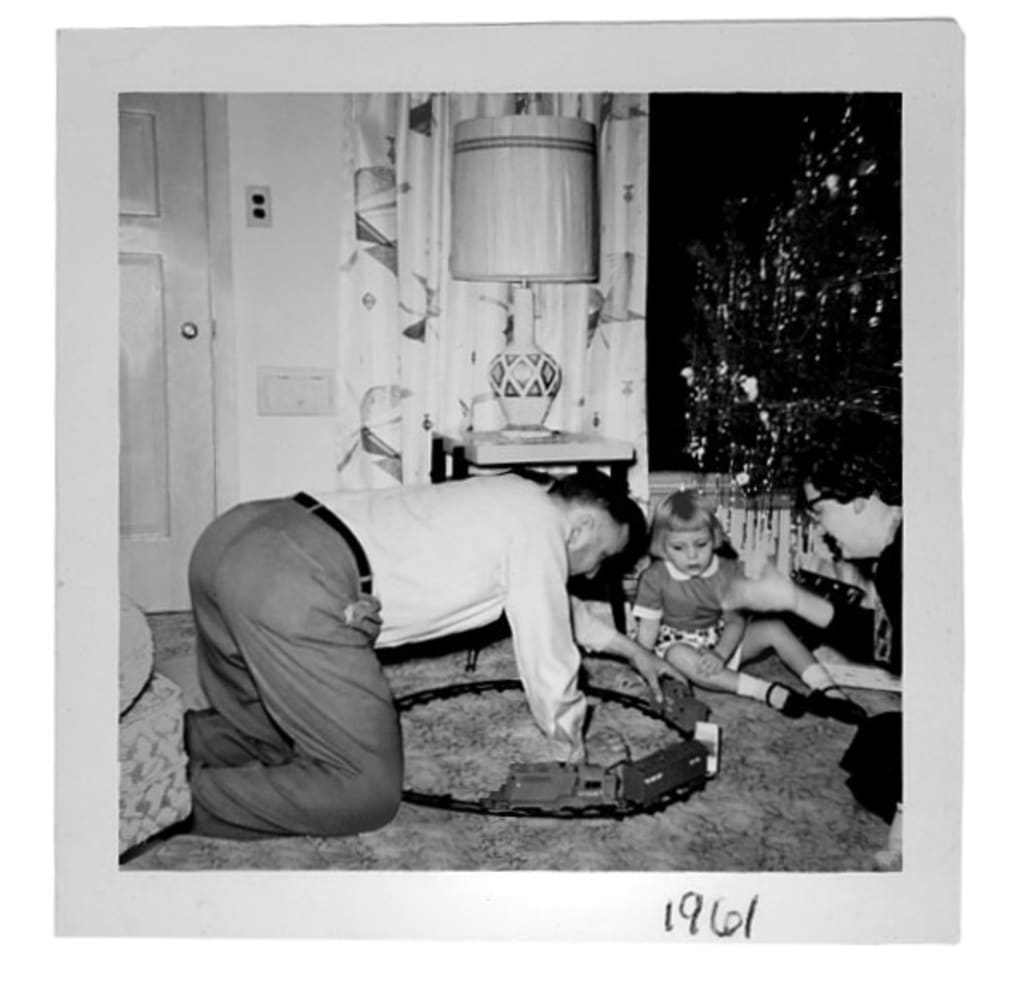 POP
by
Marty Roppelt
Tenacity. That's what I think of with respect to my dad, my Pop.
Should I wash the early memories of him in golden sentimentality? I could. Many faded snapshots beg me to guild the time. My favorite is the black-and-white photo of Pop on all fours in our living room one Christmas, trying in vain to will a toy train to stay on its track.
Tenacity served him well, but not always.
When I lived in Atlanta in the '90's, my dad flew down for a visit. His plane taxied to Concourse D, the second furthest from the main terminal. A shuttle within Hartsfield-Jackson Airport whisked passengers the half-mile to the terminal. But Pop wouldn't go for it.
"Let's stretch our legs."
"You sure? It's a long way."
"Come on, Sonny. Let's go."
"Okay."
I handled his suitcase and adjusted my gait—Pop was in his mid seventies and not in the greatest shape, so I didn't want to push him. A little before Concourse C, he paused to light a cigarette.
"Pop, you can't do that. There's no smoking in public places like this."
"I'm seventy-five. I'll do what I want."
I shrugged and continued on with him.
We approached Concourse B. He slowed and looked around in confusion.
"Where's the exit?"
"This is only Concourse B. We pass one more concourse before we get to the terminal."
Pop nodded. "Okay, enough walking. Let's catch the shuttle."
The visit cheered me. My family lives in Cleveland, Ohio. I didn't care much to live so far away from them, but I moved south to appease my first wife. My father's stay made me wonder, not for the first time, about his own experience. Not knowing a single word of English and with only one solid contact in Cleveland, he made the journey from Romania.
His tenacity helped him learn another new language. Growing up in Transylvania—the German part of Romania—he spoke German, Saxon (the dialect of German most often spoken in Transylvania), Romanian and Hungarian. When the village boys grew tall enough to work in the fields, they did so. The elders deemed them educated enough. Once he immigrated to the United States Pop took night classes to master English.
Saxon, German, Romanian and Hungarian, and later, English. Five languages learned. Not bad for a farm boy with a fourth grade education.
Pop also had to find a new, urban trade. Here, he benefited again from his perseverance. He worked for a while as an auto mechanic. Farm-boy Pop picked it up quickly. The owner even offered him a partnership. My dad considered the offer and could have made a pile of money. But he caught the guy cheating customers. A motorist would bring a car in for work on, say, the radiator. The proprietor made the repairs. But he also would replace a perfectly good carburetor with an old, weak one. When the defective carburetor gave out, the crook repeated the process with different parts.
Instead of taking the grease monkey up on his deal, Pop quit.
He knocked around at a couple of jobs, including high-rise widow washer. Then he settled in as a forklift driver in a factory. My dad kept that job for nearly thirty years.
The shop held family picnics in the summer. Picnic tables sprang up in the parking lot. Spouses and children explored the plant, guided by the workers. Holding our hands, Pop delighted in giving us a tour of the machinery—the metal stamping monster, the never-ending conveyor system, the welding line. He especially relished showing off his forklift.
The factory gave Pop the means to raise a family. He never forgot that. But sometimes his dogged drive to provide for us effected his vision.
Our family's routine dissatisfied me when I was very young. My mother stayed at home; she would take a job only later when the finances got tight in the 70's. Pop worked nights in the early '60's. I didn't see much of him since he slept during the day and we children did at night.
One day, at just about the time he awakened, I made a decision. I reached past my mother into the refrigerator. Grabbing a loaf of bread (we kept it in the 'fridge for reasons that now elude me) and with butter and jelly in hand, I focused on my task.
Half-awake, my dad shambled into the kitchen. He followed my clumsy attempt at making a sandwich, then tapped Mom on the shoulder and pointed at me.
"What are you doing?" Mom asked me.
"Getting ready."
"For what?"
"I'm going to work with Pop."
I watched Mom prepare Pop for his workday often enough to figure out that he needed to take food along with him. If he needed food at the factory, so would I.
A few weeks later, Pop punched the clock on his first day shift. He told me years afterward that his night shift schedule hurt family time. But he only realized it that day when I got ready to go to work with him.
Pop viewed his role as father seriously. Sure, he chauffeured us around as we grew up, usually to a musical activity—my sisters and I are musicians, my parents were singers. But Pop never just dropped us off and picked us up. He got involved in what we did. He knew what we needed, and gladly gave it to us.
Pop passed twenty years ago. But in truth, I'll never lose him. I hang onto my memory of him tenaciously.
parents
About the author
My life-long love of reading coupled with my family background (we're Transylvanian. Yes, there is such a place!) leads me to write mostly in the paranormal and horror genres. Born in Cleveland, Ohio, I also have a heck of a sense of humor.
Reader insights
Outstanding
Excellent work. Looking forward to reading more!
Add your insights