Passion, Love, and Care
I've been here on this planet for 17 years and not once has a thing made me feel passion, love, or care.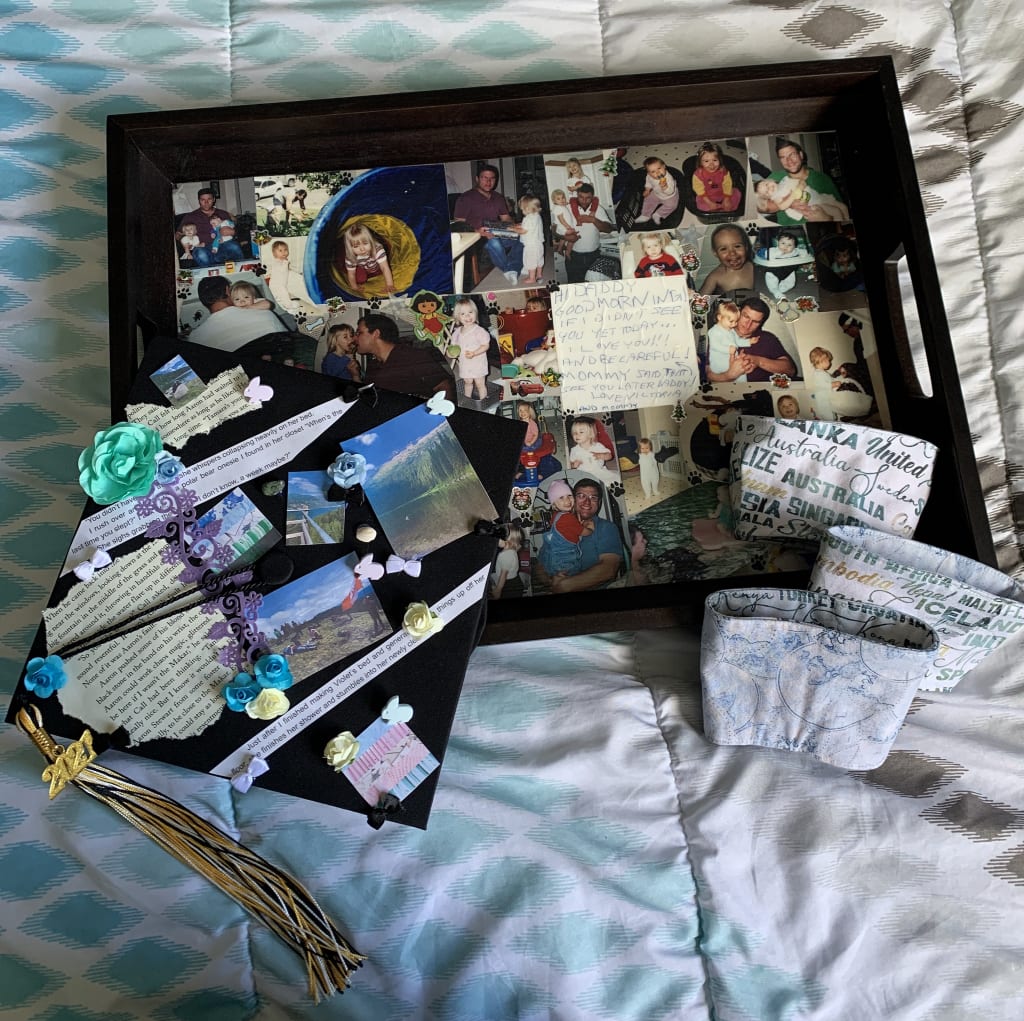 I like to Play With Scissors
As a little kid I was obsessed with scissors and cutting things with them, paper, crayons, clothes, pencils, hair, anything I could get my hands on, much to my parent's dismay. Fast forward to today, my graduation ceremony looming, gifts for teachers laying about and a graduation gift for my father, my love of cutting hasn't halted in its tracks.
Covid-19 took away my physical graduation ceremony and every other grad activity, leaving little to mark this day in my life. Alone and in lockdown, there's not much to do, even less when dark thoughts start tempting me to give up, telling me I'm not important or worth anything. But I find the strength to ignore them and find an outlet. I choose my graduation cap. I got the inspiration for the project from seeing an image on Instagram of a graduation cap with the Sponge Bob meme on it "4 Years Later...". We were given our caps and gowns to keep by my school, not borrow, so I decided to grab my scissors on the day I was supposed to go to my graduation ceremony and say "What could go wrong?". Nothing as it turns out, I'm ecstatic with the end result and it made my graduation day a little more real and fun. I took quotes from a story I previously wrote, photos from places I'd gone, flowers from my sister, velvet trim from my mother, little satin bows and bunny buttons from my dad, and a page from a book. I also made my pride flags to put on my cap. In essence, I put my essence on my cap.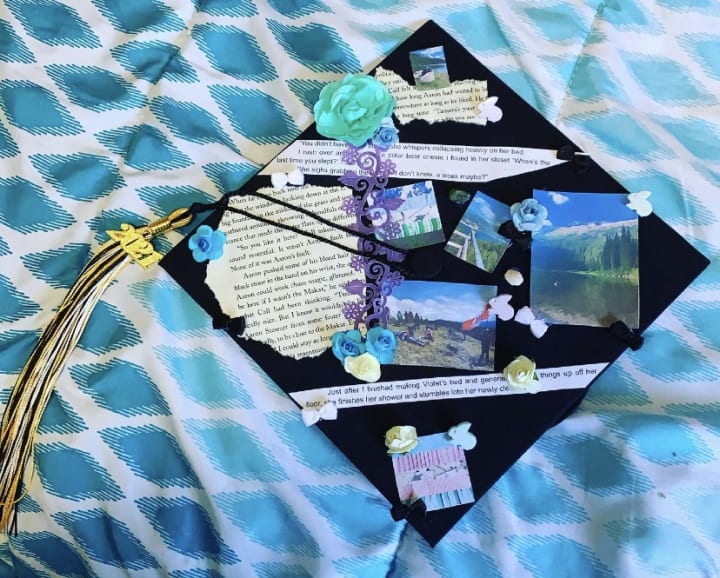 My favourite teacher is Mr. B, my History, and Theory of Knowledge teacher. He always has a smile when he comes into class, a kind word, and the most interesting current event opinion. It also helps my highest mark is in his class, and sometimes his little kids L(2) and K(4) force him to show us videos or pictures of them being absolutely adorable. Mr. B is more than a teacher to me, he's who I wish to become(with my own twist), an unknowing mentor to me. He's very educated on a number of topics, keeps up with current events, tends not to procrastinate, reads more books than a librarian, is incredibly kind, cares very much about the environment, loves his kids and wife and makes time for them, and he's very passionate about teaching. I can't describe him in a way that will do Mr. B justice but I hope I've done well to illuminate why I look up to him. He also drinks a lot of Timmies[Coffee], especially when I had him in Theory of Knowledge, which started an hour before the regular school day. I wanted to give him a gift, something useful, I decided on coffee sleeves. I went to a fabric store looking for material and I found one with small world maps all over them and another with country's names from all over the world on it. They were perfect, using my sewing scissors and machine, I made 3 reversible, washable, protective coffee sleeves to show how much I appreciate him.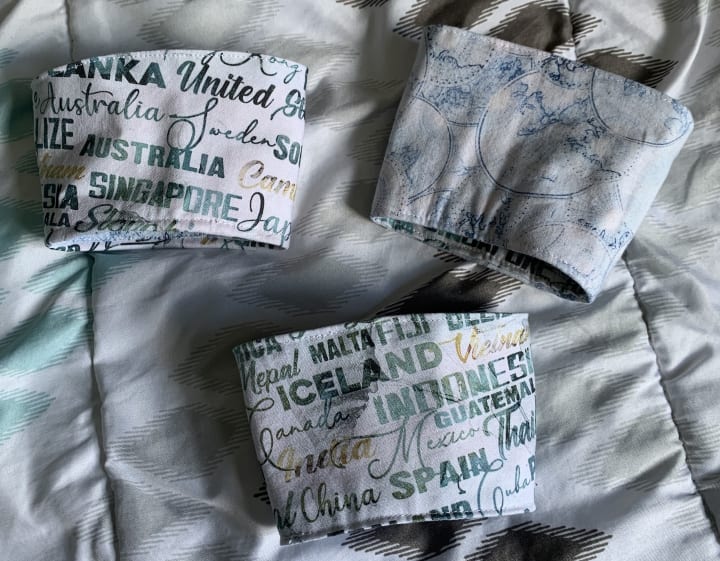 When I was a kid, my father worked overseas, I rarely saw him and he rarely saw me. I've always known he regrets not seeing me grow up, missing birthdays, bedtimes and school events. He loves to watch movies with me, his most treasured memory is watching Dora the Explorer with me when I was little and every time we watch something he uses a tray to carry down all our snacks and drinks and popcorn. In our basement, we have a box filled with envelopes from Walmart of developed pictures we never look at. I was racking my brain trying to think of a way to incorporate pictures of me when I was little into something that would be useful for my father. Then I looked over at our home movie theatre, a couch, tv and shelves of movies and shows, when I thought of making a collage of little me pictures on a tray my father could use to bring down snacks, drinks and popcorn for movies. Arranging all the photos and glueing them then filling in the weird holes with stickers proved harder than anticipated, but it was worth it. When I gave it to my father, he was at a loss for words, crying and could only hug me, I knew I had done well.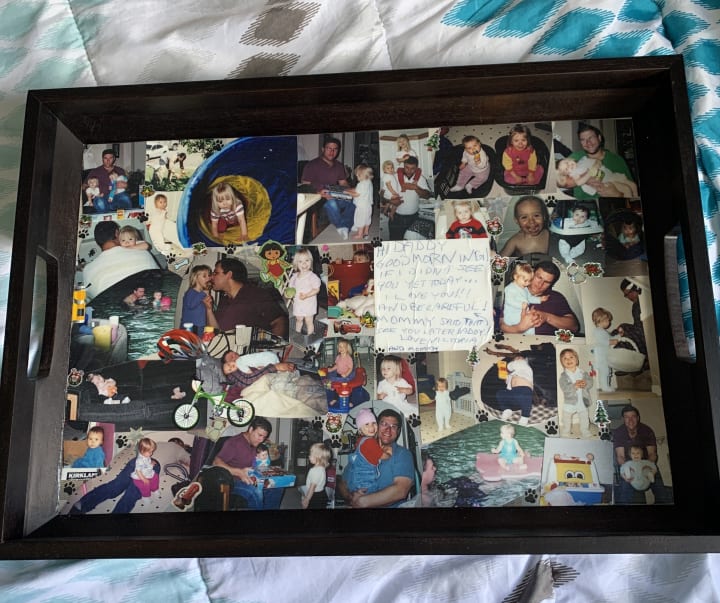 My stories aren't exactly about scissors, they're about my life and how a pair of scissors have made such an impact on it. Allowing me to show love, gratitude, and perseverance with their help. My passion doesn't come from scissors, or paper, or ribbon, or fabric, those things are just that, things. My passion comes from the people I love and care about, my father, my teacher, and myself.