One Word
Dad's are No Joke Contest Entry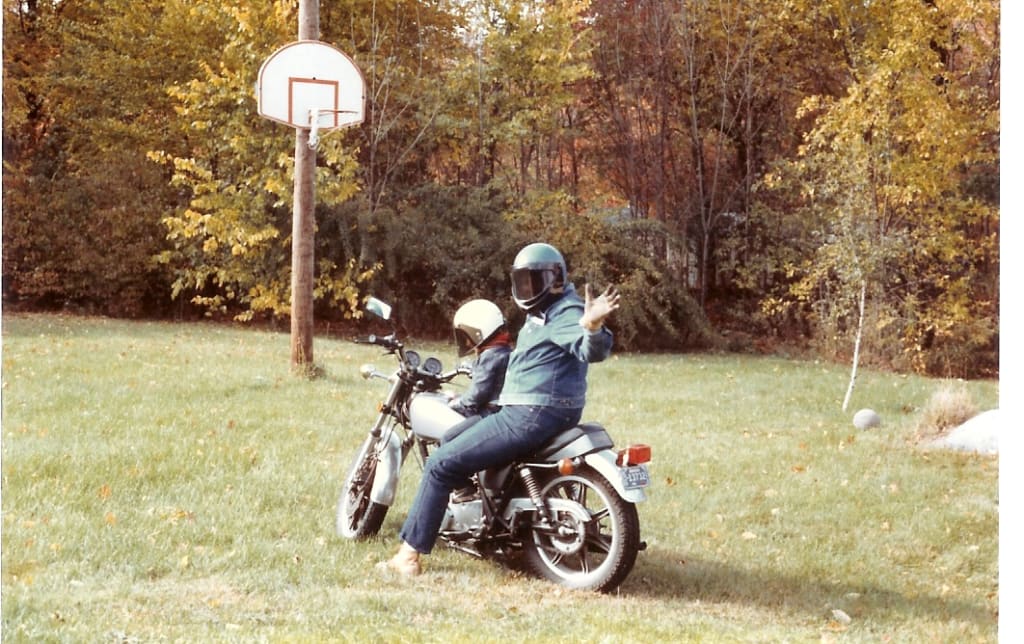 My father and I on the way to a poker run in NH. I'm the short on on the front.
I was asked recently what one word best describes my father, and I've been thinking about it ever since.
My father passed away in 2015, exactly one week before my thirty seventh birthday. He always had a talent for things like that. Hospital visits on holidays, birthdays, and generally inconvenient times.
He was a complicated man, yet simple in his own way. I've struggled since his death at how exactly to describe the man. There was so much to him.
He was a loving person, and he absolutely adored kids. No matter who I brought home to play, he would share with them the wonder that he managed to make every day. He was always trying to teach both my friends, and myself. And not the usual boring dad stuff, not my father. He would teach us random fun nonsense. How to make model rockets, and how to make new fuel cartridges. How to use fireworks properly (to the chagrin of some people's parents).
Looking back, perhaps it was that propensity for danger that made him fun. Guns and explosions were part of my childhood, and therefore all of my friends'. I learned to ride a motorcycle when I was six or seven, and was driving cars around my grandparents' farm when I was twelve.
But it was so much more. He loved showing us all of nature, and explaining things about it. He was a mechanical engineer, and I learned far more about machinery than I ever really cared to know.
He taught me about different rocks and minerals, and some of the techniques used to mine them. He taught me about woodworking, metallurgy, and even aerodynamics. He was a pilot, and even designed his own plane once. I still have the model mock up of that plane. He even taught me how to build a house while he did so for his parents. I was too young to learn it all, but I was always amazed that he seemed to know it all.
He loved mythology, and explored all things religious, or supernatural. He introduced me to the concept of UFOs, aliens, gods, and demons. However, he always encouraged me to think for myself. He never forced his views on me, but rather shared them and asked me to explore them with him. As a result, I don't particularly agree with most of what he believed, but that was always the point.
He told me once, "I wanted to teach you how to think for yourself, not just follow what I thought. I knew full well that you would probably disagree with me as a result, but that you'd be a better person for it." I like to think he was right.
He was full of stories. When I was young, he had a series of stories about a little farmer mouse that he would tell me at bedtime. The stories were never written down, they just existed in his mind. I've been working on creating a series of children's books based on those stories, but I find my version seems to lack some of his charm.
Literally anything I could dream up, our little farmer mouse would need to contend with. Ninjas, robots, fires, alien attacks, even a tornado once after a real one came dangerously close to our home. He would ask what was going to happen tonight, and craft the story on the spot.
He was musical, although he never thought so. When we lived in New Hampshire, there was a park called "Story Land." I've checked, it's still there and I plan on going back as soon as time and money allow.
My best friend, Cory, and I loved Story Land, and my father loved taking us. The whole park was themed in old fairy tales from Humpty Dumpty to the Three Blind Mice. And my father, being the person he was, would pile us in the car while singing a song about going to Story Land. "Let's take a trip to Story Land." I can still hear his voice singing that song thirty something years later.
He would randomly belt out songs from the 1920's, even though he wasn't old enough to ever hear them new. The public domain was his treasure trove, To this day, I never figured out how he knew any of those songs, but appreciate that he did, and as a result so do I.
But there was a darker, sadder side to the man. He was born on a Friday the 13th, and always seemed to believe that held some sway over his life. He was also very sickly.
Strokes, heart attacks, cancer, heart disease, lymphoma, spinal issues and a whole list of other conditions that made most doctors gasp. He was a survivor, but it was a rough life.
And that imparted in me a sense of strange dread in my own life. As a younger man it never bothered me, but the older I get, the more I worry about becoming that sick.
He had stopped being able to work very much when I was in my twenties, and collected disability for the remainder of his life.
He was also plagued by poor luck with his professional life. It seemed like everywhere we went, he was laid off eventually. It was a common thing in the 80s, and his political views were shaped by that time period.
As I grew to know who he was as a man, instead of the father figure, I realized the levels of his depression. I'm always amazed he was never suicidal, although sometimes I do wonder if he simply never allowed that part of his personality to show. Certainly toward the end when he could no longer walk, and was in constant pain, I knew if they had allowed assisted suicide in the state we were in, he would have signed up.
He was a man of few friends, but many acquaintances. People loved him, although he got close with very few of them.
He always dreamed big. Trying to find ways to make money, and provide for his family even after he could no longer work.
The last years of his life, I moved back in with him, to help him do the things he needed to. He was always scheming about business ideas, ways to make a dollar, things he could do. I know now that most of that was because he wanted to leave me with something, but at the time I just tried to encourage him because it made him excited about something.
One time, we were investigating buying a hot dog cart. We talked about it for days, and even went so far as to research prices online and find one we both liked. I had to leave for a few days in the midst of that, but continued to research as I was away, finding out all about local mandates and commissary issues that were going to be hard to overcome. When I returned, I discovered he had ordered the cart without even considering these things.
He was impulsive like that, always trying to find that secret formula to get us out of the ruts that life threw our way. He made alien head pendants using all that machining and metallurgy he knew, he tried the hot dog cart, he wanted to open a mini golf course, camp ground, restaurants, and even an army navy surplus store.
None of these dreams ever came to fruition. The outcome was that I started being a dreamer too. I now understand that it was constant attempts to feel some sort of self worth, to make a difference, to matter. I dream for much the same reasons.
He was a simple man, who hated clutter. Possessions were minor things for him, and he never held too many of them. His house was always immaculate and sparse. A minimalist before the term existed.
It always made things feel sort of empty. The only things on his desk were his computer, mouse, keyboard, a note pad, and a picture of me.
I have also realized since he passed away that everything he did, everything he was, everything he wanted to do, were all to benefit me. I don't know how else to word that. It sounds so self centered, or somehow pathetic. It's the truth, but it just rings oddly. I was his entire world, and I constantly wish that I had noticed a long time ago, and thanked him for it. I never truly appreciated everything that he was, and now that he's gone all I can do is try to use words to describe a man that was so much more than those words will ever entail.
The best I can do is live my life to the fullest, and dedicate as much of my writing to him as I can. Even my pen name is a shout out to him.
I've discovered a lot about the man since he left me, and it wasn't always good. He wasn't who I thought he was, he was so much more. He was loving and kind, but also extremely sad underneath. He was a storyteller, a musician, an idea man, a support, an influence, and a freedom.
He was my father, also known as: dad, pop, old man, crazy old man, pain in the ass, Bob, Robert, Bobby (although he hated that name), Uncle Bob, and of course Mr. Hanson.
And now, after he's been gone for almost eight years, I've finally decided on that single word that describes the man. "Magical."
Everything he did was a piece of magic, and the world is a little bit sadder with that magic gone. Sure, most people will never know of him, but those of us that did will always love the man, and all the magic he put in our lives.
parents
About the author
Karl Robert Hanson is an author, musician, and collector of small blue PVC characters.
Aside from writing, Karl is also an amateur puppeteer, gamer, pixel artist, and a pretty darn reasonable cook.
krhanson.com for more.
Reader insights
Outstanding
Excellent work. Looking forward to reading more!
Top insights
On-point and relevant

Writing reflected the title & theme

Easy to read and follow

Well-structured & engaging content

Excellent storytelling

Original narrative & well developed characters
Heartfelt and relatable

The story invoked strong personal emotions

Masterful proofreading

Zero grammar & spelling mistakes
Add your insights