On the Other Side of Fear
Dads Are No Joke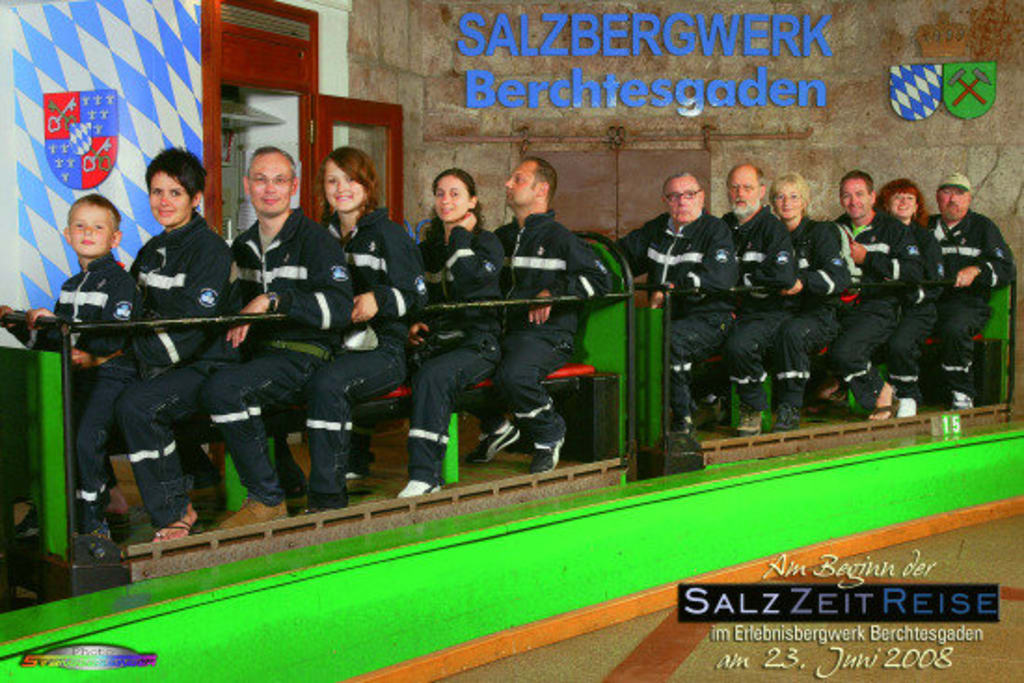 The author and her father in Germany (back of the train)
I've always been a chicken, but I rarely give in to my fear. I guess I get that from my father.
As I stood in line for the newest roller coaster at Busch Gardens in Williamsburg last week, my idea for this challenge piece came to mind.
Here I was – along with my fifteen-year-old niece – riding every roller coaster and log flume in complete panic mode. I knew that after I survived once, I would probably want to ride it again and again. But that didn't settle the rising anxiety as I waited for each new experience.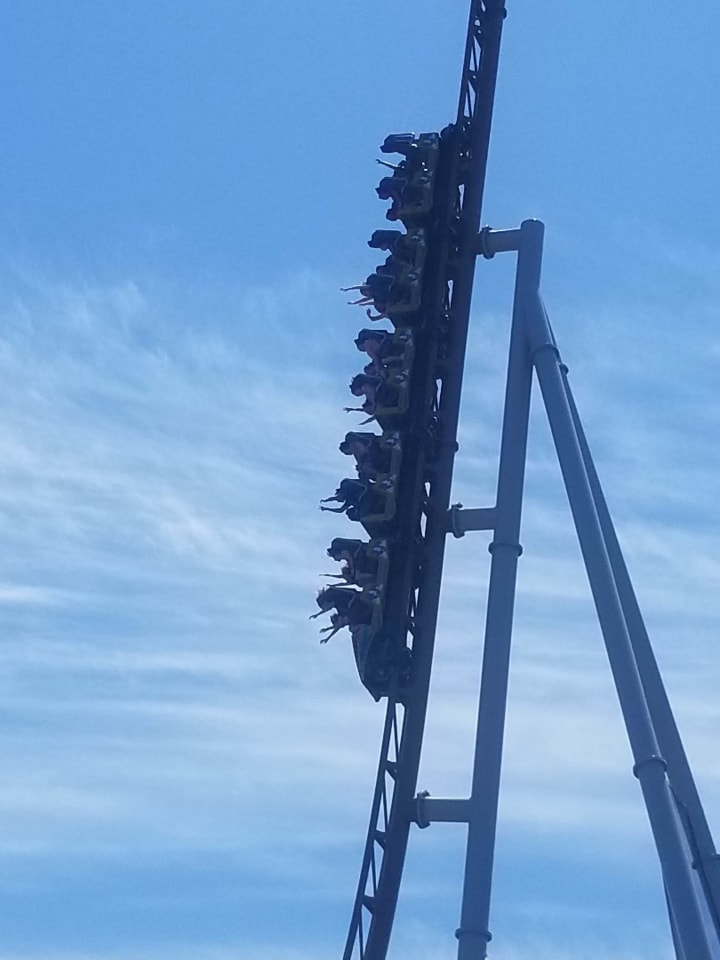 When I was young, the same thing happened as I stood in line with my father. But I relied on him to get me through it as the voice of reason. He wasn't afraid. It was only a ride. I could do it.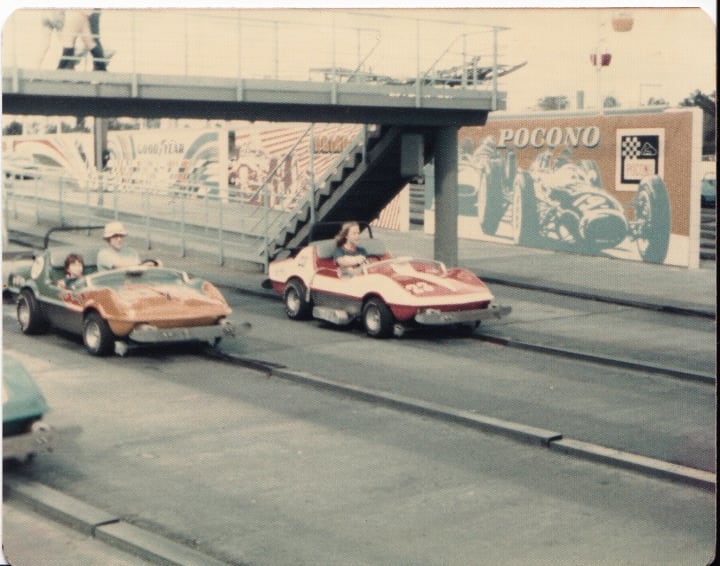 But he had a secret that I didn't know about until I was an adult – sometimes he was afraid.
But he persevered.
"Don't give in to your fears. If you do, you won't be able to talk to your heart." Paulo Coelho
In my mind, one of the biggest takeaways from my father is my love of learning and trying new things. And sometimes – even when I am petrified.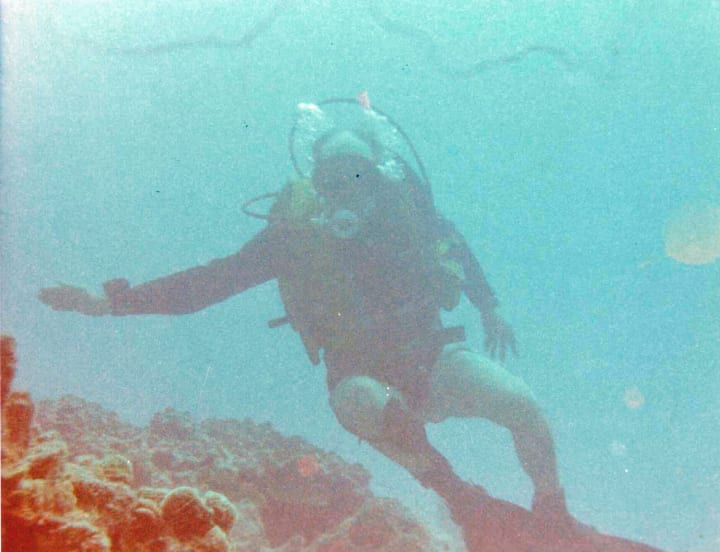 As I child, I watched my father take up thrilling sports and hobbies from downhill skiing to scuba diving. If he was afraid, he sure didn't show it. He would come home with remarkable photographs and riveting stories to share.
And through words and example, he ignited a spark in me to try new things too. But, as I stated earlier, I am a chicken. In my memories, I see myself in the Poconos. There I am in full V-formation trying to slow my speed to turtle pace down a snow-covered mountain while he encouraged me to keep going. (In fact, my husband says I still do this when I go down waterslides – except then I try to slow myself by pressing my feet along the sides. But at least I don't bail out.) There was one time when I lost a ski getting on the lift and endured the long ride knowing I had to exit with only one ski - or tumble down the ramp as it so happened. But I did it.
My father took me water-skiing, river tubing, and even on a memorable Pennsylvania hike where I was sure I'd slip from the narrow, muddy trail and fall to certain death. Yes, I was scared, but I had him there reminding me to be brave. And the memories I have now are well worth the fear.
"Keep your fears to yourself but share your courage with others." Robert Louis Stevenson
Even more unbelievably, in his fifties, my father earned his pilot's license and ended up with his own Piper Warrior. To pass, he had to do a death-defying free fall with the engine off. Never did I imagine in any of these scenarios that my father was afraid.
Until I became an adult.
"Curiosity will conquer fear even more than bravery will." James Stephens
To be fair, my father wasn't in my life on a daily or even monthly basis after my early twenties, but my husband pointed out a tell-tale clue one day on the airplane.
"Look how he's holding the dashboard when he flies."
After discussing this with my husband later, I asked my father the next time, "Dad, are you afraid of heights?"
"Yep!"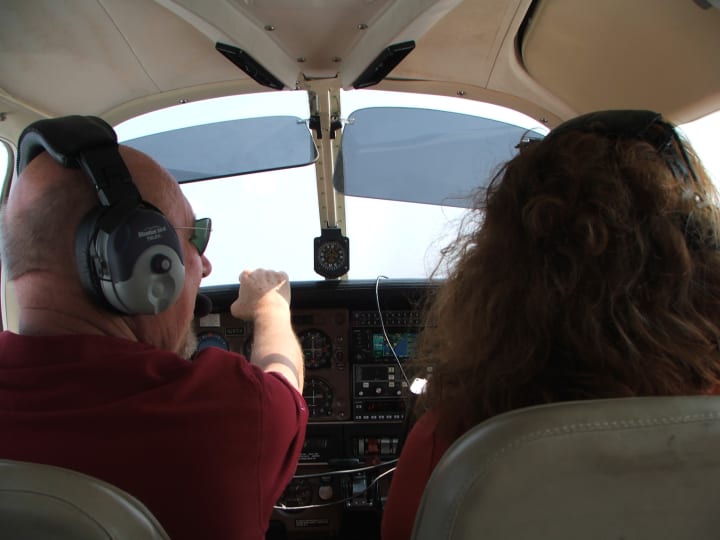 Well, what do you know? My father, deathly afraid of heights, still managed to pass flying school and operate his own small plane. All while holding on to the dashboard like a security blanket. Now, that's fortitude!
"Do the thing you fear and the death of fear is certain." Ralph Waldo Emerson
Another fun fact is that when my father was about sixty, my husband and I invited him to accompany us on a two-week road trip through Germany and Austria. This time, however, I began to notice some revealing signs of his fear of heights - such as holding on for dear life.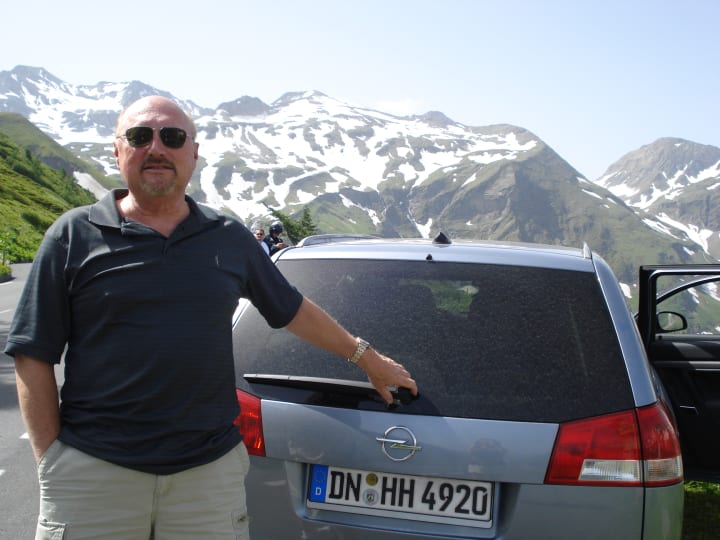 We brought him up to the top of the Zugspitze by cable car, rising 9,718 feet above sea level, to look down upon four countries -- Germany, Austria, Italy, and Switzerland. We exited the car to stare down at a spectacular glacier and playful marmots from the Grossglockner High Alpine Road.
And not knowing my father also had a bit of claustrophobia, we took a train down a literal salt mine deep underground and had to drop down slides along the way.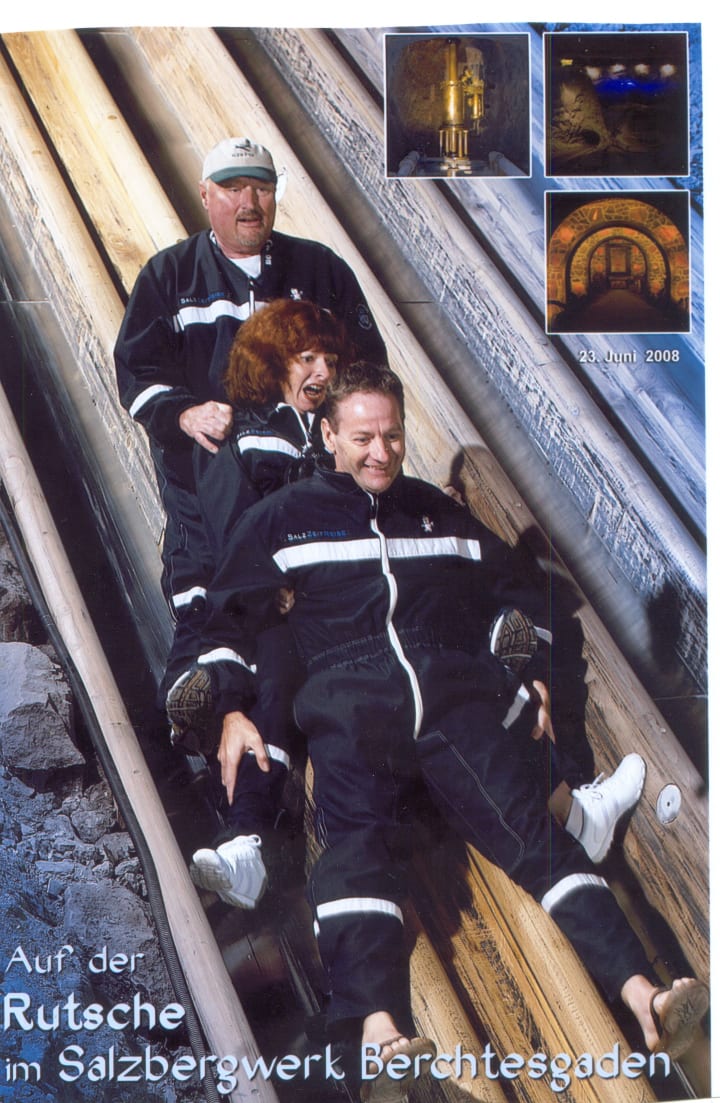 Years later, my father would look at the picture and remark, "I can't believe I did that." We also shared other exciting escapades such as sailing Seegrotte, Europe's largest underground lake and secret German WWII airplane factory in Austria.
"Laughter is poison to fear." George R.R. Martin
And, except for some hikes that were physically too demanding, he never let fear stop him from experiencing life and learning new things. Those two weeks were two of the best for both him and me, as we discovered more about the other as complex adults instead of the daddy hero he was when I was a child.
"Fear is only as deep as the mind allows." Japanese Proverb
My father suddenly passed away in November 2021 at only seventy-four years old, but until the end of his life, he never stopped experiencing, learning, and exploring. While many people slow down as they get older, my father was as active as ever in his fifties through seventies. He became an amazing amateur photographer by taking classes, joining groups, and sharing work through social media.
He engaged in volunteer work and opened and operated pet stores, like Ocean City Dog and Kitty on the New Jersey boardwalk. It had always been his dream to have a store there. Travel to Europe and different locations in the United States remained a passion, especially as it provided ample opportunity for photographs. He continued to fish and speed around on his boat and took care of the hummingbirds that visited his Cape May County home in droves. While he was studying to be a trolley guide in historic Cape May, he signed up to become an Uber driver.
My father truly loved living. And on the occasion where he may have been afraid? If it was worthwhile, he would probably do it anyway. He would feel the fear and persevere.
"Life shrinks or expands in proportion to one's courage." Anais Nin
Recently, my husband and I took a trip to Alaska where I booked a water-landing plane over the parks to look for grizzly bears. At the last minute, the pilot took on two elderly passengers from Switzerland. Of course, I volunteered to be demoted to the "third row" of the tiny plane which was an extremely narrow back spot that you had to climb over the other seats to reach. The Swiss woman was also cold, of course, so she asked the pilot to close the window. When we stopped on the water and were able to get out for a stretch on a dock, the pilot asked how I was handling it.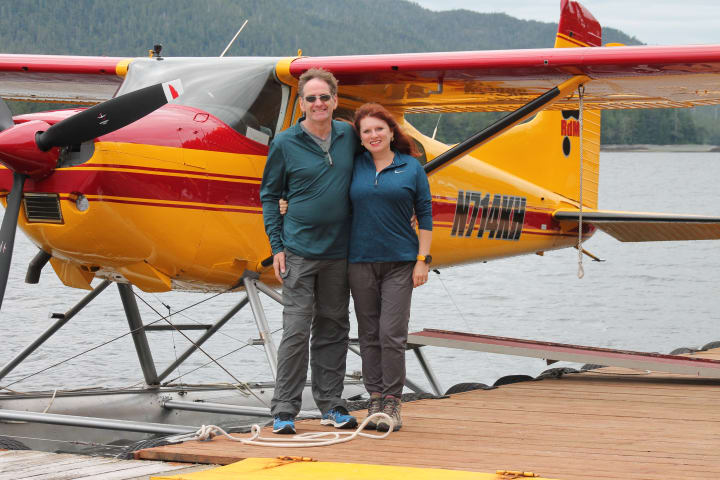 "I'm okay," I said, lying to hide the fact that I had been in almost full anxiety mode. "Although it's very claustrophobic back there."
This young, hearty pilot said to me, "I know I couldn't do it. You got the fighting spirit of the Irish."
I should have answered, "And maybe a little of my father's spirit too."
"Do the thing you fear to do and keep on doing it… that is the quickest and surest way ever yet discovered to conquer fear." Dale Carnegie
parents
About the author
Animal advocate, traveler, and bibliophile. Lover of all things dark and romantic.
Reader insights
Outstanding
Excellent work. Looking forward to reading more!
Top insights
Heartfelt and relatable

The story invoked strong personal emotions

Excellent storytelling

Original narrative & well developed characters

Easy to read and follow

Well-structured & engaging content
On-point and relevant

Writing reflected the title & theme

Expert insights and opinions

Arguments were carefully researched and presented

Compelling and original writing

Creative use of language & vocab

Eye opening

Niche topic & fresh perspectives
Add your insights