On Having A Child With A Rare Condition
Not enough is said about what it's like to have a child with Lennox Gastaut Syndrome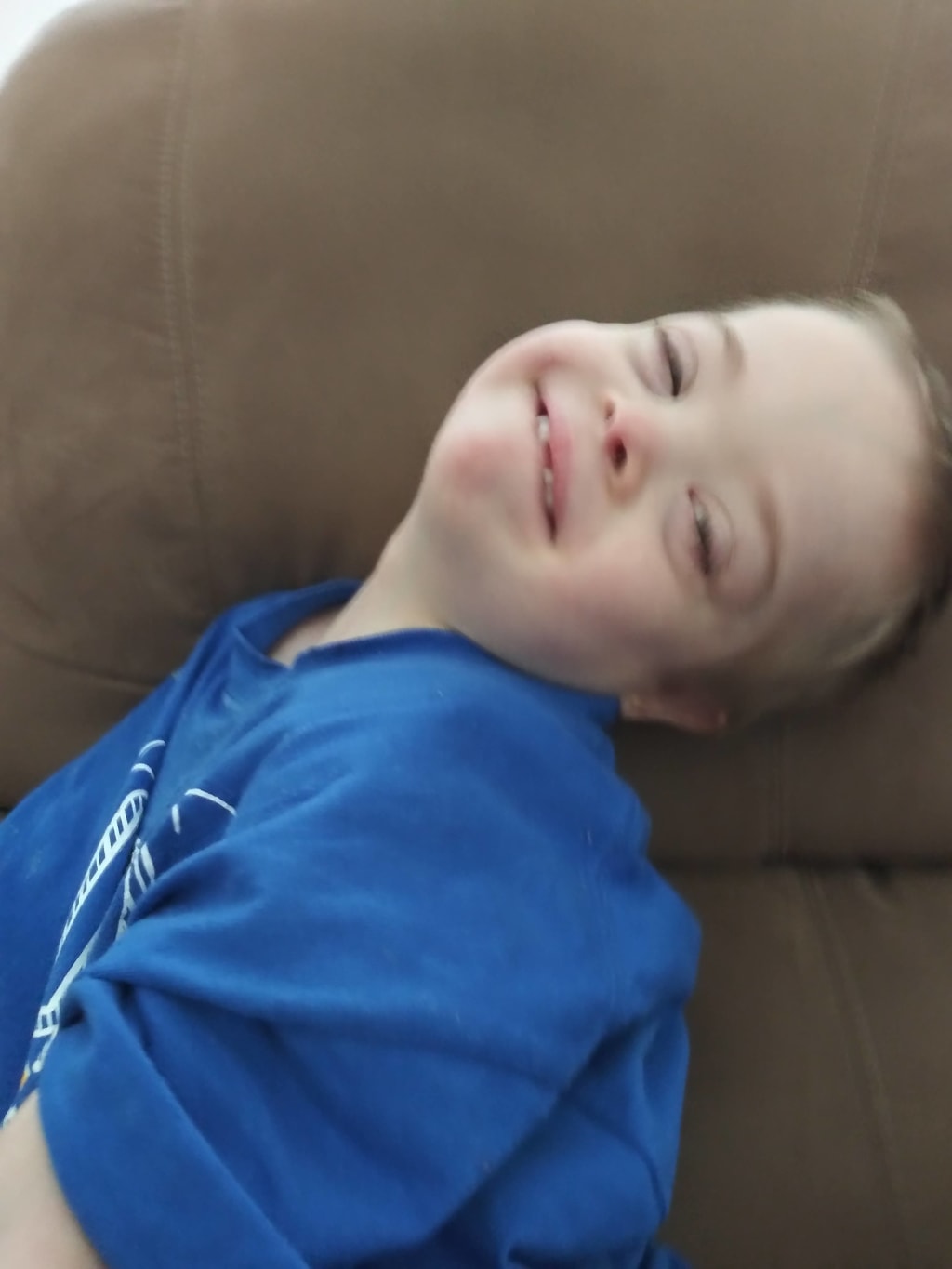 My son Cody
First off, I want to say the child in this picture is my nearly 9 year old son Cody. He loves animals, music, playing with toys, being outside, watching TV, and sometimes watching a movie.
He also has a very rare medical condition. A type of epilepsy known as Lennox Gastaut Syndrome (LGS). As a result, he has multiple other medical conditions that are caused by that one and requires constant care. He's also smaller than the average 8 year old (3ft 6in).
Cody can't do much on his own. He can walk and play, but he needs help with even those as he will run around randomly and not stay with anyone. In public and even in a home, Cody needs to be physically taken by the hand and led where he's supposed to go as he doesn't have the ability to do these things on his own due to his medical condition.
A typical non school day with Cody looks like this: I wake up at 6:30, go to the kitchen, and get his multiple medications ready. Because of his inability to swallow pills, all of these medications are liquid and drawn up into syringes. Cody takes a seizure medicine, stomach medicine, and asthma medicine all before breakfast.
Next, I make Cody's breakfast. Because of his many medical conditions, if I want to give him something like pancakes or waffles, I will have to put them into the blender. Invariably, his breakfast is always oatmeal, but I do my best to put as much variety into his oatmeal as I can, such as putting maple syrup and a hand mashed banana into his breakfast for flavor variation. He also gets a nutritional supplement with every meal.
After this, I go and grab a set of clothes for Cody, along with a pull-up, towel, and washcloth, and lay them out in the bathroom. Also, I make sure that his body wash and shampoo are in the tub and ready.
Now, it is time to get Cody out of bed and begin to get him ready for the day. As he's lying down and he can only swallow his liquid medications when he's flat on his back, I first give him his seizure medicine, followed by his stomach medicine and his asthma medicine.
Getting Cody to the bathroom requires maximum effort, as he doesn't always want to walk. Cody gets his pajamas off, then is sat on the toilet for a little bit to relieve himself (something he usually does in his diaper,but he also does a little bit in the toilet as well) and after that, it's bath time.
I have to bathe Cody, then put his cream and ointments on him before getting him fully dressed. Before we leave the bathroom, Cody gets his sinus medicine, a nasal spray. For this part, he requires maximum care.
Feeding Cody requires physically sitting down next to him, holding the spoon, and feeding him every bite. He cannot hold a spoon or feed himself and needs his nutritional supplement drink held for him to drink it out of a straw. All the while, I have to watch for seizures, something that for Cody, can happen both anywhere and at any time.
Breakfast is followed by going back to the bathroom and brushing his teeth. While he's playing, I have to watch and listen for seizures, along with watching for his signals that he needs to use the bathroom or he's thirsty.
Lunch and dinner aren't much different from breakfast, outside of the facts that he gets food other than oatmeal for these meals and they're put through a blender before being given to him. Just like breakfast and any snacks he gets, I have to sit with Cody and feed him every bite. Before snacktime, he gets an allergy medicine to deal with his skin condition.
After dinner, I have to prepare Cody's second (and last) doses of his daily seizure and stomach medications, get his pajamas ready, and clean up after his meals.
Cody gets his final doses of the day of stomach and seizure medicines, is allowed to play for a few hours, and then at bedtime, he is changed into his pajamas and read a bedtime story. He usually stays up for hours running around his room before finally going to sleep.
For any of you wondering if I get any government assistance for Cody, the answer is yes but it is extremely limited. I do not get food stamps for him (for some reason, the USA has determined that Cody doesn't qualify for those), but he does get SSDI (Social Security Disability) and Medicaid.
I am also subject to harassment by DCF every single time someone decides to "help" Cody by calling and making a false report against me about him. This has happened multiple times. This latest one has me subjected to "parenting counseling", constant "welfare checks", and has left me forced to fight for my son. Instead of asking and learning about Cody's LGS and the many other medical conditions that are connected to it, people will assume he's being mistreated, come up with outlandish false accusations, and force me to have to deal with the state.
Cody constantly chews on his shirts, which subjects me to people calling and claiming that Cody's "never dressed properly". He is smaller than the others his age and doesn't talk, which subjects me to calls about Cody being "neglected".
Every single time someone calls DCF and makes a false claim about Cody and/or about me, it subjects me to having more to do. Not only do I have to take time out of working online in order to make money, but I have to take time away from seeing what doctor appointments Cody has coming up and schedule things around said appointments. Because of this, I wholly support defunding both DCF and CPS.
One thing I really wish people would do, is to actually take the time to look up my son's medical condition instead of just looking at him and assuming. A little education goes a long way and would save me the aggravation of having to deal with explaining (yet again) to another individual about Cody's many medical conditions.
In conclusion, I really thing that society as a whole both could and should do better when it comes to how both children and parents of children with rare medical conditions are treated. We need to go beyond "World [insert name of rare medical condition here] Day" and work on how we treat children with rare medical conditions and their parents every single day
children
About the author
Plague doctor cosplayer, pet leech owner, sharing funny true stories along with original works of fiction
Reader insights
Be the first to share your insights about this piece.
Add your insights