Oh Dad I Wish...
Oh Dad I Wish...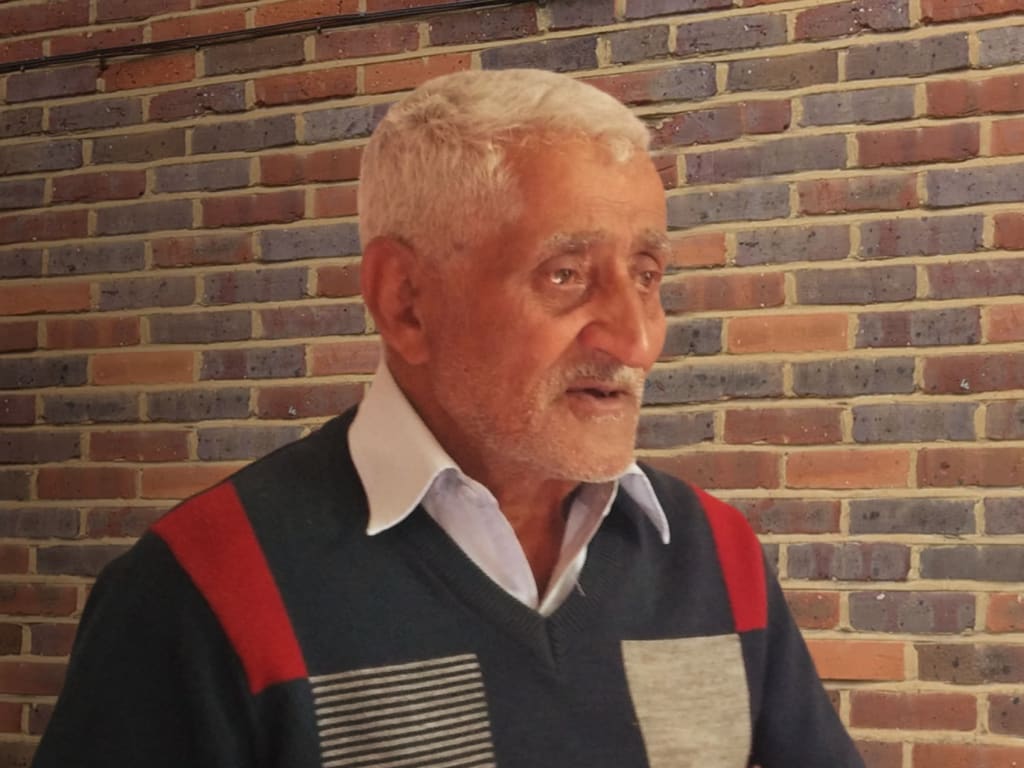 Late M.S.Baba
Five weeks after the havoc played, it was my first trip outside valley. When I landed, I had forgotten completely, though for few seconds only. I switched on phone to check dad's missed call alerts. His habit was to keep calling till I would land. Either I would receive his call or missed call alerts just after switching on the phone. This time there was nothing, no call, no alert. I realized instantly that I had actually forgotten. I don't know how but I could restrain tears in eyes like I did for the sighs in my heart. Perhaps by now I had learnt the art to absorb tears within eyes and restrict sighs within heart. It's true, but I craved for a dark corner under the ambient roof of Delhi Airport where I would weep to my full and let the heart exhaust sighs. I avoided boarding metro, despite the fact that my hotel was near to its station. I needed a moment in solitude. I took a cab. I prefer to sit with the drive for a chat. This time I went for back seat, hence offered myself a moment of solace.
We are very introvert in our family. We hardly express emotions. This attitude never let us speaks our hearts nor let's knows the amount of love for each other. That may be the reason that we vividly show love towards our new generation, our children, so as to break the old tradition. On the back seat of Uber, I reminded an incident, an incident that helped me to realize the depth of my love for dad.
It was just another day in Kashmir. The police was on rampage. They beat people using canes and rifle butts. Those fallen to their assault were being kicked with big boots; those escaping were being shot with bullets. Some men were laying on roads either waiting for rescue or death, in a helpless manner.
I hardly care about mundane tasks- however it was a rear moment. I was out to get some groceries. As I saw hot blood steaming on road, bubbling, evaporating and making a sound as if water is sprinkled on hot iron, I instantly rushed back home. Before I would run, they saw me. They opened fire. Miraculously I skipped the shower of bullets and managed to get into the lane, I live in. In desperation and fear, I tried to open the gate of my home. It was locked from inside. I pushed myself behind a pile opposite to the gate, just before they entered. 'He must be here, kill him', said one of them in rage. I felt blood streaming in my veins, faster and hotter. I heard my heartbeat. I'm not sure if this sensation was the result of a fast run or fear. My wits worked, which was unusual. I, otherwise get lost in panic. I put my phone on discreet mode. I knew that a simple ring would help them in finding the prey. Unlike wits my luck wasn't favorable. They found me. I virtually saw my death in their ghostly eyes, when they pointed guns towards me. I squalled by pulling whole energy from toe to head,'Dad help me.' It was loud, so loud that my sleep broke. Yes, it was a dream. It was 2016 too.
This year witnessed barbarianism beyond imaginations. Mehbooba Mufti had made her mind to wipe out all the records of Omer Abdullah and his forefathers. On the other hand a larger section in police was also in swing to unmask them permanently.
The dream up-surfaced the buried truth in the shell of my heart, the quantum of love for dad. One looks for the most loved in the desperado. I called upon dad when I was about to die. Although keeping the tradition alive, I could never speak it to him. I missed an opportunity of lifetime. That will always sting me.
This was my story where I could gauge the love towards dad but couldn't speak. However he didn't shy away. He made me feel the quantum of his love, when it was his turn.
Just after some time when my younger brother Imran and I realized that the miseries may knock our door soon, I had gone to see my new born son at his maternal home. I received a phone call. 'I got fever', said dad. Dad went through Bronchoscopy last evening. He never fell ill. Despite inexperience he worried neither about illness nor death. It is evident from his statement, 'Just four days are left', he said to Aapaji (elder cousin) in the hospital with smile on lips. But this time he seemed nervous as he fumbled while speaking. That voice is still echoing in my mind shall never fade away. Nor his last statement on the morning when we took him to the hospital, 'I am not well today.'
Later I realized that he wasn't nervous. He fumbled simply because he was adjusting his tone to a new practice; from an introvert to an extrovert, trying to tell me that he loves me, in fact more that I do, trying to tell me that he looked for me in desperations.
On October, 25th 2019, a simple chest x-ray showed some lesion. Doctors considered it serious. Following that dad went through many procedures and tests including CT Scan, Bronchoscopy, CT Guided Biopsy, Bone Scan, ICH, EGFR Mutation etc. etc. Some were very painful and some cumbersome. It took a couple of weeks. In the third week of November the final report came, a very sensitive report that we were waiting very anxiously. We have been praying day in and out that may the results be in our favor. God had, but a different plan. Dad was diagnosed with Adenocarcinoma of lung stage IV with liver metasis. In layman's language he had lung cancer in advanced stage. None of the words hold potential to define our pain and sorrow. No expression can level the intensity of our plight. When I received the report, I rushed home, went straight and locked myself in room. I wept and wept. Till then I hadn't learnt the art to absorb tears within eyes nor sighs within heart. I don't know what exactly Imran did but for sure he must have cried and cried loud.
You must have someone whom you share the burden of heart with; otherwise you may not be able to handle your own heart. We choose Tariq Sahab, Shakeel Sahab , our brother-in-laws and Reyaz, a dear friend. Only we five men knew the arriving calamity, rest were kept unaware including dad. We wanted happy faces around and let dad live without concerns till he has life line in the palm. It worked except in the last days in hospital when a scoundrel- unfortunately a doctor (doing PG, from Pulwama in SMHS hospital) opened his mouth despite our insistence not to disclose anything to our family. Although it hadn't any affect on dad as I said he never feared death. However mom and our sister were highly disturbed.
On 8th of Dec'19 dad was admitted in the hospital and on 17th of the same month he left for heavenly abode. I never saw someone dying nor did I know that dad will be the first man I would witness dying. People say that a jerk in body or a sound of belch or snoring is exerted at the time of death. It didn't happen. Dad died without such things. We only knew by his pulse that mom was holding. His death was smooth, smoother. When doctors declared him dead, I felt, air thickened. I felt empty. I felt as if the universe came to a halt, the clock stopped ticking, and voices in the hospital hoarsen. The other members of family must have felt worse than I did. I took mom's hand and we were taken out.
At last bath, he emitted a graceful complexion that I never saw on his face.
God really gives strength at a time, when needed the most. We stood at his burial and left with beating heart and breathing lungs. I didn't die of grief at his grave so as to rest beside him. However with passing days I have began missing him intensely, especially in nights. Perhaps I have started realizing that he won't turn out.
It is said that the dead at his burial hears the footsteps of people who come to bury him. I often visit his grave and ask myself; if he hears footsteps anymore, if so does he recognize me, if so how does he feel when I leave, sultry, gloomy like all we do at home in our solitude.
O dad I wish to see you again, leave being introvert, hug you tight and say it loud, 'I love you.'
Note: I may thank all relatives, neighbors, friends and well wishers, who stood with us during the period of grief. I may thank all the doctors for their unconditional support and efforts, a special thanks to SMHS Hospital's Ward 11 especially Dr. Najma and the oncologist Dr. Mir Hussain.
parents
Irfan Baba is author of a novel entitled 'Love and the Other World.' Besides he is a columnist, a blogger too, writes mostly on Kashmir, politics, romance and spirituality. He hails from Srinagar, Kashmir.
Reached him at