My Family's Crest
Not the one we were given, but the one we made, together...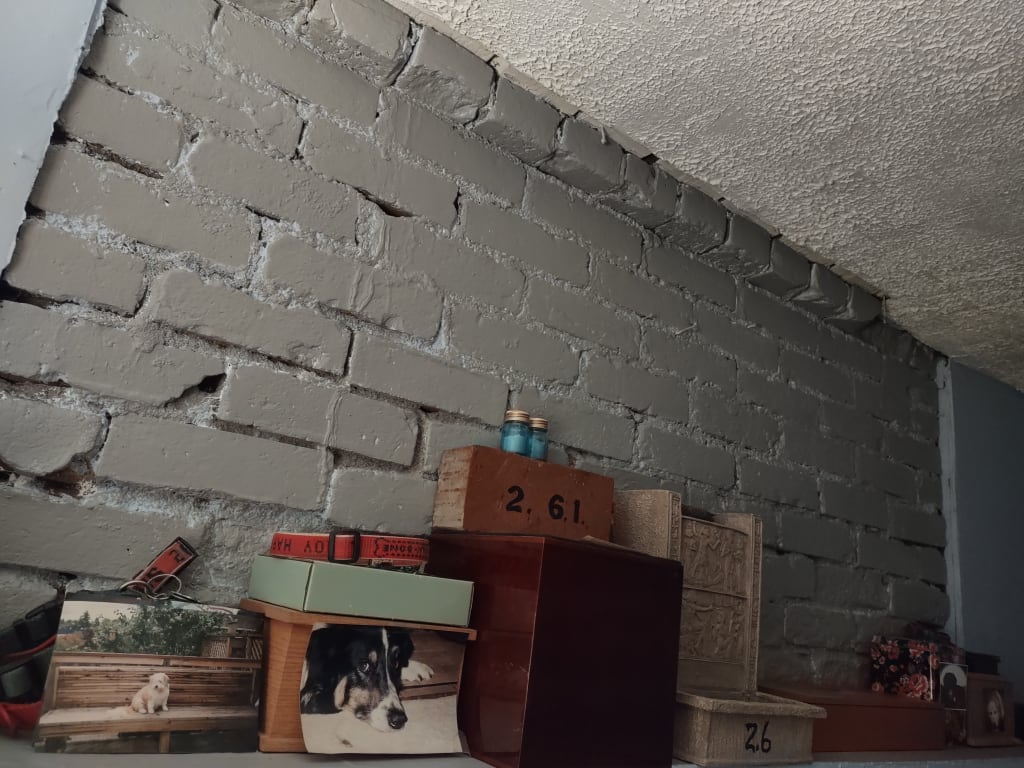 The ashes of all four of my dogs, my Granny and Uncle Ricky's ashes and Brick #'s
I tell this story in memory of my loving Uncle Ricky, whom I lived with and cared for until the day he died.
I've lived in the same house I'm still in today, from when I was 16 months old. I'm now 31 going on 32. This 30 year era of my life spent here, holds most of my experiences. Some of the best memories were of our days and nights of arts and crafts with my mother, and sometimes with my Uncle Ricky. But this particular story has to do with our family tree.
I didn't quite grasp at the time, but I felt the energy of it... We were creating a new foundation for our family. I didn't know how amazing it was until my mother and I did a presentation on the "Roy's" for a middle-school project. Seeing everyone else react to what we were sharing, I could see them reflect on their own lives and family. How much they knew or didn't know, and wanted to know. How we came up with the idea, and why.
And here I am, reliving this presentation in my own way. Here's the story of how I remember the "Roy's" being created, why, and how it has changed my life.
My Uncle was always a historian. Wanting to know and learn where we came from, and why we are the way we are. He used more colorful words at the time, but he saw the trauma of the past and saw how it affected him, and everyone else. Wanting to fix the brokenness of where we came from by learning from who we are.
Instead of discerning each other like everyone else does, we managed to come up with a system of numbers and symbols that we painted onto bricks. As the creation of this started, something else was made too. The Crest. I later found our original family crest as the Harris family, but we were more than just the Harris', more than hedgehogs.
In order to involve the diversity and wide spread of our family together we came up with a name: Roy's. Being the founder, my Uncle was often called or referred to as Roy, and so have I at times. It's not just a name however, it is an acronym for; Reunite On Your Shoulders. It means, to give someone a hug... because often times hugs can speak where words can't.
As I'm watching my Mother and Uncle paint and design the crest, I was helping by cutting out the stencils we were using with scissors. I remember listening, watching them from my peripheral as I focused hard on following the lines, making them as clean and round as I could! We used these stencils to put the Roy's symbol and bricks onto large planks for banners, onto our Roy's bench which several of us built together, onto shirts and jean jackets.
I remember one of the biggest bonding moments I had with my Uncle, was when I earned his Jean Jacket. I had long ago outgrown mine, and his was the original. With the Roy's logo on the back, patches all over it. I wore it often, and I feel like it even protected me at times. We had many moments of tribulations in our family, where each moment is impactful enough to be written as its own story. From my cousin Travis' death, earning my grandmother's golden necklace and losing it, all in the same week. To the events of my grandmother's strokes, and putting her in a home when we could no longer take care of her like she needed.
I could tell so many stories, hard times, and even innocent fun moments, some of which could have been lethal, to delving into new territories of energetic possibilities of our world, and facing them. Trusting the Jacket as if it were armor, like I was the knight our family needed.
Here's an example before we move on.
I was in the car with my friend Zoran, on one of our many car journey's usually to find a place to climb and explore. We were on our way down from forest park, going down the windy roads and through the neighborhoods. It was a dry day, and even so, the car started to hydroplane. I felt the tires lift and rub on the street, swerving from left to right, right to left, until we flipped completely around. Next thing I know, I turn and see a tree coming straight towards me. I was about to merge with this tree and be done for, but we stopped... inches from it.
Zoran and I both looked at each other in shock and ecstatic about how badass it was that we didn't die! But also! As we jumped out from the car, we noticed he had parallel parked perfectly between two cars. We started yelling to see if anyone else saw this James Bond level of 'skill' (luck) and all we could do was laugh, hug each other and be grateful to be alive and well... then we moved on to our next adventure.
I was wearing my jean jacket then, and I attributed to being saved at the last second from the tree and the car incident, to Zoran's skill in knowing his car and how to handle it, as well as the fact I was wearing this jacket. I knew beyond the shadow of a doubt it kept me safe as I braced for impact.
I have many more events I could share, but this story isn't about the jacket, nor is it about moments beyond explanation. Which I've had many. That will be for another day... for now, let's move on.
My Uncle often felt and spoke to me like I would be the savior of our family, which was a heavy burden for a child and teenager. As I grew into myself more, delving deep into learning who I am in all the ways. I was able to talk with my Uncle to depths few I feel are capable of, all the way until 7am, we would talk about life. I felt like my main point to him though, was about appreciating the present. Not separating ourselves just into the past, as a means to change our future, we have to live presently... and yes, that means at times reflecting on the past to help us learn how to get there.
I'm more or less the opposite of my Uncle however. I discern most of my decision making on how it will effect the future. Whether it comes to life goals and plans, actions, or time management.
My main argument to him came down to taking care of yourself in order to have the capacity to heal others. We may not always be able to heal people either, they have to be willing to receive. Which means often leading by example, and not hindering your own energy and temperament based off of how someone else you care about treats themselves.
I wouldn't have felt as involved with my own life if my mother and Uncle hadn't involved me into the creation of the Roy's. Sitting in the dining room, listening to Billy Joel, and cutting hems, stencils, and painting bricks, gluing the pieces we cut, and sewing patches.
Little did we know, after my Great Uncle Tim died. I was to use my new cam recorder for the funeral. Where we met more of our family. And it was because of the bricks, that we learned Uncle Tim made two families. Totally different parts of the world, but the wives he had, had the same name. And strangely enough, he even had the same number of kids, and named them the same names as the kids he had with his other wife.
This was a paradigm for my Uncle, for he had to really think about what their numbers would be and look like. We created a key for us to refer to when making someone's brick. Each symbol meant something, and told a story in itself. Example: A circle meant you were married into the family and took on the number of the person in the family you married to. The dot means the person is deceased. The numbers themselves designate the order in which you were born. My uncle was the first born of my grandmother who was the sixth born from her mother, and Granny Joe was the second.
2.6. is my Granny
2.6.1. is my Uncle Ricky.
There are many more symbols which mean many different things; having lost a child, adopted, had children out of wedlock or divorced, etc. I won't go into all of those details, for the sake of keeping the flow of this article.
The Roy's helped us connect what could have been a totally disconnected part of our family, by introducing them to the Roy's, and giving each of them their own brick and number. I remember how happy this made my Uncle Ricky, to have made a difference, even if it was only a moment in time. It would be one we would all remember.
And I believe that's what matters in the end. Not so much worrying about how we effect the future. But trusting what we do in the present, can be a gift for those to look upon in later times and smile. That kind of impact creates ripples, ripples that become big enough to make waves.
We all have the ability to change the narrative of our 'story', by digging up our personal history, removing what does not serve us, and choosing what does. For me, it comes down to energetic integrity. My goal is to proliferate what will help us grow and evolve beyond the generations of trauma we've come from. And so in a sense, I took on what my Uncle wished for me to achieve and made it my own. I feel the passing of the torch, and to carry on this legacy of The Roy's.
Thank you Mom and Uncle Ricky. You both made me the man I am today, and I'm ready to surf on life's terms. From the waves that return, made from the ripples we, and many others have made. You never know who is going to cross your path, which is the true delight. To share experiences with unlikely people in various circumstances that help you outside of your box, and get to know them.
Give them a hug, trust the bond to speak for itself, and Reunite on your Shoulders. Give someone a hug, and breathe in what doesn't always need to be found or said in words. Feelings can speak for themselves at times.
We can't make it very far on our own, nor should we try to find a way to enjoy life alone.
humanity
About the author
Author, Musician, Vocalist, Voice Actor, World Builder: Seeking the dream team make all the creative work come to life! I've built an entire Universe of stories from my dreams to make; Graphic Novels, Scores, Movies, Series, & Video Games.
Reader insights
Be the first to share your insights about this piece.
Add your insights