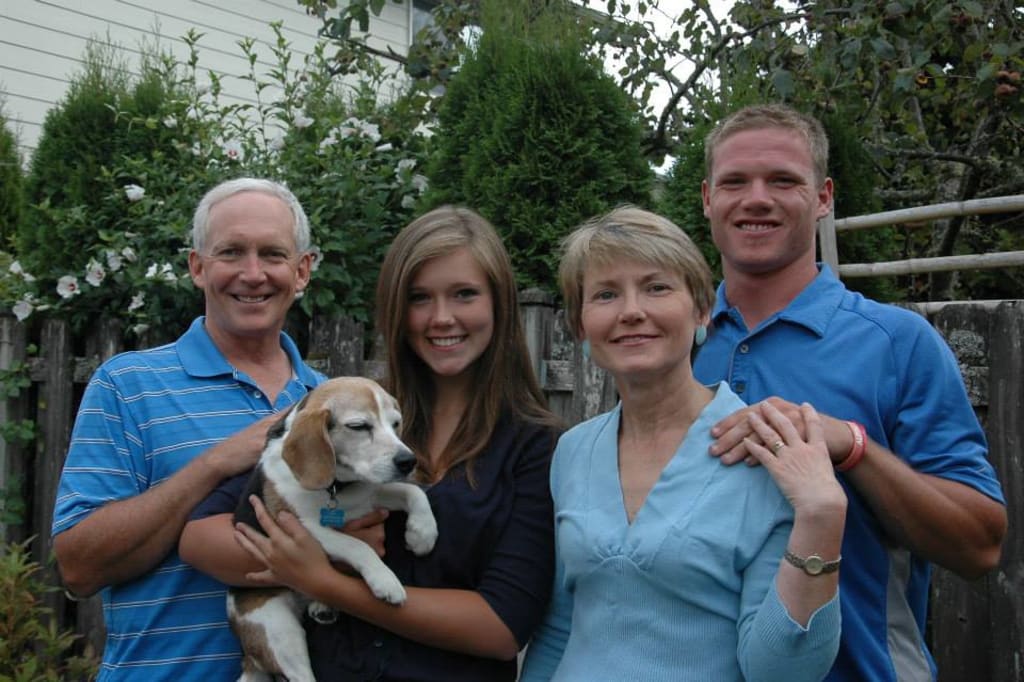 Done with family photo day, before it even began.
I got my first puppy four months after I was born, so I didn't get much say in the process. Not sure why my parents thought that a 4-year-old and a newborn needed a puppy, but thank god they're over-achievers.
Our puppy was the "runt" of the litter, the loudest little girl, and only one of two remaining puppies who had not been chosen. She was covered in flees, living in a box near the back of a breeder's barn, just barely twelve-weeks old. After seeing the conditions, we knew we had to take her. My brother had the bright idea to name her after his crush who lived down the road. My brother found it cute; his crush, however, did not. The name had stuck - Tasha.
Tasha wasn't one of those puppies that was brought home and immediately adapted to "household etiquette". Even after six months of grueling potty training, she still left puddles around the house. A few months more, and our family was ready to concede. My mom placed a classified advertisement in the local newspaper to find Tasha a new home. I don't know how different my life would have been if Tasha had left our little family, but within a week of placing the advertisement, Tasha found her bathroom – outside the house. Our new family joke - "Tasha must have learned to read the newspaper." The in-house potty episodes stopped and Tasha became our full-time family pet and my best friend.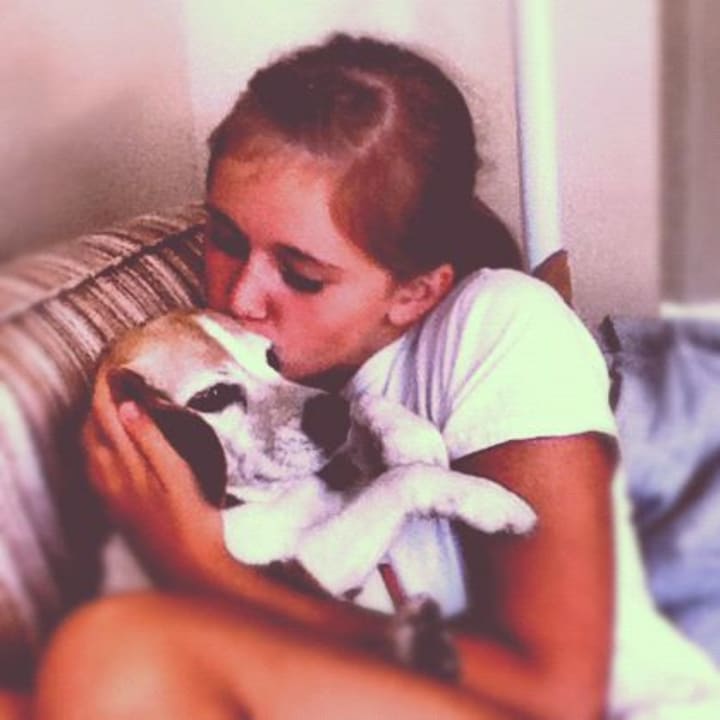 Tasha was always "there" for me. She never missed a time to say hello when I arrived home from school. Tasha let me cuddle with her on my worst days and play with her on my best. Before I tried out for music roles in school shows, I would sing her my audition song and watch her face look up at me with pure content. She truly was my biggest fan. The older I became, the more excited I was to come home to her. I would run through the door and lay next to her bed as she would slowly open her eyes to the sight of my face. The excitement I had was mirrored in the eyes of my best friend every time we got in the vicinity of each other – it never died. As I got older, extra curriculars and sports kicked in. Soon, my days after school with my best friend were limited and shortened. My favorite moments were at night, when I would curl up in my bed, about to fall asleep. Tasha's collar would ring at the foot of my bed as a smile crept onto my tired face. I would lift the little dog up onto my bed and she would attach to me like a blanket. In the morning, she'd be gone and for a while I could never figure out why. Tasha, or as we called her Mommy number two, would leave my bed early in the morning, eat her breakfast, and push my door open to wake my brother and me up for school. My own personal alarm clock.
The years passed and Tasha and I grew older together. Once I turned sixteen, she would, too, a few months later. Her fur began to fade around her eyes, her frisky running turned into brisk walking. While I knew she was aging, her spirit never changed. It was the little things that kept her going, whether it was going on a walk in the morning at our Bend house or sitting at the door waiting. She looked forward to long walks along the bike path near the house and always raced down the driveway, knowing when a meal was soon to be served. It was during one of those Bend visits on one of her treasured walks that Tasha had a seizure. "She's not doing too well and we are looking into all the available options to get her better," explained my father by text on my cell phone. My phone fell out of my hand as I read and reread the heartbreaking news across my screen. I felt tears pouring out as I worried about my best friend. When I saw her a few hours later, a bit of excitement cracked through her broken spirit. She couldn't stand without falling to her left side and her tongue permanently protruded from the left side of her mouth.
Over the next two weeks, my parents spent thousands of dollars on treatments and doctors, until eventually we knew it was time to say our final goodbyes. Driving to the Veterinarian's clinic seemed endless. Mom, Dad and I gathered around Tasha as the doctor prepared and gave us time together. We talked to her, praising her, stroking her back, trying to soothe her, but she wasn't scared. She rested calmly, more ready than us to face the end. I placed myself right by her head, so I could watch the eyes that I grew up watching greet me at the door – for the last time. I gave her head one last kiss and her paw a final squeeze as the doctor injected her. I held my breath. At first nothing happened. I thought and hoped that maybe, just maybe, the injection would not work. I wished that somehow Tasha would jump down from the table, perfectly healthy, ready to go for another walk. Then, I saw her head dip ever so slightly, then all the way to the floor, and I knew that it was over. The pain rushed through me and there was no escaping. My vision began to blur. Hot tears rolled down my face. My puppy was gone. That was it. I would never see her jump or run or play again. She would never welcome me home again. Her special sparkling beauty that had burned so brightly had gone out.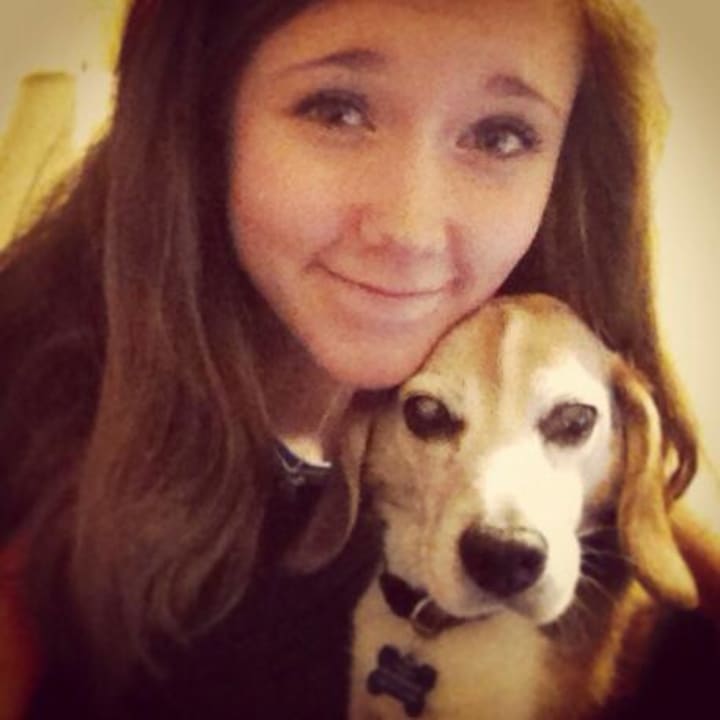 It's been years since I lost my dog, my best friend, and my biggest fan. Time has helped ease my pain, but even writing this now the tears had started flowing I try my best to reflect on the situation with an optimistic view. Tasha was 18 years old, which is an incredible life span for a Beagle. Despite her ailments, she was a happy dog until the end, full of life and a loving spirit. One day, I'll see her again and until then, I know I've got my biggest fan watching over me everyday - another family member in the sky.
Reader insights
Nice work
Very well written. Keep up the good work!
Top insight
Heartfelt and relatable

The story invoked strong personal emotions
Add your insights