Meri Jaan
A love letter to my whole world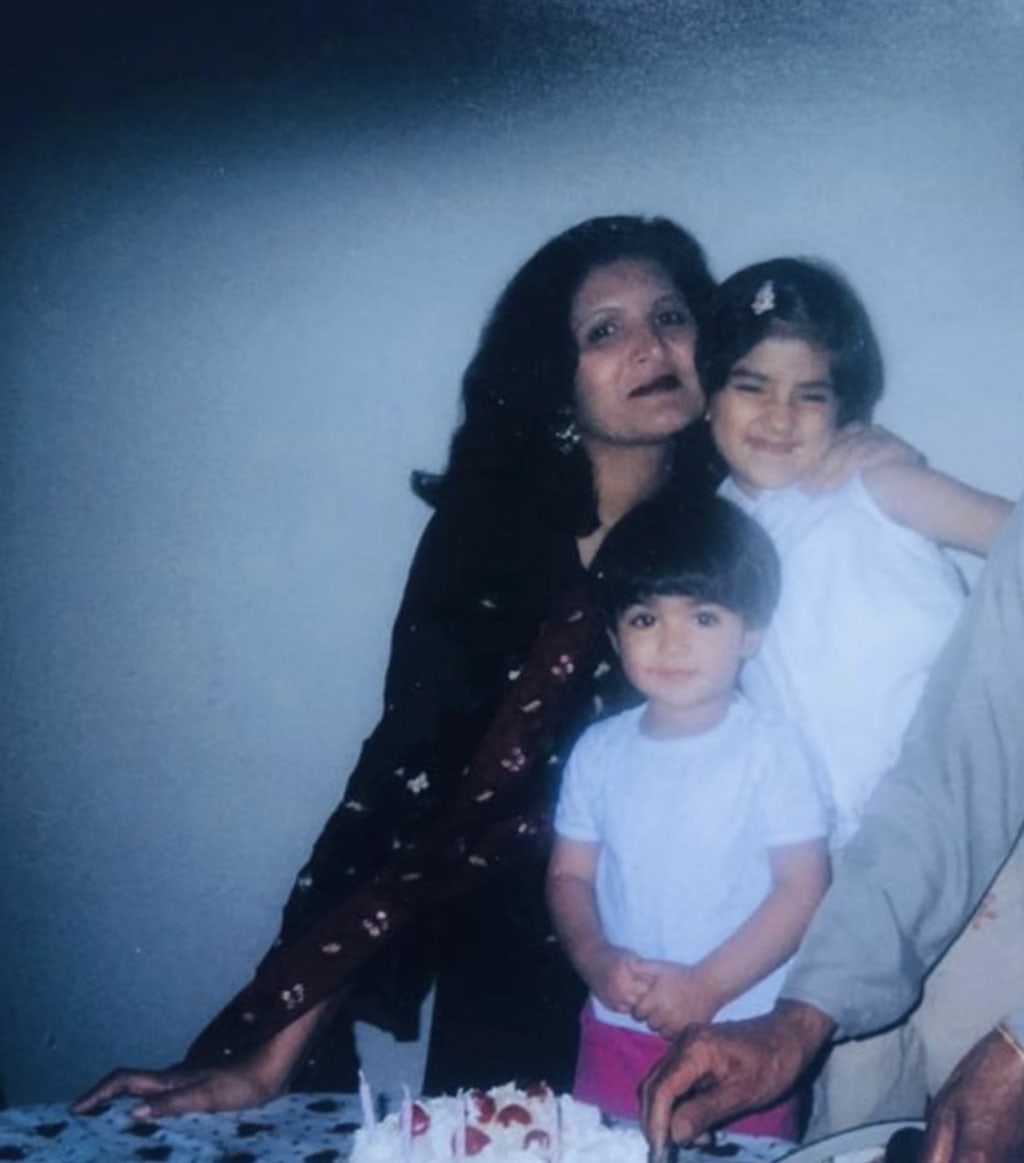 A picture of my mother, my little sister and I years ago.
Dear Mama,
I think I knew you were going to die. Okay, hear me out, I know it sounds absolutely ridiculous, but a month before it happened, I had a dream that all my teeth were falling out. Each and every one of them. One by one, they would slip into my hands. I would try to shove them back in, anxiously trying to put together an undone puzzle. In the dream, my gums gushed raw blood. My hands dripped with the aftermath of loss. I screamed for hours. At the time, I thought my biggest issue was going to be, how will I chew my food? When I woke up, I wrote it all down in my silly notes before, of course, texting my friend.
My friend told me about a myth in her culture where the loss of one's teeth symbolized a deep personal loss you may experience in your real life. Apparently, it was common for many cultures to believe in it. For the next month, I would text you sporadically. I'd send you pictures of every lunch I ate, call you on my breaks. Once, I even told you I felt homesick. It's not like I was reliant on my dream predicting the future, but sometimes, I think you had crawled into my dreams to tell me what was going to happen. Sometimes, I think you had known too.
It had been nearly two years of me living abroad, when I fell sick for the first time. This was a week before you had a heart attack. My fever was too high for me to even get out of bed, and it made me miss you like crazy. I would remember the old days where you knew exactly how to care for me. I wanted you next to me. I wanted you to warm me up a cup of tea with a tablespoon of honey, the way you always did. I wanted you to tell me stories about your past life, the one I missed when I was yet to be born. At the time, I never would have admitted any of that to you. I knew you would tell me to simply come home. In your gentle tone, you would say, "Meri jaan. Come to your Mama". Isn't that all we truly want? To run back to where it began? To run into our mother's arms again, and again, and again. Of course I wish I had gone back to you then, but I also realize there is only so little I can control. After my fever had dropped that week, you were gone.
In Urdu, "meri jaan" means "my life". If I think of it in a literal way, maybe you still live on through me. If I still breathe, a piece of you lingers in the air here. Perhaps, a daughter is a reflection of her own mother. I spent most of my teenage years attempting to run from you. My stubborn head held high, I would tell you that I wanted to find out who I was. "Please," I'd beg. "I just need my freedom". However, what would have given me the biggest clue of all was simply stopping to look your way. I already knew who I was. I was my mother's daughter, and that meant I could be anything at all. You had fought to get here, and I was the embodiment of all you had faced. So, maybe I did know you were dying, because mothers and daughters are these silly intertwined souls. Maybe a daughter knows her mother the way she knows herself, a reflection of desires and dreams. It is a delicate world we live in. So delicate that one can pass on, while the other does everything they can to still keep them alive, at least in some way.
My Mama, I am trying to keep you alive. I am relearning everything I once pushed away. An immigrant mother's dream was to keep her culture vibrant, her entire language still spoken. So, here I am, 22 years old and relearning all that I was once taught, except there is no one here to correct me. I am trying to memorize your old recipes. Daals made with secrets from your childhood and chai made with every inch of our hands. I'm learning the details that go into womanhood, the details I missed when I was too busy being a child caught in her mother's willingness to give and give. Now, I am giving too. I make chocolate cupcakes for the neighbours. I pray for every hurt heart I notice. I take your love, and I let it radiate it through me.
Mama, my Mama, there is so much to share. Another Eid to celebrate. Another mandarin to split open; a piece for you and a piece for me, until we are done letting the fruit hold us. One day, we will sit beneath a tree. The shadows will hug half of us. Sunlight will touch the peaks of our skin. I will tell you about my first love, my first kiss, the time I tried to make fried chicken and nearly burned the house down. But first, I will tell you that I took care of myself the way you took care of me. With all the love in the world. I'm sorry I didn't tell you everything sooner. I love you more than anything and next time, I'll tell you all about it.
Love,
Your Makha
grief
About the author
do you believe in the power of words? i think all of us do secretly, even those who say they hate reading. words are everywhere, in everything. we use them. we read them. we are consumed by them. words, for me, are what hold me together.
Reader insights
Outstanding
Excellent work. Looking forward to reading more!
Top insights
Compelling and original writing

Creative use of language & vocab

Excellent storytelling

Original narrative & well developed characters

Heartfelt and relatable

The story invoked strong personal emotions
Add your insights