Marigolds and Magic
Listen to your elders.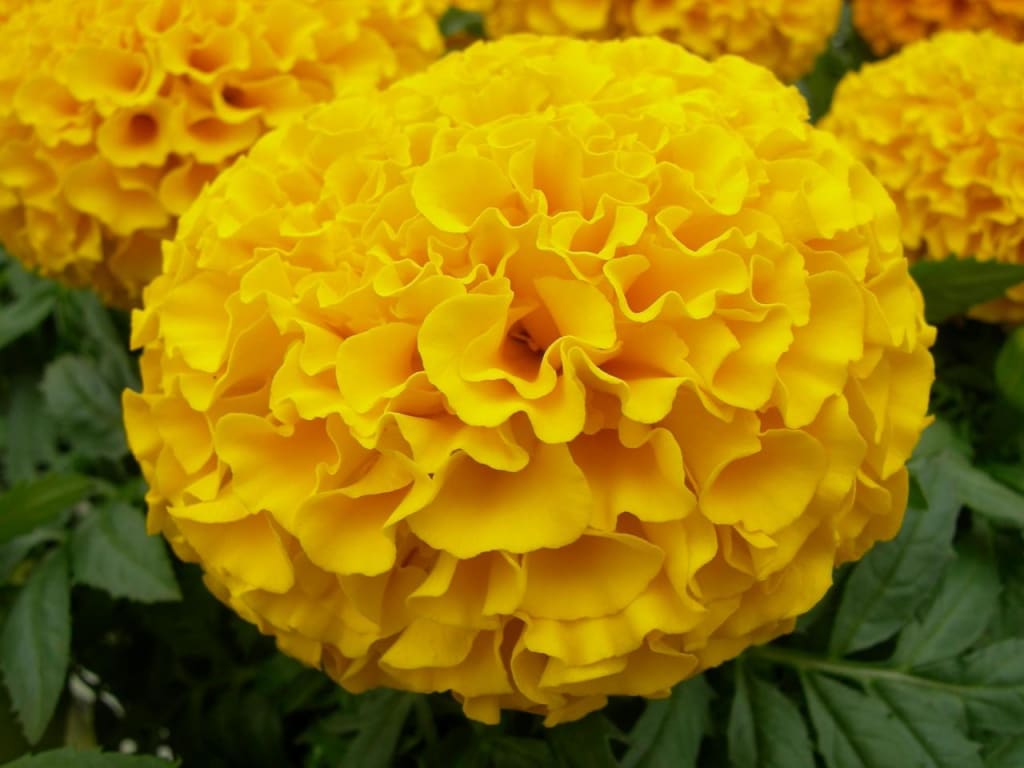 I am a first generation Mexican-American trying to fit in to a small Iowa town. Some places in Iowa have a growing Hispanic population, but not Goldenrod, Iowa. I am the only brown in a sea of white. We moved here two months ago, and I'm still sitting alone at lunch and recess. It's not like I can totally blame the kids I go to school with either. I just don't know how to talk to them. The way I talk is a little different. I feel like when I speak up to answer a question, people are laughing behind me, so I just don't talk anymore than I have to.
Today, my abuela, that's grandmother for those that speak white, asked if I would stop by the greenhouse near where we live and buy a few pots of the beautiful yellow and red and gold marigolds that they have in bloom there.
Marigolds are very much a part of the beauty Hispanics try to surround themselves with. They originated in Mexico and Central America. Legend has it that Marigolds have magical properties, and can repel bad things. What bad things, you ask? I have no idea, but I don't want to push my luck.
So, anyway, here I am at the greenhouse looking over Marigolds. I picked up a small pot and placed it in the cart. "That one has leaves that are already brown and dying.". I swung my head around looking for the voice. Behind me was a thin red headed girl with the cutest freckles. "I'm sorry?", I managed to squeak out. The freckled face broke into a smile and she held out a hand. "Hi, my name's Shanna. I see you sitting in the front of the class all the time, but you don't really talk to anyone. How come?". "Well..", I stammered, "no one really talks to me, I guess. Plus, I have an accent, I think it makes me hard to understand.". I walked over to Shanna to see if this was really a conversation I was having.
Shanna tilted her head quizzically, "you have a name? Because you didn't tell me one.". "Oh, sorry", I felt silly now, "my name is Isa, It's short for Isabella.". "That's really pretty.", Shanna said. "But back to the Marigold, you don't want that one.". Shanna proceeded to show me the dark leaves that would soon need pruned. We walked over to the Marigold display and Shanna showed me how to pick the best ones, ones that would be blooming soon, or would have the brightest colors.
"How do you know so much about plants?" I asked her. Shanna got a kind of sad look and said, "My grandfather died a few years ago, and my grandmother fell into a really bad depression. We tried to get her interested in something again because we were afraid that if we didn't, we would lose her too. She didn't care for cooking or baking, she hated crocheting or knitting, and we were about to give up. Then one day we went to a botanical center. Grandma just kind of lit up and so we encouraged her to plant flowers in her own garden. I helped out a lot, and so I learned a lot." "Her garden is beautiful though, you should see the butterflies and birds it attracts!"
"Lucky for me that I met you", I said. "I don't know a whole lot about flowers.", "Yeah", Shanna giggled, "I can sort of tell." I pretended to scowl at her. "Maybe you could give me some advice?" We spent some time talking about how to pick the best plants. Shanna showed me how to look for plants about to bloom, and plants that would be vibrant with color.
I wanted to keep talking to Shanna, but wasn't quite sure what else to talk about. Thankfully, Shanna took care of it for me. "Why don't I go to your house with you and show you the best places to plant that?".
I was so excited that I quickly said, "yeah, I would like that!". Mentally, I thought "Jeesh Isa, play it a little cooler!" Shanna didn't seem to notice though. On the way to my house, we talked about everything under the sun. Shanna was an only child, so I told her what it was like to have five siblings. She wanted to know EVERY THING about that! She talked about how she hated her fair skin and freckles. "You have to be kidding!", I said. "I love your freckles!", Shanna rolled her eyes and laughed. We talked about school, and who we thought the cute boys in class were. It turned out we had the same taste in boys. I've never talked so much in my life, all at one time anyway.
Since the day I went shopping for Marigolds for my abuela, Shanna and I have been inseparable. We talk about everything and she is my very best friend. My abuela laughs and tells me, "see nina, I told you Marigolds were magical.". I absolutely believe it's true because they brought me a best friend just when I needed one most!
humanity
I am a 48 year old psychiatric nurse. I graduated from my beloved University of Iowa, so I'm a diehard Hawkeye fan!🖤💛🖤 I have 3 children, 3 stepchildren, and 3.5 grandchildren! The newest one is due in January!
Receive stories by Casandra Lynnette Lobberecht in

your feed