Magic in the Making
Memories wrapped up in stitches.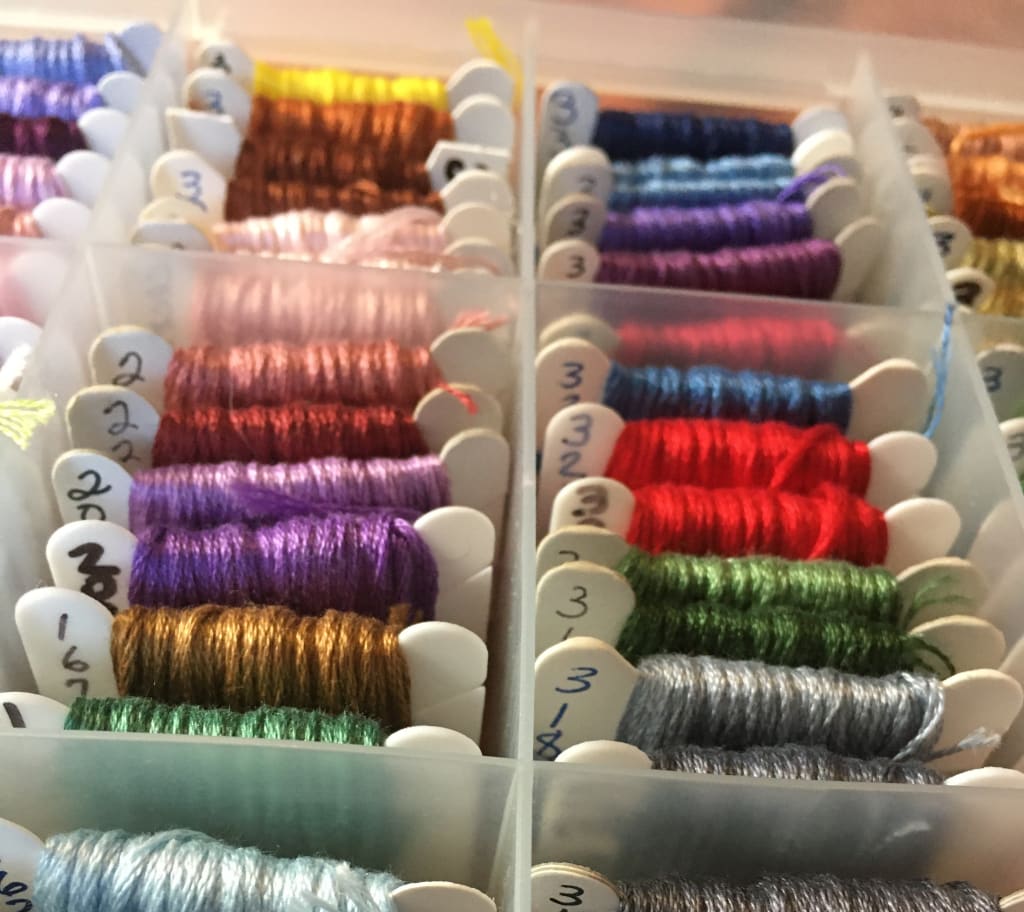 I grew up in a house with a dozen pair of scissors. The junk drawer in our kitchen flowed over with their hefty plastic handles. Sky blue and slate grey and deep red and bright orange. They seemed to always be multiplying. New pairs appearing out of nowhere. When I was young, there were small pairs for mine and my brother's tiny hands. We cut construction paper and yarn and pipe cleaners and thick colored sheets of foam. At school, the scissors were heavy and metal, with handles that bit into my fingers. The blades never seemed to line up quite right—they bent and tore at the paper, rather than slicing it clean.
I was six years old when my mother sat me before her Singer machine and taught me how to sew a scrunchie to match the romper she'd just made. I'd watched for years as she cut and pinned and sewed our Halloween costumes and my coordinated two-piece outfits. She and I had worn the matching flowered skirts she'd made for us—mine short and twirly, hers long and modest. This machine was magic, turning flat swaths of fabric into a million different things.
For cutting fabric there were special scissors. They were no different than the rest—only that they were the newest, the sharpest, the best pair. When they wore out, my mom would toss them in the drawer with the rest—free to be used for such heinous tasks as cutting paper and yarn and pipe cleaners and thick colored sheets of foam. If she caught me with her newest sewing scissors before they'd been demoted, her face would pinch up.
"You're ruining my good scissors," she'd say through tight lips.
I'd stop whatever I was doing mid-cut and drop the scissors. It wasn't me—I'm innocent.
Throughout my childhood, my mother sewed full Renaissance costumes for the whole family and spent every September constructing princesses and witches and Star Trek uniforms. She pieced and hand-quilted beautiful blankets with stitch-worked patterns of sailboats and intricate Celtic knots. She tried her hand at tatting and fell in love with crochet. She cross-stitched Christmas ornaments, and stockings, and even an elaborate tree skirt with angels in flowing gowns that took almost a full year to complete. When the stitching was done, she'd take the piece to the sewing machine and magically turn it into what it was meant to be, with lining and backing and pockets where required.
After a full day at work, she would make us dinner and clean the kitchen before sitting at the corner of the couch with the TV on and her cross-stitch pattern handy. I would crawl up beside her and peer at the tiny stitches over her shoulder. Her hands moved deftly, creating a row of diagonal lines headed one way across the fabric, before turning back the other direction and crossing each line to complete the minute X. She paused only to cut and change the color of floss. Neat little rows of burgundy and plum appeared before my snoopy little eyes.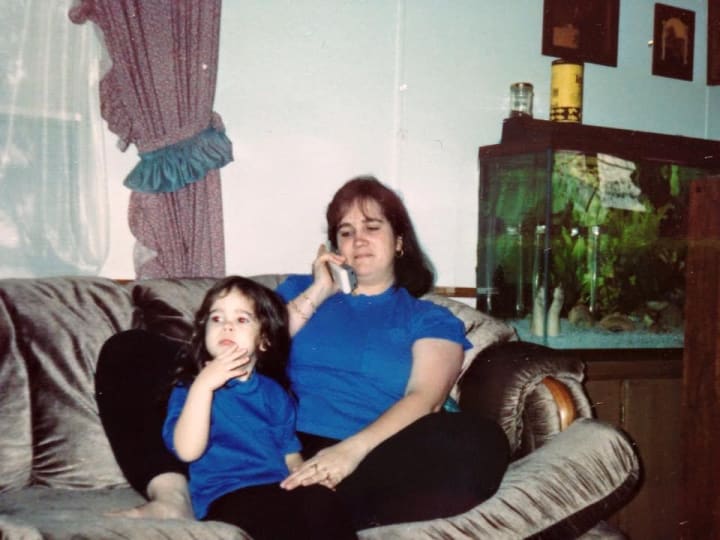 At five, she let me sit in her lap and take the needle from her hands. I made the second stroke of each X that she had started, turning a row of parallel diagonal lines into full stitches.
"Not too tight," she would say, "you don't want to bunch the fabric."
"Not too loose," she would say, "you don't want them sticking out and getting caught on something."
At seven, I was stitching my own small projects, ornaments with Santas and snowmen. She taught me to read the tiny black and red symbols of a cross-stitch pattern, to card my own floss, and to split the threads. I learned to start a new color and to tie off a finished line.
I told her again and again, I wanted to make my own Christmas stocking. Mine was the first she had ever made, and the only one without a name on it. It was smaller than the rest and its toe faced the wrong direction. I watched as she stitched "Mammaw" and "Poppop" on stockings for my grandparents. I held hers and my dad's on Christmas morning, running my fingers over each letter, M-O-M and D-A-D.
When I was ten, she bought me my first big project. A hanging of a carousel horse—with a pink and gold saddle and a blue saddle blanket. Pink and purple ribbons coiled through its mane and tail, and roses framed the piece. When it was finished, it would hang in my bedroom among my collection of unicorn posters. But I never completed that project. I stitched the saddle and the curves of the blue blanket, but time rolled on and I became less interested in sitting on the couch with my mom, squinting at the endless symbols and stitches. The scroll of fabric with the saddle in the middle got shut within my kid's sewing kit and made its way to a corner of my mom's craft closet—where it lived for more than a decade.
In 2015, I was 24 years old when my mom died. As I sorted through some of her things—I came across my old project and sat in the closet, holding it in my hands. Most of her fabrics and patterns and ribbons and buttons and zippers and trims and needles wouldn't be of any use to me. But this—my old project, that she had believed I could complete, felt like a tenuous connection to the woman that she was. If I could sit in her place on the couch, holding a needle and thread, glancing between the pattern and the TV, I might feel her there as I once did.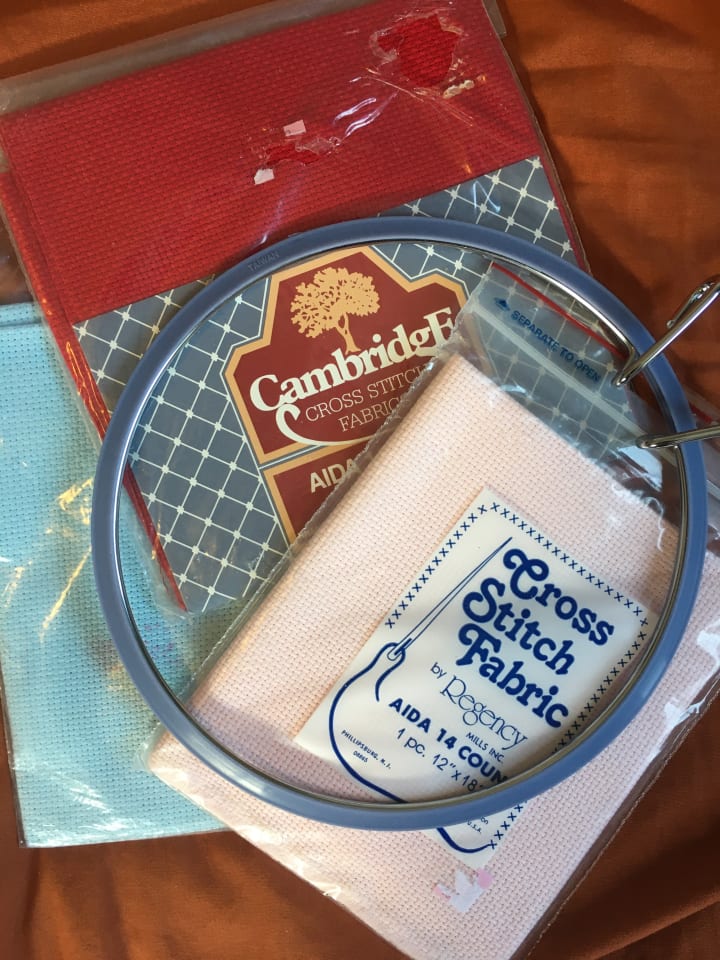 I forgot what I had set out to do that day and took the project to her spot on the couch. I stretched the fabric anew over the spring hoop. With a needle in hand and her beautiful needlework scissors with the pink plaid handle on the armrest, I studied the 15-year-old stitches before me—seeking to pick up where I had left off. The saddle was nearly complete, but as I counted stitches over and over again, I found that 10-year-old me had made mistakes. There was blue where there should have been gold, pink where the phantom horse was meant to go. I couldn't just pick up where I left off. I couldn't make up the time that was lost, spent sitting under her arm there on the couch.
I discarded the fabric and tucked the rest back into my kid's sewing kit. Another day perhaps, I could start again.
Now as I run my hands through the plastic containers of carded floss, each color labeled in my mom's neat handwriting with its DMC code, feeling their smooth edges, I think of her. As I pick out a new project and set to work with an ancient piece of fabric from her never-ending collection, I think of her. I know that she was the magic that turned swathes of fabric into a million different things, not the sewing machine after all.
grief
About the author
Author of the award-winning debut memoir, Alone in Wonderland. Christine writes about outdoor adventure, familial relationships, friendship, grief and trauma. She's passionate about hiking, backpacking, rock climbing, & storytelling.
Reader insights
Be the first to share your insights about this piece.
Add your insights