Living Legacy
An apple falls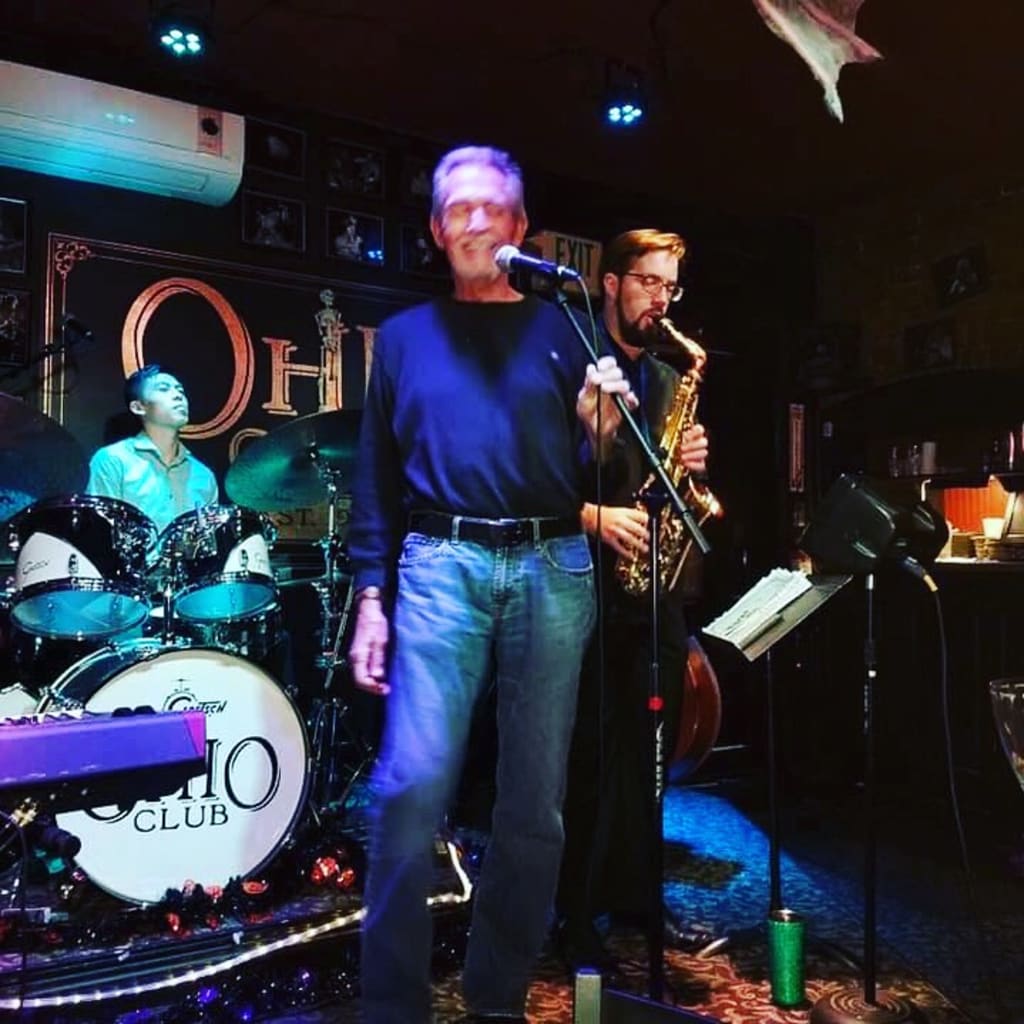 With the Clyde Pound Trio
Turgid. The first time I can remember ever hearing this word, it was uttered by my father. Our family was on a river boat cruise on the Ohio River, and, as he peered studiously over the side, he declared that the water was particularly turgid that day.
Say what?
As a highschooler with an SAT-caliber vocabulary myself, I had to go home and look that one up. This was long before google, so I pulled Mr. Webster off the shelf and began my search, although it was complicated at the time since I wasn't even sure how to spell the word.
This was typical of my father, one of the most interesting people I've ever known. A summa cum laude graduate with two majors, he was smart as a whip up until the time he suffered a stroke. My father was a paragon of the unnecessarily polysyllabic. He kept a file box on his desk with three by five cards, like flashcards: each with a multi-syllable noun, verb or modifier and its definition. And he endeavored to master a new word virtually every day. We were, more often than not, his test runs, which benefited me vis á vis college prep.
His majors were English and German, with a minor in music. He loved the large English words, but he especially liked the German language, which is known for its long convoluted words, to which we English speakers rarely avail ourselves. I humorously considered that he was clearing his throat. "Achtung!" If anyone sneezed in his presence, it was never "God bless you," but "gesundheit." I could understand that one.
More than anything, however, my father was an audiophile. He had amassed a sizable collection of LPs and cassette tape's of all types of music, and spent hours in his musical man cave replete with a stereo component system and headphones. If I wanted to find him, I always knew where to look. He would be sitting in his La-Z-Boy, headphones on, conducting Tchaikovsky's sixth symphony, the Pathetique, or the Don Cossacks, a Russian singing group. But you could also find among his records artists such as George Beverly Shea and Andy Williams, as well as sacred choral works.
I would slip into his presence carefully, and sit and just watch as he conducted Handel's Messiah or some symphony with his eyes closed. With his thumbs against his index and middle fingers, he would keep perfect time, whether it be 4/4, 3/4, 6/8, or even the 5/4 meter of Dave Brubeck's "Take Five." I never asked, but I imagined he envisioned himself on the conductor's stand in front of the New York Philharmonic.
It should come as no surprise that I acquired his love of music. My iTunes houses Bach, Beethoven, Tchaikovsky, and Dvorak. It is also home to Al Jarreau, Alan Jackson, Alison Krauss - all the way down to Santana, Sinatra, the Temptations, and Frank Zappa. Plus the Beatles, Stones, and Hendrix. My serene, happy place is sitting in a quiet place, "Beats" earbuds cranked, conducting Dvorak's New World Symphony. I also attended college as a voice and tuba major, like a chip off the old block.
As Dan Fogelberg might say, "I am a living legacy of the leader of the…orchestra."
Now, if you'll excuse me, I'm about to head into a karaoke joint and enjoy the last of the simple pleasures: watching the crowd sing along as I croon "My Way."
parents
My wife and I see things very differently. Take a stroll through our respective minds.