July 21, 1991
The world is changed now, and I have to keep going.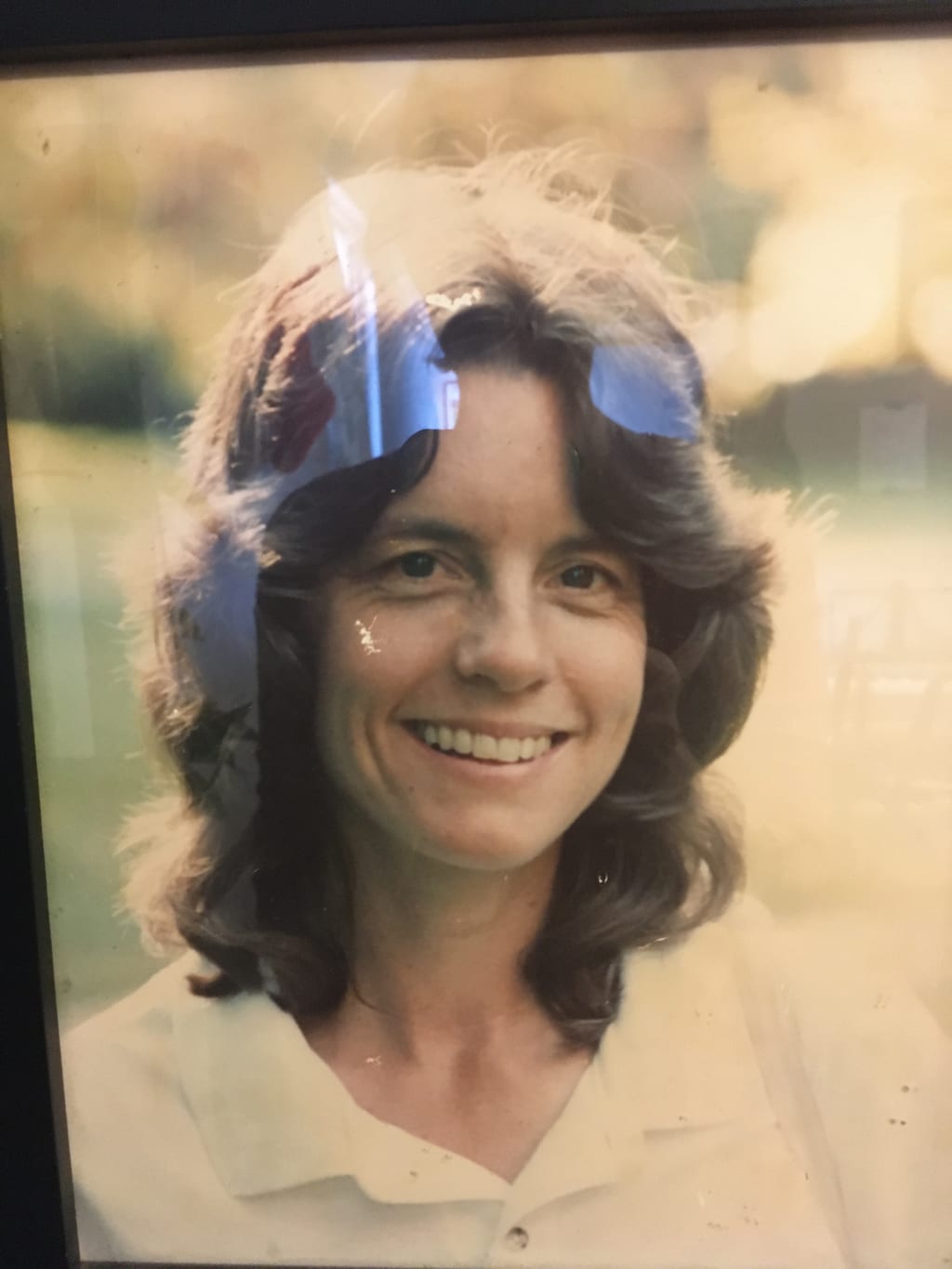 July 21, 1991
It is a summer day. I'm with my family. We are staying at my Aunt and Uncle's lodge and winery. A magical place. The logs are as big around as the wheels on our car. There are always delicious smells coming from the kitchen, and we laugh every day. When my Uncle Brian laughs, it booms into the walls and then bounces down into all of the rest of us. There are four little kittens that cause a lot of hilarity with their tumbling. There are four of us kids. Me, my brother David, and my cousins Katie and Molly. I'm the oldest at fourteen. We have family everywhere. My grandpa and his longtime girlfriend, aunts and uncles, my dad. It is my favorite thing, being surrounded by family. The other day we went whitewater rafting. A few nights ago we all camped out on the deck under the stars. The days are filled with kittens, water, good food, reading, and playing. This is what summer is supposed to be.
But my mom died this morning.
In a bed, in the room where she and I stayed together, in the lodge. She is there now. The Fairplay room. Pink and Purple antique wallpaper on the walls. Black and white, slightly blurry framed photos of smiling and not smiling faces watch us moving in the room. The space is an homage to nostalgia.
We are all here now. The room is filled with family. Quiet, stunned, and also relieved. Someone tells me that it is hardest for my grandpa. The hardest thing in the world is to lose a child, they tell me.
Someone asks us if we want to hug her. My brother looks at me. I shake my head, no. So does he. I tell myself it's because she isn't really here. She isn't really here. Her lack is tangible. Even looking at her, still in the bed. She is not here.
We sit. And talk. And cry. And laugh. The laughter is real and deep. The tears are ever present.
A hazy edge is around all of us. Like a dream sequence in a movie.
If I'm honest, I've been planning for this day. Now it is here and that puzzle piece is placed. The picture is darker than it was before. But it is complete. Like we have all been waiting and now, we have landed.
Tonight I will start my diary differently. I will start it with, Dearest Mom…
July 27, 1991
Dear Diary,
Goodbye. I might write to you again, I might not. It just depends on how I like writing to Mom.
Dearest Mom,
I am at Grandma and Grandpa's right now, but you probably already know that. I hope you do. Mom, I can't bear the thought of you going into another body here on earth anywhere, because I want you to be able to know everything we do, because I need to know that you are watching over me. I want you to see me on my first day of high school, and on my last day. Even without me writing to you about it. If you can arrange that, please do! If you can read this.
We are going to the Grunion Run tonight.
Mom, do you mind if I tell you about Robin (Dad's girlfriend)? I hope you don't mind. If you do, don't read this part because I need to feel like I'm telling someone and I can't always talk to David.
Robin is a really nice lady and I am glad she and Dad like each other. I would rather have you though rather than Robin. I know you knew her. I think you liked her. You and Dad were such good friends after your divorce. I'm really glad he got to be there with you when you died. He makes me so mad, but I'm glad you were friends.
Robin told me the other day that she really loves Dad.
I wonder if they will ever get married.
I share a room with Robin. I am in my room right now; the same room I was in with David when you and Dad had the other room, and I can hear Dad and Robin playing tennis.
Ok, you can read this now. I'm not going to talk about Robin anymore right now.
I should probably get up now. it is 10:17am. I'll write more later.
Love, Erica
August 4, 1991
Dearest Mom,
The day after I wrote to you last, we went to the grunion run. Do you remember grunion runs from when you were a kid on the beach in Santa Barbara? Did lots of grunion wash up onto the beach back then, flipping and flopping in the dusk? There were hardly any grunion for us at all this time. David caught one, I caught one and Robin caught one.
The next day I remember going on a walk by myself and daydreaming and then going on a walk with Grandma. Grandma and I had a wonderful talk. We talked about you and I said two words - free and alive - to describe how I feel when a really good song comes on the radio. I think I am going to name a book of mine free and alive and dedicate it to you and Grandma. We talked about you being free and alive now, somewhere. I hope so. Dad doesn't believe people go anywhere after they die. Grandma does. I think you are somewhere, and I think you are also still kind of here. I feel like you are.
I haven't told Olive yet about your death. I don't know how to. I talked to her today.
I also talked to Bridget on the phone. We had a good cry together about you. She also gave me some good news. Her cancer is cured - absolutely cured! I am so glad. I just wish with all my heart that you had been as lucky as her. At least I think she is lucky. You might not but I do. I can't believe my friend who is my age had cancer at the same time that you had cancer. Cancer is stupid. I hate it so much. I'm really so glad that Bridget is cured.
I found a letter you wrote to John but didn't finish. I guess you were too dizzy. Oh Mom, I wish SO SO SO much that you could answer me back as I write to you. I miss you more than you can probably imagine. Oh Mom I NEED you.
Well I guess I'll read now then go to sleep. I love you mom, sleep well, very to the 10th power triple infinity times (like we always would say to each other before bed).
Love, Erica