Jimmy and Marge
Bitter Sweet Chocolate Endings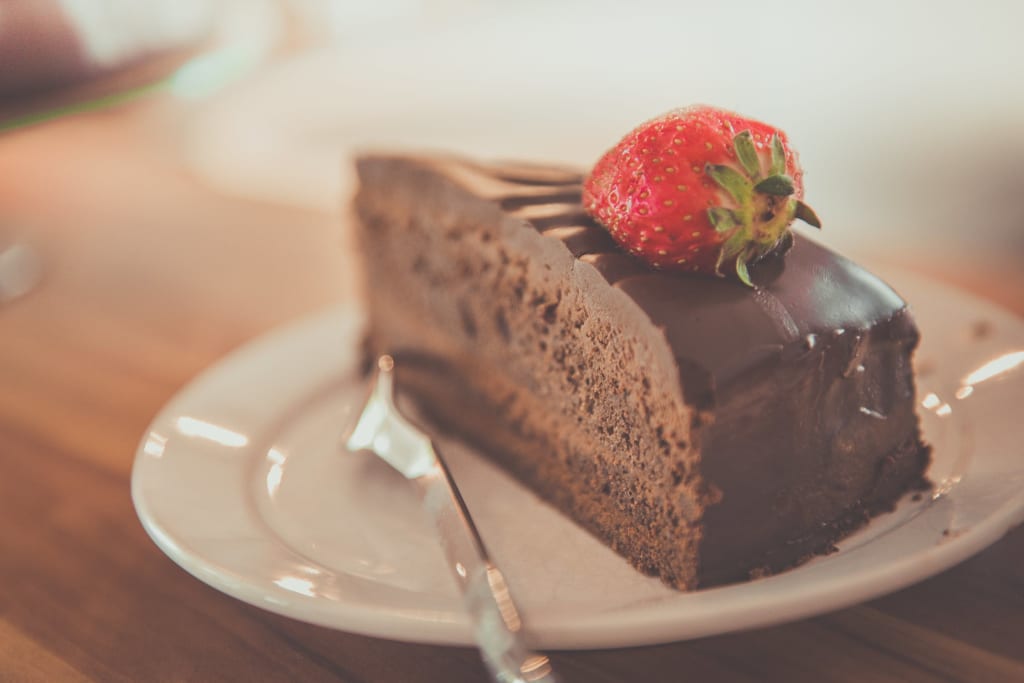 Oh sweet, oh sweet you are, sitting across from me, near but far.
You stare at me, as I crave you, for one taste would satisfy me, but the space between left, is depravity.
Your alluring scent leaves me transient between this world and the one beyond, one would say, I'm quite fond.
A slice of truth, I need you bad like I have a sweet tooth...truth be told, I do.
Love knows no bounds as I grow old and your bountiful beauty, frozen in place, with no impure trace, your beauty, sound!
There are three layers of you, all of which I want to discover through taste, smell and touch, my senses are left in a rush.
You glow, just as the light hits you right, a chocolate desire, I must, but I shouldn't, and will consume tonight.
You are my first, you are my last, you are the one I've loved the most.
The devil you were labeled by people that didn't understand the gifts you spread across the land.
Chocolatey, milky, buttery, and just the right amount of sweetness, you are, to me, complete.
You light my way, even though you're…
"OK Jimmy, that is enough! Thank you for all the compliments, who knew impeding death would bring all of this out of you now?! We've been married for 40 years! FORTY! That's a long time, sweetness."
Jimmy looks at Marge, his right hand, his wife, his confidant.
"Marge, baby, you know I think the world of you, and we've been on one hell of a ride together, but for my last two wishes, give me a kiss, and move out the way! I've been cheating on you with that chocolate cake since you brought it in this room. Gone' and slice me a slice or few!
Marge, hysterically laughing and crying. Jimmy was always the type to bring cheer to whatever room he entered, a beacon of hope some might say. Jimmy, his natural affection for people is what attracted Marge to him all those forty plus years ago. They've shared so many secrets, ups and downs, and none of that matters now, as they spend these last few moments together, sharing a slice of chocolate cake, staring at each other's worlds, colliding one more time as they gaze in each other's eyes.
Jimmy and Marge met during a time when it wasn't OK for vanilla and chocolate to mix, a time when racism was out, front and center, and mixed was nothing but chocolate. But Jimmy didn't care, he was already mixed, of Persian and Caucasian American heritage. He met Marge, of African American heritage, randomly at a chocolate tasting event! How fitting for two people that had a sweet tooth, because at that event, they would soon realize that they craved each other, a craving that would last a lifetime!
On this last day on earth for Jimmy, he and Marge reflected on not what they did for each other, but all the people they helped in their lives. The sacrifices they made for others, their children, family and friends. Jimmy was a doctor, and Marge was a professor in economics. Unfortunately during a time where chocolate and white didn't mix, some kids with gifts were not given access to certain programs, so Jimmy and Marge battled through hell to create educational programs, and grants for kids.
They provided housing for the financially unfortunate, they provided food and health care, Jimmy and Marge dedicated their lives to provide a bit of sweetness to other people's lives, as they knew, this was a cruel and bitter world. Every thrid Friday of the month, they would both bake chocolate cakes for everyone, to show them how much they appreciated them, plus they knew, chocolate cake can solve all problems, or so they liked to think.
The aroma of the chocolate cake has filled the room, Jimmy knows he's fulfilled his purpose in his journey, his mind has moved somewhere beyond.
Jimmy places his cold frail hand on Marge's thigh, dough eyed, a tear fighting to be let go. "Marge, we have so much more to do, but not here, not here my love, I'll see you soon my love!" His other hand drops the fork he was clutched onto, as marge lets the plate of cake fall off the bed, Jimmy's eyes slowly close. Marge, clutching Jimmy one last time, "Baby I've loved you for forty, and would do it for forty more".
Flat lines, pain and love fill the room, with one dominating essence, the sweet chocolate scent of Jimmy's love, a scent Marge will never, ever, forget.