In Remembrance of Mom
Some interesting life events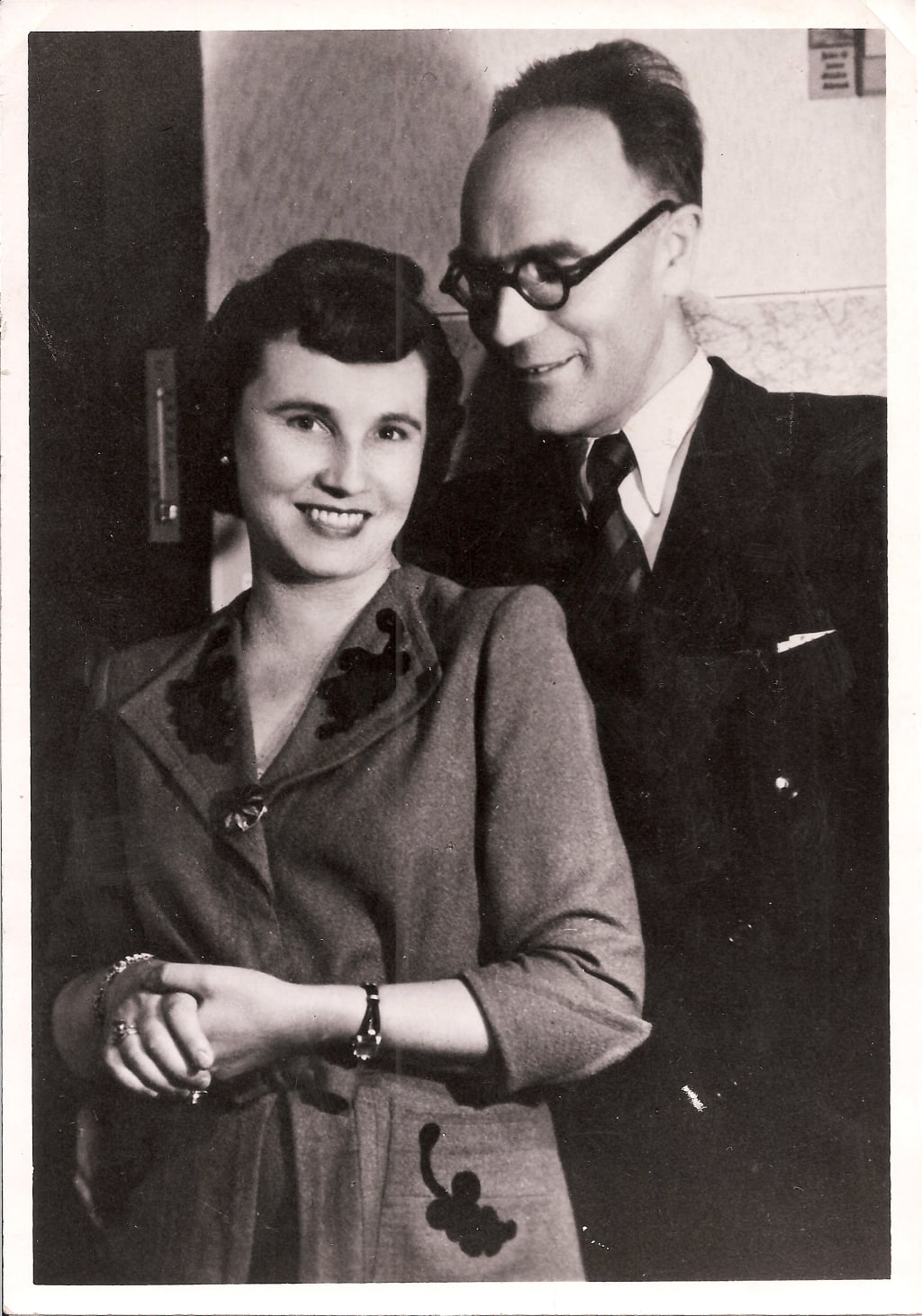 My parents Elvira and Eriks Raisters in Germany
Both my parents my mom Elvira and my dad Eriks Raisters had had their lives interrupted by WW II. They escaped from their homeland Latvia, lived in DP or Displaced Person's Camps in Germany, got married there and finally sailed into New York Harbor in 1951 to start an entirely new life. It was a happy time when I came along on 1957 and a very sad time when just ten short years later mom and I lost dad in 1967.
Unexpected Things Happen When You Go To The Movies
Dad was a great fan of the movies. He was the editor for Laiks or Time a Latvian language newspaper and always knew what the latest movies were that came out.
Going to the Movies
Since my dad, Eriks worked as an editor for a Latvian newspaper he got a day off during the week. This was a good time to go see movies as the theaters weren't crowded. He always knew about the latest movies and since mom worked in Manhattan I was the likely candidate to go with him. Of course, all movies weren't made for children so dad had to be careful of what he chose.
In the 1960s I got to see "Mary Poppins" in 1964 and "The Sound of Music" in 1965 both starring Julie Andrews. The one movie that dad wanted to see above all else was "Dr Zhivago". However, this was definitely not a movie for children since it involved the Russian revolution and Bolsheviks and so on. Dad was impatient to see it and decided he'd risk it. Well, I don't remember what if any kind of impression the movie made with me but the one thing I do remember is that the movie began with Yuri Zhivago as a little boy at this mother's funeral.
That night one little girl had nightmares and my mother's commentaries were not for repeating. Dad was unhappy and mom had to sit up with me until I could fall asleep and sleep the night through. Years later I saw the movie again and I could very well understand why I had nightmares then.
Mom had an incident with dad herself. They arrived in New York City from Germany in 1951 and first settled down in Bensonhurst in Brooklyn, New York. At this time the original movie "Dracula" starring Bela Lugosi was playing in the movie theaters. Well, mom absolutely insisted that she must see this movie. Dad took her one evening. It made a very big impression on mom. After the movie, she said she was so scared to walk home that she kept an iron grip on dad's arm but dad only laughed. Dracula had made no impression on him at all.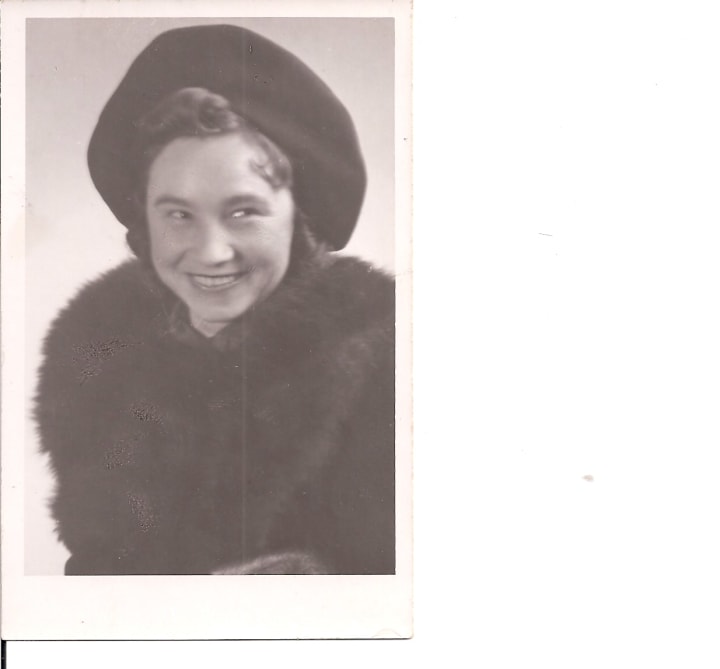 Ice Skating Disaster
The photo is a lovely picture of my mom when she was in her 20s living in Riga, Latvia. It was a time before WW II rolled in and happiest time for her. She told me that at this time she enjoyed going skating with her friends in the wintertime. When I turned 11 I had never been ice skating and it was going to be Christmas soon. So my mom decided that it would be wonderful to take me to see the world's biggest Christmas tree at Rockefeller Center in Manhattan, New York City. We lived in Bay Ridge, Brooklyn so it wasn't far.
Mom wanted to make it a happy time since we had lost dad just the year before. I was excited about it because this would be the first time I would get to see Manhattan all decorated in its Christmas splendor. So off we went. We got to Rockefeller Center and I remember the sight of that tree was just spectacular. Then we went to rent our skates and got up on the ice.
I was nervous but mom kept encouraging me. She said that ice skating is the one thing that you learn in life and never forget. So we put on our skates and clumped out toward the ice. Mom bravely stepped out first and wham, she slid and fell down. Now there I was sort of standing on the ice with a shocked look upon my face. I was surprised that I managed to help mom up without falling down and finally slowly but surely we made a few rounds around the rink. It was wonderful because you feel like you're sailing in wonderland with all of those twinkling lights and that giant Christmas tree twirling around you.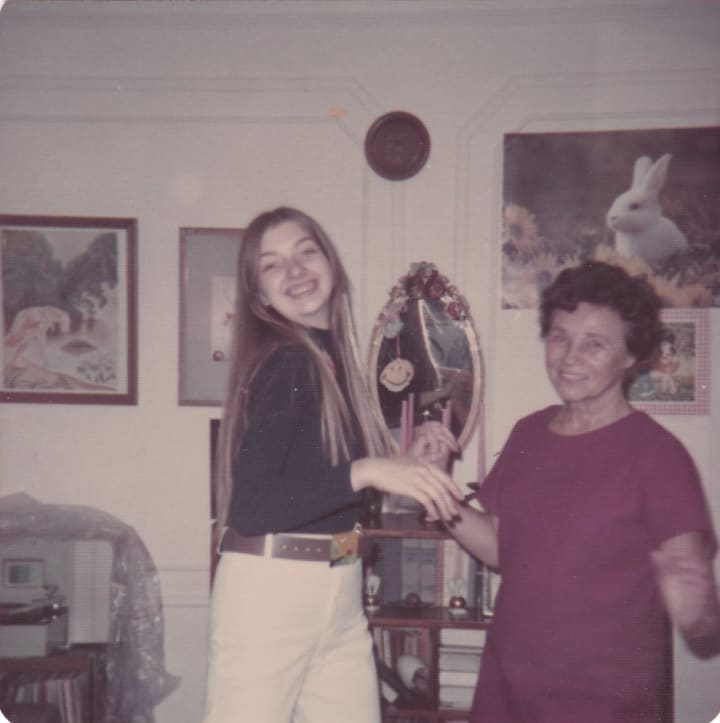 Mom and Rock and Roll
My mom got her crash course in rock and roll through me. We lived in a small apartment so of course, she had to listen to the music I listened to. She went through my David Cassidy idol phase and liked his music. She had to admit that Bruce Springsteen had a nice beat. Meatloaf scared her with his heavy voice but she didn't mind listening. She adored Elvis and loved it when I put on his records. Mom cried the morning we heard that John Lennon had been killed. She lived it all through me and she loved every moment even going as far as singing along with ABBA hits. I sure was glad that there were no conflicts between me and my mom where music was concerned.
From mom, I learned to love Latvian music and found that there were some really great songs with nice melodies. I wouldn't have known anything about this kind of music if my mom hadn't brought me into Latvian society. Today in Latvia we have Latvian music which can be referred to as pop and even some heavier rock songs. I love being able to enjoy music in both English and Latvian.
Dancing the Night Away
As time went on mom and I were in two different camps at times and at times we could find the same language. The best thing was that I also learned to love popular Latvian music. It wasn't rock and roll but I suppose that you could call it a mixture of pop and contemporary. This kind of music in Latvia is known as slageri. We could buy the records and tapes there in New York from other Latvian people and some records were sent to us from our relatives in Latvia.
Anyway usually on Saturday evening when things got a bit boring and there was nothing of interest on TV mom and I would listen to this music and she enjoyed it a lot because it was her favorite. We discovered a way to entertain ourselves. We started dancing improvisational dances to the music. Soon we found this was not only fun to do dancing to the melodies but also good exercise. At times we would order a pizza and have ourselves a little party. Years later and as I got older we would sometimes sip some wine too. These were special and memorable times which I wouldn't have traded for anything in the world.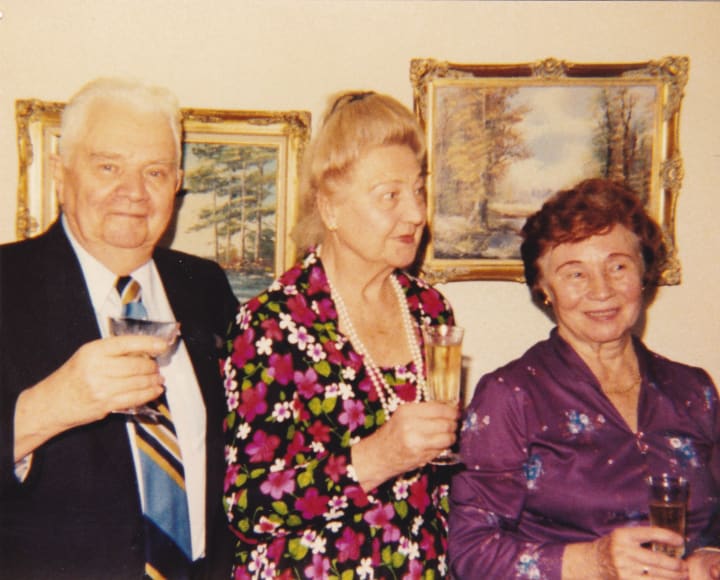 Mom's Birthday
When my mom's 70th birthday was upon us I decided to make her a surprise party. Most of the people who lives in mom's apartment building in Bay Ridge, Brooklyn, New York were Latvians and friends.
Luckily at the end of May the weather was summer-like and we could open all the windows and there was no worry about bad weather. One of her best friends lived on the second floor. She was an actress who also had to flee from Latvia and even though she couldn't be an actress among Americans she continued to act in Latvian theater troops that entertained Latvians all across the U.S.
That May 26th I asked her to invite mom for a birthday lunch. My mom still worked at the Latvian newspaper "Laiks" or "Time" where my dad had been an editor until his death. The newspaper was just a couple of blocks from our apartment so she always came home for lunch. So that I could throw together the party I didn't want mom to find out what was going on. She went to her friend Austra's for the lunch and I continued to make food. She finished work at 5 PM so it would take her about 15 minutes to get home. So again I had to ask Austra to tell her I was making a special dinner just for us three and to stay at her apartment until I called.
Well, at least all of our neighbors managed to get to our apartment just before five and I had a living room full of people. In the apartment which was small, the best thing was that when you came down the hallway and turned toward the living room you could not see what was happening in the living room if everyone was standing at the far end. So there they all stood with champagne glasses and I remembered to put two champagne glasses near the doorway for mom and Austra. I knew mom would be thrilled by the surprise but hey, I wanted to be sure she was fortified with some champagne.
So I called Austra and up they came. I opened the door and congratulated mom on her birthday and said I had everything set up in the living room. I went ahead of them so I could give them the champagne and we came to the living room door. My mom stopped just to see a room full of champagne holding people. Then she kissed me with tears in her eyes and I gave her a glass. She went around clicking champagne glasses with everyone. All of these people were seniors and have today already passed as well but I remember at the best of times they could party better than I could with my friends. The birthday worked out fantastic and far into the night we were popping champagne corks right out of mom's fifth-floor kitchen window.
Bad Choice of Restaurant Location
Many moons ago when we were still living in NYC both my mom and I loved Chinese food. We would mostly eat take-out but one time we heard about a new restaurant that had opened up in our neighborhood. It also said they offered take-out so since mom and I enjoyed eating out we thought we would try the restaurant and then we could also order take-out from them.
We got to the corner restaurant and when you are used to a neighborhood you pretty much know the stores and businesses there. We stopped by the restaurant and mom said "It seems familiar to me" I said, "The restaurant?" She said. "No, this corner, I could swear there was a funeral parlor here".
I felt like I was in a very bad Bela Lugosi movie and expected Dracula to open the restaurant door and say, "Good evening? May I help you?" Well, we walked a couple of more blocks looking for the funeral parlor that supposedly had been in the area for forever. We could not find it.
Returning to the restaurant we went in. Mom digs her fingers into my sleeve and almost makes me jump like a cat to the ceiling. I said to her, "What is the matter now?" She looks strange and whispers, "The same wallpaper and lighting." The movie was getting worse. I told her to pull herself together and along came the hostess. When she turned and started walking down below I was almost not sure I wanted to follow.
Downstairs the area was enclosed and pretty dark. She seated us but mom was not looking too good. We ordered two martinis and I figured we'd be all right. That was when mom started looking green. I said, "Martini not strong enough?" I loved to kid my mom when I thought things were not serious. However, then she says, "I knew it. This was the funeral parlor. Your grandmother's funeral was here."
From bad to worse. "Say what mom?" She nods and her eyes get misty. It was her mother she was talking about way back in 1965. I was wondering what to do as I sipped at my martini and my hands were shaking. I told her to stay put and went to the ladies room. Along the dark hallway with lighting that Dracula would have loved at his castle. I came to some photos on the walls. There were photos of the funeral parlor and photos of some Chinese shaking hands in front of the parlor. Then a photo of the same Chinese standing in front of the restaurant we were now in as it had transformed from the funeral parlor to restaurant.
When I returned to mom I said, "Mom finish your martini." We're eating out just not here". After we returned to the street I took a few deep breaths and mom definitely looked better. Then and there we both realized we could never eat in restaurants that were once funeral parlors.
How It All Ended
When it was possible to travel to Latvia my mom was already in her 80s. She wanted to live out her days in her homeland. She had been born in 1911 in the capital. Riga. So we moved there in 1994.
Mom and I had to go through another funeral for my dad by interring his urn into the ground in the cemetery in the country here in Ranka, Latvia. This was where he had been born and raised and these were his wishes. Then the troubles began and the only reason I stayed after mom passed on was that I met my soul mate there.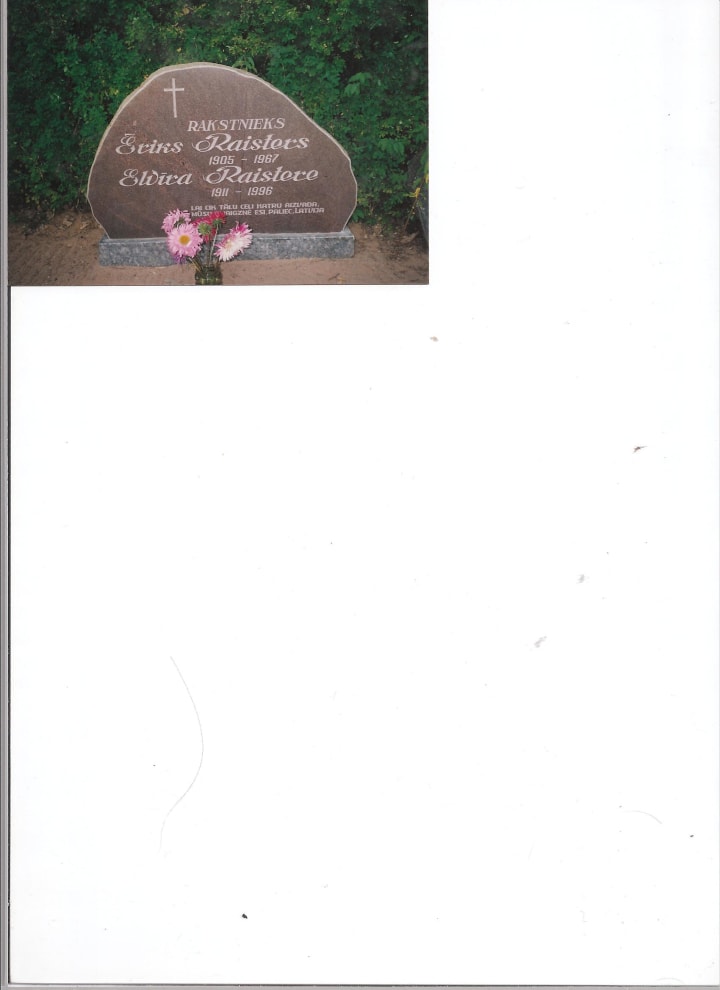 Mom developed sclerosis on the brain and toward the end, she did not even know who I was and died only two years after we moved to Riga on March 20, 1996. She is now with my dad, her soul mate forever and resting in peace together in Ranka.
parents
About the author
My passions are writing and creating poetry. I write for several sites online and have four themed blogs.
Reader insights
Be the first to share your insights about this piece.
Add your insights