horseback riding + therapy
the incredible impacts on Abby and her Cerebral Palsy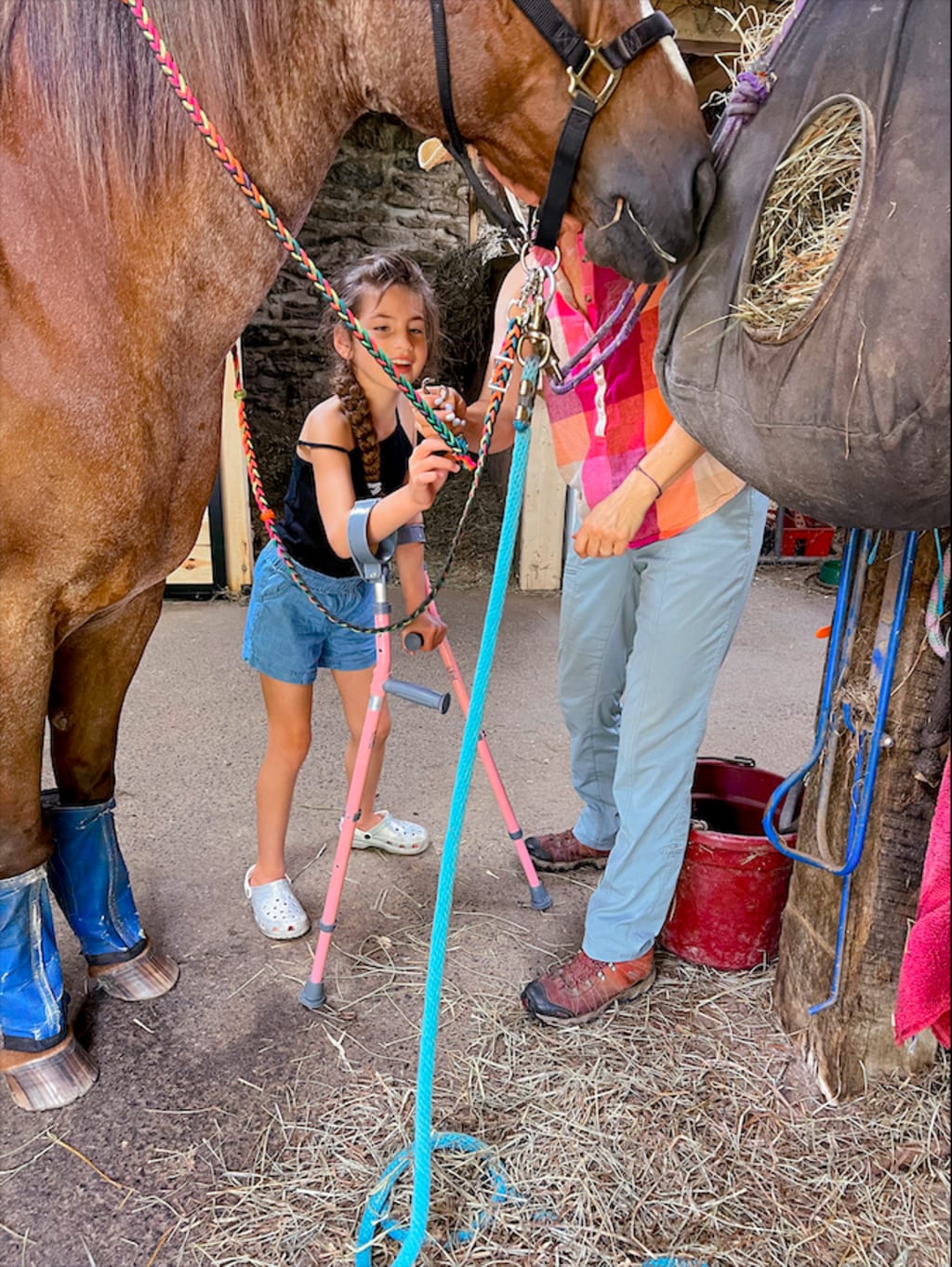 One of the programs that helped Abby the most was her horseback riding
Technically, she participates in Specialized Equine Therapy and it is a bit different than the typically hippotherapy.
Hippotherapy is a physical, occupational, and speech therapy that utilizes the natural gait and movement of a horse to provide motor, and sensory input. It is based on improvement of neurologic functions, and sensory processes, and used for patients with physical, and mental disorders.

VS

Equine-assisted therapy encompasses a range of treatments that involve activities with horses and other equines to promote human physical and mental health.

(Physical, occupational or speech therapy in which hippotherapy is utilized. Therapeutic riding is recreational horseback riding lessons adapted to individuals with disabilities.)
Abby has been riding for almost 3 whole years and it has absolutely made such an impact for her in that time.
What I love so much about the program is how diverse the skills are that Abby is working on! She doesn't just show up and ride her horse- she is completely involved in all aspects of her ride. She is learning about responsibilities and safety.
Each time we arrive Abby walks her horse in to the barn to get him tacked up and ready to ride! Her horse's name is Buddy and their bond is quite possibly one of the sweetest things I've ever seen.
Abby spends time brushing buddy and sometimes braiding his hair before walking back and forth with his saddle and accessories. She helps to throw up his blanket and saddle. She even knows how to tie a cinch knot! The rainbow reins are usually her favorite part of the process folloed by the addition of a cup holder for hydration along the trail.
Once Buddy is ready, Abby puts on her helmet and heads to the stairs to mount him. This is an increible skill that she can do completely independently at this point! It is very impressive.
The walk starts through the rainbow gate and all through the beautiful woods. They love stopping by the wind chimes, the swingset, and the stream. Up and down hills, while Abby squeezes her abdominal muscles as much as she can to keep her posture over the terrain.
Like everything else tht Abby does physcially, she exerts 3-5X more energy than someone else without CP might. For her whole hour she is working so hard to ride along the trail with buddy and her smile never leaves her face.
We finish her ride right back where we started when she dismounts with very little help. Abby throws her leg over and slides down onto the blocks below, grabs her crutches, and walks Buddy back into the barn.
Just like when she arrives, she helps to take off all of Buddy's equipment and finishes her session with a bowl full of treats for him. He loves peppermints and apples, carrots and even leaves that she pulled and saved from trees during her ride.
While the program itself is amazing, it is Abby's instructor that has REALLY made the program so incredibly impactful for all of us. She is patient, kind, caring, encouraging, and just an amazing role model around her horses and her farm. We can't even begin to say enough amazing things about Meadow Creek Farm.
These kinds of programs have made the biggest impacton Abby. While Physical Therapy, Occupational Therapy, and Speech Therapy have helped her come such a long way with her abilities- this programs helped her come a long way with her confidence with her body and with herself. It's something that has been shaping her as a person for the past couple of years. We are so grateful.
About the Creator
content creator + proudest mom to 3 sweet little humans, including THE Amazing Abigail Grace
Reader insights
Nice work
Very well written. Keep up the good work!
Top insights
Excellent storytelling

Original narrative & well developed characters

Heartfelt and relatable

The story invoked strong personal emotions
Add your insights