"HONOR THY FATHER"
"Rollin' in Old School AND New School Style!"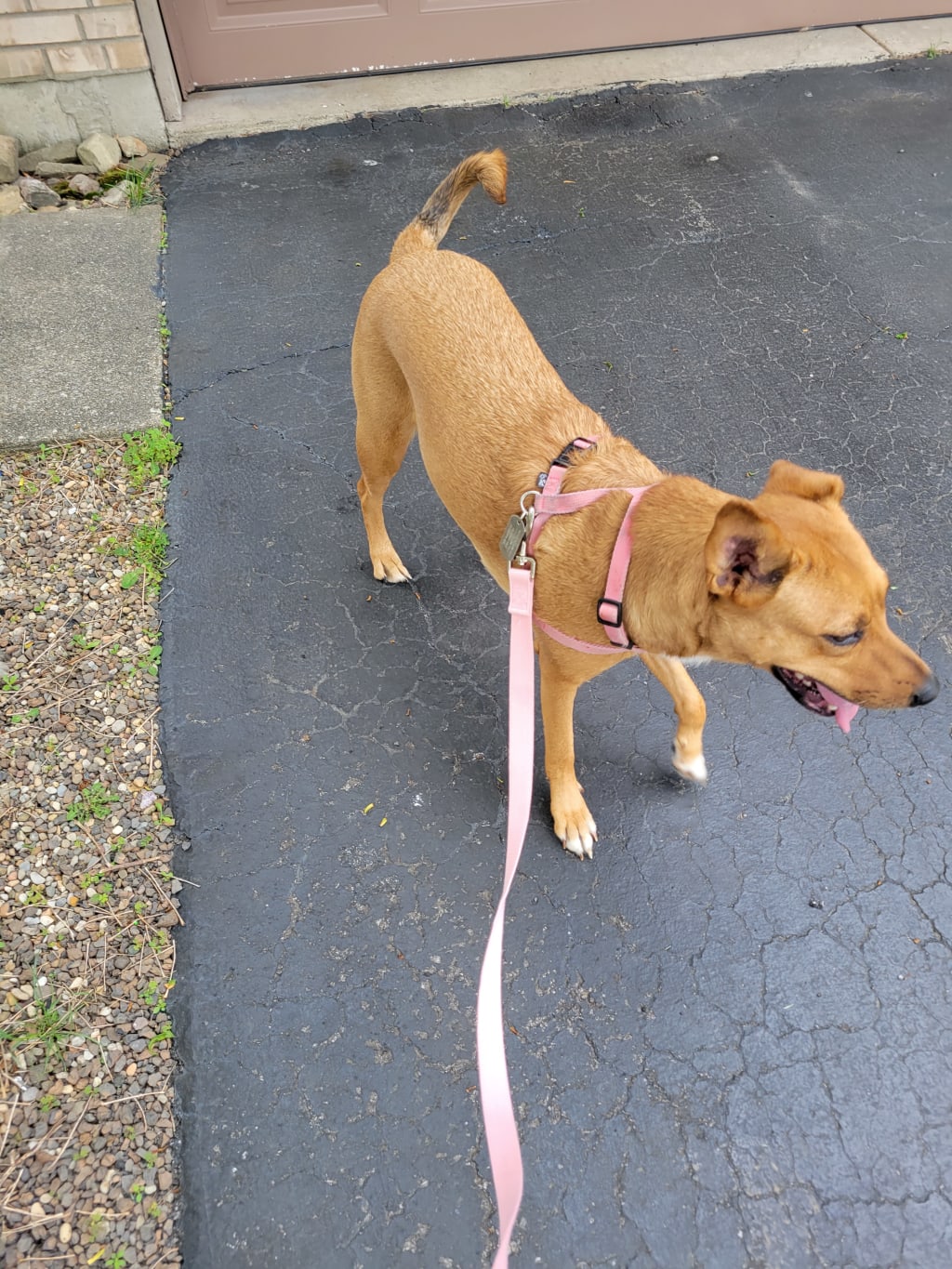 My younger, Arubian Cununcu Sister Roxy! [Olivia R. Petrus].
The roads were empty the other day - early in the morning - in Crown Point, IN. There WAS an older white lady, with a vest walking. I told Roxy, "Don't you bark at her, girl! She's a NICE lady! Our neighbor!"
One of the locals. She WAS a nice old lady, just going for a walk - or possibly on her way home from work or working her shift. I didn't ask. It's none of my business.
I had my headphones in anyway, and was listening to Taylor Swift. She's one of MANY of MY favorite Pop artists! I was looking at the early rising sun. I was enjoying the last of summer. Nitty - or "Princess" as I now call her - was taking a cat nap in one of MANY of HER favorite Amazon boxes, as she is doing right now.
She SHOULD be watching for the indoor critters, but I like to get her out on the balcony, too, to see the garden that's blooming below. Trees ARE being planted! The yard IS being tended to! Perhaps not on everyone's timeline, but I've learned that you can't control everything anywhere, all the time. Everybody's got a WHOLE different way of doing things here, than in the Heights...
Roxy used to TERRORIZE the neighbors, but now I think they understand. Some of them do, some of them don't. Some agree, some don't. So, I check in with my elderly neighbor first. What else would a GOOD girl do? The great news is nobody has tested positive so far for COVID-19 in this household! However, I DO have concerns over the litterbox.
Yes, I have a litterbox! I have to clean it - twice a week! And, YES I DO have enough clothes - if I hold on to them and wash them regularly! I want to promote safe-work around people with pets and families.
Why else would I want immunocompromised individuals that are "expecting" to keep their distance from me? Toxoplasmosis - a microbial infection that can harm fetuses commonly transmitted from one individual to another through contact or handling of cat feces. [CDC.gov]. [Google.com]. [Microbiology 101].
I DO have an older cat. I DO have an older sibling, I DO have an Arubuian Cunucu Protege! I'm not trying to get ANYONE around here pregnant! The last thing this world needs is another ME!
Nitty - or Princess - was spayed before I adopted her at my local South Suburban Humane Society, in Chicago Heights, 60411. [www.southsuburbanhumane.org]. [Google]. Roxy got her rabies vaccination just recently. She's under the control of my older sibling. We're just trying to look out for EVERYONE'S safety.
I might be mentally ill - and so is my older sibling - but that doesn't mean we're going to harm anyone.
Now, Roxy, that's her job. Her job is to tear up anybody that intrudes on this property whose not supposed to be here!
Nitty, or Princess, will keep an eye on her. Or hide. Near her food, likely. She is a cat! Just a shy older cat, that came along with a shy, younger sister, to be closer to family, and see some more GOOD in the world.
That's why I DO take SOME of the advice of the Bible. Honoring thy parent's is just a GOOD idea! Testing faith BLINDLY probably isn't.
I TRY to be FAIR, but it's hard to keep up with everyone around here! Everyone has a different way of doing things in Indiana. That's why you see so many different signs around here. That's why we slow down around here, ladies and gentlemen! Whether your "kickin"' it "Old-School'" Style, like Roxy and myself - or kicking back your motorcycle, bike, "rollin'" in or on your "New-School-Style-Whatever..." SLOW DOWN. KIDS ARE GOING BACK TO SCHOOL!
I'm just trying to give my older sibling some space to overcome their seasonal allergies - which they're treating at home with the help of THEIR friends and community. Meanwhile, I mind the dog, cat, household, answer my phone - which is always ringing when I don't need it to, and never ringing when I do - or vice versa - keep the household clean and steady, work on my music and writing, start my day with coffee, do my yoga and breathing exercises, sit down at my piano and write a song...
I'm trying to do everything right, but I'm FAR from perfect. I am an ARTIST! Hear the dishes and the washing machine ROAR! (I'm a big Katy Perry fan, too!). While I can be more reserved, like my older cat, Nitty, I can also run wild with Roxy! Now THAT might disturb the neighbors, but at least they now know that if Roxy bites, nobodies going to get RABID! She won't, if I'm walking her. Or she's safely on her new lead from the Pet Supplies Plus in Crown Point, located on East Summit St. by the Buffalo Wild Wings [Google Maps].
I turn to my resources. I thought I donated my "THE EVERYTHING Spanish Phrase Book," [Luna, C./2004]. to the local Crown Point library, but it turns out, I still have it! I'd love to learn more Spanish for my career! However, I started teaching myself French when I was ten years old. "Je parle un petit peu Francaise..." [RICK STEVES' FRENCH PHRASE BOOK & DICTIONARY]. [Steve, R./1996]. I AM fortunate enough to get around and meet people from all over the world - near and far - safe and sound.
With the help of my father, friends, family, dog, cat, community and so many more, I was able to escape a dangerous situation, with my battle buddy, and become part of the pack. I've walked those roads before - both with and without the dog. Maybe you've seen me, maybe you haven't. Maybe we've met, maybe not. It's ok. I'm about as violent as that cat can be when she's hungry. Princess CAN'T really hurt anybody. But she can be RELENTLESS in her pursuit for FOOD. And naps.
If you only got one parent, and he doesn't want you in someone else's territory, you've GOT to RESPECT that. Even me. I AM his daughter, after-all.
He might be a Cubs fan, I might be a Sox fan. He might prefer golf, and I'm always going to lose at playing pool in a bar! Or trying to build an indoor Putt-Putt course for Princess Nitty. Now, I COULD and HAVE performed in a few bars round' these parts. But I have to worry about my vehicle. It's insured. I have a valid DL. But it needs to be fixed up. And it's already past time to...
Quelle, quelle, quelle! Il est heure retard pour mon WALK avec mon petite chien, ROXY!
That's just a terrible French way to say, WELL, WELL, WELL, It's past the hour for me to walk my little dog, ROXY!
advice
Hello readers! While my biggest passion is for music, I've been writing, drawing, and creating since I could crawl. I hope my stories inspire hope, courage, strength, tenacity, humility and laughter in my readers. Join me on this journey!
Receive stories by Unlisted&Twisted! in

your feed