Home is where the heart is...
Home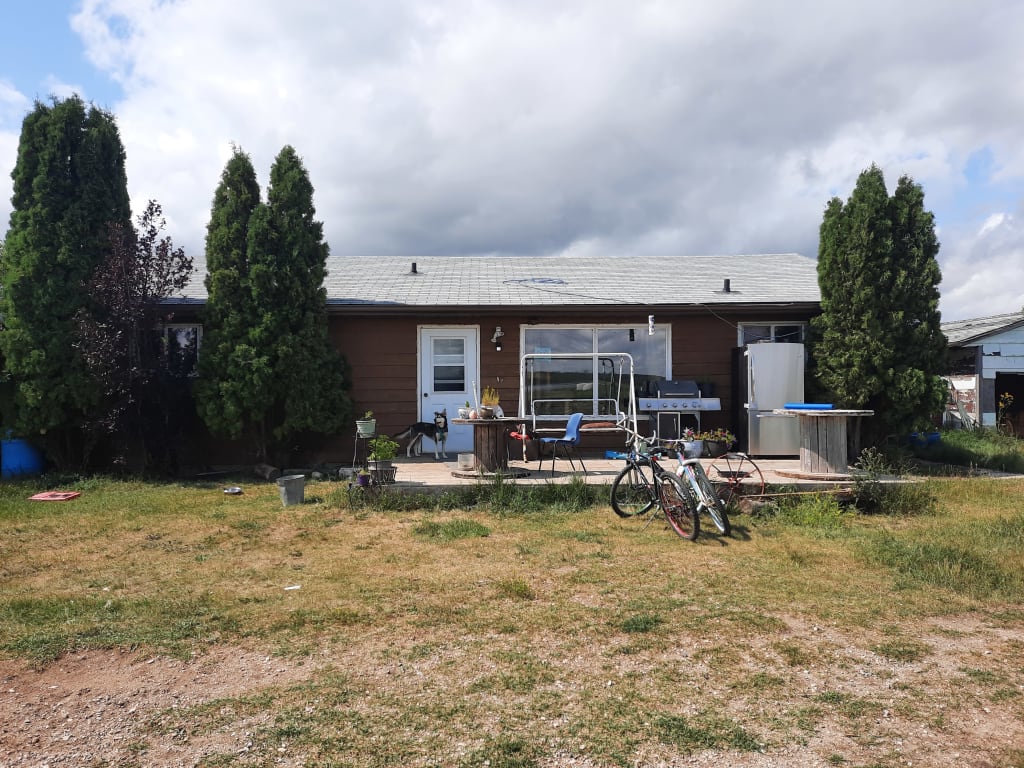 The Traveller
I have always loved this home. My grandfather Joseph Desjarlais had this home since the late 1980's. He planted blue spruce trees, willow trees and the tall cedar trees that you see in the picture.
I was a travelling girl. I left my hometown of Lestock, Saskatchewan in 1985. About the time when the trees were small and the land was fresh. I left when I was 15 years old and moved to the city. I did go and complete my grade 12. I made application to the University of Alberta before I graduated. I was accepted but there was a waiting list and I had to wait a year. So I thought, "Hmm, what shall I do for a year while I wait?". I decided to move with my aunt to a northern community and work for awhile in High Level, Alberta. I wanted to save up enough money while I went to school. My mom and dad decided to follow me to Edmonton, Alberta. While my mom and dad wanted a change of pace, they worked also but they found it became too tough with the cost of living in a big city. They wanted to make sure that I was going to be okay by myself in the city. I did go to university, learning is one of my passions besides writing stories. I went on to Concordia college, science, forensics after I was done my bachelors degree at the University of Alberta. Learning everyday is what keeps me motivated. My mom and dad came back home to Lestock after 2 years. I lived in Edmonton for about 18 years. I would come back home, now and again to see how everyone was doing and I would go back to Edmonton again. Travelling is one passion that is my hobby. I realize that as I grow older, I need a more stable homelife. I did the getting married thing and have 3 beautiful children. My marriage didn't work out like I would have wanted it to but I have been here in Lestock now for 10 years and I am happy and content.
I came here to this home to come and stay with my mom. She has grown older and needs help with her garden, yard and just companionship. She recently lost her husband (my father) 2 years ago in October due to complications. She has had my daughter staying here but now my girl has gone out in the world to find her true passions in life. So now, my mom is alone. She asked me to come and live with her here, I agreed. I feel more at peace here, more calm. I would still love to travel, but that can be later. Right now, I am content with staying at my original homestead. I went out, got my education, traveled to Cuba in 2014. I have seen the world and met many amazing friends from all over the world. I met people from Chile, Australia, Sweden, USA, they are all my friends to this day. Some people wonder as they get older, what did I do with my life? Have I done and seen many things that I can tell my grandchildren one day? Now, my focus is cleaning up this yard that needs help, helping my mom because one day, this will be mine. I can sit and reflect and enjoy all the memories that I will now create here and many more stories to share.
Home is where the Heart is.....
values
My first passion has been to write. The second passion is to travel. I wonder if I would be able to join those two together and make a new career change in my life? My family is important to me...