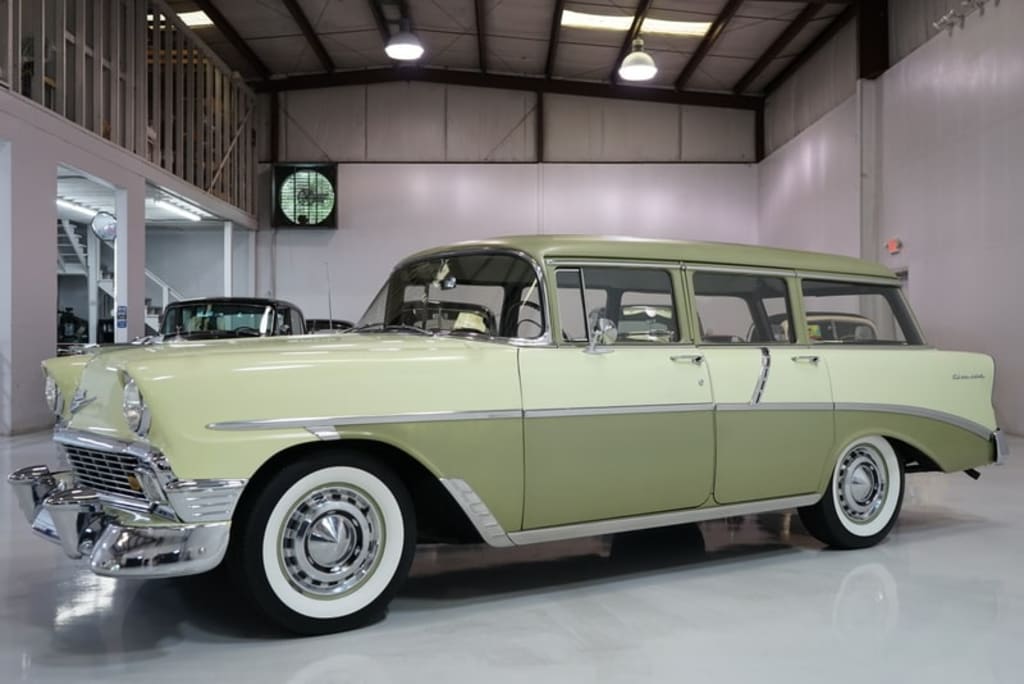 ~ NO Seatbelts Here - Muscle Car ~
HOLD ON
– Remember When –
Twin Lucky-Lar and I couldn't get enough of our '56 Chevy Station Wagon. Memorable distinctive auto-personality-features back then! 'Wagons' the 50's precursor to the current crop of the Newbie's SUVs that I can't tell the difference from one or the other without their 'Brand-Badge' boldly shown! And, way before German or Japanese cars ruled the planet.
The 2 Toned Chevy (Yellow & Pea-Green) was an adventure experience while traveling in, especially to Vegas! We sped to L.V. often since Dad; aka 'Big-Ed' had his 'core' business there. And, at the time, there was NO speed limit when crossing the Nevada border (Seriously!) Casinos wanted visitors to get to them to make their contributions-donations $ as Quickly as possible!
Although when returning back across the California border the CHP (Chips) were lined on both sides of the highway with their ticket book and pencil in hand giving out costly speeding tickets — They probably weren't in any big-hurry to 'Quickly' have us back?
Lar and I sat on opposite sides of the station wagon with our elbows hanging out of the open rear tailgate window. Seat belts-shoulder straps/airbags, even 3rd row seating weren't a glimpse in G.M's eye in those days. Big-Ed just couldn't wait to approach the crossing. He'd scream-out "HOLD-ON!" and pressed the pedal to the metal!  He always had the big-block Chevy V/8's for just such occasions! The look of 'Joy' as he accelerated was hard to describe!
As he floored the Big-Powerful-Wagon and hit (+/-) 100 mph, Mom would instinctively press-down an imaginary brake pedal from the passenger seat, while gritting her teeth! As the Bro's grabbed onto whatever we could from the flat rear section.
This was nothing new with Big-Ed. He often brought home panel delivery trucks from the factory. And, because he always had them loaded with boxes, with this-or-that, he would make more cargo room by removing the passenger seat. When we went places with him he would pull out a milk or apple crate and put them where the seat once was for us to sit-on. We slid all over the place holding on to each other at each turn, as Big-Ed would invariably shout-out "HOLD-ON" while rolling-out onto the road!
Mom had her idiosyncrasies as well. They jointly purchased a condo with in-laws (The Applebaums) near the Vegas-Strip, since they were constantly going there on business trips. But, Mom never wanted to stay in the lovely condo-townhouse, along with an extra town car in the garage for all to use. She would say that she didn't leave home to make beds and wash dishes there as well! So, they would stay in hotels. Dad would see customers and Mom would play cards; fair exchange!  
Mom would never allow Dad to take HER car anywhere because he always loaded it down with goop!
Ooh, and Mom wasn't much of a cook either; even before take-out was popular. An orphan and never having a mothers 'Happy-Place' kitchen influence. Mom would say, "you're old enough to fry an egg" — when we were about 'Two'! She would toss a roast and a tongue into a big oven pot and that's it, always coming out crispy, well done to say the least. But, Pop would never eat anything other than 'End-Cuts/Burnt' anyway. And, so since she knew no other way, it worked perfectly for him!  However, once I was informed (probably into my 40's) that 'tongue' was cow-tongue, I never ate it again!  
Dieters Anthem: "Well, I have to eat something!"
Enough? I'll stop this outgoing nonsense! Sure, If I Ever Could or Can!
! B/U !
  Jay Kantor, Chatsworth, Cal
  'Senior' Vocal Author
For Our Kids Someday