Green Mother's Club: The Importance of early education
A tale of inferiority complexes and the social wars of housewives.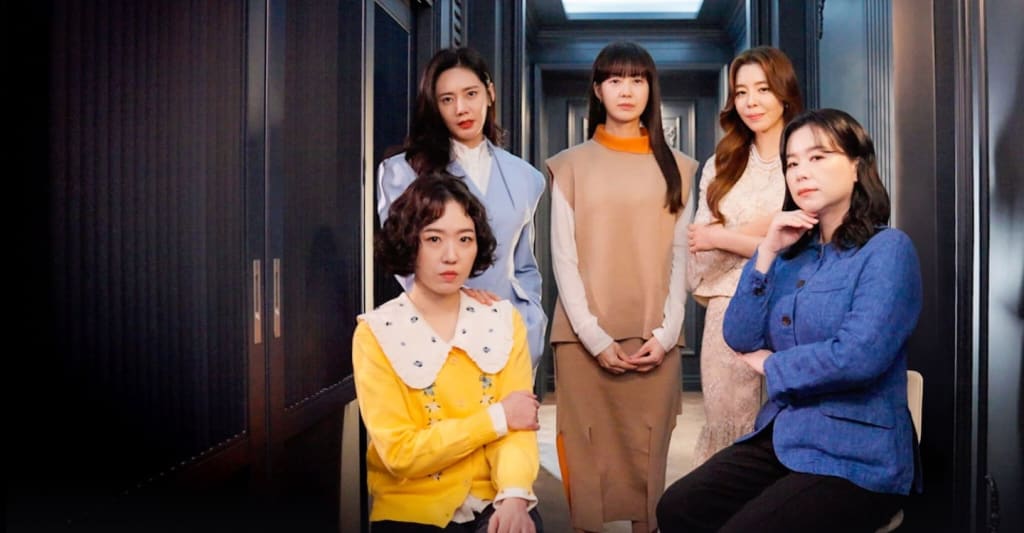 When a young professor is in the middle of a lecture her feelings of inferiority come back to haunt her in the manifested form of her former best friend Seo Jin-ha.
A friend who always won the art competitions, and stole her crushes, who was also the child of a famous artist.
After having an episode she is stripped of her title as a professor and left with the option of relocating to another neighborhood with her two sons and detective husband.
The neighborhood they move into is very competitive, children are taught to study ahead of their grade. First graders learn fourth-grade content. The respect each mother in the neighborhood gives each other is determined by their children's good grades. In a neighborhood where women make friends with motives, ex-professor Eun-pyo is out of her element.
At first, the mothers are interested in Eun-Pyo. She graduated from a prestigious school, one they dreamed of having their kids attending someday, but when asked about her education plans for her kids she steps on everyone's toes with one line. "I'm not that kind of mom."
Unknowingly making an enemy of every mom, including her cousin who lives in the neighborhood.
Green Mother's Club is a story about South Korean housewives, how competitive society can be, and how mothers pressure their children to study hard so they can become respectable from young. They shed an in-depth light on how mothers live vicariously through their kids. While watching this I came to realize some Mothers might be content with letting their kids be kids, but in the long run, it's actually better for the kid to have a few skills and try different things so they will have something they want to do in life.
Don't be extreme as some of the mothers on this show though! I'm not saying you should. Chun-Hui, a Mom respected in the beginning for her talented child, had to learn this the hard way. When her daughter was used to being the enter of attention, began to fall behind the rest she develops a lying disorder. After finally giving up on academics, it turned out both her kids were more talented in the music field. It was a very heart-touching scene when she saw her eldest who was always at the bottom of his grade, play the lead at the concert. She was a typical Asian parent hoping her kids could grow up to become doctors, so seeing her take a step back and learn to stop trying so hard was beautiful.
As for Eun-Pyo, she is forced to eat her words almost as instantly as she uttered them.
At school, her child is the most immature and obstructive in class. He never fills out any of the assignments and only doodles on them. It becomes clear to the mothers Eun-Pyo is the type of mom who paid no attention to her kids. It's after paying some more attention and trying to enroll him in secondary-learning schools that Eun-pyo learns he is a genius and has ADHD. She gets a little greedy and pushes him to compete on a television show and with the other kids, she learns her lesson after he develops selective mutism, after the shock of becoming too intelligent to converse with his friends. He only had one intelligent friend and that was Henry, the son of Eun-pyo's nemesis, Seo Jin-ha.
Eun-pyo is stunned when she learns Jin-ha settled down and married Eun-pyo's ex-boyfriend, a man she met while attending school in France, Louis Benuel. And also lives in the same neighborhood.
Even though there are flashbacks of Eun-Pyo destroying Jin-ha's artworks as a child, Jin-ha is overjoyed to reunite with Eun-pyo and kills her with kindness, but Eun-pyo is the opposite.
Green Mother's Club is also a story of inferiority complex, the loneliness of geniuses and how friends can become enemys and friends again. In the first half of the show, we learn just how jealous Eun-Pyo is of Jin-ha, but towards the end, we learn that Jin-ha was also jealous of Eun-pyo.
To Eun-pyo, Jin-ha had it all. She was an artistic genius in her own right, gorgeous, rich and most importantly the child of a distinguished artist. She always felt small next to her, but Jin-ha wasn't a braggart, she was very humble and at times even doubting herself even though to other people in the art scene Jin-ha was a genius. Jin-ha acknowledged Eun-pyo's eye for art, and even seemed she saw Eun-pyo as an equal, making it harder for Eun-pyo to justify her dislike of Jin-ha. Which was probably Eun-pyo's main issue, as liking someone who's nice can easily make you feel like a terrible person.
But Jin-ha wasn't a complete saint as much as she tolerates Eun-pyo being mean to her. Jin-ha deliberately stole Louis from Eun-pyo.
To Jin-ha, Eun-pyo had it all. Eun-pyo had a family that loved her. Jin-ha's mother had schizophrenia and so she never experienced a Mother's love growing up. Her Father also ended up cheating on his wife with his student, a woman who became her step-mother after her Mother threw herself off the roof of the house. Jin-ha was always lonely. Even when her Father died she felt nothing.
What were talent and riches without love?
Eun-pyo finally realizes this towards the end, and feels incredibly embarrassed. She realized compared to Jin-ha just how blessed she was. That when measured with what she had compared to Jin-ha was priceless.
As much as Jin-ha was jealous of Eun-pyo she still genuinely saw her as a friend. Eun-pyo learns to make her peace with that.
Reader insights
Be the first to share your insights about this piece.
Add your insights