Green Garden Friend
My mother's fairy portals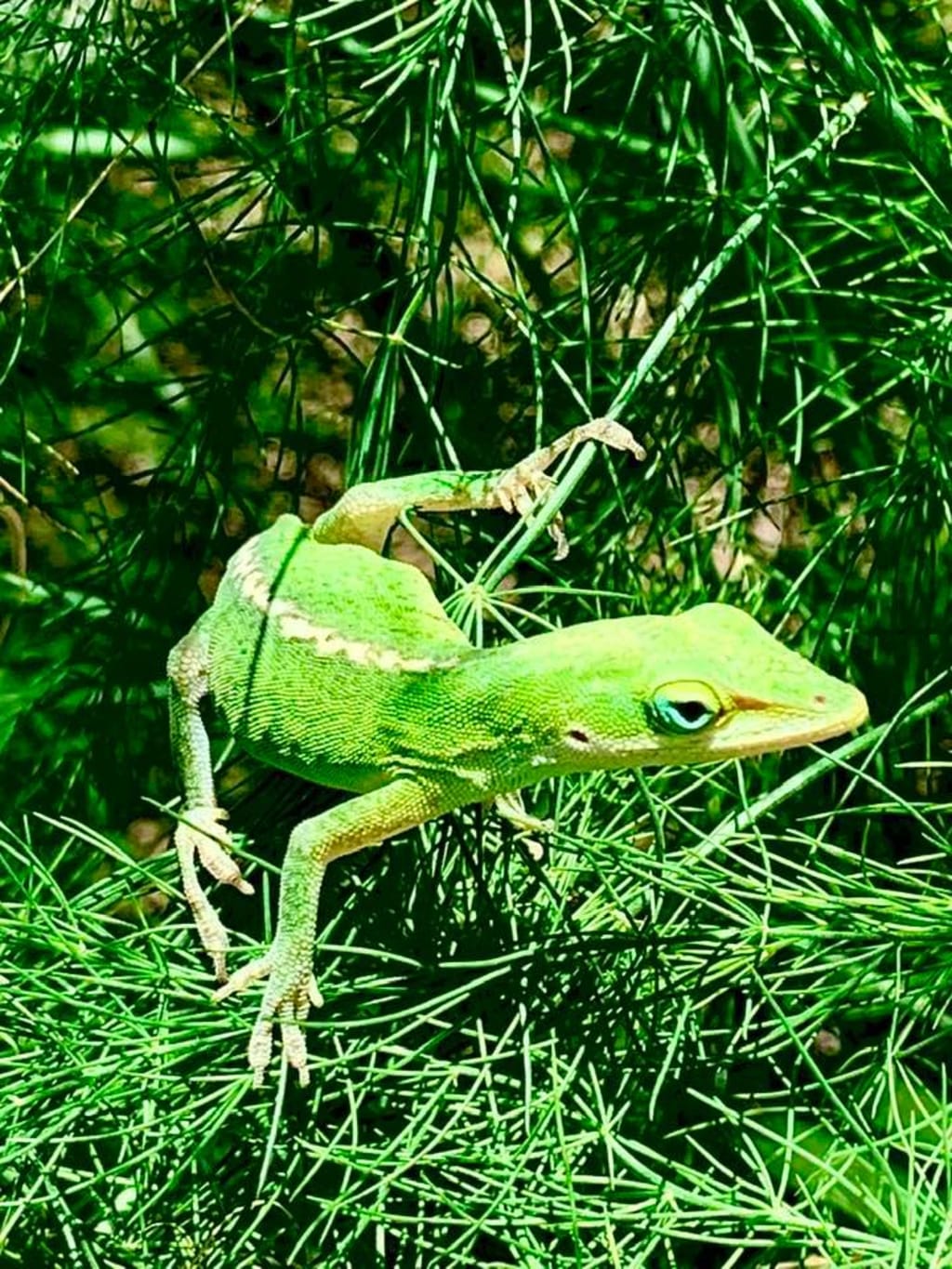 A green anole in the back garden
This fine gentleman is a green anole, a common visitor to gardens here in New Orleans. They are known for eating bugs and I have even seen one eating a cockroach. They have faced some competition from larger, more invasive brown anoles in recent years. My little, green friend is a good indication of how my avid gardener of a mother creates a space for wildlife in her magical "fairy portals."
My mother has lived with me since my stepfather died in 2009. One of the benefits for me is that she has extensively landscaped my yard. She also has a patch in the back where she grows kitchen herbs and vegetables. I deeply appreciate this because I am not, myself, much of a gardener. It is the most beautiful yard in the neighborhood and this includes insects, birds, and green anoles as well as plants. Mom encourages these charming callers by planting things such as passion vines, beloved of the Gulf fritillary butterflies, and milkweed for the monarchs as well as bee balm and the like. She also refuses to use weed killer. Her garden, which I am fortunate enough to say is also my garden, is a living thing, an ecosystem in its own right.
My mother has always been a gardener. For most of my childhood, we lived on several acres in a rural area 40 miles north of New Orleans known for its sandy-bottomed rivers and piney woods. She was younger then and had a lot more to work it, making it truly magical, this inspired a somewhat goofy artist friend to claim there were fairy portals on the property. When the flocks of indigo buntings came through and the field was filled with buttercups and crimson clover, I could almost believe it. There was even a huge mound of Cherokee roses that, one year, sheltered a family of foxes.
Though her canvas is a lot smaller these days, it is remarkable how much she has been able to do with a modest yard in the city. There are several citrus trees and many roses. Right now, the scent of the night-blooming jasmine coming from the front yard would knock you down and the little, screened room in the back yard is covered on one side with a Cecile Bruner rose and, on the other side, by the passion vine.
Let me take you on a brief tour. The fence in the front yard is covered with star jasmine vine, Zephyrine Druant roses, and Gertrude Jekyll roses. The garden beds underneath the fence harbor, among other things, a rosemary bush. There is a large crepe myrtle with the night-blooming jasmine under it. The flower beds are home to knockout roses, salvia, and Echinacea. There is a bougainvillea on the fence on the side of the house.
The back yard contains the already-mentioned screened room with the Cecile Bruner rose and the passion vine. There is also a satsuma tree and a grapefruit tree. There are a number of different herbs, including thyme, oregano, and basil. There is also a patch of mint. The vegetable garden in the back of the screened room accommodates a revolving slate of vegetables, including jalapenos, egg plants, and, seasonal greens. This is hardly a complete list of all the plantings.
As well as anoles, both green and brown, and the butterflies and bees, there are a number of birds, including some very insistent house wrens and mockingbirds as well as the hawks that visit from their nest in a tree in the neighbor's yard. Just yesterday morning, one of the wrens knocked itself agains the storm door and mom took care of it until it got over being stunned, which it quickly did.
So, that little green lizard above is emblematic of my mother and her garden and how she welcomes life into it. It is a vibrant, organic space and home to all kinds of creatures.