"Get Em' Up Scout"
Old memories shared, new memories made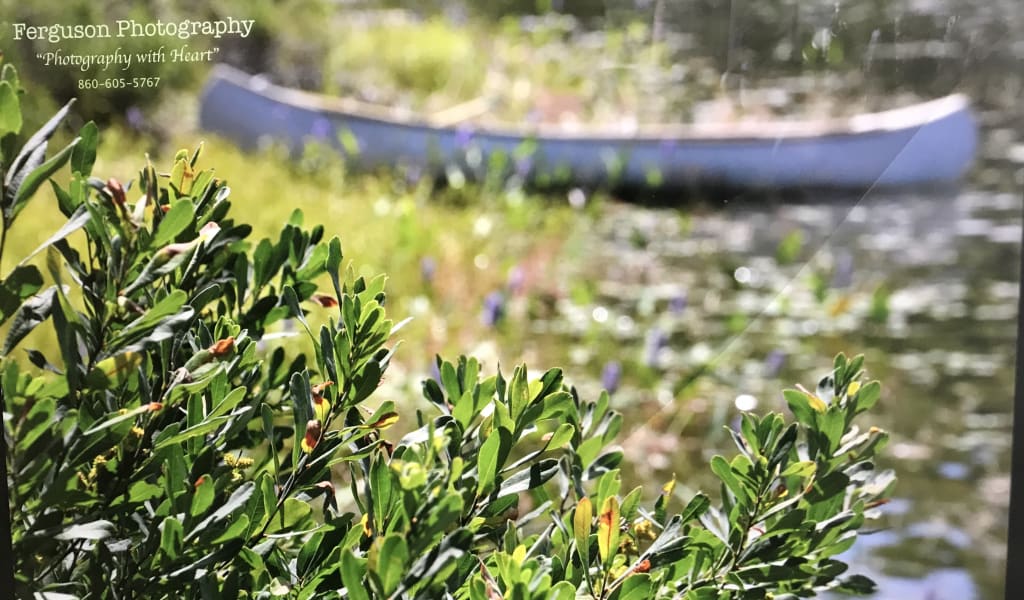 Maine vacations, childhood revisited 
A sense of peace struck a chord deep within me as if I were a baby being held safely against my mother's breast. The summers of my childhood came flooding back as I stood recapturing my father's image across from me, casting his fly rod with the rhythm of the river. The wildflowers, Indian paintbrush, Queen Anne's lace, graced the steep grade of the dam, just as I had remembered. I envisioned myself sliding down the embankment to fish and play among the rocks, and catching water bugs until hunger settled in, and I made my way back down the path toward my family's campsite. Birch trees bent overhead as though protecting me. The sweet sound of water, lapping against the rocks, lulled me. I hadn't been back since my parents' divorce, 30 years ago. I stood there, letting the memories envelope me. The many times we rode the dry-kai, large, long pieces of old wood lying on the side of the lake (I told my children these were the original "noodles"). My brothers and I spent hours riding them. I often have pretended mine were seahorses as I bobbed up and down in the chilly Maine waters.
It was as though I had come home. Astonishingly, little had changed. The house still stood where my mother had purchased my father's first canoe. A custom made "Comstock", created by a surly old Maine-ard who happened to have the same last name as ours. I remembered, as a child, wondering if we were related and feeling relieved that we were not, as he sat there spitting Tobacco juice into a coffee can, the dribble running down his chin and thermal undershirt. I remembered him fondly now. Over the years our families had become friends, simply because of the coincidence of our names. I remembered his simple house which sat on the river, and the serenity that filled it even with the continual cussing he spewed forth. His wife Helen was the reason for this. Petite and gray haired she smiled sweetly and served tea and I believe she very much enjoyed my Mother's yearly visit. The red gingham curtains fought against Mert's round form and tobacco stained T-shirt. Though I never could quite see what they had in common, somehow they balanced perfectly.
Though the house was still standing, Mert and Helen had died long ago. A pang of sadness made me think of how young my own parents were when we traveled here, and how they too were now aging.
As a child, I had no choice of where my vacations were spent. Year after year we made the trek near the Canadian border to Brassua lake. Four children and a beagle stuffed among camping gear, traveling 13 hours in the back of an uncomfortable International Scout. How I hated that cramps and bumpy ride. Now as I stood there taking in the old familiar views, sharing my childhood memories with my own children, I was taken aback by how joyful I felt, and how deep those feelings ran. I was transformed back to a child as my excitement rose. I realized just how much of it was a part of me as I chose now, as an adult, to pass it on to my own children. Seeing them in each new place, I saw myself, and recalled how my dad used to fish here or buy fishing flies there. How "Papa" would love to know his grandchildren fished the same rivers he once did.
I sat on the dock across from Mount Kineo in the middle of Moosehead lake and took in the beauty surrounding me. The soulful sound of the loons and the sound of young eaglelet's in the perch on the nearby island gripped my heart. My daughter had already caught a young salmon, a coveted prize in our family growing up, that I had never claimed. I thought of the varied wildlife I saw growing up and how it was my favorite part of these vacations. I had not been disappointed this trip, seeing so much already, including two moose the first night. I was pleased that the land had remained unspoiled so many years later. I wondered how much longer it would last, but thought to myself that it took a lot to travel so far, to live or vacation so rustically. I was relatively sure it would last a while longer and looked forward to my next visit.