From Beautiful Badass to Bitter Broad
My mother's life taught me how not to live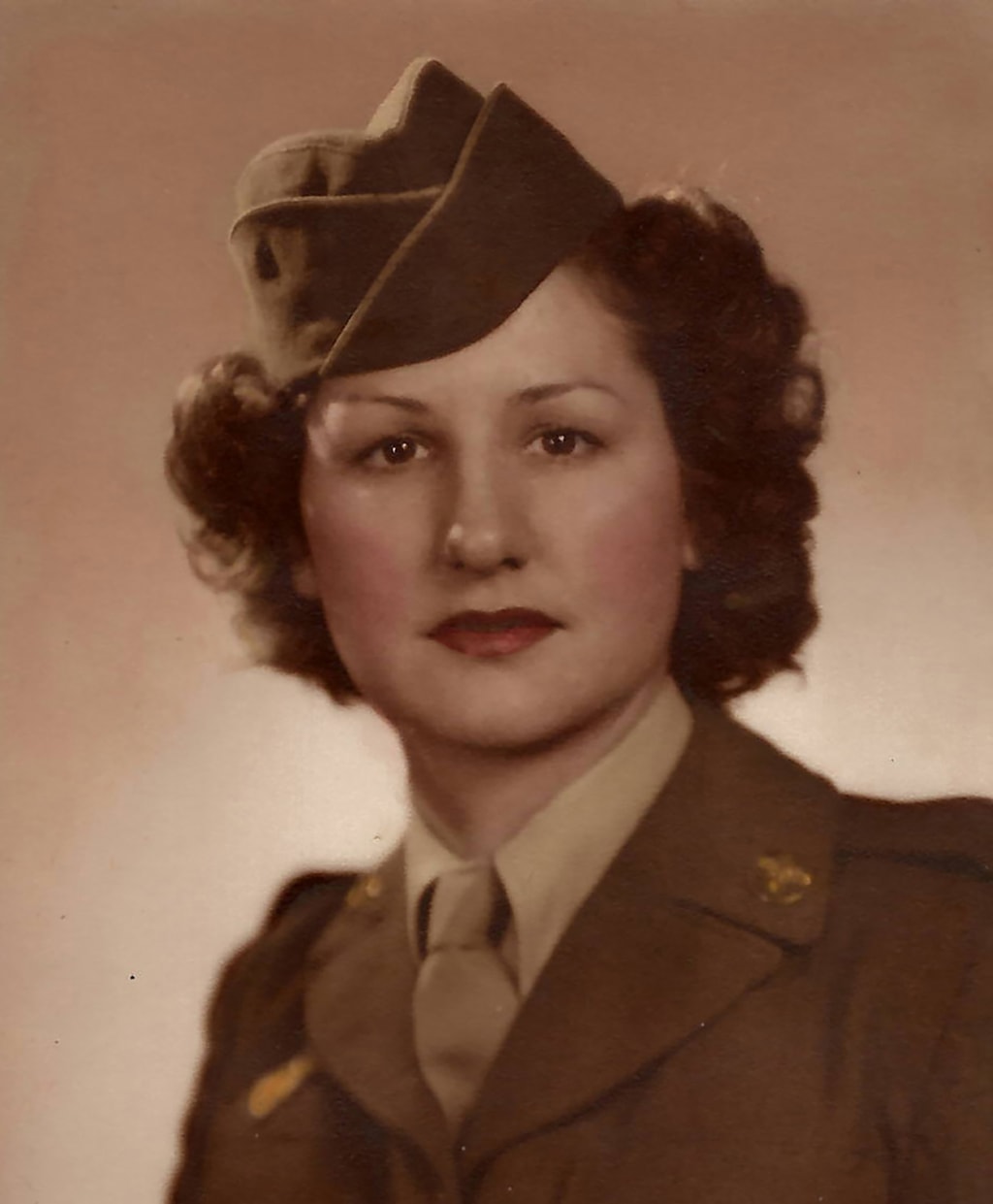 My beautiful mother
They say that actions speak louder than words. This was true in my life. Mom's words tried to teach me one thing, but her life taught me another.
Mom's early life
My mother was born in 1916. She grew up in a house without indoor plumbing; the bathroom was an outhouse and the water came from a well outside. She went to grade school in a one-room schoolhouse and walked a long way downhill to get there and a long way back uphill to get home, through snow and rain and heat. For real. I've seen that hill; it's no joke!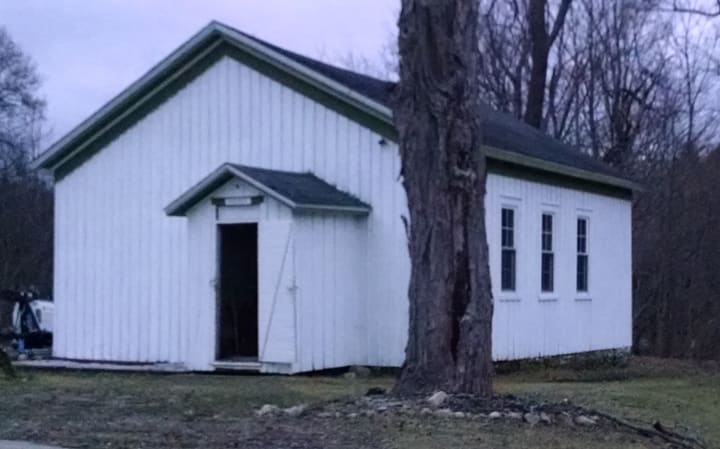 She graduated as the valedictorian of her high school class. She wanted to be a lawyer. But how does a farmer's daughter out in the countryside, without electricity or telephone, who was expected to get married and have kids, find out about law school? And how on earth would she pay to attend college and law school? Besides, if anybody in the family would go to college, it would have to be her brother, right?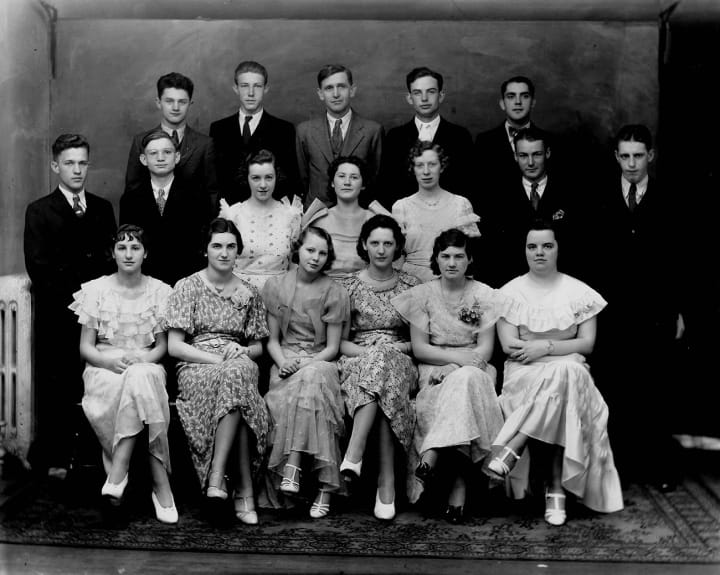 Later, her family moved to a nearby city, and she got a job at a company that made radio components. She left there when she was 27 to serve in World War II.
Serving as a rookie WAC
She thought she would get to do exciting things in the Women's Army Corps (WAC), and she was so disappointed when she learned she would be doing clerical work. She thought about quitting until she found out that my grandmother had been bragging about her being in the WAC. She didn't want to disappoint her mother, so she stayed in the service.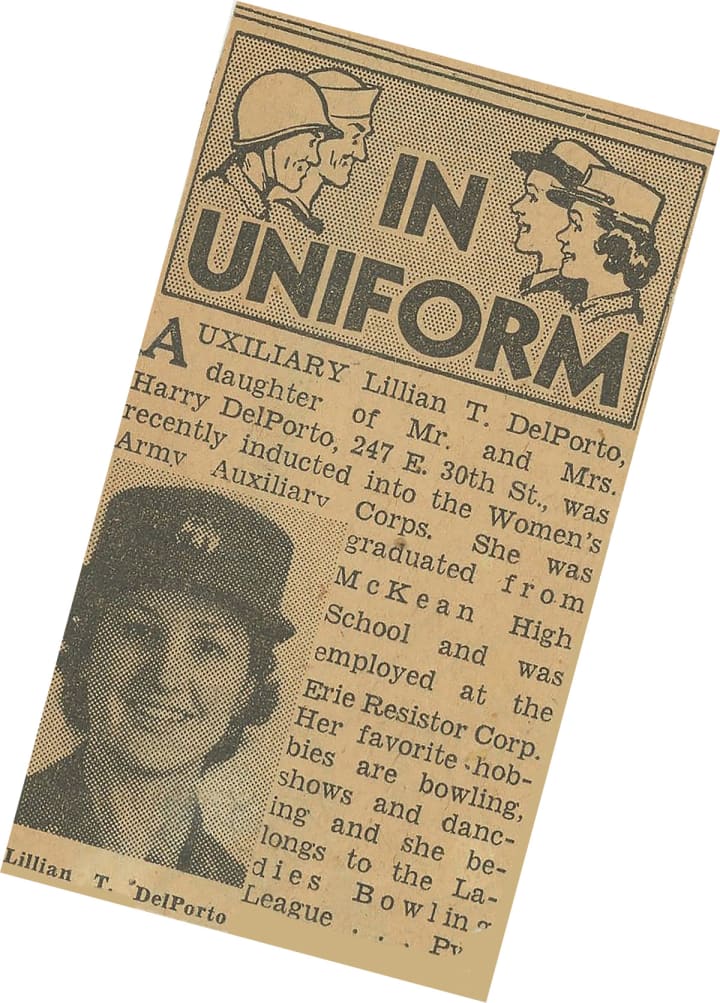 Mom served in Boca Raton, Florida for the first year after she enlisted. She worked there as a mail clerk but also had training in how to endure tear gas and took test flights. And, wow, was there a vibrant social life there! Her scrapbook tells of dances, beach parties, romances between soldiers and WACs, and softball and basketball tournaments. She was the captain of the WAC-CATS basketball team. She was promoted to corporal within the year.

When she was sent to serve in England, her compatriots wrote in her keepsake book about how much they would miss her. My mother had friends! Imagine that!
Serving overseas
She was shipped to England on a passenger liner that had been retrofitted as a troop ship – no airplanes for troop transport in those days. Mom served in London just after the Blitz, when heavy bombing was still a possibility. She told me stories of how they couldn't turn on their lights unless they had thick blackout curtains – the Nazis could only recognize cities and targets by their lights. People faced hefty fines if lights showed in their windows.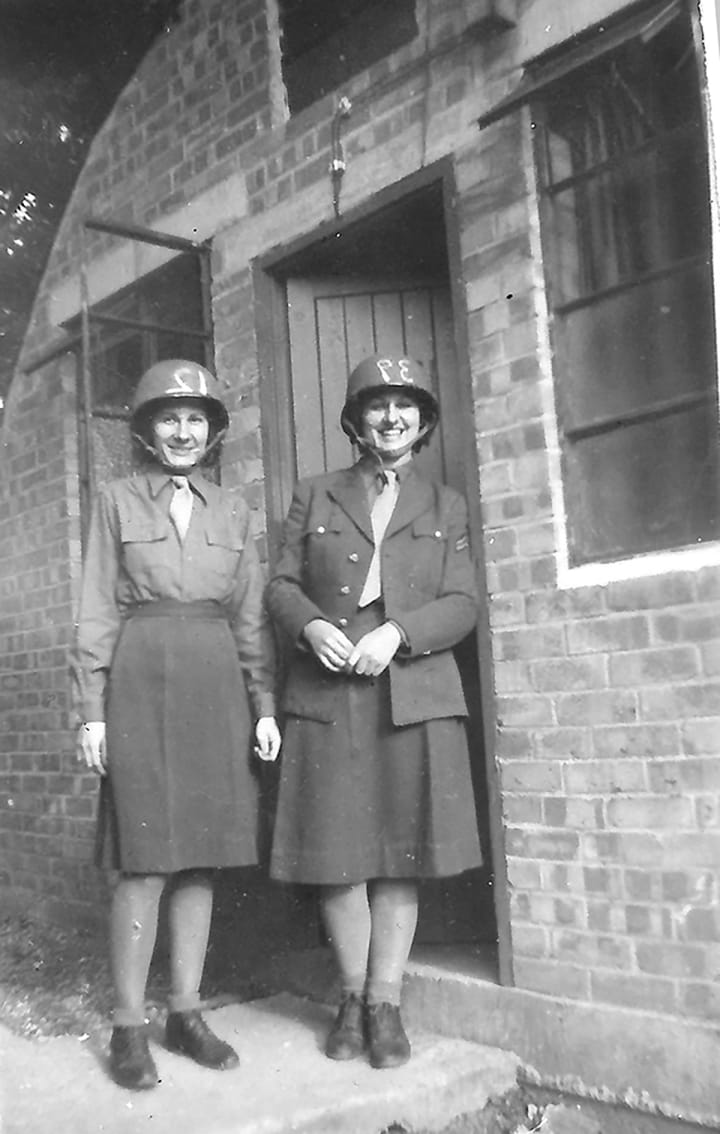 But she also saw much of the British Isles during her service in England. Her scrapbook contains mementos of her travels in Ireland, to see the white cliffs of Dover, and to a Shakespeare festival in Stratford-upon-Avon.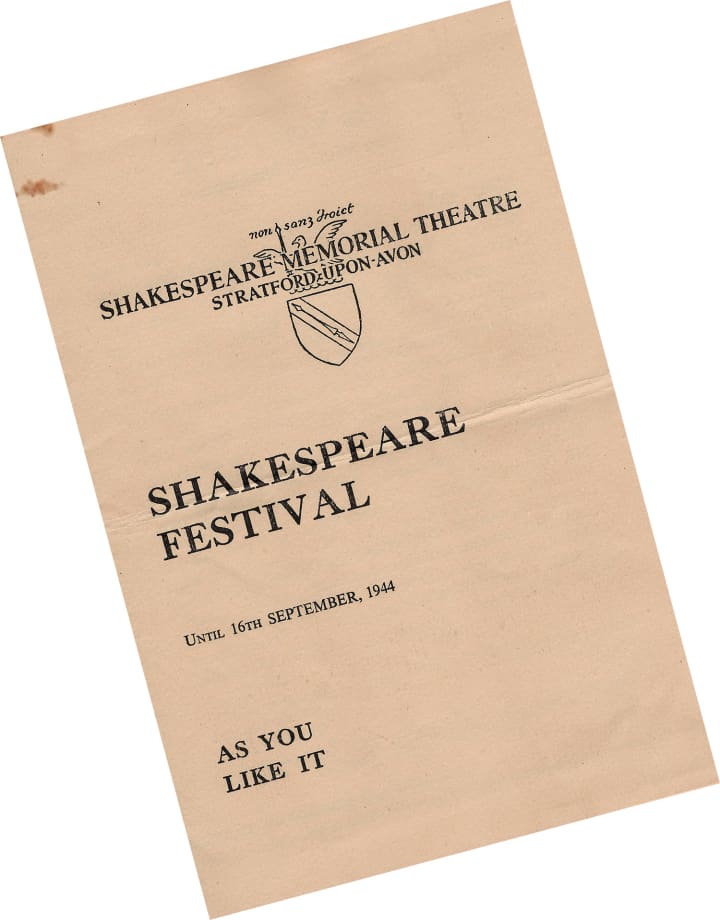 Mom was later glad of her adventures in England. She sure had some good stories to tell, and she was the pride of her family. She was even excited to tell how she had been shipped back to the states on the luxury liner Queen Mary with thousands of other soldiers and WACs.
Mom was a beautiful badass.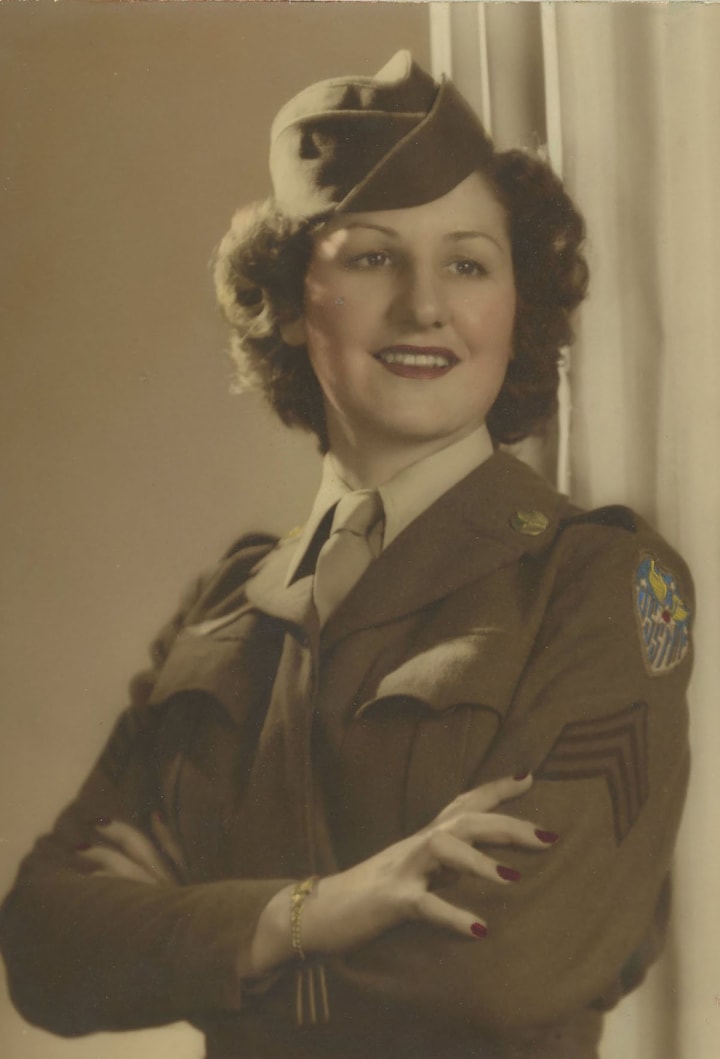 Life after service
After she was honorably discharged from the WAC as a sergeant, my mother got a job working in the offices of a local newspaper. She loved working there. She bought a very cool art deco set of bedroom furniture for herself. She bowled and played more basketball. She wrote articles for a company newsletter.
Mom traveled. She took my oldest cousin, Joanne, to New York City. She went to Toronto, Ontario. And she flew with her friend, Bunny, to Mexico.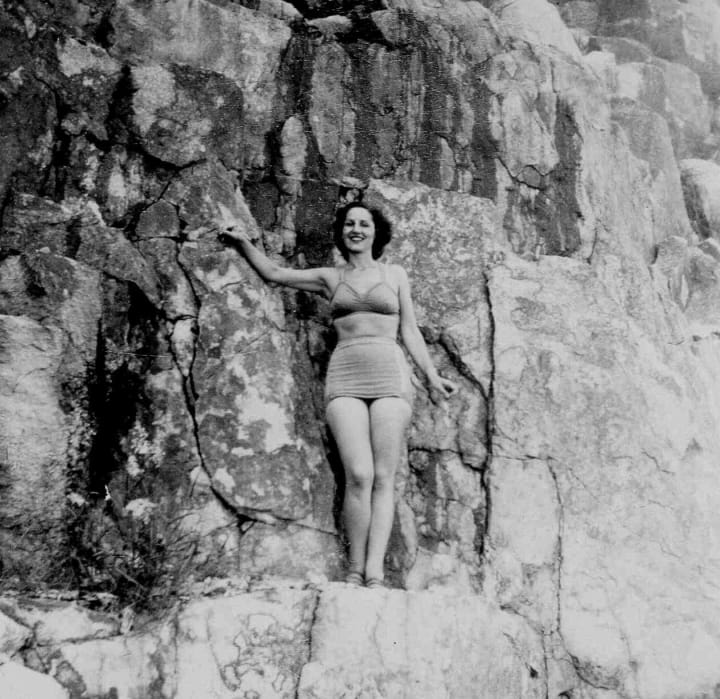 I never knew that adventurous woman. I sure wish I had. I think we could have been good friends.
Mom gets married
In the early 1950s, she met my father through a mutual friend. He had also served in the Army in WWII, and she outranked him! That was always a fun fact to tell my friends.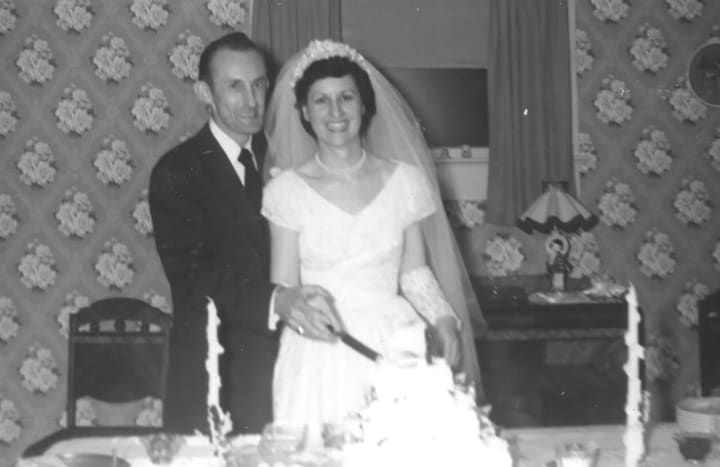 They married in May of 1952, when she was 36, and I was born in June, 1953. She told me the first thing she thought when she found out she was pregnant was, "Damn. Now I'll have to quit working."
How very sad for her. I've read of other women of my mother's generation who pursued challenging careers. Those were remarkable women who pushed through the era's discrimination against women. In contrast, my mom felt constrained by the role of wife, mother, and homemaker that was supposed to define her.
Mom's identity changes
After she quit working, Mom was no longer an adventurous, independent, single woman. I can relate to that, having retired from IT and spent some time wondering who I was after retirement. She had to decide who she was after work. She covered up the beautiful wood patterns on her bedroom furniture with white paint.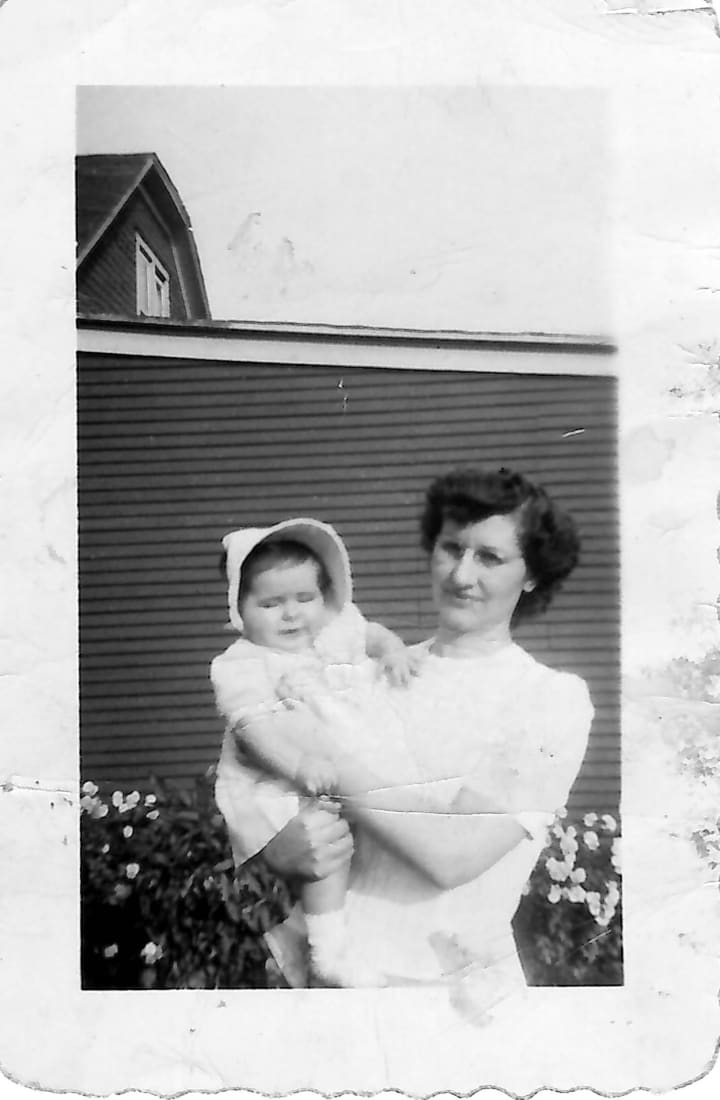 So my mother's identity became very much wrapped up in my accomplishments. That makes perfect sense: Her whole life now revolved around being a good homemaker and a competent mother. She cared an awful lot about what "other people" thought. I was a big disappointment in kindergarten when I received a grade of C for "Effort." Throughout my schooling, it didn't matter how many As I got; one B was one too many, and a C was unacceptable.
One of my most vivid memories of my mother was from when I was seven years old. She fell ill with a severe bout of depression. I remember her lying across her bed sobbing. I sat next to her, legs crossed, rubbing her back. My mom was crying, and I didn't know what to do, so I just rubbed her back. She told me what a "good little daughter" I was.
That's the last nice thing I remember her saying to me.
There wasn't much in the way of treatment for mental illness in our city, so Mom went to a hospital a couple of hours away. I went to live with one aunt in a big household, while my other aunt was in charge of cleaning our house and doing laundry for my father. In that era, men apparently weren't considered capable of caring for a child or managing a household. I guess that's why mothers couldn't have jobs. Who would run the wringer washing machine and hang the clothes out to dry?
Unfortunately, Mom was predisposed to the depressive disorder due to its presence in several other family members, and she suffered another severe episode when I was nine. There was such stigma around mental illness that it was not to be discussed, even in our household. It was like it had never happened. I was confused by a severe illness that was evident yet ignored.
I make Mom proud
When I was 12 years old, my mother decided I should take part in the school spelling bee. We had an every-night ritual of her quizzing me on a list of spelling words and keeping track of how many I missed. As it turned out, I won my school's spelling bee. The nightly grilling continued, and I won my city's spelling bee. More practice ensued, but I didn't win the western Pennsylvania spelling bee. That didn't stop her.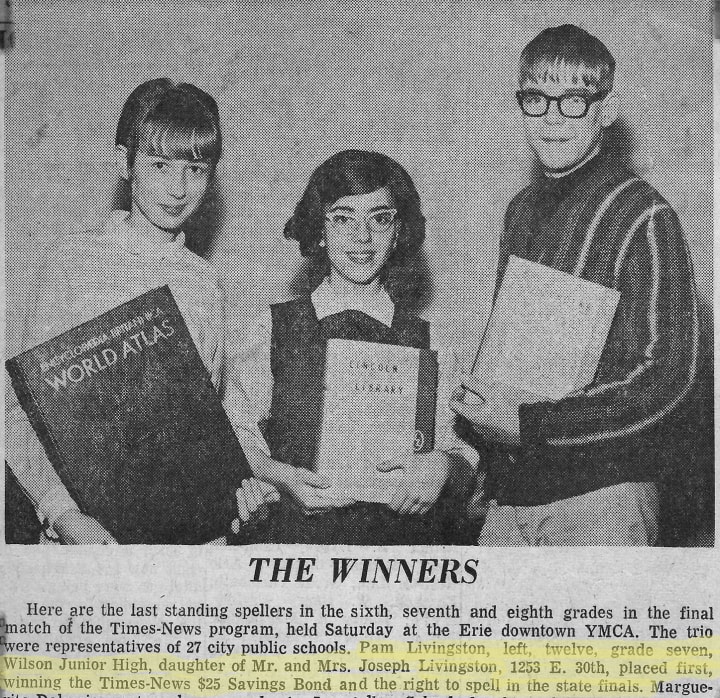 We continued with the spelling practice. The next year, as an eighth grader, I won my school's spelling bee again. I won the city spelling bee again. And this time, I won the western Pennsylvania spelling bee.
All along, the spelling bees got me into the local paper, with her and my dad always mentioned. She was so proud.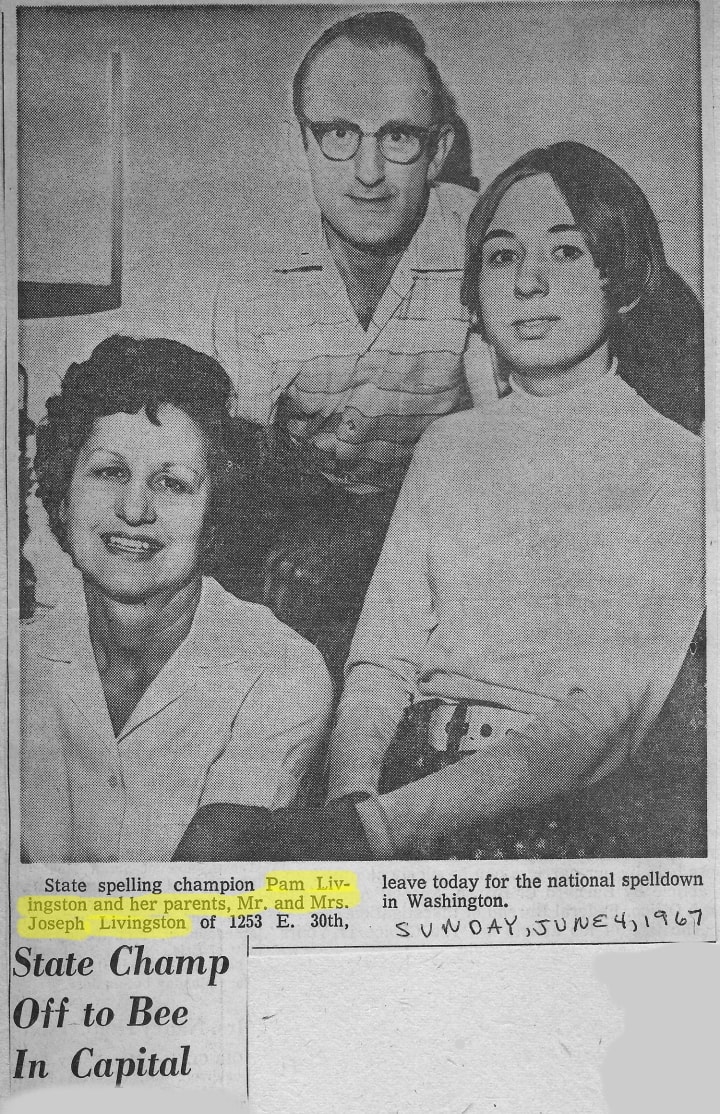 Winning the Western PA bee got me into the National Spelling Bee in Washington D.C. It won us a trip to Washington and a stay in a fancy Washington hotel. My mother was in heaven, but I was embarrassed by the whole production. That spelling bee success was for her way more than it was for me.
Mom turns bitter
As an older teen, I had my own struggles with depression. One summer, I stayed indoors every day. I just didn't want to go out in the sun. This aggravated Mom to no end. She kept asking, "What will the neighbors think about a young girl that never goes outside?" Frankly, it didn't matter to me; I was depressed. But she cared a lot. Not because I was depressed but because the mythical "other people" might think poorly of her and her daughter.
The older I got, the less I could satisfy her. All As on the report card was an expectation, not a cause for celebration. I was afraid to take home a report card with a B on it because of the tongue-lashing I would get.
Mom was a voracious reader, consumer of news, and woman with strong opinions about politics. She always watched the Sunday political shows and became angry and often yelled at the television when she disagreed with the speaker. She got so upset we urged her to turn off the TV, but she couldn't let it go. Given the chance, she would have been a good politician. Alas, she had no outlet for her reasoned opinions besides the occasional letter to the editor or letter to her congressman.
I didn't have any siblings, so Mom turned to my cousins to compare me with. My cousin, Linda, in particular. Linda was a social butterfly, while I was a solitary introvert. Linda had a vibrant dating life, while I never had a date. Why couldn't I be more like Linda? I started to hate Linda.
My mother and I had screaming fights about our disagreements. When I would make her mad, Mom would take it out on Dad. He begged me not to aggravate her. So the happiness of the whole family was laid on me.
I did try to make her happy. When she said my clothes were too "drab," I bought some colorful clothes. She didn't like those either; she said, "Oh, that's so gaudy!" When she said my long hair looked "stringy," I got my hair cut. When she saw the short hair, she said, "Why would you do that to your hair?" My skirts were too short and my heels too high. I moved out of my parents' house when I was 19.
When I got married six years later, my mother was thrilled. She was in seventh heaven planning the wedding, and she loved my husband.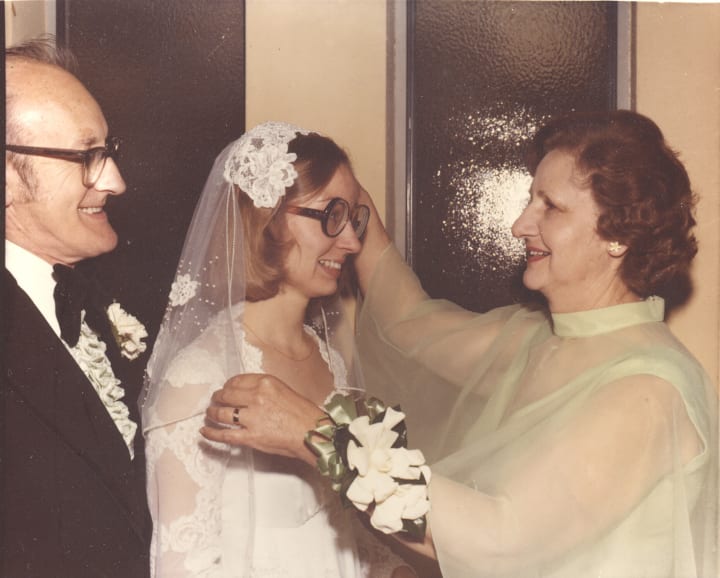 Just before the wedding, she looked at me in my white dress and veil, and gave me this backhanded compliment: "I never thought you could look like this." It seemed like she finally approved of me.
But she's still embarrassed by me
I had more episodes of Major Depressive Disorder, and I've been hospitalized for it multiple times. I was open with my co-workers about it. First, I didn't want to live in fear that someone would discover the truth about my sickness and use it against me. Second, I wanted people to see that a person with mental illness could recover and be productive.
When my mother learned that I discussed my mental illness with my colleagues, she was mortified. She wanted to be sure no one in our family would learn that she had passed her shame on to me. I talked with them about it anyway. I thought speaking honestly about it would help decrease the stigma. She thought it was humiliating.
When I had my daughter, Mandy, I was a topic of much discussion among her and her sisters. I had a great career as a computer programmer. I knew I would deeply regret it if I quit my job to be a full-time mother because I saw what that choice had done to my mom.
I was a pretty bad homemaker, anyway! But my mother and aunts were adamant that I must quit my job. Mom's sisters put unrelenting pressure on her to convince me to stop working. But I never did quit my job; I was the first woman in my extended family to work full time while I raised a child.
Mom loved being a grandmother when Mandy was little. We lived in a nice community in the suburbs, and Mom had finally accepted that I was working full time. I think she was proud of her professional daughter.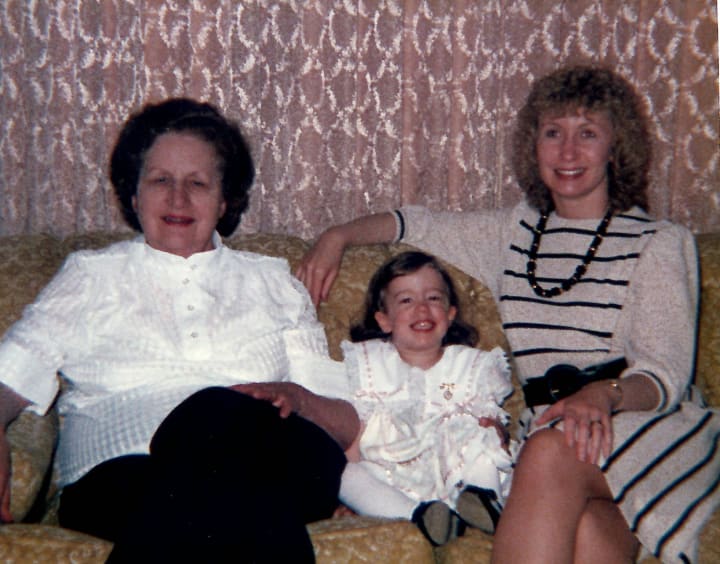 But when Mandy was seven, she started playing ice hockey. Oh, my, that was bad! Hockey was simply not a sport for girls. And, oh, the horror, I started playing hockey and coaching, too! Now basketball, that would have been okay because that's what Mom had played. That was a proper girls' sport. She begged me to sign my daughter up for basketball instead. But that wasn't what Mandy wanted to play. Mom demanded that I stop playing hockey, too. It embarrassed her. But I loved it! It became a real point of contention between us.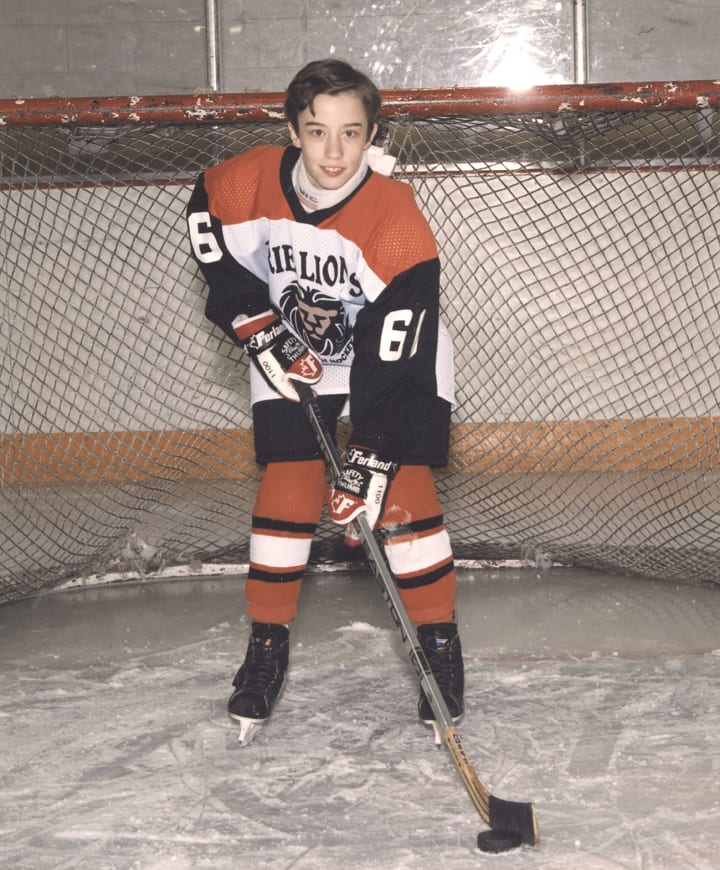 My dad used to pick Mandy up every Friday after school to have her spend some time with him and my mother. One Friday, he asked Mandy if she was playing hockey because she wanted to or because I was making her play. She told her grandpa that she wanted to play.
He later confessed to me that my mother had put him up to asking Mandy that question. I guess if you made your daughter participate in the spelling bee when she didn't want to, you might think that same daughter was making your granddaughter play a sport she didn't want to play.
When we bought a house way out in the country, on wooded acreage, she didn't approve. It was "too far out." Hey, at least we had indoor plumbing! But whenever she and my dad would come to drop my daughter off on Friday evenings, she would sit on the couch and look like she was getting cooties by just being there. After a while, she didn't come anymore, and my dad dropped Mandy off by himself. We had some very nice visits with my dad on those Friday evenings.
I became an animal rights activist and led a local group. I organized protests and was interviewed on TV. My mother was afraid that my family full of hunters would see me on TV. I assured her that I could tactfully talk with them about my opinions, and that I wouldn't make them mad. She wasn't convinced and remained fearful and critical.
My therapist finally pointed out to me that I didn't have to put up with her badgering. I learned to say, "Mom, I don't have to listen to you put me down. If we can't talk about something else, I'm leaving." Sometimes that worked, and sometimes she just got mad, and I left.
Was she jealous, sick, or both?
My mother passed away in 1996. It took me 15 years to come to terms with the way she treated me. I still don't feel like I'm good enough, and I still feel like the black sheep of the family.
But as the years have passed, and I learned more about that beautiful, adventurous woman I never knew, I have come to love and admire her. I think she was a brilliant woman who saw her opportunities slip away after she had a child. I think she was jealous of me for being able to have a family and a career.
I also wonder if she suffered from fibromyalgia, which I have, and if she suffered from residual symptoms of depression. Back in the 1960s and 1970s, those ailments weren't recognized. She often complained of feeling unwell in unspecified ways. Those unnamed discomforts would surely have contributed to her bitterness.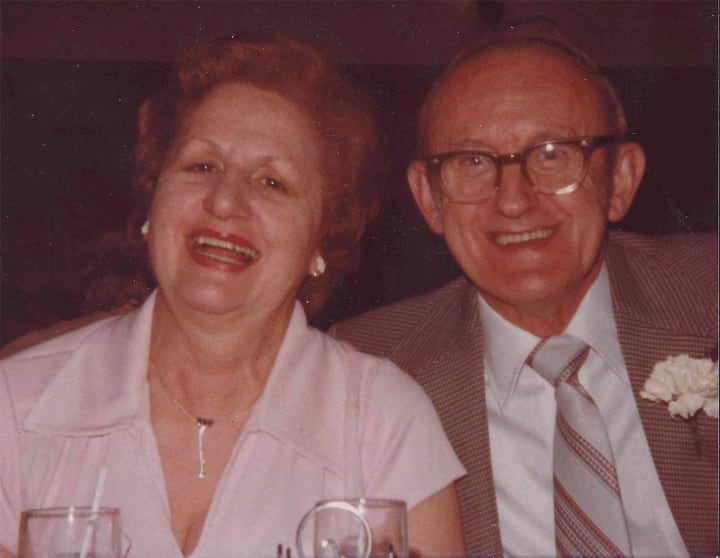 I believe my mother did the best she could with the cards she was dealt. I'm pretty sure that her fear of what other people thought was passed down to her from my grandmother. She probably thought she was doing me favors when she criticized my appearance. And she probably thought she was protecting me when she encouraged me to consider what "other people" thought.
I'm sad that the opportunities she craved passed her by.
Lessons learned
My mother's words tried to teach me some things, but her life taught me other things:
Mom's words said I should care what other people thought. Her life taught me that caring about others' thoughts led to unhappiness, and I've been a renegade my whole life.
Mom's words said that being depressed was shameful. Her shame taught me that hiding the illness was scary, so I needed to be honest about my disorder.
Mom's words said that going to college was a waste of time. Her own hunger for knowledge taught me that education was priceless, and I earned a Bachelor's degree at the age of 48.
Mom's words said I should be a full-time mother. Her bitterness taught me that some women are better off having careers or they will become resentful, so I kept my career and was very happy balancing it with motherhood.
Mom's words said some sports were not meant for girls. Her love for sport taught me that any sport would teach girls motor skills and confidence, so Mandy and I kept playing hockey, and Mandy is still playing hockey at the age of 35.
I believe Mom was the right mother for me. She taught me life lessons that have served me well. I hope she can see that, wherever she may be now. I love my mom.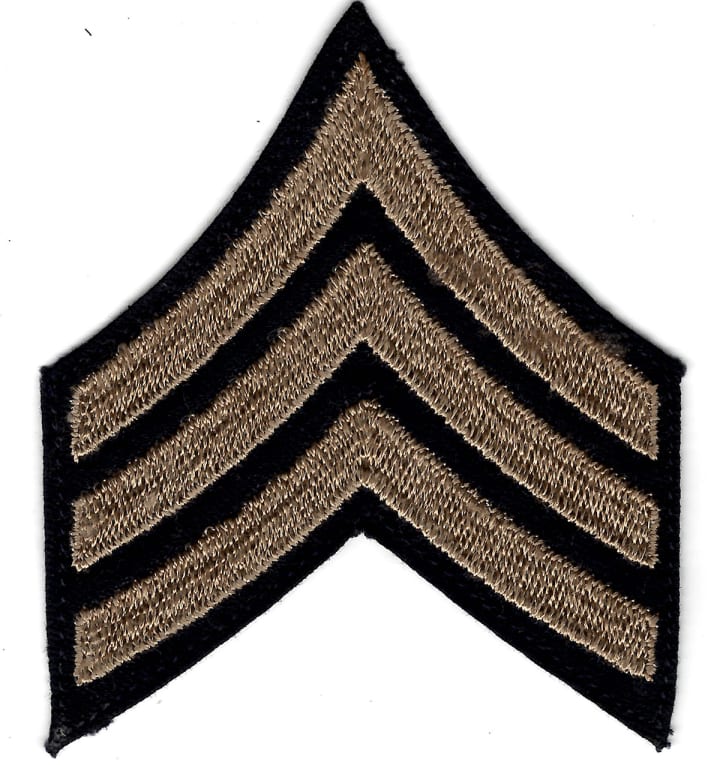 Names have been changed to protect privacy.
© 2021 Prickly Pam LLC
parents
I'm a retired IT pro with a BA in Philosophy, a small business owner since 2003, a bleeding heart liberal, a recurring MDD sufferer, & the proud mom of a brilliant queer woman.