Dwayne Wade Shows How LGBTQ+ Parents Should Be
The support Zaya Wade has gotten from Dwayne Wade and Gabrielle Union is how it should be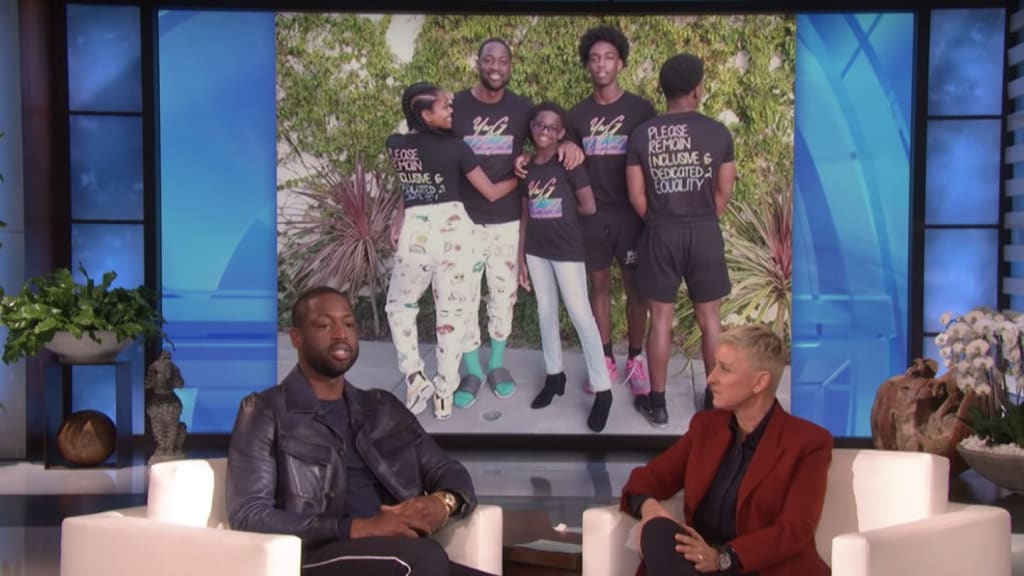 https://mtv.mtvnimages.com/uri/mgid:ao:image:mtv.com:688850?quality=0.8&format=jpg&width=1440&height=810&.jpg
As someone who is a staff facilitator for a Gay-Straight Alliance at a high school, I'm incredibly moved by the support Dwayne Wade has shown his child, Zaya.
Born Zion, Dwayne Wade's transgender daughter sat down with Wade and announced her intention to live as her authentic self, according to a video posted by Wade's wife Gabrielle union in early February.
"What's the point of being on this earth if you're going to try to be someone that you're not?" Zaya told her father.
Wise words from a 12-year-old who is only just beginning her journey and trying to figure herself out.
Wade explained to Ellen DeGeneres that he and Union are taking their responsibilities as Zaya's parents seriously and did not go public about Zaya's transition without her permission. Wade said that it was up to he and Union to try and guide Zaya throughout the process of transition, though Wade also noted that the adults were not taking the lead on their child's journey.
"It's our job as parents to listen, to give them the best information that we can," he said, according to Huffington Post, adding that he told Zaya that her revelation meant that she was a leader. "And that doesn't change because sexuality is now involved in it."
Wade also spoke briefly about what he felt his role as a parent ultimately was for his children.
"My job as a father is to facilitate their lives and to support them and be behind them in whatever they want to do," he said.
He noted that while Zaya was still only 12, much of her message would be flowing through Union and Wade, but said that once she came of age, her voice would be very much her own, thereby allowing her to control her narrative.
Wade is clearly a parent who believes in supporting their children in their journey to become the people they are meant to be. Union went to Miami Pride with Zaya before she came out to her family, and after she spoke with her family, Union's post clearly spoke about her love for Zaya.
"Meet Zaya. She's compassionate, loving, whip smart and we are so proud of her," Union wrote. "It's Ok to listen to, love & respect your children exactly as they are."
Zaya's brother Zaire has also come out in support of his sibling.
"I've told you that I would lay my life down to make sure you are ten toes down and happy on this earth," he wrote. "I don't care what they think Z, you are my best friend and I love you kid, and if it means anything, just know there's no love lost on this side."
Members of the Wade-Union household were also recently seen wearing specialty shirts from YNG-DNA that said, "Please Remain Inclusive and Dedicated 2 Equality," with 50 percent of proceeds going to GLSEN.
It's clear that Zaya Wade is experiencing the sort of love and support that is still denied to too many LGBTQ+ youth. Even now, it's estimated that 11 to 40 percent of LGBTQ+ youth are homeless, and that is completely unacceptable. If the child is trans and a person of color, the risks are even higher for their continued well-being. There are a high number of trans kids who run a higher risk of violence and even suicide. Perhaps with Dwayne Wade, Gabrielle Union and their family supporting Zaya, they can keep reaching out to families and supporting youth that are learning to achieve and live their truth with their health and safety intact. Hopefully Zaya, with her family's support, can beat the odds.