Don't quit
Dad, I'm still doing it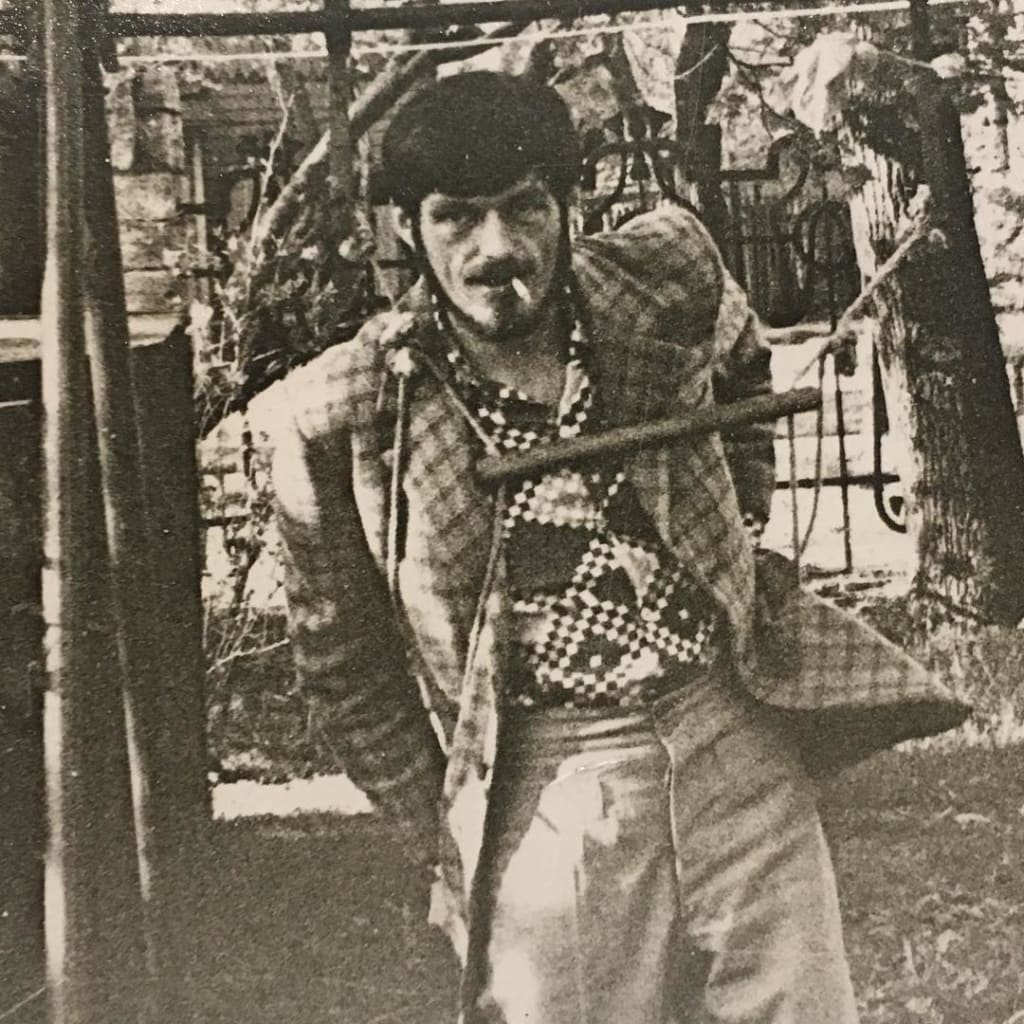 My Dad. Photo from family archive
I don't remember exactly how old I was when my father first took me fishing. I think it was before I went to school, but I can't say for sure, though.
In fact, it's one of my earliest, more detailed childhood memories. It's summer. We pack up and drive out of town to where the beach of the Baltic Sea is dotted with large boulders. Their grey backs go further into the sea, as if a herd of hippopotami, wandering accidentally into our northern region, was about to wade across the Gulf of Finland and, at the very start, turned to stone before we were able to leave the shore.
A patrol of border guards meets us on the shore. Do not be surprised: in those days USSR was still quite alive and even almost prosperous, which meant that you could not just stroll along the seashore if Finland was just beyond the horizon. But the border guards are people too: they laughed, gave me some cookies, and walked away.
My father gave me a fishing pouch, put me on his neck, and went into the water. So, like Sinbad and the old man, we made it to the back of one of the petrified hippos. My father set me down and climbed onto the rock himself. I asked if the fish would come to us, and he said he didn't know for sure, but he hoped so much.
"We'll see," he said. That was his favourite word.
To be honest, I don't remember fishing in any great detail. I think I had my own fishing rod, but I didn't know how to check the bite, so I didn't catch anything myself. But I remember how I helped unhook the fish my father caught, how it started to rain, and we put on the raincoats in our backpack, and how my father began to pull out one fish after another in the rain.
I remember very well that it was then that I realized that my father was the best. Not the best fisherman or the best father, but just the best, period.
I don't know how long that fishing trip of ours lasted. It seemed like a happy eternity back then, but now I think it was two or three hours. My father hooked another fish; I took it off the hook and supplied the hook with a new worm. The fish wasn't very big. About the palm of a grown man's hand - but to me, they were the most wonderful and beautiful fish in the world because we fished them together with my father.
My father came from an ordinary family. My grandparents worked in a factory to feed their five children: my father had two brothers and two sisters. From childhood, he knew one simple truth: you have to work. That's it, without reservations or continuations: "you have to work because...", "you have to work in order to...", and so on. My father is 73 now, and he's still working. It's just his way of life. Or rather, it's his life.
When I turned 17, it became clear that the country I lived in was rapidly dying. The Soviet Union had exhausted all the possibilities of its existence and was literally falling apart right before my eyes. People were not paid their salaries for months (let me remind you that in the USSR, there was only one employer - the state). The stores were empty. The people who came to buy bread and milk were met with empty shelves and gigantic lines.
It was then that I first became seriously interested in writing. I bought an old typewriter at a flea market, and I pounded the keys for two or three hours a day, composing the next great story. At the same time, I finished school and went to university.
My father was working. We (my father, mother, me, and my sister) lived very modestly, but there was food in the house, and we had something to wear. So I studied, played sports, wrote, and partied with my student friends. During all these exciting activities, I hardly noticed the moment when the USSR ceased to exist. All the former economic ties between the parts of the USSR collapsed along with the political ones, and the factory where my father worked closed forever. My father was laid off. No one had ever heard about welfare in those days.
For about a year, I was the only working person in the family (I managed to get a job as a docker at the port). By the end of that year, I had to give up the university: I had neither the energy nor the time, and the sound of my typewriter began to be heard less and less frequently. My father occasionally took odd jobs, but he was not hired permanently. So we mainly lived on my salary.
My father never took much interest in my passion for writing. It so happened that my mother was my primary consultant and partner. My father delegated this power to her, taking over the more "practical" part of life. So I was amazed when he came into my room one evening and looked at the shrouded typewriter on the table. I was lying on the bed reading.
"I wanna say something to you," my father said. "You, well... Don't quit writing. I've been reading. You're good at it."
I was so surprised that I couldn't think of anything more intelligent to say than to answer: "And what about work?"
Dad's face darkened. I silently scolded myself. I knew how hard it was for my father to take being forced into idleness.
"We'll see," he finally said. "But you don't quit writing, will you?"
And he left the room.
Three days later, he found a job.
Three decades had passed since then. And guess what, Dad?
I still write.
And I'm still taking the fish you caught off the hook.
parents
About the author
Reader insights
Outstanding
Excellent work. Looking forward to reading more!
Top insights
Heartfelt and relatable

The story invoked strong personal emotions

Excellent storytelling

Original narrative & well developed characters

Easy to read and follow

Well-structured & engaging content
On-point and relevant

Writing reflected the title & theme
Add your insights