Diary of a Dad Aged 50¾ - Part 6
Kids and the World of Tech...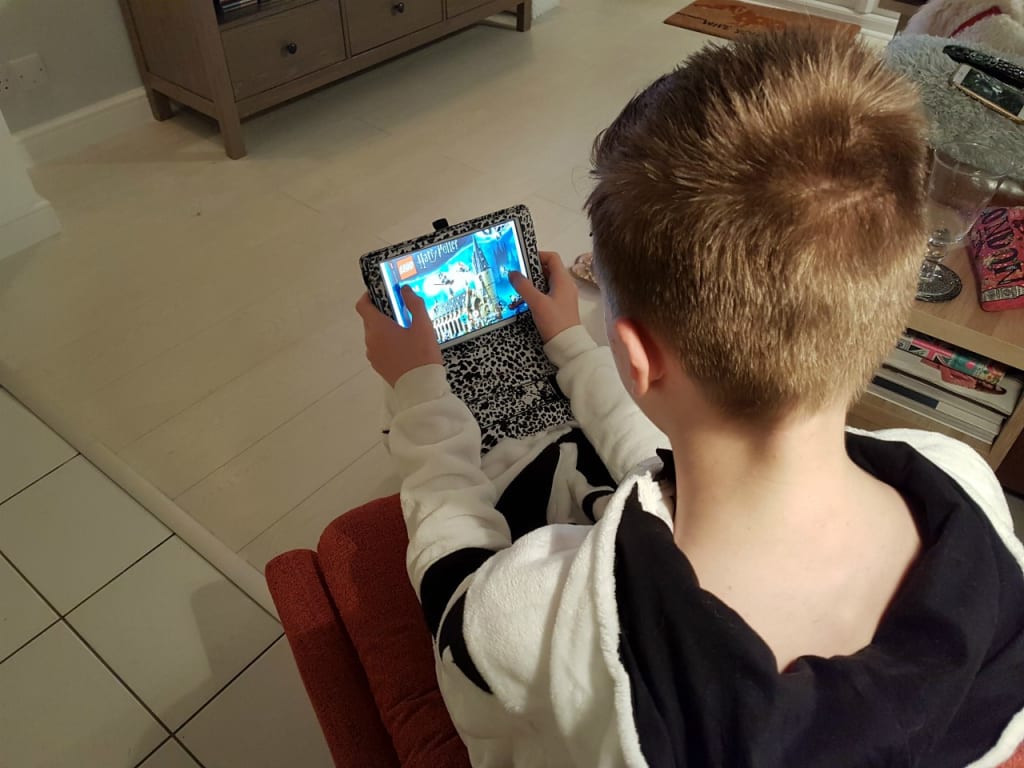 This week was the dreaded week containing Black Friday, Cyber Monday, Trash Turns Up Tuesday and Weeping (no money left) Wednesday....
What happens during these few days? Most of us will scour the shopping websites and browse through triple the normal number of emails received for those perfect, but reduced, Christmas presents. Jo, my wife, and I did this a few years ago and purchased two tablets for our boys (ready for the Christmas Day opening.)
Now please do not be under any illusion that, whilst they were brand new and squeaky memory clean, these were not of a fruit variety as money is something to be careful with. This is especially true when considering to purchase for children that leave things laying around and drop stuff– normally face down.
So, there they were under the tree and we thought we had already solved the biggest conundrum of all, which in our eyes was the 'at what age do you buy them a tablet?' from.
Of course, a big discussion within this was our youngest son having the tablet so much earlier than the eldest, but this was discussed against the argument of 'you can't get for one and not the other...' another on the list for discussion in a future article!
So back to Christmas Day, the presents from under the tree were opened with both boys each having the last present to open. The countdown began of 'you open this together 3,2,1 open' and then followed by joint howls of delight as the box came into view as the paper was ripped off quickly.
With tablets already fully charged and set up, off they went to start the deep immersion into the world of the internet. Quickly purchased after, were children's noise reduction headphones!
Now the fun started. So how much time do you allow for them to play on their tablets. Well, to start with it was, 'well it's their Christmas present!' Then, the time the boys spent on them crept up and up. Usually starting with the question 'can I just look something up?'
The issue then became, more and more as you'd realize, you hadn't seen one of them for an hour, only to be found in a room glued to their tablet!
Then came in the sessions against the timer. Three sessions of 35 minutes each day of the weekend and two during the week. Then we found the unused ones were being carried over with a, 'you know I didn't use my sessions yesterday, can I use them now on top of today's sessions?'
There is something to be said for an unlimited amount of time on their tablets, especially the piece and quiet that is a byproduct of their disappearing into the worlds of their favourite YouTube channels.
What have we learned?
Technology is amazing. Thinking back to when Gino (currently 13-years-old) was small and the bags of toys, book and accessories that we had to carry round every time we went out was incredible. I almost needed a tow truck to carry these around. Now, in coffee shops, a mobile phone showing various children's videos or games is all that is needed for a full suite of entertainment.
This is not a debate on the rights and wrongs of this and everyone has their own strong opinion. This is about the increased flexibility in time of need and the realization that your phone will never be just your phone until they start having their own, usually a family cast off. Yet another article for the future!
With Mariah Carey singing about what she wants and Wham still 35 plus years later still saying it's their "Last Christmas." If you have a device on the list, consider first from the start how you will ration it. It will save arguments, tantrums and stomping around the house; and that's just the parents!
About the Creator
Hi,
I'm a father, husband, writer, voiceover artist & full time employee. Life is too short & I live the dreams and love all aspects of life. Go fill your glass!
Thanks, do contact me by email to let me have your feedback!
Cheers Steve
Reader insights
Be the first to share your insights about this piece.
Add your insights