Diary of a Dad Aged 50¾ - Part 3
A D.I.Y. Guide to Teenage Communications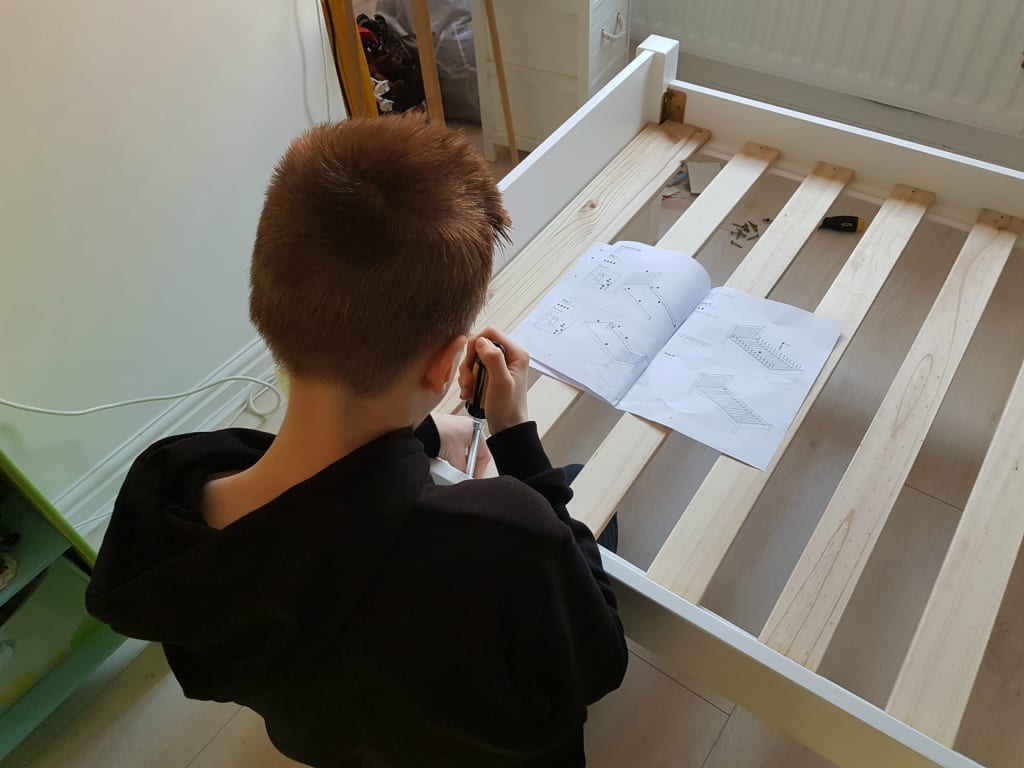 Don't let others know, especially teenagers, but I think today I might have cracked it!
Today we have a walking, talking and active teenager. I know that one day in isolation doesn't count for a full seven years of teenage life, but today could be a way to get involvement, interest and communication without the grunts, eye-rolling and belief that everyone else comes from a different planet. The favourite current phrase used towards us is "we're a new generation!"
Our son, Gino, hit the teenage years three weeks ago, although he has been showing the signs of teenage tendencies for the last couple of years!
Our normal weekend would consist of allowing three sessions each day of tablet time, with a battle to make sure he is not on his phone watching Star Wars videos after disappearing upstairs.
With the delivery of a new flat pack bed for Gino, this morning was a chance to get him really involved and build his first major piece of furniture. Over the past many years this was a job done by me solely. There we were, father and son with instructions, boxes, allen keys and funny fixtures. No more of me putting part A together with part B and balancing this on my lap whilst putting doweling into part C to fix into part F!
So today was the start of a new partnership, father and son, a rite of passage, a tool box, a set of instructions and a new bed!
Something I have noticed in life is that you can tell quickly the type of person someone is with either flat pack furniture or a new mobile phone. Do they:
Get the boxes open and lay the pieces out one by one and tick them off against the instructions to check all is in place and measure all the screws or
Open the boxes, get the polystyrene and pieces of wood everywhere, get out the fixings then, finally, when already assembling, ask the question, "Have you seen the instructions?"
Marriages have ended with these two different types of people stuck in a room building flat pack furniture. The concern was, is Gino a number one or, like me, a number two? I knew all was okay when he immediately asked for the knife to open the boxes, ripped the wrapping off the pieces of wood and eventually said, 'Dad, have you seen the instructions?"
A large sigh of relief, this was going to be the fun I had expected and not a frustrating time of waiting for the instructions to be triple checked. A bed shaped object-ish is to be built, well instructions are for those with too much time to kill.
Was concentration for this build going to be an issue? Concern came when Gino asked how many pages the instructions were and how many sections in total, thankfully this was just out of curiosity!
After many years of lifting and shifting everything around the house myself, being now told not to move anything without help and, "no, I'll do that" was lovely, not only for the help but also for the growing up and communication from a teenager, yes let's repeat that, communication from our teenager!
From the open tool box at the edge of the room, Gino saw the instrument of choice attracting him the most, a hammer. "Can we use this?"
With a quick no, followed by a fear for the blemishes likely to appear on the currently pristine pieces of furniture, Gino was quickly relieved of his favoured tool!
Working together, the old bed was carefully demolished bit by bit and stored in another room, waiting for a buyer to collect (and not a hammer in sight!) It was great to have the help in cleaning up the dirt where the bed had been for years, whilst happily talking about it all as were going along.
Out came the new pieces and the new bed started to take shape. Until my wife, Jo, steps in and announces that she had seen a different room formation in a similar house and what did Gino think? Excitement at the prospect, but the concern was whether the furniture and limited wall space would match up.
Admittedly, and now in writing, I did incorrectly state a number of times that it wouldn't fit. As a waiter might say, "how would you like that egg on your face cooked sir?"
After a complete room reorganisation and new bed, Gino could not thank us enough for the rest of the day; giving even more communication and a clean room on top of that from all the moved furniture.
So, the questions left to answer are:
At what point do you let a teenager have the room as they want it, without your helpful input/views?
How much involvement do you give them to assemble and take part in the day to day activities in the house, leading to increased communication?
Now he has this new room set up, how do I get him out of there?
A trip to a local Ikea is the way to get rid of the devices and regain that communication pattern with your teenager. Is that what they mean with their tagline, 'The wonderful everyday?' I feel a new marketing campaign coming aimed at parents!
Now, what is next to refurbish and build?
About the Creator
Hi,
I'm a father, husband, writer, voiceover artist & full time employee. Life is too short & I live the dreams and love all aspects of life. Go fill your glass!
Thanks, do contact me by email to let me have your feedback!
Cheers Steve
Reader insights
Be the first to share your insights about this piece.
Add your insights