Dear Mom: There's Something I Want You to Know
A Letter to My Mother for Mother's Day
Happy Mother's Day, Mom!
I am writing this a few weeks after Mother's Day this year because I was contemplating what I wanted to say to you. There is so much I would like to talk to you about if we could be together one more time. What I wouldn't give if that could be.
This is now the 10th Mother's Day month since you had to leave us, and I miss you as much (or more) now as on the first Mother's Day without you. As my own aging process progresses, I am learning to better understand and appreciate what you went through. Even as I write this, I can hear your words when you told me from time to time, "You don't know nothin' yet!".
Sometimes I feel you so close to me, I think I can almost touch you and talk with you. Here in the house where I grew up, where your love made a house a home for my Dad, my brothers, and me, your presence will always be felt.
Shortly after you and Dad passed away four months apart, I started scanning old family photos and writing my personal memoir. I was disturbed by how many memories seemed to have faded through the years.
Walking around in the same rooms where I grew up from the time I was 9 years old until I got married at 24, I tried to envision old scenes by pinpointing a year and thinking through the four seasons scanning for vivid memories.
Feeling that there had to be so much more in my subconscious mind than I was pulling up mentally, I started writing…everything I could remember as it came to me.
And guess what! The more I wrote, the more I remembered. So many happy memories began to reclaim their vitality and radiance. And some painful ones too. I kept writing for about a year or two and then slowed down as life's demands distracted me.
While reading my memoir manuscript recently, I came across an incident from my early school years that I want to talk to you about. I think this took place in the spring of my first grade year, not long before school let out for the summer break.
Well, one day, as you would no doubt recall, I came home from school all excited. The teacher had announced that there would be a school production of a play that would be called "The Littlest Bride".
She said students had been selected for the main characters' parts and those chosen would be advised individually later in the day.
The announcement did not impress me that much as I did not think it would directly involve me in any way.
Later that afternoon, my teacher asked me if I wanted the part of the littlest bride. She said I would need to take a letter home for my parents to read and if they gave permission for me to take the part, they were to sign it and send it back to school. She also said I would need a white dress that looked like a bride's dress to wear and that it was all described in the letter.
When you met me and the boys at the bus stop that afternoon, I was so excited about the letter, I started telling you about the play and being chosen to play the littlest bride.
You said you would read the letter when we got back home. While reading the letter you looked kind of sad instead of excited, as I had anticipated.
You explained to me that the Littlest Bride would need a white dress made like a wedding dress and you did not know who you could get to make it or how you and Dad could afford to have a suitable dress made at that particular time.
Today, Mama, I am used to disappointment; but that day, I was bewildered and hurt because I so wanted to play the part.
Although I was crushed, I did not want you to worry or feel bad. I knew you didn't want to disappoint me and that you felt just terrible about having to say no.
So I took the letter back with the note you wrote on it and did not say any more about it.
For a long time, I thought I had hidden my disappointment from you. I never told you how it made me feel.
What I didn't know then was that you could always read me like a book. If I was feeling "under the weather", you knew before I told you. When I could not eat my breakfast in the mornings before school, you could read my symptoms and know what was wrong with me and, usually, how to make it better.
You knew how bitterly disappointed I was and your pain was greater than my own.
Another little blonde got the part; she was pretty and popular and made a beautiful littlest bride. I did not enjoy watching the play because of the disappointment. You might say I was not a happy camper.
*****
Now, Mom, I want to talk about the Christmas when I was in 2nd grade.
A few weeks before Christmas, the girls in my class started talking about getting a bride doll for Christmas. Almost every one said they were asking for a bride doll for Christmas.
You know that my Christmas doll was always the highlight of my Christmas morning. I told you I wanted a bride doll, too.
Then I went on about my business, playing, going to school, running back and forth between home and Grandma's house afternoons and weekends, confident that Santa Claus would bring me a bride doll for Christmas.
I didn't know that you would be stressing out every day between then and Christmas, worrying about where and how to find the best bride doll that you and Dad could add to "Santa's sack".
Christmas morning '57 finally came and when I woke up, I saw a really large box under the tree. A large gift tag attached to the box had my name on it.
I opened the box and saw a bride doll that was beautiful beyond my wildest imagination.
I lifted her out of the box and ran over to your bed to show you my new doll. You and Dad looked at her and exclaimed how beautiful she was and how happy you were that Santa brought her to me.
I played with my new doll for the rest of Christmas break. She went to Grandma's house with me.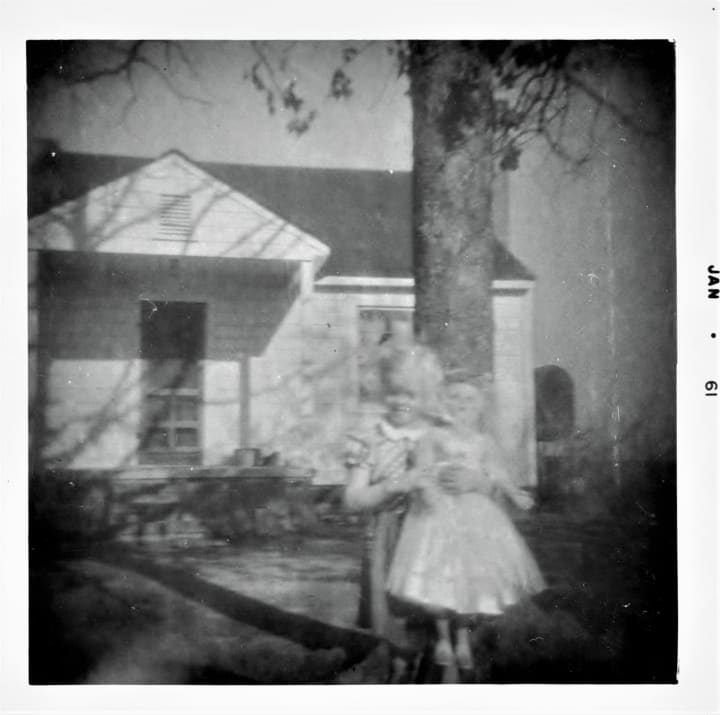 When I went with Dad to the new house he was building for us, she came along there, too.
I named her Debbie...the prettiest girl name I could think of.
I took her to school for show-and-tell on the first school day after Christmas break.
That day, I was the center of attention in 2nd grade as I carried my bride doll around to all the school activities, as all the other girls did with their dolls.
It never occurred to me then, and in fact not until I was writing my memoir of that Christmas morning, that you hiked all over town twice to get me the best, most beautiful bride doll to be found to make up for the bitter disappointment of the year before.
I believe your joy in giving me that doll made you at least as happy as it made me.
As the years went by, I never let go of "Debbie" and tried to keep her white, lacy dress in good condition. Eventually, it got worn out and I put her away for safekeeping.
Until my real live doll came along and got old enough to play with dolls. Then my Debra played with my Debbie and had a wonderful time.
Mom, I'm so glad we got some pictures of her with my bride doll because the photos from 1957 were all blurry and did not do justice to her beauty. Debbie was wearing Debra's dress from her first birthday.
You and Dad loved this picture and I am going to share it with everyone today.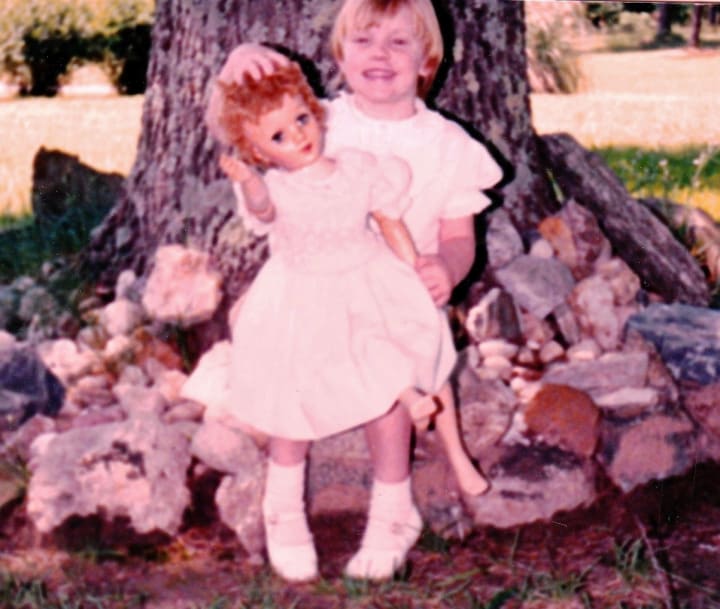 Thank you, Mom, for being the best and dearest Mother a girl could ever have. I love you forever and ever!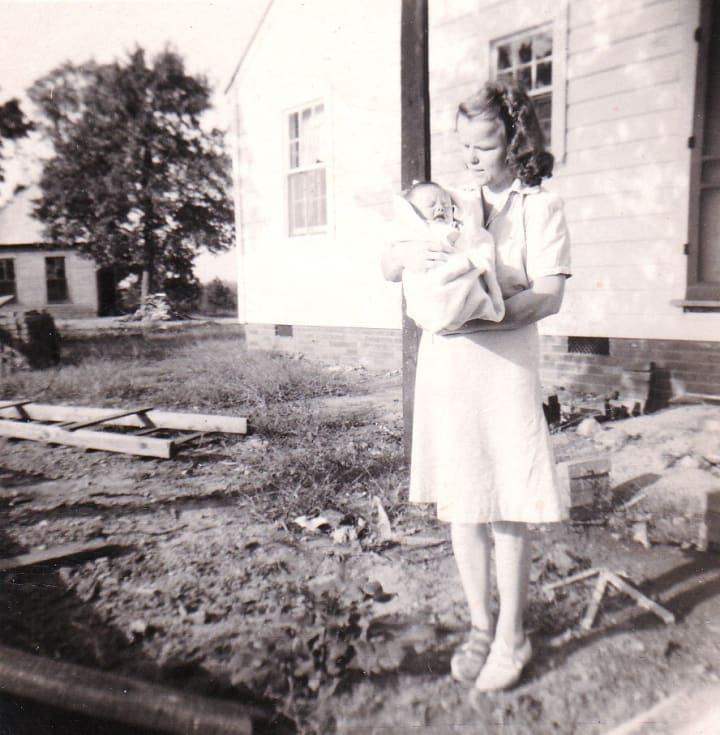 This Mark Chestnut song might not match on every detail, but for the most part, it tells the story of my Mother's life.
immediate family
About the author
"Stories are light. Light is precious in a world so dark. Begin at the beginning. Make some light." –  Kate DiCamillo, The Tale of Despereaux
Writing and loving it since I was a third grader.
Reader insights
Outstanding
Excellent work. Looking forward to reading more!
Top insights
Heartfelt and relatable

The story invoked strong personal emotions

Easy to read and follow

Well-structured & engaging content

Excellent storytelling

Original narrative & well developed characters
Add your insights