Dear John
A Letter from you Younger Brother.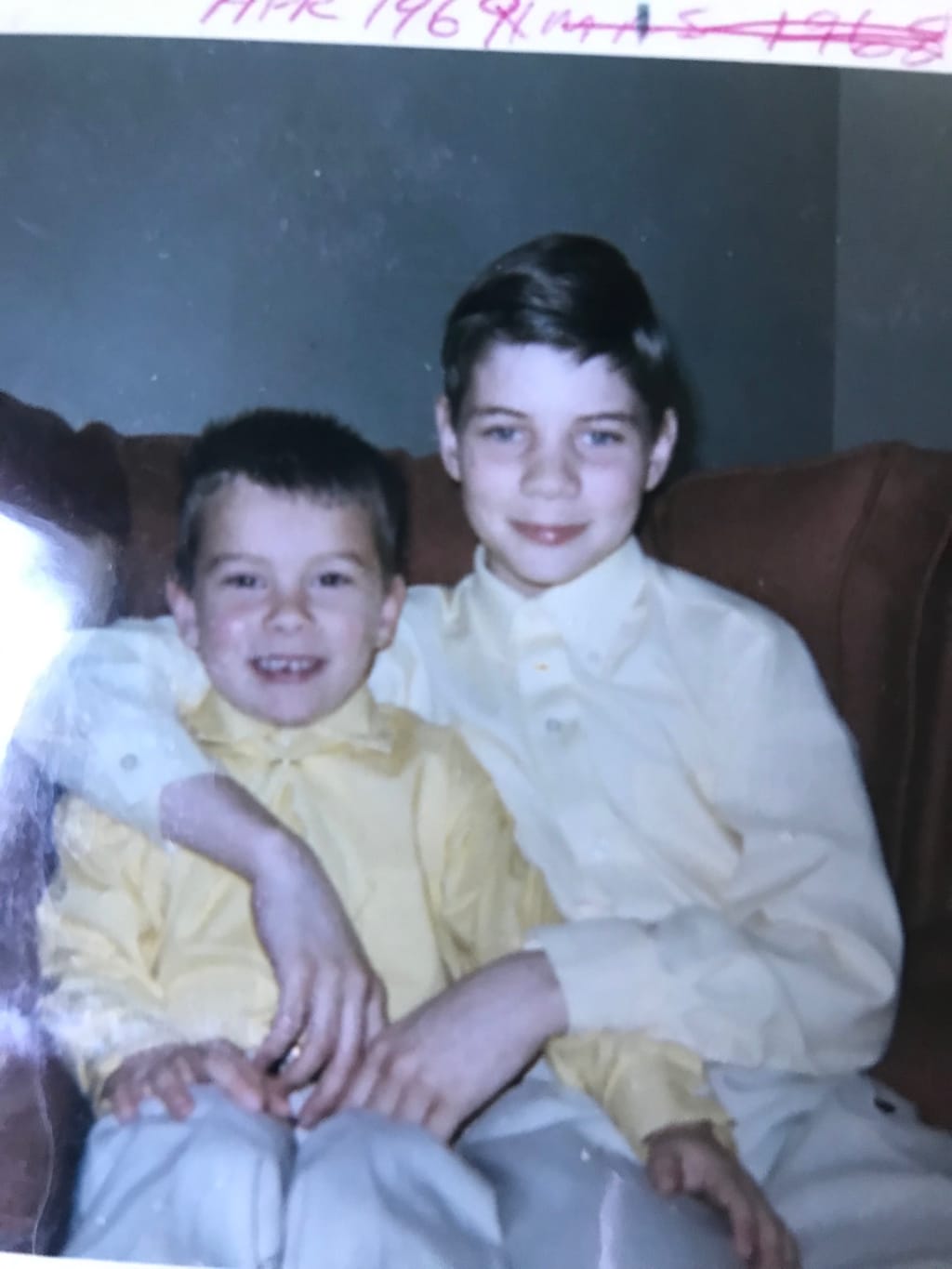 My brother and I April 1969 Photo property of W Curle
Dear John
I learned of your death in August of 2021 from someone close to our father. I wished I could have cried for you immediately, but tears could not come. This may sound harsh, it might appear wicked or worse, but I think you understand why.
My brother: you were born in the late 1950s, and this was in another era.
We both witnessed the self-destruction of our family in the early 1960s. Along the way, someone started to introduce you to the world of street drugs, theft and worse.
I was your younger brother born almost seven years after you; I searched my heart to remember positive things back in those early days. I find this a daunting task as I have had one too many concussions over the years, and memories at times are hard to grasp or hold on to. I looked over the few photos from that era; they were photos of Christmas and other events.
I remember John. You once pushed my head into a toilet and flushed it to punish me for telling our mother what you had done. But to hold you as a child yourself utterly responsible for these actions would also be an act of cruelty. The 1960s is thought by many as a time of "Free Love, Flower Power" and a global effort for peace. John, we both understood for our family, this was not the case.
Understanding your many problems was not handled well back in that time. How do I know this, my dear brother? Our mother went to the hospital and a Seniors' Home in late 2020. In early 2021 I was there when her apartment was emptied, and I found where she had hidden away many papers related to the turmoil in our home. She begged officials for help with you, fearful for the safety of her younger child and so scared you would die from drugs or physically harm yourself and others.
Do you remember John in the 1980s when I made every effort to reconnect with you and to have our mother reconnect with you? I visited you in your maximum-security prison unit, and I met your Christian girlfriend and tried to build a better relationship with you. Despite my grandmother asking me not to connect too closely with you, I went out of my way to build a relationship with you.
Do you remember when I went to visit you in Abbotsford after you were released from prison? I still had much hope despite warning signs that I chose to ignore or pray would go away.
I am genuinely sorry you were not invited to my wedding; by this time, I knew you had some questionable activities going on in your life. I did not wish my wedding day to become a battleground or a day everyone wanted to forget. I know when you read in a paper about my wedding you were significantly hurt.
We tried a few more times to mend fences and start over, but my career choices and the path you choose for your life ensured this was doomed to failure. The night you threatened my wife and family members was when I knew it was not safe for the ones close to me. Therefore, my brother our contact broke. Please remember, John, I did not worry about my own safety, but I feared for my wife, family, and mother.
I must thank you for something you did give me, my brother; in my youth, I was an angry man myself. But along the way, I found faith and a purpose to make up for the acts I was involved with and the choices you made. I would become involved in youth leadership in a church organization, become a foster parent, work with inmates and those with drug and alcohol issues.
I had forgotten how your name would often be a strong sword in my hand with my memory problems. Still, someone I know reminded me once when confronting a criminal element, I used your name, yes, you were my protector at that moment, for these petty criminals knew who you were and did not wish to confront the younger sibling of John Michael. I believe I similarly used your name more than once, for despite your cries of police always framing you, criminal elements fear or respect you.
I understand you found faith and faced at least one criminal trial, and several times the police went out of their way to see me and ask about you. I am glad you eventually found Jesus. I hope in the end, he provided comfort and gave you love. Unfortunately, being a foster parent, a father, husband, I couldn't trust that you had really changed. Too many people depended upon me to provide a safe environment to live and grow in.
Yes, you could blame your activities on drugs, alcohol, your parents and others. But in the very end, my dear brother, we are responsible for our actions. I look back at messages sent to me by members of a church asking me to meet with you and trust you, but I could not.
I pray you found peace, and yes, my brother, I forgive you for the years of abuse you perpetrated on me and the threats you made to those I cared for and loved. Yes, I forgive you for using versions of my name and my birthdate on more than one occasion. I pray that in the end, you may have understood my point of view.
Rest in peace, my brother, in God's grace and love. I pray you find Heaven with our mother, who just left this life a few days ago.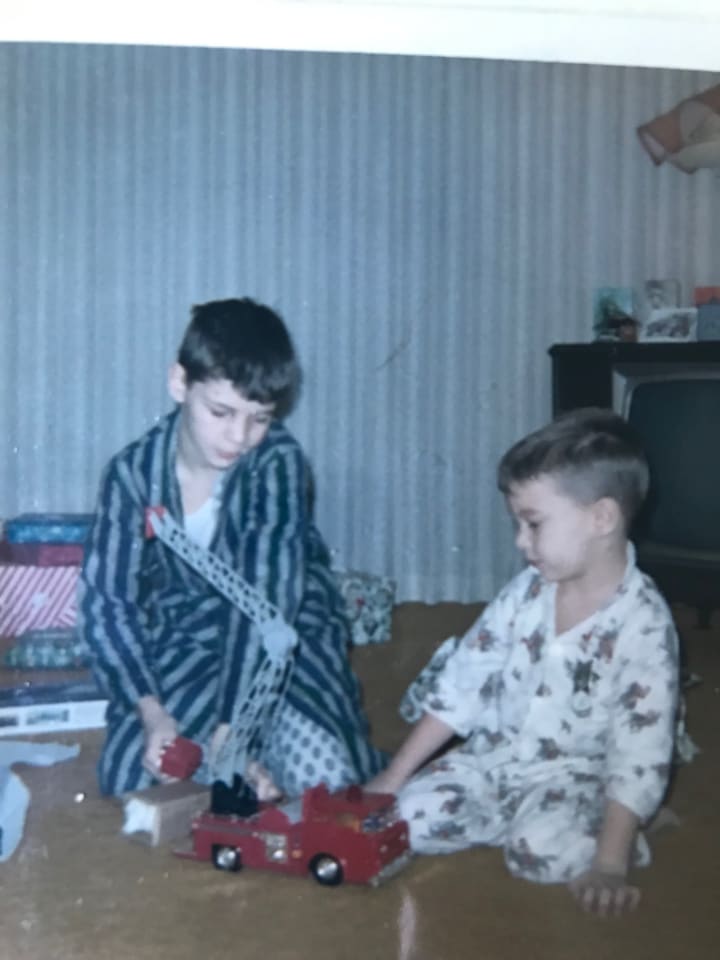 Your Brother Bruce
grief
About the author
A Fifty something male that enjoys writing short stories, scripts and poetry. I have had many different types of work over my lifetime and consider myself fairly open minded and able to speak on many topics.
Reader insights
Be the first to share your insights about this piece.
Add your insights