Dead reckonings
effects of losses are forever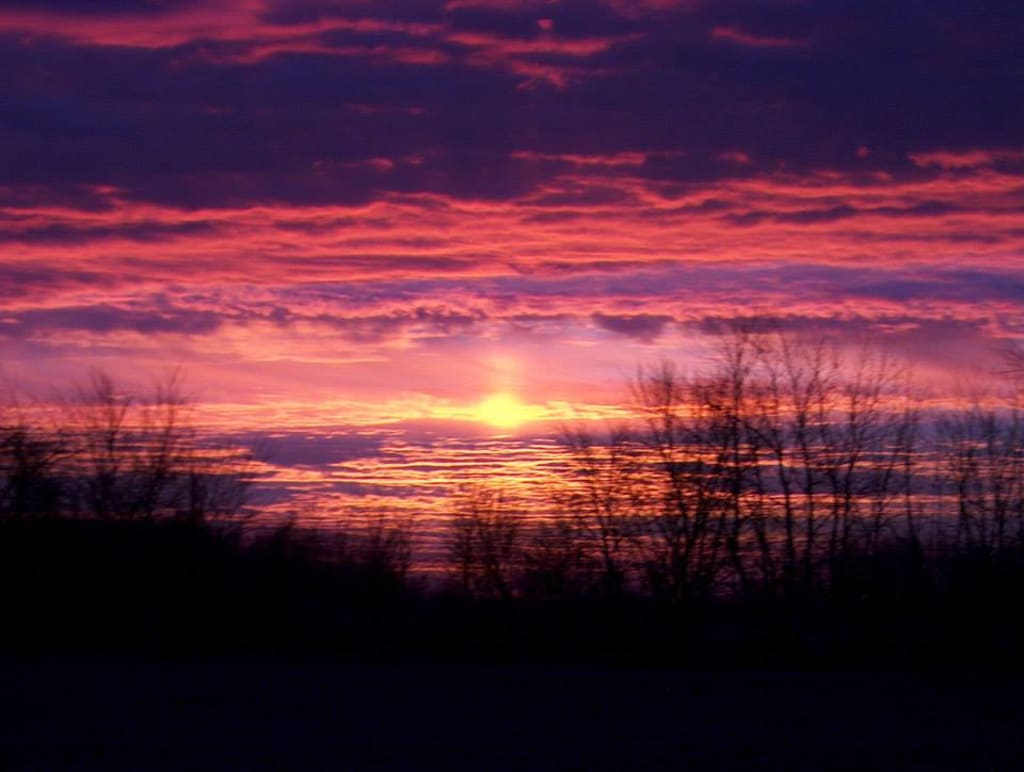 You will never guess how I spent spring break of my senior year in college. What's your best guess? Partying in Cancun? South Padre Island? Miami Beach? A volunteer project? Squeezing in a special-instruction course? Hanging out and relaxing back home? Hiking in the mountains? Graduation party planning?
No, none of the above.
I stood beside my mother as she lost her battle with cancer and died.
During my sophomore year at UIUC, my mother was diagnosed with breast cancer. She went through the usual treatments used at the time (1986-87) and wasn't home-bound. She worked and kept going strong through the whole process.
Two years later, during the fall semester of my senior year at UIUC (1988-89), she was diagnosed with cancer again. This time it was a mass in her brain and apparently inoperable. It's hard to remember details because the news was heart-wrenching and traumatic and it got worse. She endured treatments and was able to get out of the house for the holidays and to do things through early winter. The last event she attended with me was my Senior 100 Honorary banquet. Not long after that, her condition worsened and my Grandparents cared for her at their home for several weeks as best I can recall of the time frame. At the beginning of March (1989), they admitted her to the cancer ward in Carle Hospital. I received a call that day, March 1st, to let me know that they had admitted my mother to the cancer ward for treatment. In addition to that, I learned that one of my second cousins was in intensive care due to a car wreck and my Aunt (Mom's youngest sister) was about to give birth to my youngest first cousin. All 3 in the same hospital. I don't know which words to use to describe my state of mind at that point. That is not a good place for a family reunion. I think it was my Grandma who called, but I'm not sure because the events of that time frame were riddled with emotional upheaval and trying to remember it clearly and accurately brings a flood of memories of traumatic experiences to the forefront. Upon receiving the news about my family members, I went to the hospital. It was late in the evening, so I had to enter through a secure entrance near the ER entry. The lady at the window asked me who I was there to see. I told her my mother is in the cancer ward, my cousin is in intensive care, and my Aunt is in the maternity ward. She looked down and simply let me in without any additional questions. I don't think either of us had any words for a moment like that.
I believe I visited Mom in the cancer ward every day that month for at least a few minutes since the hospital is close to UIUC. No one really ever said she'd never go home. They gave us hopeful messages at first and I thought they could shrink the tumor and help her.
Maybe that was only wishful thinking and self-protection on my part. Maybe I heard what I needed to believe. I don't believe I really understood that her case was terminal until her last day. I received a call during the evening of March 21st since I hadn't been to the hospital yet. I was informed that the entire immediate family was there or on the way and that Mom was having trouble breathing. She was surrounded by family, my Grandparents, Aunts, Uncles, sisters, cousins, and me. I stood immediately beside the hospital bed and held her hand for a while as she labored to breathe. She couldn't talk, but she knew I was there and that our family was there. There was a tear running down her cheek as she exhaled her last breath. That image has not faded in over 32 years.
We managed to make final arrangements and struggle through the next few days. I wish I could remember who came to pay respects and support us, but there were too many to remember and it was the worst week of my life. I recall some dear friends from my fraternity visiting. We have a huge family and people were there in droves. It ended with, as funerals often do, an impromptu family reunion at my Grandparents' place.
After the gathering ended and family and friends returned to their homes, I returned to school. We had about 6 weeks left in the semester. I managed to get through those last few weeks with the support of my fraternity brothers and classmates. My sisters were also graduating. Missy from Parkland College and Marcy from Oakwood High School. Long before, it seemed like it would be a time of great celebration for all of us. In reality, it was simply a set of milestones to pass. Life is supposed to have highs and lows, but not events of this magnitude simultaneously. I didn't really care to bother with graduation, but I did attend it and walk across the stage for the family after my Aunt told me I should. I'm glad I did now. Mom would have wanted that.
I really did not have time to begin recovery before a second tragedy jolted our family. We lost my closest cousin tragically only a few months later. I cannot go deeper into the circumstances. She was like a sister to me. Our family was always close since most of my Aunts and Uncles and first cousins lived within a few miles of us in our close-knit rural community. We had frequent family gatherings for birthdays and holidays and we were in school and activities together. We were all like siblings because we spent a lot of time together. Two tragic losses in that short time frame was a devastating combination.
For me, losing Mom and Michele combined with having lost another close cousin, Randy, during high school had profound traumatic effects. I wish awareness of the need for healing and talking and recovery time after emotional traumas and dealing with post-trauma stress were mainstream practices back then. There weren't community fundraisers, cancer teams, and other public coping opportunities. We buried our mother and cousins and tried to hold it together. Mom didn't have much and she had no significant life insurance. We had to move forward and be strong for each other and make due with what little she left behind. The memories are the most important things anyway and material items and money aren't worth the attention they get in this world. Dealing with the death of a loved one is often a life-changing shock. Multiple tragedies magnify the effects many times. There is no going back. You gather what pieces you can, focus on whatever tasks are in front of you, and you move forward as best you can.
I didn't know it would take years to work through the effects of those losses and compartmentalize them enough to minimize their effects on me as a person and on my decision-making processes. A time of recovery from traumatic losses is not a time to make major life decisions. I backpedaled into a relationship that I later realized was a huge mismatch, to put it kindly. It ended in 8 tragic years of repeated drubbings in custody and divorce court. Insult added to traumatic injuries. I wish someone had known to give me the advice you will find at the end of this brief personal history about how the loss of my mother is the event that became the crux of my life story. I wonder if anyone would have been able to convince me to take the advice I now give others and take a few years to process the grief. I needed time to think and to mature and to learn about myself. I had no idea who I could and should become. I was in my late 20s, about 6 years later, when I really started to piece things together and understand myself and the society around me. I had been in the mode of tackling any task put before me instead of living a planned and purposeful life.
Major emotional traumas leave scars that last a lifetime and they teach lessons that only experiences like those can teach. The traumatic effects of watching my mother lose her battle with cancer have lifelong repercussions. I will never forget the tear running down her cheek as she exhaled her last breath.
I find it worthwhile to try to convey to others the lessons I have learned through both good and traumatic experiences in hopes that I can help them prepare better for life and avoid some of the lows and increase the good times. I'll close this brief personal history with a few lines of advice I wrote based on my experiences.
In memory of my mother and my cousins, I leave these words about life for you to reflect upon during your ongoing journey. May they benefit you and all those who follow.
Unsolicited advice for the young and young at heart:
Make a bucket list and a list of professions of interest;
Draft a plan to explore those professions and do the things on your bucket list;
Don't complicate life, appreciate simplicity and nature;
Live smart, stay within your means, save;
Revise and update your plan when circumstances change due to things out of your control, adapt;
Enjoy both shared moments and time alone, seek balance;
Love, laugh, smile, and enjoy time with family and friends when you can.
Time is precious and you don't get a second chance.
About the Creator
Raised in rural east-central Illinois, I appreciate nature and the environment. I'm a father, grandfather, professional engineer-scientist, leader, scouts leader, coach, stoic, minimalist, costumer, historian, traveler, and writer.
Reader insights
Be the first to share your insights about this piece.
Add your insights