Dad's hands
yes those are my Dad's hands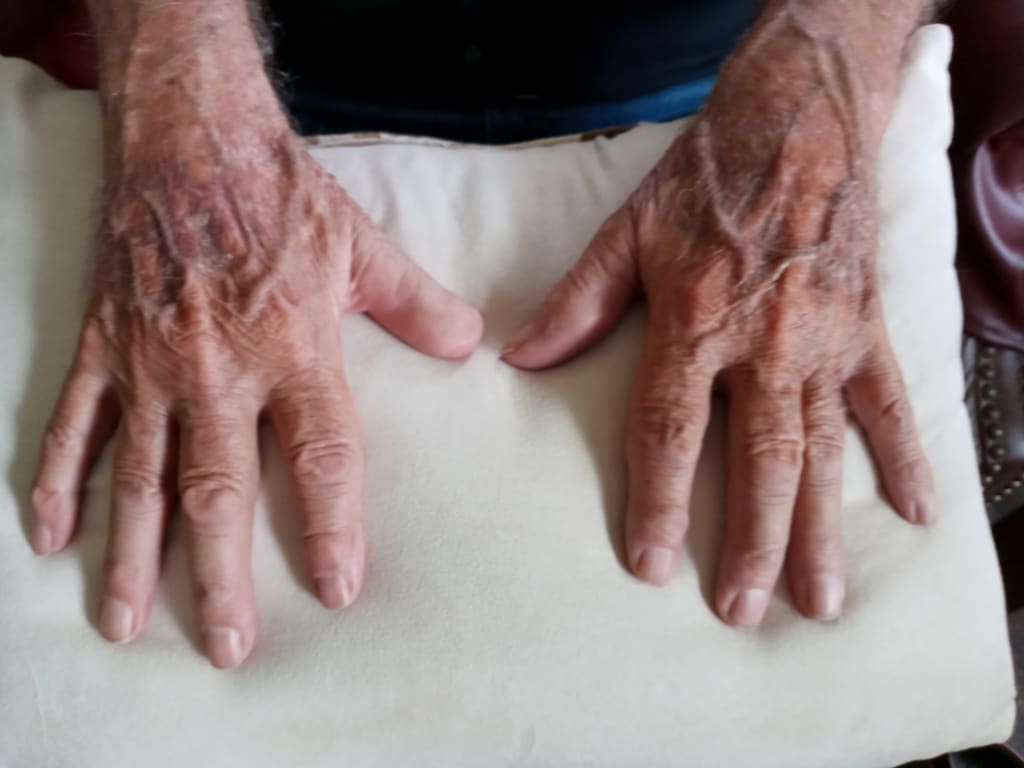 My dad's hands are hard working hands they are hard and calloused. They were not always that way. when he was young they were soft and smooth. Dad's hands were made for hard work, he worked hard at a young age helping with chores. Dad's hands got stung by bee's as he helped his father with colonies of bee's
Dads hands with his feet moved real fast as he competed in track in high school. Dad's hands and feet ran down the track and became the fastest runner in the state of Michigan.
As my dad grew into a young man dads hands held a rifle when he was in the army reserves and served our country. Dad's hands were clenched as he crawled on the ground while gunfire was shot over his head. Dads hands typed on the typewriter he even typed his discharge papers!
A after dad married mom dads hands with Grandpa built our home. Dad's hands grew more calloused. Dad's hands have a lot of love for mom and us kids, for he would work from sun up to sundown for us. Dad's hands would build us toys, rubber band guns, doll houses and even a fort for my gi Joe's!
Dads hands built Tables and chairs they built desks, clocks, shelves made with love. Dads hands built cupboards, cabinets, corn holes and Derby cars. Dads hands built picture frames, benches, tv stands, stools and all manner of things.
Dads's hands built, houses, remolded houses, pavilions, gazebos. Dad's hands fixed roofs, shingled roofs, toilets, sewer lines, and worked in crawl spaces. Dads hands came from a servants heart he would do projects for the church. Dad's hands helped those in need either fixing things or helping financially.
Dad's hands were also good for making pancakes every Sunday without fail. Dad's hands made the best pancakes, sometimes he would make them for church events. Dads hands grew even more hard and calloused. Dad's hands are creative he has made very beautiful paintings with those hands.
Dad's hands were tough as nails when I did wrong Dad's hands gave me comfort when I needed it. Dad's hands would shake peoples hands with a nice warm welcome. Dad's hand have had wear and tear on them. Dads hands have been injured while working hard. Dad's hands have been bruised and bloody, and he lost part of his thumb.
Dad's hands have touched so many lives. Dad's hands helped family, friends, neighbors and even some strangers. Dad's hands lifted me up and took me home when I was a child and had a bike accident. Over the years Dad's hands became harder and harder.
Dad's hands were folded up in prayer, he taught me the importance of going to church. Dad's hands would put his tithe and offerings in the plate with a giving heart. Dad's hands prayed for us kids, and our families. Dads hands would be folded up in prayer before family meals with family get togethers.
Dad's hands have meant different things to different people. Dad's hands meant to some a new home. Dad's hands meant to others a new kitchen, or a new bath. Dad's hand to his children, grandchildren, great grandchildren meant gifts made from wood. Dad's hands meant for others a new deck, new roof, or new windows.
Dad's hands have had a rough life, years of hard work have taken their toll. Dad's hands are rough and hard because of his hard work and dedication. Dad's hands were alway there for everyone who needed them. Dad's hands have been a blessing. One thing for sure Dad's hands are full of love, and I thank God for dad's hands.
parents
About the author
I am an aspiring author I am currently working on getting my first novel published. I love to write science fiction, fantasy, horror and dabble in regular fiction.and a little bit of poetry.