College Law
A story worth reading.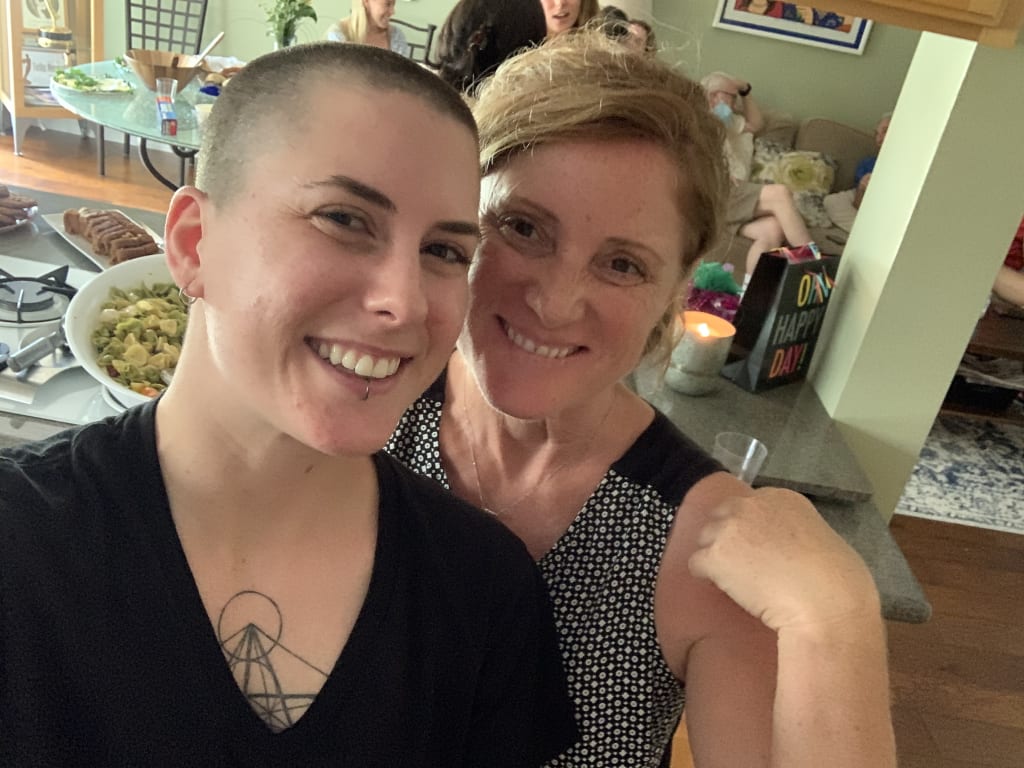 My mom and I during my 10 year sobriety anniversary.
Thereafter high school during the late 70's, my mom obtained an entry level position as a bank teller in Los Angeles. The matriarch in my immediate family was not given an ultimatum by my grandparents, either attend college or work full time. Once working her way up the corporate ladder without a college degree, she shattered the glass ceiling and is now the COO for an international cosmetic haircare company.
While I was raised with two sisters, attaining a Bachelor's degree was the law in our home. As a protective parent, my mom's reasoning was to ensure opportunities that would not otherwise be available. Once I graduated high school, I furthered my education at the local community college and then transferred to San Francisco State University. I completed a Bachelor of Arts in Anthropology with a Minor in Sexuality Studies. To no surprise in my family, the motivation for my concentrations were influenced by many kitchen conversations.
My mom is a hardcore feminist. Women empowerment, women's rights, and dismantling the patriarchy were her top topics, and at times, unsolicited advice. A main lesson she instilled in my sisters and myself was self-sufficiency. My mom drilled in us to never rely on a man (or woman in my case). No matter our life situation, we need to always have our own bank account.
To take this story a step further, my family was forbidden to shop or eat at any companies that donated to anti-women's rights or LGBTQAI+ organizations. I am not sure if this reader is aware of the number of companies that partake in this financial decision. I want to give this reader an idea of the depth of this situation. Carl's Jr., Home Depot, Barilla, In-N-Out, Hobby Lobby, I could keep going but I will spare you. At times, this was very inconvenient, but definitely well worth it.
All of my mom's life choices are a complete 180-degree turnaround from her upbringing. With a traditional Italian Roman Catholic background, my mom is always using mental strength and perseverance to overcome any barrier she is faced with. In the year 2017, I came out as transgender female to male, and through an adjustment period, she is all for it.
In addition, this human is a six-time cancer survivor. Since 2018, she is in remission from lung cancer, which is thankfully not metastatic. A routine phrase of mine is, "Mom is immortal and she will outlive all of us." Honestly, who survives cancer six times and still has the mental capacity to manage and delegate an international company? My mom.
The gratitude I feel for my mom is overwhelming at times. The opportunities I am granted because of her college law is never-ending. For example, after San Francisco State University I continued my education at Touro University California to pursue a Master of Public Health degree with a concentration in community health. Recently, I was offered a mid-level management position as a Clinical Instructor and sole Case Manager for Seed House Project Los Angeles, a homeless youth transitional facility.
Without my mom's nonnegotiable rule and encouragement to move to San Francisco, I doubt I would have the knowledge and awareness of white fragility, racial implicit bias in healthcare settings, the Latino Health Paradox, African American expectant women's higher mortality rate compared to white women (due to structural racism), and make certain I step over Oscar Grant's-stained blood on the platform every time I wait for a train at Fruitvale Station. Additionally, I doubt I would question if our judges represent stakeholders in their company.