Chocol8 Sk8terz
We Live to Sk8 and eat Chocol8..💜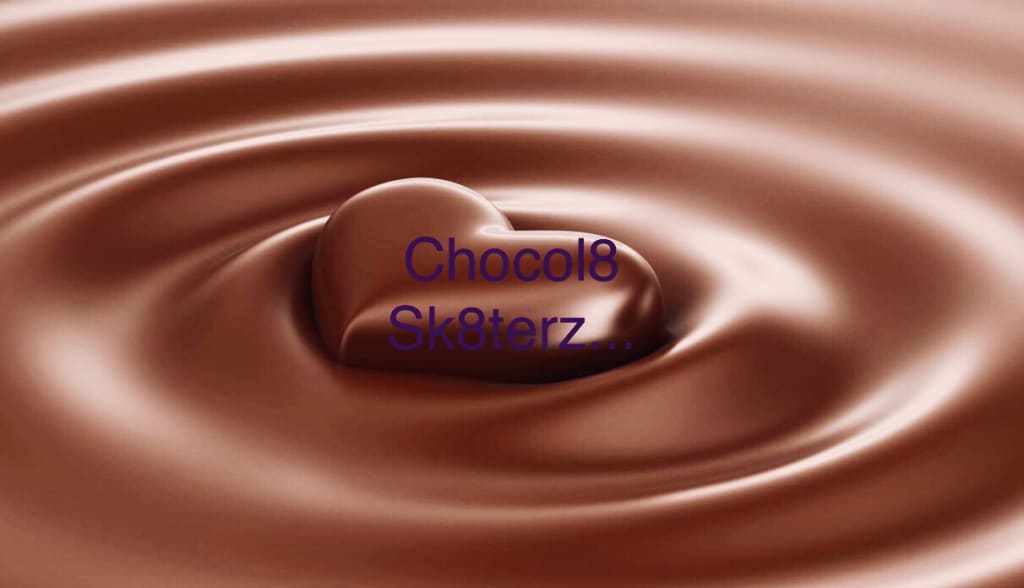 Monday morning was here yet again and Jazz was in the kitchen making nothing other than six cups of chocolate milk.
"Goood morning, Good morning, good morning to you and you and you and you." Sang Ms.B as she always did to the crazy cool kids sitting at the kitchen bar, drinking their chocolate milks ( Jazzy had just handed to them) with their cute little chocolate moustaches. (Seeing those chocolate moustaches always made her laugh.)
"It's great to stay up late, Good Morning to you!" Replied the kids in song.
"It's a beautiful day outside today Ms. B, gonna be a nice ride to school today." Said Geo as he fist bumped Ms.B.
"Nothing makes my ride more beautiful than having Ms.B start off our ride by singing to us." Chuckled Riv's as he hugged Ms.B.
"Awwwww, you kids are such butt kissers." Laughed Ms.B as she pinched Riv's cheeks.
"You know we love you Momma B." Smiled Geo as he hugged Ms.B.
"Everybody ready to go?" Asked Evie, as she grabbed her backpack and headed towards the door.
Ms. B just smiled as she looked at all eight children just ready and excited to go to school. She felt extremely lucky to have the privilege of having these special children in her life. Evie and Jazzy were her two daughters. Geo, Riv's, Gracie, Chazon (pronounced Jason) were friends of her daughters at their school. The two youngest; Jeanu and Jacques were her two younger sons and they were in elementary school.
"Ready to go to school future brother-in-laws?" Grinned Geo as he grabbed Jeanu's head and shook Jeanu's long hair. Geo was also grinning ear to ear as he turned to look at Jazzy.
Geo was very much in love with Jazzy and he was protective over her and he wholeheartedly loved her entire family. See, Jazzy B was a beautiful, vibrant, spunky, and wild girl whom was not quite aware of how beautiful she was. So when the talent scouts came looking for her and offered her a fully paid package deal to enter the: Young Miss Houston Pageant, Jazzy was in disbelief. Jazzy didn't realize the problems other young girls would have towards her. When the threats to cut her face and the insults on her intelligence and manners were constantly thrown in her face, Geo was always there for her as was Evie, Riv's, Gracie, Chazon, and Jean and Jacques and Ms.B.
"One day Ms.B, one day!" Laughed Geo as he grabbed Jazzy by the waist and headed towards the door with Jazzy and Jeanu.
"Too young for that, but maybe you're right. Now, don't forget the song for the day is; Summerbreeze by Seals and Crofts. I expect all of you to listen to that song a couple times today and tell me what you think about it after school. Have a good day at school, Love y'all!" Grinned Ms.B as she watched all kids take off for the day, to school. They would all walk Jeanu and Jacques to school across the street and then Evie and Chazon would take off to the right to their Highschool, and Jazzy, Geo, Gracie and Riv's would take off to the left to their middle school. It was one of the coolest places to live in. The schools were all nearby and on the right, across the street from the apartment was a beautiful park, with several playgrounds, a water park and a trail for walking and biking. And, Ms. B and her family were lucky enough to get the upstairs apartment, right smack in the middle and you could see everything from the back deck.
Ms. B closed the door and sighed, the kids knew she was sick but, she never liked to show them she was in pain. Ms.B had cancer growths in her breast and because she caught it early she was able to beat that, but her immune system was damaged because of the chemo in a pill and the stress from the divorce had made her have a minor stroke and her whole left side had completely gone numb. Ms. B would do her best to sleep while the kids were at school and wake up an hour before school let out so that she would be able to do as much as she could with the kids.
As promised the kids turned on Summerbreeze on their iPods, and they all started laughing and joking with Jazzy when they heard this verse of the song; Summerbreeze makes me feel fine, Blowin through the Jasmine in my mind.
"Who's a mommy's girl?" Asked Riv's as he side tickled Jazzy.
"Ok, so what are we going to do about helping you and your mom get the extra money you need to be in that Pageant? You already know your dad doesn't really want you in it, so he is not giving your mom any money to go towards it. Your mom is not working right now and all her income goes towards the rent and all of y'alls neccessities." Asked Gracie as she drifted slowly on her skateboard next to everyone.
"Yo, G! There is that skating competition coming up and the prize is $10,000.00 dollars. I have the flyers somewhere here in my backpack, let me see if I can find it and read about all the rest of the qualifications, bruh." Said Riv's as he dug threw his backpack looking for the flyer.
"Man guy's you don't have to do that, I am sure that my mom will find a way for us to come up with the extra cost." Replied Jazzy as she leaned in closer to Geo as he held her side.
"No way Jazzy, we have to help make this happen for you, you deserve it! And, we know it would make your mom happy to see you do this." Added Gracie as she smiled at Jazzy.
"Yeah, Summerbreeze, we are gonna make all your dreams come true." Laughed Geo as he squeezed Jazzy a little tighter and had that adorable little smirk on his face that drove Jazzy absolutely crazy.
"Yeah, I got your Summerbreeze right here." Said Jazzy as she laughed and let out a big burp, right in Geo's face.
The kids all meet each other at the park after school because they had all gotten a text from Ms.B telling them to meet her at the park under the pavilion after school, because she had a surprise for them. Ms.B had also told everyone, except Geo that it was a surprise birthday for G since it was his birthday. She gave them at least 2 hours after school so that they could buy him a gift.
As the kids walked to the pavilion, they were excited! The Pavilion was decked out in skulls and firey colors. Ms. B had out done herself. (She couldn't help it she completely believed in Geo's skating abilities.) As the kids listened to music and ate hotdogs, potato salad and corn on the cob, they talked about entering the skating competition. Ms.B told them that was a great ideal and she would help them in whatever they needed.
Ms.B made all the kids close their eye's and sing happy birthday to Geo as she brought out the cake. Geo's eye's filled with tears no one had ever liked him skating and told him skating was for losers. Geo gave Ms.B a hug and the whole Chocolate Sk8terz piled up on him with hug bombs. Geo said he was lucky to have such good friends that were more like Family than anything else.
The kids ate the cake as they vowed to always be there for one another and to always, have a skateboarder in one hand and chocolate in the other.