Cher Maman...
Les Muguets des Bois will grow forever, for you
You'd call it Muguet des Bois.
And then, for those who were not French-Canadian, you'd translate: Lily of the Valley. You insisted on calling them by their French name, and now, so do I.
The tiny, fragrant blossoms were your favorite.
The year you died, we moved closer to Dad. His heart was broken, and his health failed as a result. Gosh, he missed you so.
That fall, we bought a house with a massive back garden, only two blocks away from Dad. And when spring arrived, the shady wooded section of our yard burst with muguets de bois.
Mom, did you know they were there, sleeping beneath the fallen oak and maple leaves? That they were waiting for us? Your earthy self would have adored the wild wonder of our new home, but you weren't here to help us choose it. Or were you?
We certainly didn't plant the muguet; in fact, Ontario gardeners reading this might suggest I remove it, as it's considered invasive. But I'm listening to my heart, Mom, and it's staying right where it is. In fact, it's May, and the leaves are just beginning to pop. I can't wait to breathe in that sweet spring perfume, in fact, I'll even cut some to place beside my desk. To remind me.
Mom, I know you've been with me when I've tended the gardens, and each time I sow something new. I feel you're looking over my shoulder, making sure I dig the hole deep enough. That I'm taking care. I'm sure you beamed with pride when you learned that the front garden had been certified by the Canadian Wildlife Federation. We had the same fascination with birds and critters, and now we have a home for them.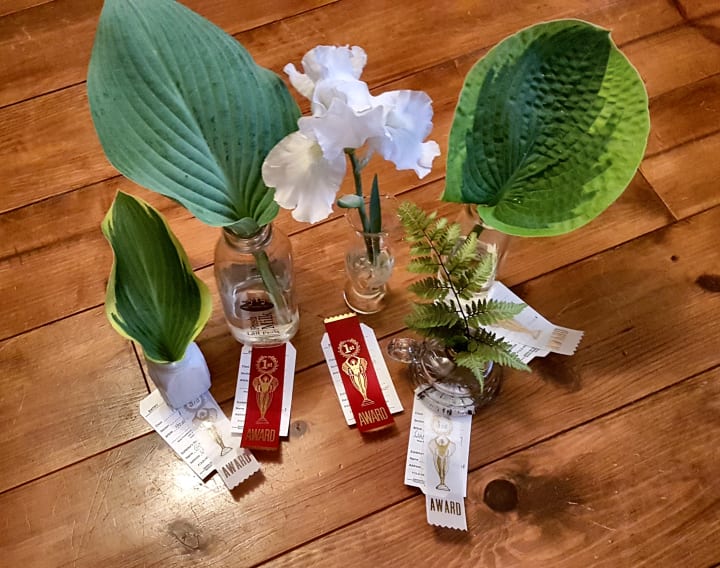 Are you the reason Dad loved spending so much time in our back garden? He'd drop by, and wander through its entirety, from back to front, side to side…he relished every moment back there. He'd sing that 1960's song, "A World of Our Own", and he was thrilled that we'd bought a piece of paradise. Gonna say, I didn't recognize the song until I found it on YouTube…well, you remember Dad could never hold a tune. The back garden, especially the forested part, was the place he enjoyed the most, in his final years. He'd sit on the decrepit old cedar bench, under the pine tree. Did he sense you were with him? Did he delight in the nostalgic fragrance of the muguets, and think of you?
Here's the crazy thing: I talk to the muguet des bois all season long. I welcome them, whisper to them, cheer them on. And all the time, I'm thinking of you.
Goodness knows, our relationship was strained for as long as I can remember; we finally learned to not blame each other. We gained a strong and tender bond near the end. I'm so grateful for that.
Here's another crazy thing: after we purchased but before we moved in, I took some photos of the back yard through the glass doors that span the width of the back wall of our family room. In one snap, there's the shadowed form of a woman bending over, tending the garden.
At first, we thought the apparition was Nancy, who lived in the house before us. She was a master gardener, and it is thanks to her that we have so many stunning varieties of flora in the yard. But these days, I'm thinking it might be you.
I miss your flowers, your vegetables, your gardens. I didn't pay much attention to the work you put into them, but I was always awed by the results. I didn't listen to the process. I didn't appreciate the soil and the first tender leaves; I only saw the final product.
Another few days and those fragrant little bells will blossom; it won't happen in time for Mother's Day, but it'll be your own and special day. With me out there, whispering hello.
About the Creator
I live with a broken brain and PTSD--but that doesn't stop me! I'm an author, artist, and qualified mediator who loves life's detours.
I co-authored NOT CANCELLED: Canadian Kindness in the Face of COVID-19. I also publish horror stories.
Reader insights
Be the first to share your insights about this piece.
Add your insights