Canada is a Best country to live in 2023
Canada has been ranked as the third best country in the world behind only Switzerland and Germany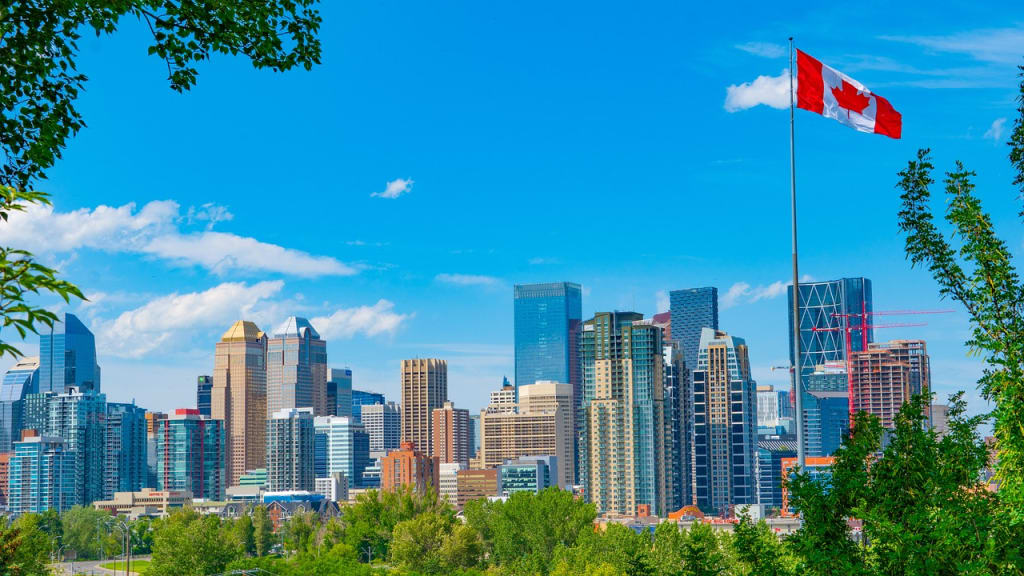 Canada
Canada is a large and diverse country known for its natural beauty, friendly people, and strong economy. With a population of over 37 million, Canada is the second-largest country in the world by land area, covering almost 10 million square kilometers.
Geography: Canada is home to a wide range of landscapes, from rolling prairies and rugged mountains to vast forests and pristine lakes. The country is also home to the longest coastline in the world, stretching over 202,080 km. Some of the most famous natural attractions in Canada include the Rocky Mountains, Niagara Falls, and the northern lights.
Economy: Canada has a strong and stable economy, with a high standard of living and low unemployment rate. The country is a major exporter of natural resources, including oil, natural gas, and timber. Additionally, Canada is a leader in industries such as technology, finance, and manufacturing.
Culture: Canada is a multicultural society, with a population made up of people from around the world. This diversity is reflected in the country's cuisine, music, and art, as well as its rich history and traditions. Canada is also known for its friendly people, who are known for their kindness and hospitality.
History: Canada has a rich and diverse history, with Indigenous peoples living in the region for thousands of years. In the late 15th century, European explorers arrived, and over the centuries, the country was shaped by the influence of the French and British empires. Today, Canada is a proud and independent nation with a strong sense of national identity.
Education: Canada is known for its strong education system, with high-quality public schools and universities. The country is home to many world-class institutions, including the University of Toronto, the University of British Columbia, and McGill University. Additionally, Canada has a thriving student visa program, which attracts students from around the world.
Healthcare: Canada has a universal healthcare system, which provides comprehensive coverage to all citizens and permanent residents. The system is publicly funded, and healthcare services are available to everyone, regardless of their ability to pay.
Immigration: Canada is one of the most welcoming countries in the world, and immigration plays a vital role in the country's growth and prosperity. The country has various immigration programs for skilled workers, students, entrepreneurs, and other categories, and the process of immigrating to Canada is well-established and straightforward.
Cities: Canada is home to many vibrant and dynamic cities, each with its own unique character and attractions. Some of the most popular cities in Canada include Toronto, Vancouver, Montreal, and Ottawa. Toronto is the largest city in Canada and is known for its diverse culture, vibrant arts scene, and thriving business community. Vancouver is a beautiful coastal city known for its stunning scenery and outdoor lifestyle. Montreal is the cultural heart of Quebec and is known for its rich history and European charm. Ottawa is the capital of Canada and is home to many important government institutions and cultural attractions.
Tourism: Canada is a popular tourist destination, attracting millions of visitors every year. The country's natural beauty, friendly people, and diverse culture make it a must-visit destination for travelers. Some of the most popular tourist attractions in Canada include the Canadian Rockies, the Niagara Falls, and the old Quebec city. Additionally, Canada is known for its winter sports and outdoor activities, such as skiing, snowboarding, and hiking.
In conclusion, Canada is a wonderful country that offers a high standard of living, a rich and diverse culture, and a welcoming society. Whether you're interested in natural beauty, city life, or outdoor activities, Canada has something for everyone. With its strong economy, excellent education system, and comprehensive healthcare system, Canada is an attractive
Reader insights
Be the first to share your insights about this piece.
Add your insights