Broken Family
By Anna Cruz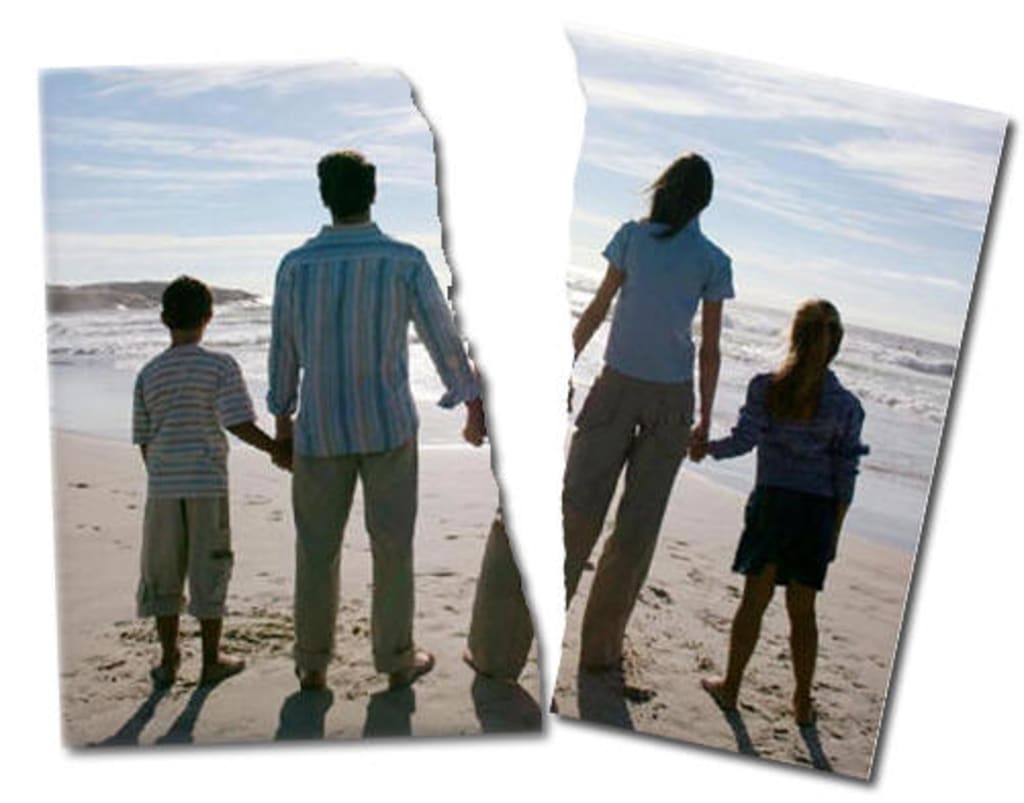 When we are born , we don't know in what kind of family we will grow up in . But as humans we each have a purpose in this world , and from the experiences that we live through we learn from those mistakes and lessons. I wouldn't say that I had a broken family or have one currently. But when we're kids we don't fully understand the situation until we become older and see the actual truth . Honestly I do say that I am grateful for the people I was able to grow up with , because without those people I wouldn't be who I am now.
My mom and dad both met when they were young teenagers. My mom was 13 and my dad was 17 . So yes they were young when they met eachother and decided to start their journey in their relationship they once had. They both met in their home country which is El Salvador, but they came to the US to have a better life , they didn't come together but still decided to stay together although they had to be separated for awhile. I do like to think that even if they had to be separated for that amount of time they still decided to be together. Their relationship wasn't perfect, but knowing that they had a good relationship at one point makes me wonder why they couldn't stay together. But again there is always a reason for everything to happen.
I never thought that I would have to grow up with parents who separated and that it would affect me in different ways. Some negative ways and positive ways . I do remember being 5 years old when my parents separated and went their own way. I don't know why I have a clear picture of the day that they did separate. It was actually my first day of summer vacation after finishing kindergarten. My mom worked at night so it was normal to see her home but the unusual thing was that my dad was home as well. He worked throughout the day . At one point I thought we were going to do something fun since I was out of school. But there was a weird vibe that day. At the time we lived in a small apartment, so it was noticeable to see who wasn't there and who was. I remember my brother and I were watching tv in the living room , while my parents were talking in the bedroom . Me being curious , I went and checked what was going on. My parents didn't seem upset or angry , they looked like everything was ok. But then a few minutes past by and I remember my dad saying he was going somewhere and he would be back . I asked if I could go with him and he said "no , I'll be back ". I did believe him . Once he left that door , I remember my mom getting emotional and began calling family members. I do believe she called my grandpa first and then called one of her sisters. My mom is the second oldest of six kids , so in a way she couldn't really depend too much on her siblings. During that time we also lived 45 minutes away from her family . So it was a drive. My dad actually never got back that day. I didn't know of my dad until two months later. There were many reasons why. But anyway, I remember the next day . Early afternoon my grandpa and one of my uncles came over to the apartment and picked my brother and I up. My mom actually stayed and packed stuff up to move in with my grandparents . Thankfully we had our grandparents there. They took us in and allowed my mom to work and get on her feet. As time went by , we all moved in to our grandparents house and I spent my summer in a new town. Since I did move I had to enroll into a new school. So I did start first grade in a new school that fall. Around the same time I began school . My dad came around and we began to spend time with him on the weekends. My dad didn't just leave like I thought he would , he actually was trying to find a place to live and start again without us. It was something difficult to get used to . He tells me . Nothing was the same . The little family I once was apart of no longer existed. My parents separated late June. By September I do remember my mom already had a new partner. For some reason my dad was dating different women too. They were desperate to start dating so soon.
I was never against my parents dating other people , but for some reason I had hope that they would get back together later in the future. I did lose hope once my mom was with her new boyfriend. My dad he was dating a few people but then he stopped. But again he met a person who would be with him for the next 16 years. So both of parent being in their new relationships sort of messed up the way I thought about things. Things after a while were moving pretty quick. My mom and her boyfriend decided to live together in a apartment. That's where I had to move again and enroll in a new school. I once again began my second grade year in a new school. I actually didn't mind that school. I lived close by one of my aunts house and got to go to the same school with one of my closest cousins. So it wasn't bad. The living situation with my mom and boyfriend at the time wasn't the best. I never really got close to my moms boyfriend growing up, so I put a lot of tension between the relationships my mom had with her boyfriend. My moms boyfriend would later on become my stepdad. Although I didn't get along with him they still got married and added a new family member into the family. But this actually happened when I was 11 . Before adding a new human being into the world. Things weren't that good between my mom and her boyfriend. They did break up a couple of times. They argued so much , that it felt like a toxic relationship. Argued and got mad for the smallest things . I honestly thought that they would separate and go their own way. But apparently not . This is all happening with family being around . My moms family were never a fan of my moms boyfriend. He just didn't show too much positivity. But that never stopped them from being together. All along we did live in New York. When I was 9 , that year was full of changes. The beginning of the year my stepdad actually took us to Georgia to visit for two weeks . We were visiting old friends that my mom had when she was younger . Never thought in my life I would be living in Georgia , but my stepdad during that trip he fell for Georgia and the calmness it had compared to New York . I was so used to New York , I have been living in that state ever since I was born . Plus I had all my family and friends there. As the months went by , my stepdad went back to Georgia to sign a contract for a home . By the end of June that year we were packing a Uhaul truck to go to Georgia. That was the worst for me. I was leaving my childhood behind. I left my dad behind , my extended family behind. We were basically starting all new again. I had to go to a new school. I barely knew anyone or anything in Georgia . The only thing I had was my brother and mom. My stepdad actually left for another few months and worked in New York just because he couldn't find a job in Georgia . For me it didn't make any sense , like why move to another state when you don't have a good job yet. I actually at that point wanted to go back to New York , and ask my grandparents to adopt me as their child. But I couldn't cause my mom would get mad. But either way my mom was the one keeping the house down , she went and got a job at Taco Bell. She would work every day,and my brother and I would go to school. I was in fifth grade and my brother was in second grade.
In March 2008, my stepdad came back to Georgia to fully live and get an actual job there. I found out that my mom was pregnant with my youngest brother around the same time too. It was crazy how I found out before my mom even told me. 2008 was a little bit better then 2007. 2007 was a year that I thought wouldn't get better , moving actually ruined it .
My brothers birth gave me a new perspective to life . I was excited and happy he came into the world . I was only 11 but I felt like he came at the right time.
Having a family is a lot of work . Especially when everyone is separated. I always wished that it would be my dad and mom . But sometimes things don't go as we like. We always have to see the positive outcome in the bad . A broken family can be tough to grow up in . But when we have loving people in our life they allow us to grow despite the negative things we see and feel. Now that I'm 22 , I see things differently. I don't think the same way I did when I was younger . In some way I understand that things happen for our own good although it's not something we fully understand or agree with. But I hope that my story somehow does help .