Bride Includes Stepson in Wedding Vows: "I Promise I Will Love You as if You Were My Own"
"I wasn't just going to be a woman his dad was married"
Photo credit: swns/ Instagram
Vanessa Lynch, 30, wanted to show Henry, her stepson, that getting married to his father would include him too and that they could all live happily as a family after the wedding.
So, she left the guests surprised when she changed her vows and included a part referring to her stepson as she tied the knot with his dad.
What are the details?
Vanessa started out with solemn, loving vows for her future husband, Craig Lynch, 30, and then she proceeded to make some unique vows to his son as well.
"Henry, I know I wasn't there when you came into this world. I was not there for your first steps or for your first words, but I promise I will be there for many other of your firsts," Vanessa shared with The Epoch Times.
The bride also wished to point out that their loving bond would form on that day, never to be gone. She meant to be there for him permanently, as she was uniting her life to his father's.
"I promise I will love you as if you were my own, to be the best wife for your dad and the best stepmom I can be for you," Vanessa added as a token of the motherly love she wanted to give selflessly and to create a happy family where the little boy could look to her for support and care no matter what the future held.
Once she was done with the emotional vow, Henry immediately reacted. The boy went to her and gave Vanessa a big hug right before the couple exchanged rings.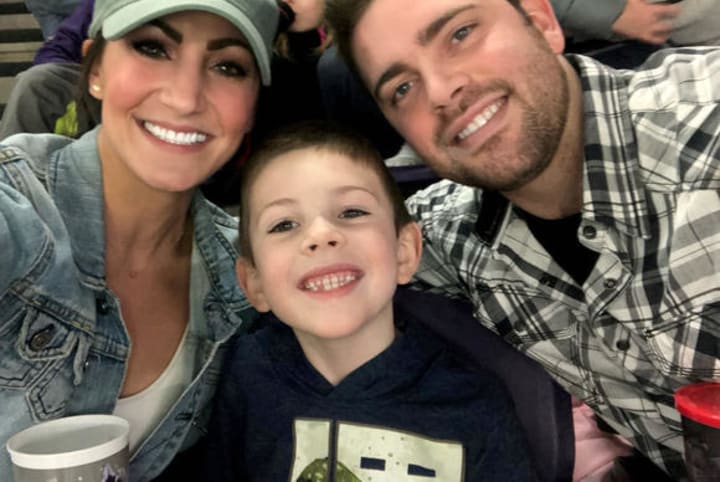 "I wanted Henry to know I wasn't just going to be a woman his dad was married to," Vanessa recalls.
She did admit that she felt nervous about the unique vows in the beginning because she wasn't sure how the little boy would react to her words.
"I did not want to put him on the spot because he's shy and gets nervous in front of people. But it felt right, so when I was done with Craig's vows, then I motioned for him to scoot over so I could spot Henry," Vanessa explained.
It mattered a lot to her to just show him that she meant to have a close relationship with him and that the celebration wasn't only about her and his dad. It was Henry's day too.
"I wanted Craig to know my relationship with Henry meant so much to me," Vanessa shared about the moment when she realized she couldn't let this day pass without dedicating heartfelt words to Henry.
The bride remembers seeing happy tears rolling down as she looked toward Henry. Both her husband-to-be and his son were very touched by her words.
"I'm glad I did it because Henry told me that it meant a lot to him, and he feels closer to me than before," Vanessa said.
Vanessa, who works as a nurse, first met Craig, who is an underwriter, when they were both studying at Augsburg College. At the time, she was dating his roommate. Once things changed and they got closer, she was also introduced to Henry. This happened a few months into their relationship.
"I wanted to wait for Henry to feel comfortable. I planned our first time together with us three going to see Monster Trucks; we all had a blast," Vanessa said.
They were engaged for two years and then started planning their wedding. As she was thinking about her vows to Craig, Vanessa got the idea to include Henry in the celebration. She wanted him to feel included in the ceremony since he plays a major part in both of their lives.
As she revealed, it was easier to write the words than to say them with emotions piling up and so much love around her.
The bride kept the part of the vows dedicated to Henry a surprise. The little boy and his dad had no idea about what she intended, but all the bridesmaids were in on the plan, and they helped her practice before the special day.
"I couldn't see the guests' reactions because I was so focused on Henry and on getting the words out. But I could hear many people sniffling around me while I said them!"
The bride said that this idea came to her precisely because of the way her life had been while growing up.
"I come from a blended family, so deciding to say vows to Henry stemmed from my experience as a child and how stepparents should treat stepchildren as though they were their own kids," she said.
The happy bride decided to change the tradition of walking down the aisle too, and she was accompanied by both her stepdad and her dad.
"Being a family comes from the love you hold for a person and what you commit to one another," she concluded about the wonderful bond that only care and dedication could form to keep families closer no matter the hardships coming their way.
© 2022 Amy Christie
Photo credit: swns/ Instagram
Originally published on NewsBreak