Book Review: "Playing Nice" by J.P Delaney
5/5 - a psychodrama like no other...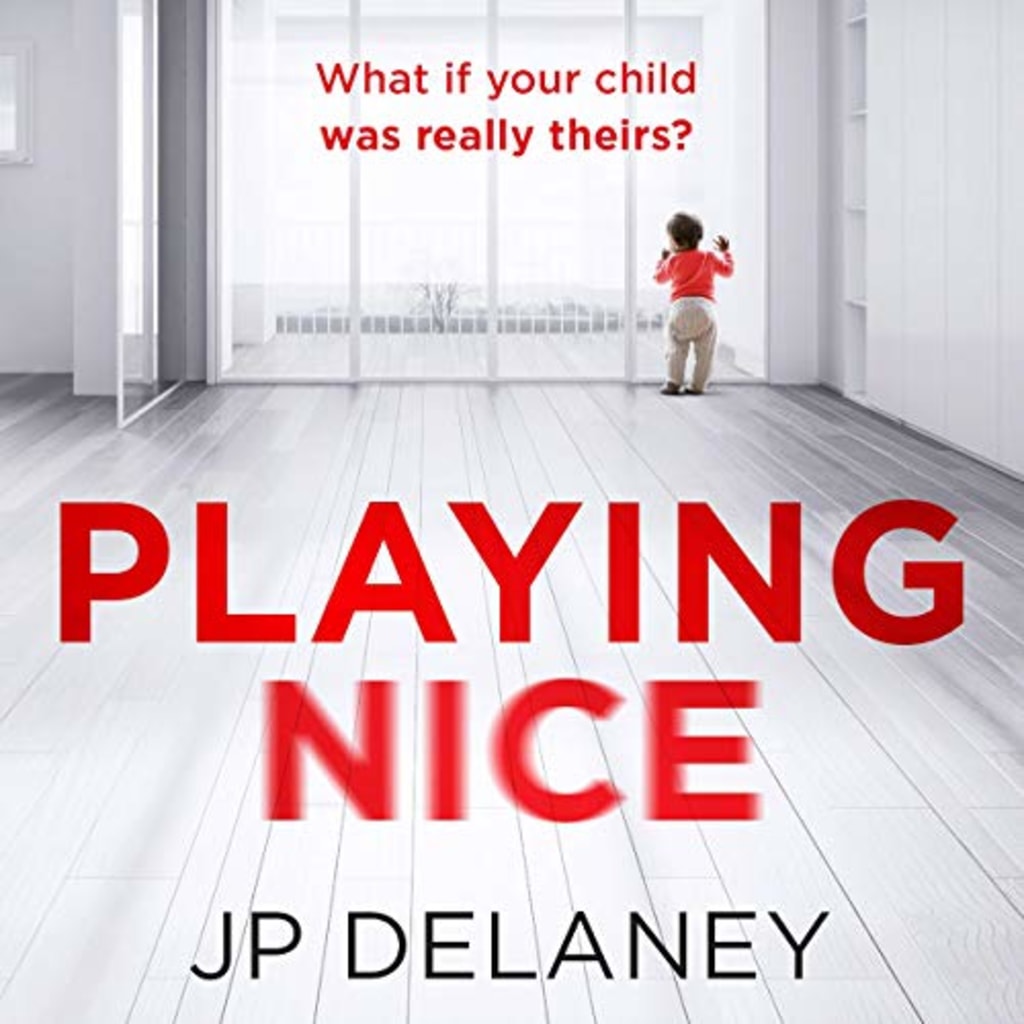 I stayed up a long time to read this book and honestly, I was glad I did. When it comes to thrillers, if you keep choosing similar ones, eventually you will get bored of them. But, with thrillers like these, you will not be able to find a way that they are similar to another thriller you have read before. It is a brilliant addition to the modern world of crime, mystery and thriller. The structure is again one of those very tense narratives that goes back and forth between people and, in the midst of these back and forth narratives, we get court documents. We get phone conversations, interview transcripts, we get vital pieces of the court's exhibition of evidence that eventually we have to consider ideas that, at first, would not have been entirely present.
This book is about a couple called Maddie and Pete. They have a two-year-old child called Theo. One day, whilst Pete is at home looking after Theo, a man called Miles arrives to his home and tells him that he has spent a long time searching this down: their children were switched at birth and Theo belongs to Miles and Lucy, and Miles' child, David, belongs to Pete and Maddie. Realising that this is true, Pete and Maddie try to involve Miles and Lucy in the life of Theo as much as possible and vice versa. But, when rejecting a holiday to Cornwall at Easter, things take a sinister turn as court days approach and conclusions are drawn. Things are not always what they seem and there are five possibilities as to what happened that fateful day when Theo and David were switched at birth. The book concentrates on multiple scenarios, strange deaths, weird and uncomfortable situations and finally, the argument of nature vs. nurture. Is a child that is not yours ever really yours even if you raised them?
This book really hit me where it hurt - it was very uncomfortable as I feel a lot for children who are put in difficult situations that they do not understand. You just want to get in there, pull them out and hug them, telling them everything will be okay and they will be happy from now on. But in a book, you can't do that. It is horrid what these children are put through and it makes you wonder about the characters themselves and their motivations - and I mean all of them.
The most uncomfortable part of the book was when Lucy and Miles turn to up Maddie and Pete's house at Easter after Maddie stated that they would not be joining Miles and Lucy in Cornwall. Miles starts to make a bit of a scene, asking where Maddie's brother from Australia is - since this is the excuse she used for not going to Cornwall. Maddie states clearly that it was a lie and her brother was never coming over. Instead, Maddie invited friends as her guests that Easter and her guests have concluded that they do not like Miles at all. Miles has this weird thing about the calm in which he talks which makes everything a bit chilly. It scares you. But the way in which Pete is taken into the station afterwards will scare you too. It's an argument you are going to have to face up to - who is more in the wrong? Who's fault is this? What happens now?
In conclusion, this book is filled with ulterior motives, strange happenings, weird conclusions and a hypothesis that, at first, makes no sense. As you continue through the book, things start to unfold but, I would not be guessing an ending too soon because if you do - you will probably be wrong. There really was a reason that Maddie felt nothing for her child when she brought him home.

Annie Kapur
Film and Writing (M.A)
British Born Punjabi Girl.
Focus in Film: Adaptation from Literature, Horror Filmmaking Styles and Auter Cinema
Author of: "The Filmmaker's Guide" series
Twitter: @AnnieApprox
IG: @AnnieApproximately
See all posts by Annie Kapur →
Staying at home each & every day to be there with your children as they learn and grow sounds absolutely amazing in hindsight, right? Absolutely! Who wouldn't think that it's just living the dream?! But what the world fails to disclose is the truth behind being a stay at home mom..

11/18/2020 So, grandma (81 this year) has been up my ass about keeping a journal of everything that is going on right now so here goes. Amelia is 9 and in 4th grade, Raynen is 5 and is in kindergarten and Rj is 3 and is home with me. We live in fort lee right now and my husband, Bobby (30 this year) has just had his 3rd spine surgery and now awaiting the promotion board (he is in the army) and finding out when we will be moving. I am 26 credits away from my BA in history. The coronavirus pandemic has been a pain in the ass and the 2020 presidential election was a complete dumpster fire. Yay 2020 and the best part was carol baskin and the memes from that world.

It was early October, and it was finally time for my long-awaited moose hunt. I had waited ever since I was a little girl for this opportunity, and it was finally here. So, my father, the one that looks after me, and I packed up our stuff and left our city in Alaska. We were heading to a place called Bethel, AK. After a six-hour long drive, we made it to our hunting unit. It did not feel like home to us but it was warm and cozy, like my bed at home.

As your parents age, you're probably spending more and more time caring for them. Even if they're still in good health, you may need to help them live a healthy lifestyle. Your parents may need help with everything from their health insurance to their diet. To avoid caregiver stress, taking care of yourself is also essential.

Staying home, reducing stress, and taking care of ourselves, both mind and body are more important than ever. That's why from beauty and personal care to everyday essentials and home cleaning – we've got you covered. "Avon"

Growing up, I loved the Wizard of Oz. There was something magical and timeless about the Yellow Brick Road and the passion of Dorothy to find her way home, Scarecrow to find his brain, Tin Man to find his heart, and the Lion to find his courage. All to find out that the man behind the curtain was just a man, whose hope and wisdom fulfilled all desires by encouraging everyone by exploring their own virtues.