Blank White Screen
A short on writing, nothing.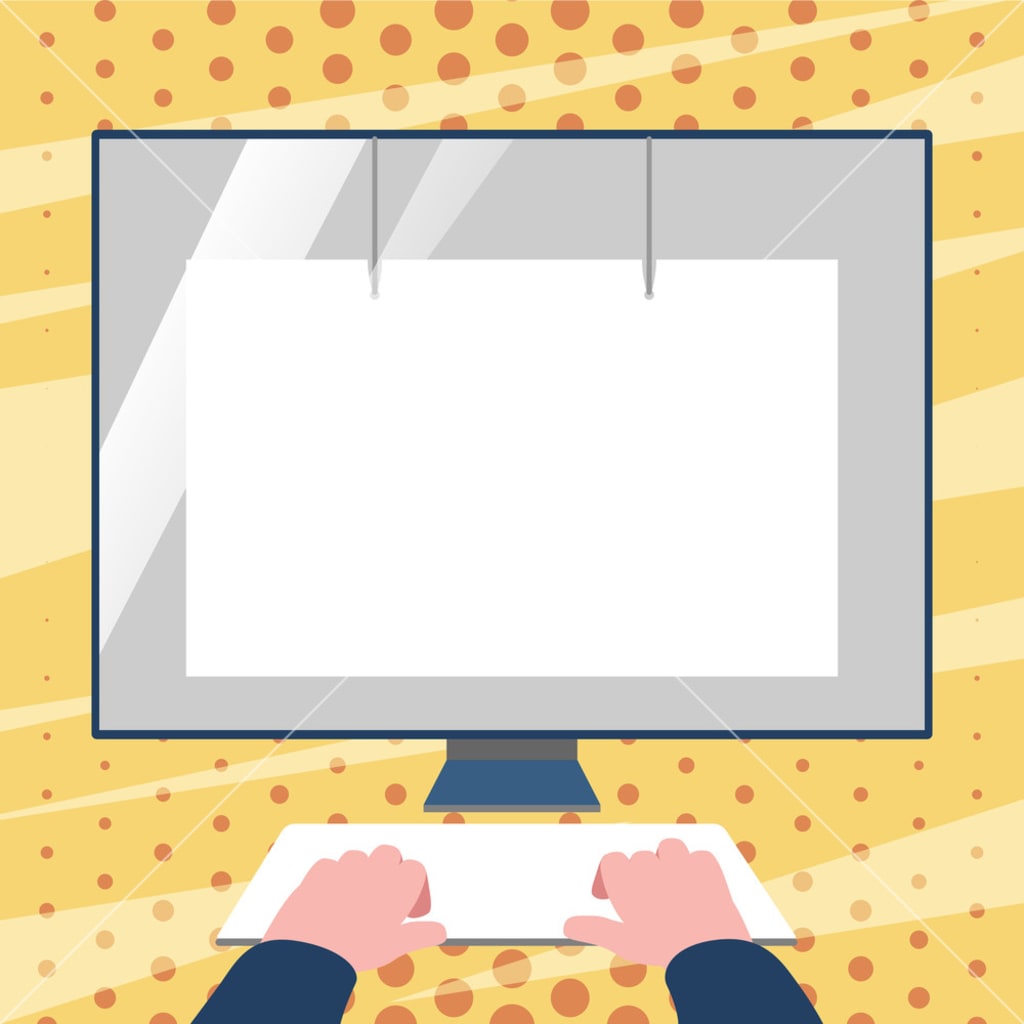 ready position
She sat at her keyboard… nothing. A blank white screen staring back at her… nothing. Break of dawn, her whole world (kids, spouse, cats), still asleep, perfect time to write… nothing.
Up to make some coffee, let's see sugar, three table spoons, milk, just a quick pour, first sip, ah coffee. Silence in her kitchen with its cold tile floors and barely-illuminated surfaces, from a string of rope lights in the adjoining dining room.
Back at the desk. A blank white screen staring back at her… nothing. Looking around for inspiration from the desk. Let's see stack of books, The Art of War by Sun Tzu, nothing… You Get So Alone at Times That it Just Makes Sense by Charles Bukowski, fantastic read and a brilliant mind but, ... NOTHING. Meditations by Marcus Aurelius, genius philosopher… nothing, Liber Null & Liber Chaos by Peter Carroll. Mind expansion and Knowledge, omg… F#*@ing… nothing.
She checks bank info and pays some bills… nothing.
One of the house's now seven cats jumps in her lap, she obliges with some kitty/human love, she talks to him like he was one the children, but he is a middle-aged fellow all gold and white with stripes in his spots. He meows softly and looks at her with intelligent eyes. As if to say, "lady I can't tell you what to write, how about some breakfast in our dishes?"
She obliges yet again to this wise old critter, and goes to feed her ever-growing brood of cats. A funny aside she laughs at the reality of her world that started with just this guy when he was a kitten. He wandered into the house, and never went back out. It's like he just decided that this was his home, and they were his people. The rest of them came to them from different circumstances. Some left the area, and some lived the last of their nine lives with them.
There's a hint of a story, our family of cats. She sits down, a blank white screen staring back at her… . Nothing. Who the hell wants to read about some crazy lady's cats?… Nothing…
She, completely frustrated, leaves her blank white screen and finds a hot shower and twenty minutes of steam to help fuel any thought to put on paper. Maybe a well written thought on water shortages as the shampoo runs down the back, or an exposé on cotton as she towels her hair dry. Wait, WHAT??? Cotton? Water? Compete rubbish… Nothing
She leaves her bathroom into the bedroom. Spouse still asleep. Not for long. (Now, there's a series of dirty, made up stories in her head all the time about that subject, but she may never have the testicular fortitude to write them out. To finish the current story called "The Attack on the Sleeping spouse," let's just say while the personal fulfillment of enjoying one's partner is ultimately satisfying, the story of sex in an eighteen-year long relationship, does not bode well for print).
She Dresses, sits back down at the desk, looks at the blank white screen…nothing.
Children start to emerge from their slumber, wandering around, looking for breakfast and cartoons. She and her smiling ear to ear spouse accommodate them with sustenance and animation. She fills her belly, and thinks of food writing, or reviews of restaurants… NO, NO, NO… She is reminded of the reality of all the other douchebags in the world, taking pics of their food, and posting their shitty, pretentious, meaningless, words… NO, NO, NO… god damn it… NOTHING.
She sits back at her desk, staring at the blank white screen… nothing. She makes a grocery list… nothing.
What to write, what to write, what to write.
Nothing.
She sits on the couch and steals the remote from a child who is more into her device than the TV. Game of Thrones. Having seen every episode a million times, it's just there for-background noise. She stares at the television screen. Ooh maybe a themed story about some ancient time period or science fiction marvel about space exploration. Shit. No, she will not rip off George RR Martin or Gene Roddenberry… Nothing…
She sits at the desk, a big white corner desk from IKEA, and a big oversized white HP computer, perfect for anything from school projects, to holy hell, writing. She stares at the blank white screen… nothing.
"Babe, Babe," her spouse reminds her of the chores they have together today, "lets get this stuff done then you can come back and write." She sets off and accompanies him out the door.
Grocery shopping, maybe a story on the weird lady using $5,000 of coupons to extort the WalMart, maybe a steamy, "clean up on aisle seven" story. No can't get those words together… Nothing
She helps her mate put away groceries, plays mad libs with the kids, and watches one of them laugh so hard she almost pees herself. What to write, what to write, what to write. Nothing
She plays outside with the kids, corn hole, and badminton. So hot. Hmmm Maybe a shared story on Florida weather, maybe a world piece on global warming, no, no, no, strays into politics, and is her absolute least favorite subject. Also depressing… NOTHING
She sits in front of her blank white screen… nothing. She peruses her books. Anne Rice, her favorite author, she's read most of her stuff. Hmmm maybe a Nosferatu story. Hmmm She knows a lot about vampires. Starts to write the most cliché fang story, and immediately hits delete. Not feeling it… nothing. Lunch, more kids/spouse stuff. Nothing.
She makes dinner with her partner; pulled pork sandwiches and coleslaw. Yum. Bath time for the young ones… maybe a story on raising children, maybe a piece on kids and technology AKA their phones and overuse of them. No too controversial, and not wanting to become one of those moms that complains about other moms when no one really knows what they are doing, and playing it all by ear.
She sits in front of her blank white screen, nothing
Bedtime, stories, last drinks of water. Last hugs and kisses. Good night. "honey, you can try again tomorrow," her spouse calls to her, "come to bed."
"Be right there," she says, sitting down at her blank… wait...
She stares at her story that fills her no longer blank white screen…
A day of her life… SOMETHING...