Baby No. 13 & His Nurse
A Mysterious Beginning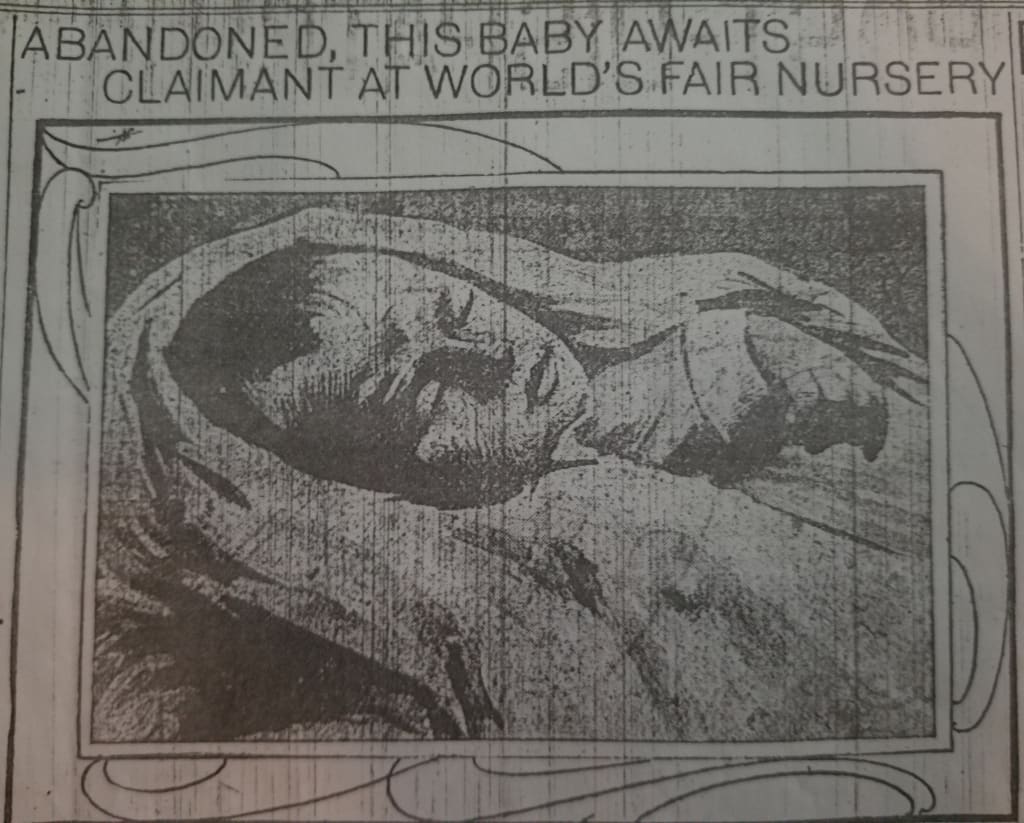 It was a seasonably cool Thursday in Saint Louis, Missouri. The date was October 6, 1904 and the St. Louis World's Fair is in full swing. Patrons had come from all over to enjoy such novelties as cotton candy, iced tea, peanut butter, and hot dogs. They could promenade down the pike to observe all sorts of new inventions never before fathomed.
One addition to this World's Fair that would set it apart from past fairs was the Model Playground. In a time when parents gave little thought to the entertainment of their children a playground was still an experimental concept. This concept of a playground to exercise and stimulate children of all ages was originated and managed by Mrs. Ruth Ann Hirschfield. She had also devised a way to keep track of the children brought into her playground and to help reunite children that got separated from their parents while on fairgrounds. A simple system of a numbered bracelet on the child and a matching ticket given to the parent. This ticket would be presented to the nurse on duty when retrieving ones child.
Ruth was the nurse in charge of not only the playground but the nursery and kitchen for the children of fairgoers as well. With all of these tasks demanding her attention, it just so happened that Ruth would be the one to accept a baby boy into the nursery around 1 o'clock from a woman that she would later describe as stylishly attired. The baby boy looked to be around six weeks old with blonde hair and big blue eyes. Ruth placed the bracelet on the baby boy's tiny arm and gave the matching ticket to the woman, who had given her name as Miss W. Tyer residing at 4932 Fountain Ave. there in St. Louis. Ruth informed Miss Tyer that pickup was at 6 o'clock as the fair closed at dusk. She then placed baby number 13 in a bassinet to be cared for by the nursery staff as she continued on with her many duties.
Later, as Ruth was making her rounds to insure all of the toys and play equipment had been put away for the evening and the kitchen properly closed down, she was approached by a distraught young nurse who informed her that one of the babies had not yet been claimed. It was well past 6 o'clock and the streets of the fair had long since emptied of patrons. Ruth followed the young nurse back to the nursery and found that indeed baby number 13 still lay sleeping in his bassinet. The Jefferson Guards were called on as they handled all instances of lost children brought to the playground. Ruth gave her description of the woman that had checked the baby boy into the nursery as well as the address she had been given. She recalled the woman had been stylishly attired, brunette, and dressed in black. The guards would go to the address and retrieve Miss Tyer. Ruth dismissed the nurse and there she sat just her and baby number 13 waiting for the guard to return. Many thoughts must have gone through Ruth's mind at this time: how does one forget to retrieve their child, was the woman injured and unable to retrieve him, what will we do if she isn't found? The guards returned some time later and informed Ruth that they had gone to the given address and that no one in the residence had ever heard of Miss W. Tyer and she most certainly did not live there.
Left with few options and not willing to have the boy abandoned for a second time, Ruth brought the baby home.
The following Sunday, October 9, an article would run on the front page of the St Louis Post Dispatch describing the abandonment of the child but more importantly it stated that as they had grown fond of him and had no children of their own, Mrs. Ruth Ann Hirschfield and her husband would adopt baby number 13. They named him Robert.
And so this is where the story of my great grandfather begins. The whereabouts of Miss W Tyer were never discovered and no further information was ever learned. Ruth went on to receive an international gold medal for her exposition at the fair and another for her later expo at the Pan American Expo at Buffalo. She made child welfare her life's work.
My family still searches for answers more than a hundred years later.
If you liked this story, please leave a gift to help with the search.