A Welcome Haunting
What If It Isn't Too Late?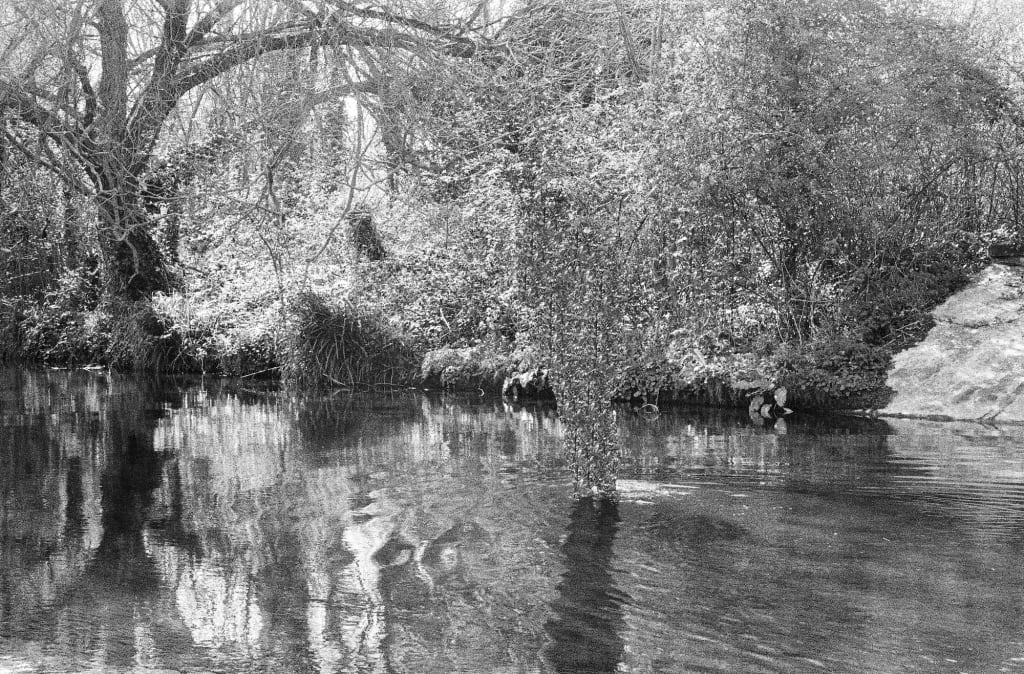 Photograph by Dorianne Woolfe
'My Dad said that if he could, he'd come back to me after he died, and he never has.'
This was the reason I gave when my six-year-old daughter Olivia asked me why I didn't believe in ghosts, while I was tucking her into bed at our holiday cabin in the woods. Her scrunched-up worried face relaxed a little as she thought through my logic. I stroked her fluffy blonde hair to soothe her - she was always scared to sleep at first when we took a trip up here, but once we'd got through the first night she'd be fine. She closed her eyes and her body softened as the fear of forest ghouls drifted away and sleep started to settle on her. She took me a little by surprise when she asked, eyes still closed:
'Do you miss your Dad?'
She had never asked me about him before, and we hadn't had any real conversation about death beyond me and my husband Ethan giving her a vague, cop-out idea of where her hamster Fudge had gone the summer before.
'Yes.' I answered, unsure if she wanted any more information, and not knowing what I'd give if she asked.
'Was he a good Dad?'
I paused. After a brief hesitation I decided she was too young and too sleepy for the complicated answer, so I gave her the simple one:
'Yes.'
Satisfied, she rolled over.
'Night Mom.'
'Night sweet pea.'
I closed the door behind me and tip-toed down the tiny hall to the cosy living room where Ethan was stoking the fire. He handed me a glass of wine and I told him about the conversation.
'I hope she says 'yes' and means it if anyone asks her that question about me!' He responded.
The next day when the three of us were out in the crisp autumnal air collecting firewood, Olivia running ahead and then bounding back to us with offerings of twigs like a giggling yoyo, a strange feeling came over me, like I was being watched. Ethan noticed I kept looking over my shoulder.
'Is something wrong honey?'
'No. I don't know. I have this really weird sensation, like somebody's watching me.'
He looked at me with concern but turned his attention quickly to our daughter as she appeared at that moment from behind a bush, excitedly dragging a big log towards us.
'Oh wow! What a find!'
I watched him hurry over to help her, encouraging, joking and laughing.
* * *
'Vanilla, right?'
My Dad teased me with his familiar joke.
'Bubblegum!' I protested, smiling while rolling my eyes, happily fulfilling my part of our script.
'Oh yes that's right. Two scoops of bubblegum please.'
His warm, solid deep voice resonated through me like a protecting balm as I stood next to him at the ice cream parlour counter, only coming up to his waist, feeling like I was in the shade of a huge tree. He handed me my cone with a wink and we sat in our special booth by the window, where we liked to people-watch the passers by.
'Tasty?'
I grinned and nodded, sky-coloured slush dripping around my mouth. He beamed at me, neatly licking his strawberry cone.
'And where were we when Mom asks?'
'The library.'
'The library, that's right.'
Bright blue stains on my white frilly collar gave the game away when my Mom was sorting through the laundry the following day, and I listened at the slightly open gap of my bedroom door as she whisper-shouted at him. I caught snippets about 'healthy eating', 'keeping secrets', and 'my daughter too'. It wasn't the first time. If it wasn't our secret trips to the ice cream parlour it was Dad letting me stay up too late to watch movies, or bringing me new and exciting toys that we 'can't afford' back from every business trip.
I truly adored him, and always defended him in his absence against my mother who was constantly complaining about his behaviour. That was, until I realised in my early twenties with what felt like a punch to my stomach while I was sitting in my therapist's office, that it was easy for him to do no wrong in my eyes when he was so rarely around. The toys, ice creams, and other treats served as distractions from his long periods of absence when I was a little kid, like magic charms that made me forget how long he'd been gone each time. But now I was an adult, and the charms didn't work any more.
I didn't talk to him for the last two years of his life. I needed to process my new perspective without him, but I also wanted to punish him, make him feel what it felt like to be abandoned. I didn't know he was dying. He respected my wishes and didn't reach out to tell me. The last thing I said to him was 'Don't call me. I'll call you when I'm ready.' But by the time I was ready to talk it was too late.
* * *
The feeling of being watched stayed with me for the rest of our stay, but I tried to push it aside, not wanting to worry my family. Against my will it kept bubbling up to the surface - when I jumped in fright as Ethan started talking to me when my back was turned, not realising he'd come into the kitchen; or when I snapped at him for mentioning I'd left Olivia's shoes on the porch overnight.
'Hey, what's going on with you?'
'Oh, I'm sorry, darling.' I cringed at my own out-of-character behaviour. 'It's just...I don't know, it's hard to explain. It's silly.'
'I'm listening.' he put the shoes down on the floor and sat on the sofa, patting the space next to him. I joined him and tried my best to get the uneasy feeling off my chest.
'It's just, I feel this presence, like there's someone lurking in the shadows, but then every time I check there isn't anyone there, of course. I know it's all in my head. And at the same time, since Livvie asked about my Dad, I can't stop thinking about him. I keep having these conversations with him in my head but I just go round and round and it can never end because he can't hear me, he won't ever hear me.'
He thought about it for a moment.
'Why don't you try to write it down? Write a letter to him as if he could read it.'
I nodded slightly, not totally convinced.
'And I'll take a look around the area just to put your mind at ease about the boogeyman!'
I laughed and relaxed.
'But for now - lunch! Where's my little munchkin? She said she'd help me make sandwiches!' He raised his voice so Olivia could hear, and she came running.
Their gentle conversation from the kitchen was comforting but a bit distracting as I sat on our bed, awkwardly using a hard-back picture book for recognising birds, that I don't think I'd ever opened, to lean on as I attempted to write a letter to my Dad.
I couldn't do it. I couldn't get the tone right in my mind, or even work out what I wanted to say exactly. As soon as I'd articulated my anger, I felt guilty. Then once I started to write how sorry I was, I felt like I was denying the hurt I'd felt as a child when he was absent, like I was betraying myself and the boundaries I'd put in place for my own emotional health as a young adult. I felt too much and could say too little.
After lunch Ethan built a fire outside for me to burn the letter - the fireplace in the cabin wasn't ceremonial enough, he said. His idea was that I could throw it into the fire, that the smoke would carry the message to wherever my Dad was. He'd made so much effort I didn't want to let him down so I went outside with my folded up bit of paper, with its scribbled sentences that stopped and started and were all crossed out, and stood by him.
'Are you ready?' he asked.
'Yeah' I said. Hoping the mess on the paper could contain my feelings even if they weren't written out properly, I threw it in. He put his arm around me in a warm hug and I tried to let go of the tension from the week as we watched the smoke curl up to the sky.
That night, our last night at the cabin, I couldn't sleep. I tossed and turned, my mind and body as restless as each other. I stayed still long enough for Ethan to fall asleep, then I crept out of bed, pulled on my coat and boots, and went for a walk. It was very dark but I had my flashlight, and I knew the woods well. I walked slowly at first, but as I felt my emotions swell up in me, I started speeding up. Growing anger, guilt, and pain pushed me into a brisk walk, then a jog, then a sprint, as if I could outrun it all.
I felt the soil thud under my feet as I picked up my pace, trees whipping past in a blur, the cold of my cheeks matched by the heat quickly building inside my coat, twigs scratching my face, my breathing getting thinner and more rapid, and the beam from my flashlight bouncing around more and more erratically - I kept going faster and faster, until I saw suddenly in front of me - caught in the bright circle of my flashlight - perched on a tree stump a few feet away - a barn owl. I gasped and skidded to halt.
I froze in a moment of shock, then freaked out and tried to shoo it away, as if it was to blame for all the hurt I was trying to get away from. But it stayed stone still, unflinching, its eyes boring deep into me.
Finally, I gave in, and let out an exhausted cry, collapsing onto the mossy ground, my vision of the owl blurring and sharpening as tears welled up in my eyes and then came spilling out. The owl stayed with me, its gaze steady but now softened, still looking at me, holding me in its company as I wept. It took a few minutes but my sobs passed. I breathed the biggest sigh I can remember since I was a child, that deep kind of breath you take after a crying fit when you've grazed your knee, and your parent is holding you in their arms, telling you it's ok.
I looked into the owl's eyes, knowing exactly who it was and why it was there, and said out loud:
'I know you did your best.'
I felt peace for the first time in nearly twenty years. I could swear the owl nodded at me, before it flew away.
grief
Collector of plants, nature lover, photography enthusiast. Writing about grief, loss, love, and longing.