A Visit from my Dad
Dreams, Dementia, and Death.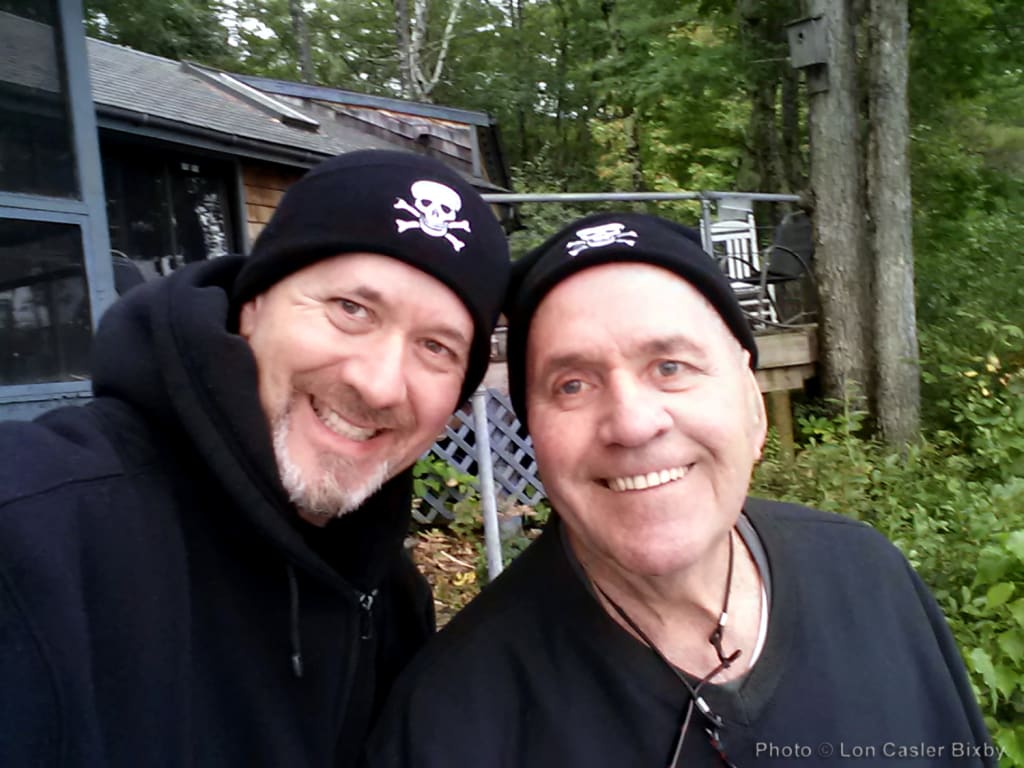 Photo by Lon Casler Bixby
My dad came to visit me last night. But it's probably not what you think.
I live in Burbank, California – almost thirty years now. My dad lives 3000 miles away in East Greenwich, Rhode Island. He's been there for almost all of his eighty-eight years. He's a great guy. Loving. Caring. Good sense of humor, and always leaves people with a smile. But he's also the kind of dad that will seldom call, much less come for a visit.
So, I was quite surprised last night when he did.
It was a normal night. In bed by ten. Read for almost an hour. Then lights out, turned on my side with a pillow between my knees, and fell asleep – soundly.
Long after midnight and deep into REM sleep I felt someone sit on the edge of my bed, a hand resting on my shoulder. My heavy eyes squinted open to find my dad calmly sitting by my side.
"Dad? W-what's going on?"
A tender smile crossed his face and he spoke softly. "I just wanted to let you know that I'm okay."
I tried to force my consciousness back to the present as the fog of sleep clouded my thoughts. Is this real? Am I awake? Is he here? What's he talking about?
Sensing my confusion he patted my shoulder and said, "Don't worry. Everything's fine."
"Dad… I…"
He looked at me with his loving eyes and assured me, "I love you. Don't worry. Everything's going to be alright." He squeezed my shoulder, and then he was gone.
He didn't fade away. He didn't just pop out of existence. He was just no longer there. I drifted back to sleep, still feeling his comforting hand on my shoulder.
I woke with the sun peeking through the blinds, and Silver, my Silver Lab, licking my hand, telling me it's time for her morning walk.
Wiping the sleep from my eyes, I crawled out of bed, got dressed, and took Silver out. While we were walking my dad started coming to the forefront of my mind, and I remembered him visiting me in the night.
Was it just a dream? A premonition? Was he really there? Was he reaching out to me? Is he okay? Was he saying goodbye? Did he pass away during the night?
Questions flooded my brain so I cut the walk short and hurried home to call.
***
My dad has dementia. For years it has slowly eroded his brain, taking him away from me, my sisters, family, and sadly, it has taken him away from himself. He's not the man that he used to be. He was always quick-witted and active. Played sports his whole life. Was a physical education teacher. Coached swimming, basketball, football, and loved playing golf. It wouldn't be unusual to find him on the course five or more times a week – rain or shine.
Dementia is a cruel disease. It starts off slowly – forgetting simple things, repeating yourself. But as time goes on the mental decline accelerates. Confusion. Disorientation. Personality changes. Paranoia. Inability to take care of one's self.
My dad suffered through all of it and it finally came to a point where he could no longer take care of himself. A little over a year ago, he and his wife (my step-mother), of more than 50 years, made the decision to move into a long-term care facility, a nursing home.
They both adapted, seemed to be happy, and were doing well. But after a few months of living there my step-mother quietly passed away in her sleep. My dad accepted it, though it took its toll on him. The symptoms of dementia increased.
A few months ago he had a massive stroke.
The doctors didn't think he would survive, and if he did then he'd probably never be able to walk or talk again.
My dad's a strong-willed guy. He did survive and within a couple of weeks he was back on his feet and in speech therapy trying to learn to speak again. Unfortunately, the stroke left him with severe brain damage and there's only so much that could be done. As days passed, the hope of recovery faded and my dad's health went quickly downhill.
Some days he seems strong, yet most days he's frail, refuses to eat or drink, and I'm never sure if the dreaded, but expected, call from the nursing home will wake me in the middle of the night.
I pray that call never comes, although I know it will.
In the meantime I call my dad two or three times a week. It's hard. He perks up when he hears my voice, but the conversations are heart-breaking. There are a few wonderful moments of clarity, however, those moments are now few and far between since most of his words are usually jumbled and make no sense.
There are brief times during our talks when he has enough cognitive reasoning to realize that he cannot communicate what he wants to say. He tries, but the words just don't come, and it frustrates him – bringing our conversations to an end.
I really miss my dad.
***
I got home from walking Silver, grabbed my phone, and dialed the number – direct to his room in the nursing home.
It rang a few times before someone picked it up. I heard commotion in the background, people talking – muffled. Whoever had answered then hung up without saying a word. Something was happening.
I waited a minute and called back. Someone answered, then immediately hung up.
Another minute. I called again. It just rang.
I hung up and punched in the number to the nurse's station. After a dozen rings somebody answered and before I could utter a word they said they were really busy and for me to please call back. The line went dead.
Panic set in. I couldn't wait. I called my dad's direct line again.
It rang once. My dad answered, "Hello."
"Dad!" I was overwhelmed. Tears filled my eyes and ran down my cheeks.
He was happy to hear from me and asked how I was doing, and that was all the clarity there was before his words became unintelligible. Holding my emotions in check, I continued talking like it was a normal conversation. I said that I was doing well, talked about the weather, some current events, asked how he was, and when I felt his frustration begin to build, I knew it was time to end the call. I told him that it was great talking with him, that I love him, and that I'll call again soon.
Before he hung up my dad had another moment of clarity and replied, "I love you. Don't worry. Everything's going to be alright."
-----------------------------------------------------------------------------------------
If you've liked what you've read, please check out my other stories on Vocal - https://vocal.media/authors/lon-casler-bixby
If you've really, really liked what you've read, a small tip would be greatly appreciated.
Thank you!
About the Creator
Lon Casler Bixby is a published author: Fiction, Poetry, Humor, & Comic Books. He's also an award-winning photographer whose work has been featured in magazines, art & coffee table books, & in Art Galleries throughout the world.
Reader insights
Be the first to share your insights about this piece.
Add your insights