A Quilt of Memories
Sewing a Seam of Happiness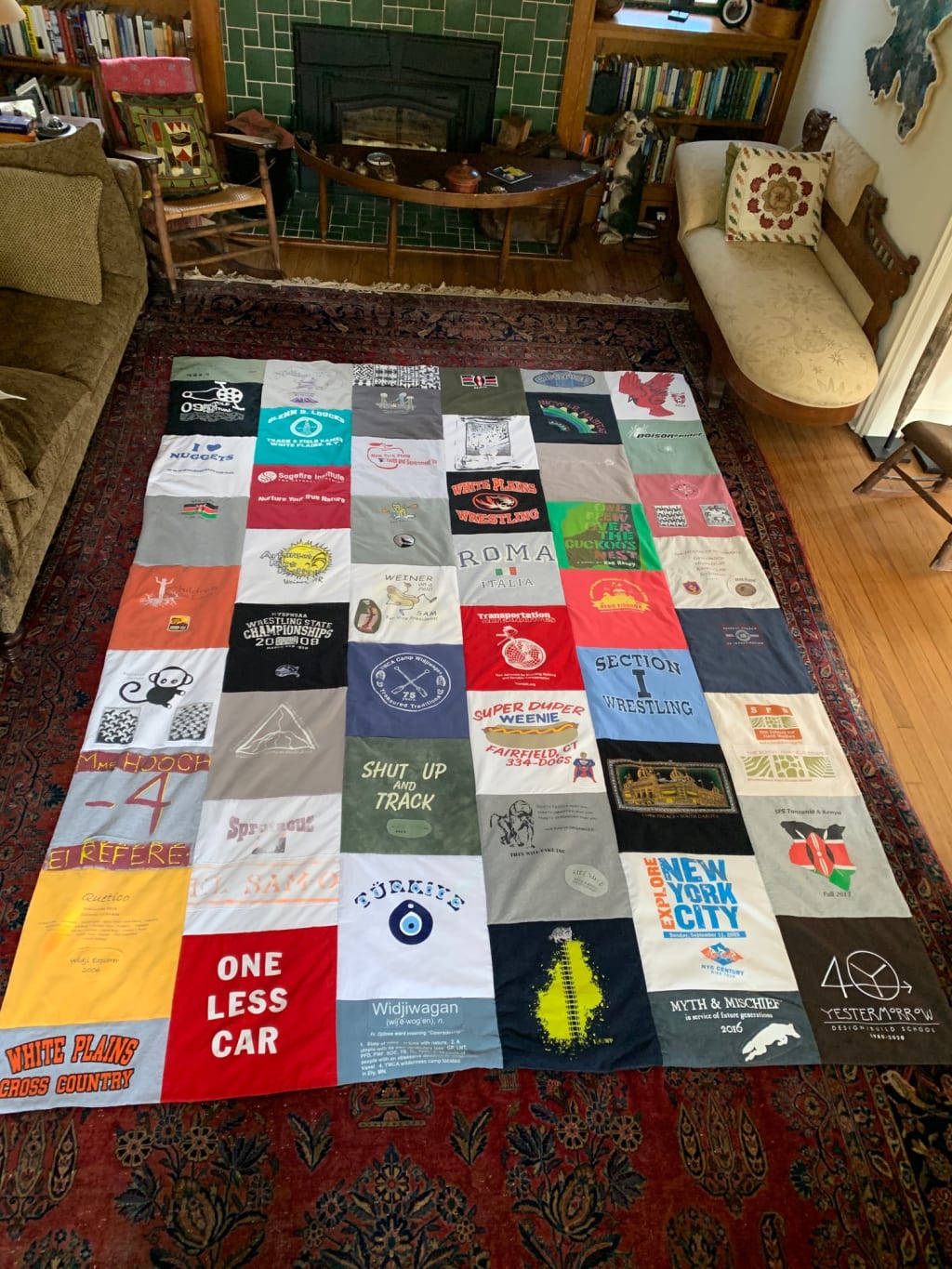 "Mom? Dad?" Sam and Kate's faces look serious as my husband, Ken, and I peer at them over Zoom. "You know how much we love you, but we just don't think it's safe to travel. We think you should cancel your trip."
The four of us tear up. We know the kids are right. It's December of 2020 and the whole country is being slammed by the second—or is it the third?—wave of Covid.
"There's gonna be a vaccine soon," Kate says. "Let's plan to get together after we've all gotten our shots." Sam nods. "We miss you sooooo much. But we can't risk your health." When did our grown children become so…grown up?
After canceling our plane and hotel tickets and a suitable period of mourning, it's time to do the one thing that has always brought me joy. I take out my Mom's 1959 cast iron Singer sewing machine and heft its thirty pounds onto the dining room table. This black and gold beauty and I have a long history. I used it to sew my first jumper for Home Ec back in 1973, grinning Siamese cats dancing across the corduroy fabric. A straw-colored Irish linen blazer and flared skirt when I was a thrifty editorial assistant. Curtains made from Florentine lace purchased on our honeymoon for our new home. A quilt speckled with glowing moons and stars for baby Sam; one with fairy tale princesses and castles for his sister Kate. The steady, reliable purr of that indestructible machine is the soundtrack for my most cherished creations.
And now it's going to connect me to my son from 2500 miles away.
Multiple trips up to the attic and soon I've emptied the contents of four enormous plastic tubs onto the living room floor: an antic rainbow of cotton t-shirts representing the three decades of Sam's life. It'll be a simple t-shirt quilt, I figure, maybe four shirts across, six down, 24 in total. As the sorting begins, I keep calling Ken in: "Remember this one? And what about this?" Soon we're laughing and reminiscing as I sort more t-shirts into the "must use" pile. When's the last time we felt so light-hearted?
At a time when Covid has made the whole world dramatically smaller, trapping us in our homes, I want to remind Sam of all the globetrotting our family has done. We started taking the kids all over the world when they were still in single digits: London. Paris. Rome, Venice. Istanbul. Athens. Santorini. In each place, the kids were required to learn how to say "Hello," "Thank you," "Where is the bathroom?" and "May I please have some ice cream?" Into the "must use" pile go shirts from Rome (Ciao, Grazie, Dove é il bagno, Un po di gelato per favore) and Turkey (Merhaba, Tesekkür ederim, Banyo nerede, biraz dondurma lütfen).
Sam's been a nature boy ever since his fifth-grade teacher, Michael Trotta, taught the students patience by teaching them how to make fire using a bow drill. Michael's lessons lit a fire in Sam that burns to this day; he's been studying survival skills, animal tracking for twenty years. Into the must-use pile go shirts from his Children of the Earth kids' camp, Camp Widjiwagan for canoeing and for Sagefire Institute and the Myth & Mischief schools Michael runs to this day.
Harry Potter is definitely invited to the party; he and Sam turned the magic age of 11 at the same time and it was love at first page. Our son reads his favorite series out loud with sister Kate and cousin Cam whenever they're together, whether in a tent as the rain beats down on a camping trip or on family vacations. I smile remembering the Quidditch match Sam and his high school friends played. Another two shirts for the pile.
When your last name is "Weiner," as my son's is, you're in for a lifetime of puns. The "Weiner on a Roll" shirt commemorates Sam's unsuccessful foray into politics; he lost his campaign for 8th Grade President to a savvy competitor who gave out candy. (The Youth & Government t-shirt confirms that this political animal was bowed but not broken.) The Super Duper Weenie, Weiner, Arkansas, and weenie roast t-shirts are no-brainers for the pile.
Sam shares his father's devotion to all things bicycle; thirty years apart, they will make the same cross-country ride from New York to Seattle, a photo commemorating the exact same starting spot in front of Ken's parents' home. Into the pile go shirts from Bicycle Habitat, Poison Spider Bikes, Transportation Alternatives, Sedona Bike & Bean, and the Bicycle Film Festival.
My ears shine with tears as I pull out the t-shirt from the Corn Palace in Mitchell, South Dakota. We'd gotten it on a family road trip with my Mom in 2005, driving from Minneapolis west through the Badlands, Yellowstone, Crazy Horse Memorial, Mount Rushmore (Mom compared Sam to Teddy Roosevelt for his love of nature), and more. No one knew—not even Mom—that cancer would take this beloved mother and grandmother not four months later. The Corn Palace shirt goes in the pile.
"Why do you want to buy such an expensive espresso machine?" I'd asked my husband years earlier as he set up the silver behemoth in our kitchen. "I want ours to be the home everyone comes to for coffee!" Ken explained. "I want our friends to know they can stop by anytime." Ken passed his love of coffee making and community building on to Sam, whose home today is the same all-are-welcome-anytime hub. Into the pile go shirts for Espresso Monkey coffee and Sprotacus, the mythical coffee shop we'll surely open one day.
Of course, Sam's high school years, including four years of running cross country and wrestling, must be represented. (I can still smell the funk of 800 teen boys off-gassing adrenaline and testosterone at the New York State Championships.) I'm amazed I got the stains out of the I Love Nuggets tee, which celebrates the 16-year-old rite of passage that is getting your driver's license and taking your friends out to eat at a dive dedicated all things cheese, hot dog, potato, and hot sauce.
The Wesleyan cardinal calls out Sam's love for his alma mater and his grandmother, who used to "call the cardinals" in the yard. His junior year abroad in Tanzania ignited a love for Africa, where he'd spent two years after graduation managing students in a study-abroad program in Kenya and Tanzania. "No more cute cat videos," Sam had chided me then, "They eat up the entire month's internet budget!"
I now see that the once-a-month phone calls were a preparation for life where your kids' lives take them thousands of miles away. Distance has made our family more creative in planning time together. Into the pile goes the shirt from Yestermorrow Design School, the magical place where Sam and Ken built a canoe, a pale beauty dubbed "Caspar the Friendly Boat."
Final entrants are shirts from Sam's beloved brother in law who works for the FBI; Escher, his favorite artist; or One Flew Over the Cuckoo's Nest, one of his favorite books.
All in all, 48 t-shirts make the cut. My scissors glint as shirt backs are slashed from fronts and carefully measured. The iron steams merrily as fusible interface anchors the cotton rectangles. Hours, days, weeks fly by as the rectangles are joined into columns, columns into rows. As a merry 70's playlist blares—thank you, Hall & Oates!—I slide strips beneath the sewing machine's presser foot, the needle hungrily gobbling the fabric, leaving a trail of tidy stitches in its wake. At last, I slip cotton batting between the front and a leaf-patterned backing. As a final touch, I sew on patches commemorating Alice the raccoon (an inside joke), our many cats, the wolves Sam and I adore, and Joshua Tree, one of his favorite national parks. The finished masterpiece is 72" x 90", bigger than a California King. As I lay the quilt down on the living room floor, a rush of gratitude floods me. How often do you get to lay actual hands on your memories?
"Mom, I love it so much!" Sam is thrilled when the twelve-pound creation hits his door in San Diego. He's taken it to beach volleyball, camping, and slept with it wrapped tightly around it when he's missing his family the most. He still hasn't found the "I LOVE YOU" sewn in gold thread that I hid on his quilt, a tribute to the same message I'd put on his childhood quilt, the letters worn when his tiny thumb and forefinger would rub them for comfort in the dark.
Sewing is my happiness, my comfort in the dark. And finally, the dawn has come. Post-vaccination, I fly out to see my kids after almost a year apart. Sam and I drive out to Joshua Tree National Park and spread his new quilt out among the magnificent lunar trees. Gazing up at the blanket of stars overhead, we hold hands, teary with joy that we're together at last, making new quilt of memories.
Betsy Rapoport