A Letter To A Lost Loved One.
For you, who I miss dearly.
"You will lose someone you can't live without, and your heart will be badly broken, and the bad news is that you never completely get over the loss of your beloved. But this is also the good news. They live forever your broken heart that doesn't seal back up. And you come through. It's like having a broken leg that never heals perfectly-- that still hurts when the weather gets cold, but you learn to dance with the limp"

Anne Lamott
Dear _____,
I was reluctant to write this, but a song came on the radio the other day and I caught myself thinking of you.
I often wonder about you. I wonder if the sky there is bright and blue, and you're resting in the warmth with the sunshine on your face. Perhaps on an island, somewhere. I wonder what the weather is like. I wonder if you are sitting with Nana, I miss her cooking. I miss her decades of wisdom. I learned how to make her famous chicken parmesan, but it's not the same. I wonder if the two of you are laughing about the situations we seem to get ourselves into down here. I wonder if the days move slow and seem enchantingly endless, or if you are too busy to count the minutes. Perhaps time is not even measured up there. I wonder if you sit and watch our daily lives, or if you decide just to check in from time to time. I wonder if I would be different if you had not left us. Would I be braver? Less anxious? As empathetic? I wonder if you wish you had done anything differently, or you left the earth content with your choices. I wonder if you felt different that morning, or had been blissfully unaware of what was to come. I wonder if you were scared, or if everything was quick and painless. I wonder what your last thoughts were before you left us, I hope they were pleasant.
I think about your laugh a lot, and how much I miss the sound of it. And the way you lit up any room you were in. I think about how you were always the loudest person in every room. I think about how you never took life too seriously. I think about the time you laughed the whole ride home when I panicked about accidentally stealing a candy bar from Home Depot. I think about how you were never afraid to say how you really felt. I think about your never-ending selflessness, and the pure joy you got from helping others. I try to continue that in your honor. I think about the effort you put into making sure you made our lives easier; it did not go unnoticed. I think about how you tried to touch every life around you. I think about the time you gave our inflatable Christmas decorations to our neighbors because you knew the younger children might appreciate them more- even though I know you secretly loved those. I think about how much life would have been different if this hadn't happened. I think of you when I see butterflies gently land on the flowers around me. A subtle way of you popping in to say hello.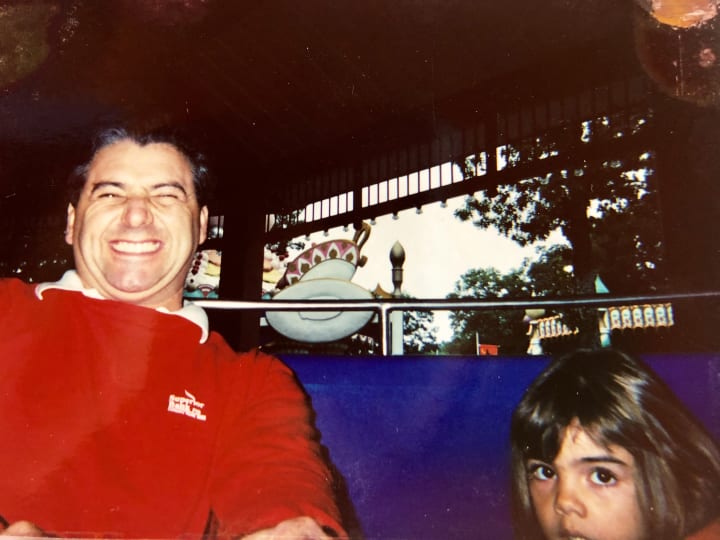 I need you to know some days are harder than others. I need you to know how much you are missed. I need you to know we're all doing okay. Some days feel empty, some feel sad but we've managed. I need you to know it doesn't always hurt. Sometimes, I think of you when I see somebody eating Kohr's ice cream, remembering all of the days we spent getting mixed swirls with sprinkles. I catch myself smiling. I need you to know that I see a lot of myself in you. Mommy says I get my goofy side from you. Also, my nervous side. I can see that. I need you to know I get my stubbornness from you too. I'm working on that. I need you to know that I try to talk to you everyday and that you don't always have to listen. Most of it is nonsense anyways. I need you to know that I keep you in mind with every decision I make. I need you to know that I am always trying my best for you. I need you to know that I am sorry I ignored the last call you made to me. It was not intentional, I just couldn't hear you while driving in the car. I need you to know how sorry I am that we did not get the proper chance to say goodbye.
I try to mimic your behavior a lot. I try to always find the good in people, sometimes a little too much. I try to see myself through your eyes when I feel like I need it most. I try to not get too anxious when I get a call late at night, expecting it to be bad news. It almost always isn't. I try to visualize what you would look like now. Would your hair be fully gray? I try to ensure that I will always remember what your voice sounded like. I've lost a bit of it since your voicemail was shut off. I try to imagine what you would say to us if you came back for a day. What advice would you give us?
You've missed so much since you've left. You missed my four years of high school. You missed my graduation. I ended up in the National Honors Society for Art. You were always encouraging me to find a passion. You missed all four years of college, and getting my first "big-girl" job. You missed my first experience trying to navigate public transportation- it did not go well. You missed all of Arielle's incredible career achievements. You would be astonished by the woman she's become. You missed your first grandchild being born. Alyssa is such a good mom, you'd be so proud. You've missed promotions, birthdays, holidays, and funerals. I've learned the importance of documenting these moments. You've missed so many important hellos and unexpected goodbyes. You've missed so much it's hard to comprehend. I'd like to think you were silently along for the ride.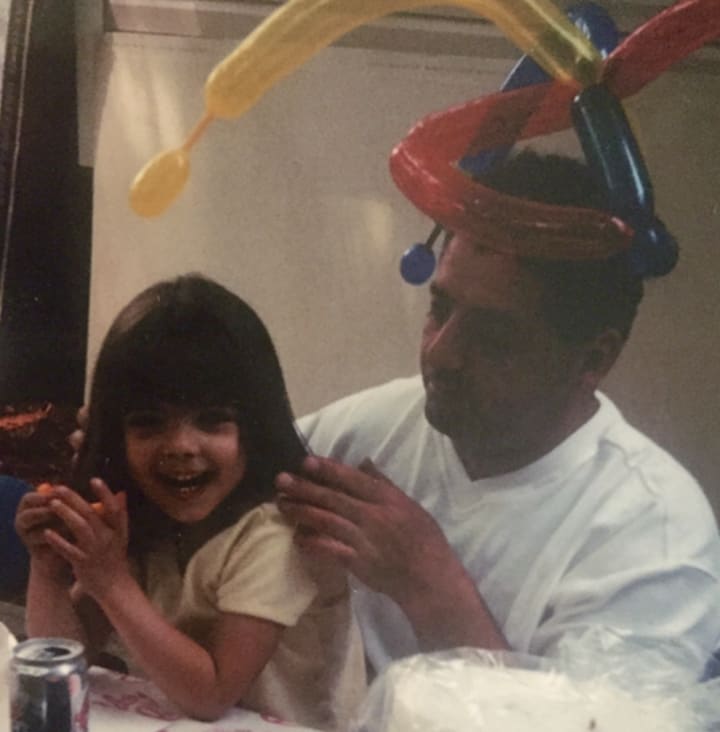 I hope you're enjoying your favorite food up there. I hope they serve your favorite beer. I hope the Jets games are playing on an endless loop in the background. I hope you're tossing a ball to Tootsie; I know how much she missed you too. I hope you gave Nana a big hug for us when she arrived. I hope that if no place exists after this world, that you left with no regrets. I hope that isn't the case, it brings me peace knowing life might be better for you there.
I want to thank you. I want to thank you for all of the lessons you taught me through this journey. Before & after you left. Thank you for teaching me that it's okay to laugh at yourself. Thank you for teaching me that life does not have to seem so intense. Thank you for teaching me that hard taco shells cannot go in our toaster oven unless you have the intention of setting it on fire. Thank you for teaching me and Alyssa not to eat an entire chocolate bunny in one sitting; it won't end well. Thank you for teaching me that you should never say anything that you wouldn't feel comfortable being your last conversation. Most importantly, thank you for teaching me how precious life is and the importance of telling people how you feel. I'm confident that I will miss you forever.
Until next time,
Mandy